Surely everyone that uses Native Instruments' industry standard Kontakt sampler has at least 1 favorite free library. What I've compiled here is a list of 5 of my personal favorites. These are among what I find to be some of the most usable high quality libraries available. They get plenty of burn in my production projects at least, some may even be slept on. So here they are:
This excellent free Kontakt library is definitely the one I use the most.
Although it is a limited version of their fantastic AURORA library in terms of NKI presets, it still delivers on usability and sound quality.
AURORROR is advertised as a "horror cinematic and hybrid library" on Fluffy Audio's website, but it's a surprisingly versatile and flexible synth. 
With more than 25 unique sound sources, 13 different modulators, an arpeggiator and polystep modes, there's a lot to work with.
The idea is to layer up to 3 sounds and adjust the plethora of parameters to create your own sound. Your new custom preset can then be saved. Check out this review by Saint Joe of Sounds And Gear.
This developer has been around for quite some time and continues to offer a generous amount of extraordinary free and premium libraries.
Recently they stepped their game up even further by designing their own Kontakt instrument, 16PAD. Here's a word about it courtesy of the included pdf manual:
To put it simply, it's a 16 Pad instrument, each Pad has Volume, Panorama, Tune, ADSR, Filter + LFO, Distortion (Lo-Fi, Distortion, Skreamer, Tube) and Modulation (Chorus & Flanger) controls, plus 4
Send controls for 2 global Delay, Reverb and a Convolution Reverb (IR) effects.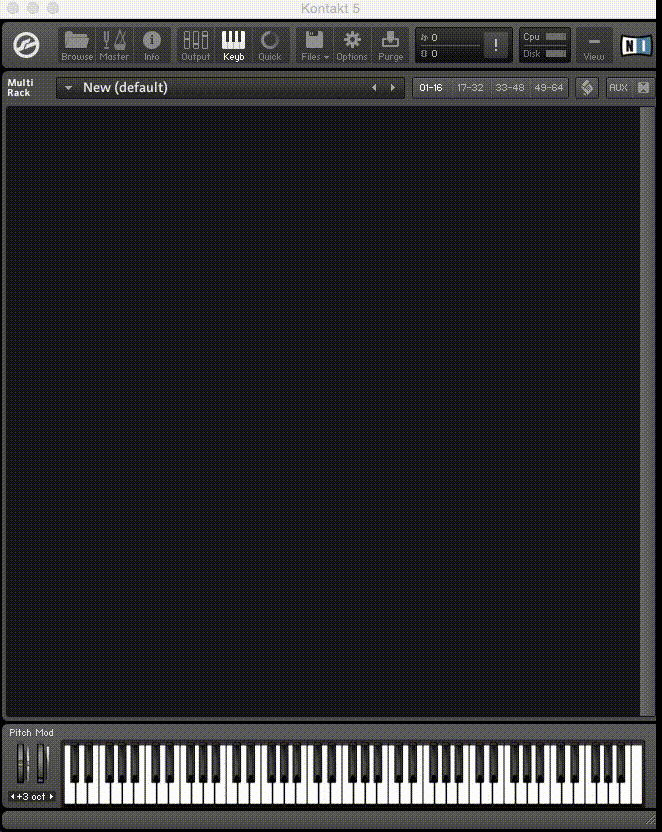 There is also a simple on board step sequencer with controls for Volume, Tune and an Assignable Parameter per pad.
The pads can be selected via MIDI and can be colorized individually. The 16-channel mixer can be viewed by clicking the MIXER button to the bottom left of the step sequencer. 
I would have liked to have had the ability to load my own samples and have darker more pronounced colors on the pads, but this is a very nice instrument nonetheless. Big up to HS!
Free HD Orchestra Chords & Sustained String Chords by Sonuscore
Both of these libraries have an awesome sound and are dead easy to control.
There is only 1 knob on each interface, low velocity triggers major chords, and high velocity triggers minor chords. On Sustained String Chords, you can control the dynamics with the mod wheel and mix sustain and tremolo chords.
On both libraries, you can play low, mid, and high strings separately or play huge chords altogether. The interface is simple and the design straight forward. It's a great library for generating or enhancing your compositions.
Check them out below:
Free Fall is another library that has been out for a while, but I think it's one of the most underrated free Kontakt libraries.
It's dedicated to ambient textures and evolving type sounds which are useful in many musical genres.
It comes with 18 otherwordly patches and you are free to create and save your own custom patches.
This library just begs to be experimented with and you will have 4 pages of parameters to play with:  Main Engine, Effects Engine, Rhythm Engine and Output Engine.
There's really a lot to go through with this library, once you download it, no doubt you'll feel the same.
Just released a few days ago, NS Drum kicks (pun intended) in with a well-crafted and high quality sounding acoustic kit.
Not only does the library sound great, but if offers the ability to really customize your drum sound with a nice set of sensible parameters: Pan, Tune, Room (mic), Attack, Hold and Decay. There are a good number of presets for each of the 6 drum sounds represented in the intuitive interface: Kick, Snare, Hi-Hat, Tom, Ride and Crash. NS Drums J-311 also boasts I very high level of detail as there are no less than 27 layers per instrument, so you will be able to dial in just about any acoustic kit sound you like. 
In addition, the FX page provides an EQ and Compressor for each instrument, while the MASTER page has an EQ and Compressor for the entire kit as well as a number of presets to choose from. Can't wait to play around with this one.
If you're on the hunt for some usable libraries, go check these 5 out. They are sure to inspire. Tell me what you think.
Also, if you're looking for a cloud based solution to manage all these free libraries + search for buyable options, check out loopcloud.
*These libraries require the Full version of Kontakt