Last Updated on January 15, 2023 by IDS Team
The best pedals for punk aren't easy to choose. Since the inception of the genre in the 1970s, its underground values meant that musicians prized inventiveness, and this remained true in their use of pedals and other FX. For the end of this year, here are both old classics and new innovations which will inspire you to continue this independent spirit.
Best Pedals for Punk: MXR Billie Joe Armstrong Dookie Drive for Classic 90s Pop-Punk
Although this pedal has been discontinued, it remains extremely popular and deserves a spot here. This is a signature pedal which MXR created for Billie Joe Armstrong of Greenday, and it is based on the sounds he used for the pop-punk band's classic album Dookie. Now, with the Dookie Drive, you can give the sounds of this seminal album your own spin.
The 90s were a golden age for guitar-driven, power-chord-based rock. The sound of this pedal is a tribute to its heyday, and it is even covered with Greenday's album art. To achieve what it does, it combines the sounds of both the amps Billie Joe Armstrong used on the album in one pedal. Ultimately, this is a classic, pop-punk drive pedal you cannot go wrong with and deserves it's legacy continued this year.
Dookie Drive Contains:
Output, blend, gain, and tone knobs for mixing the perfect sound
Scoop option to sculpt your sound even more
Price and availability: The Dookie Drive was limited edition and had multiple variants, but can still be bought online from Reverb. Click here to check the price and offers!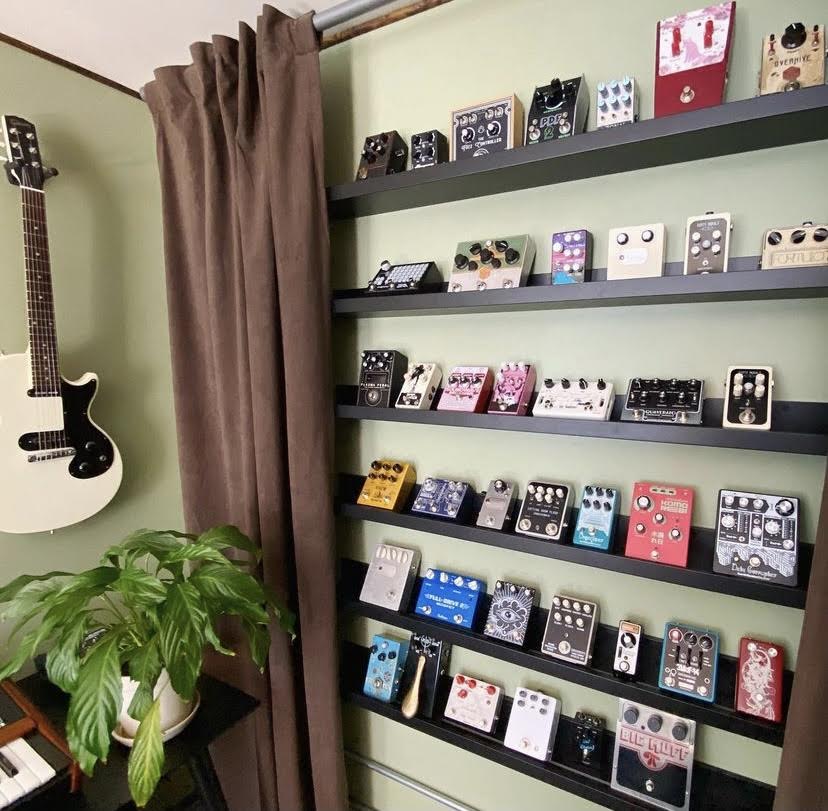 Best Pedals for Punk – Distortion and Best Outside the Box Pedal – JHS3 Series Compression and JHS Series Distortion
The new JHS3 series is so exciting it deserves to include two pedals. To kick off, the JHS3 distortion pedal is a warm, gritty distortion. It sounds deliciously heavy down at the low end of the neck. Simultaneously, it adds messy noise when played higher up the fretboard. As a result, this slick little pedal is perfect both for punchy, post-punk riffs and for giving your tracks a more tangled, DIY flair.
What about compression? Distortion and overdrive both involve a bit of compression. Yet, if you want to add solos or high harmonies, a compression pedal can be indispensable to prevent your lower parts drowning others out. This can especially be a risk when playing punk and related genres live. The JHS3 series Compressor is a great compressor which doesn't sound too polished or neat. At the same time, it ensures all parts are audible- perfect for performing in even the most acoustically challenging venues.
JHS3 Distortion Contains:
Volume, filter, and distortion knobs
Gain switch
JHS3 Compressor Contains:
volume, attack, and sustain knobs
bright switch
Price and Availability: Both pedals can be purchased new or used on Reverb by following these links: compressor and distortion. Plus, you will be supporting our website if you buy using our links (we get a small kickback).
Best Pedals for Punk and Post-Punk FX – Fender Hammertone Fuzz Pedal
Fuzz pedals can be polarising. Nevertheless, although it brands itself as 60s and 70s-focused, the Fender Hammertone series fuzz pedal has made this list because of its heavy, wild sound. It's a great way to add some really dirty tones to different parts of your tracks. Especially for pop-punk, post-punk, and emo, which have sometimes taken inspiration from rock 'n' roll, it's worth trying out pedals like this to shake things up. To help this, the Hammertone fuzz pedal is versatile enough that it is capable of adding noise yet also adapting to quieter moments.
Fender Hammertone Fuzz Pedal Contains:
Treble, bass, level, and gain knobs
top mounted in and out jacks to ensure it fits easily into your pedalboard
octave switch
Price and Availability: Check Reverb.com by clicking here.
Wampler Moxie Mini Pedal: Best Innovation of This Year
Wampler released the Moxie this year, yet it takes inspiration from the classic Ibanez Tubescreamer. In fact, after it hit the market, this pedal stood out for attracting even those who disliked the original Tubscreamer. How? For starters, this pedal is a bit warmer, more punk, and less metal oriented than the original Tubescreamer. Tone switches for voice and fatness allow greater mastery of different subgenres. In addition, its sound is more rough and ready, which it does through a modified EQ curve. This is not an easy sweet spot to hit, and, as a result, the Moxie really deserves a place on this list.
The Wampler Moxie Mini Pedal Includes:
volume, gain, and tone knobs
two switches for voice and fatness
design based off the Ibanez TS10 with a modified EQ for a richer, more transparent tone
Pricing and availability: It is on Reverb new or second hand, click here to check the deals.
Best All Round Drive Pedal – OCD Drive Pedal
And to round up this list, we have a classic drive pedal which holds up year after year. This is for when you don't want super heavy distortion but still need some edge. The sound blends well into many variants of the punk, post-punk and pop-punk spectrum. However, this can be a plus, as it gives your sound something distinctive that you can then repurpose.
Another big selling point is that the AmpliTube set of FX includes it as a digital VST. As a result, you can have the same sounds as both software and hardware, keeping your sonic signature consistent.
OCD Drive includes:
Internal switch to choose between enhanced bypass and true bypass. True to its name, this pedal allows guitarists to choose the specifics of their sound at a level of perfection close to obsessiveness
output buffer which prevents pedals which come after it in the signal chain from affecting its sound
Pricing and availability: Can be purchased from Reverb.com, in all the versions. Click here to get the price.
Final Thoughts
This roundup focuses more on certain FX than others to get you that classic, heavy punk sound. However, these cover everything from gritty, classic underground 70s punk to the best modern-day pop-punk. From old favourites to new innovations, these pedals have proven to be the most inspiring this year.
Liked this article? We have way more on pedals in our hardware section, where we cover classics, new innovations, and creative alternatives. Find them here.