Last Updated on December 29, 2020 by IDS Team
Whatever it is that you do, having a work-friendly environment is a must.
Just imagine how much time and energy you'd spend dealing with uncomfortable working space and all the inconveniences that come with it.
If you're dedicated to studio work, production and mixing, what you really want is to fully concentrate and focus on the music instead of constantly getting distracted and irritated by all the flaws of your surroundings.
Of course, one of the most important decisions you have to make while setting up a studio is finding a proper work desk.
However, no matter how crucial they are, these specialized desks sometimes might get a bit expensive. Especially if you're looking for some kind of custom measures for your work space.
Luckily enough, there are some affordable studio desks that you can find out there. We figured that we could do some digging and we came up with a brief list of these cheaper solutions.
You don't need to worry anymore – you can still have an ergonomic desk and a work-friendly environment without unnecessarily draining all of your savings.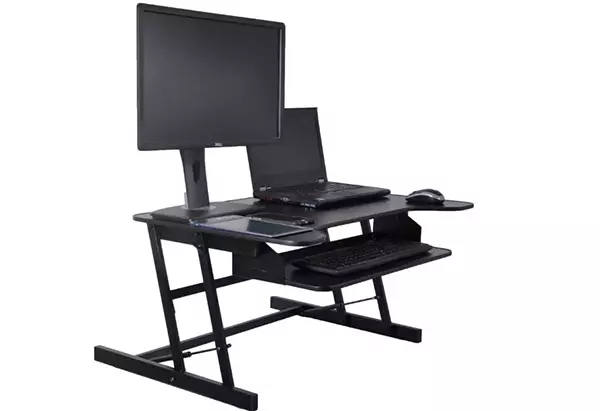 Something for those who'd like to have an adjustable height desk without busting a bank. It might not be suitable for those who plan to have a bit of a larger setup, but it definitely comes in handy for every solid home studio.
This desk, made by Pyle, ensures easy setup and adjustment and is designed with ergonomics in mind.
There's enough room on the main surface for a monitor and anything else you need, in addition to the keyboard tray. Definitely worth checking out for its price.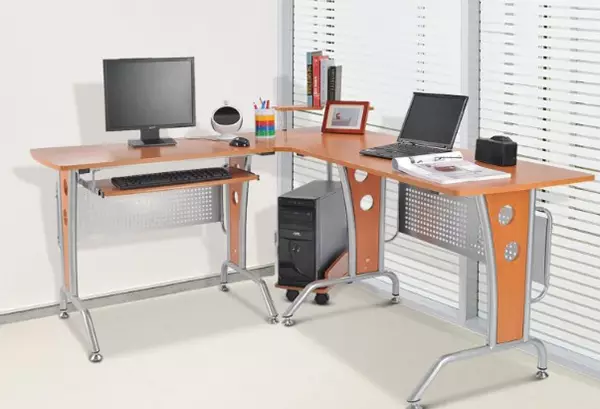 But if you want space, and have enough room for such a piece of furniture, you should definitely check out HomCom 61 in.
Modern L-Shaped Computer Desk. Aside from its great looks and a sturdy steel frame, this one allows a few different practical features. It would probably take some time setting up, but you get a very practical elevated rack, keyboard trail, and even a computer stand in the corner.
Of course, being "L" shaped, it takes up some space and is probably a better option if you have a larger studio.
Overall, the HomCom 61 is designed as a classic work desk with a bit of workspace to spare.
If you do have some room to use, and if you plan on having larger studio speakers without using separate floor stands, then you should definitely consider one of these.
Maybe not as spacious as HomCom, but Z-Line Designs Cyrus Workstation gives enough room in addition to its great design. After all, do you often see such an affordable desk with tempered glass as the main work surface?
In addition, it features a keyboard tray, a lower surface for the computer, and a monitor rack that's as wide as the entire work surface.
It can come in handy if you have a setup with two computer monitors in mind. This way, however, you'd probably need separate floor stands for your speakers. Since the rack is wide enough, you can also use it for one monitor and two speakers.
Ultimate Support Nucleus-Z Explorer Studio Desk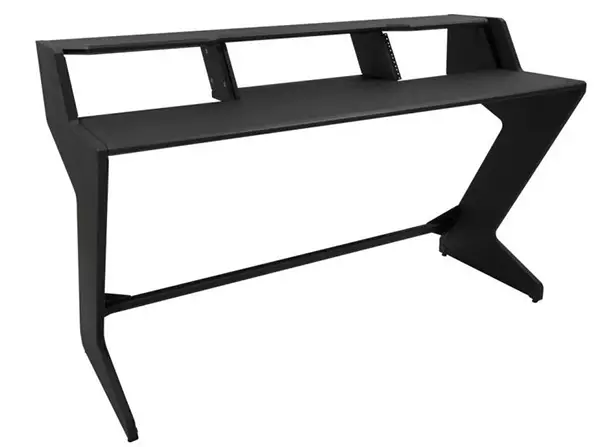 Although this one is right on the edge between affordable and expensive, the Ultimate Support Nucleus-Z Explorer is probably one of the best options for its price. Yeah, it's about $900 or so, but it's a well-built and sturdy desk with two 4-space rack modules.
Made of powder-coated fiberboard, it has around 24 inches surface depth and the secondary upper surface with about 12 inches of depth.
Whatever kind of setup you have in mind, the Nucleus-Z Explorer will be a very useful workstation for your needs. If you want to go professional, this is the more affordable solution for a solid studio.
It might be a relatively higher price, at least compared to some other products on the list. But, after all, the Studio RTA Work Station is not exactly a computer desk either. Although pretty straightforward, it is designed for studio works.
A very wide desk with specialized rack spaces for different outboard gear, a separate monitor tray, and the lower surface for your computer or anything else that you might have had in mind.
Being in the $450-500 territory, the Studio RTA Work Station is on the line between amateur and professional workspaces. It's simple, it has enough room, it's very well-built, and it's not really that expensive for such a piece.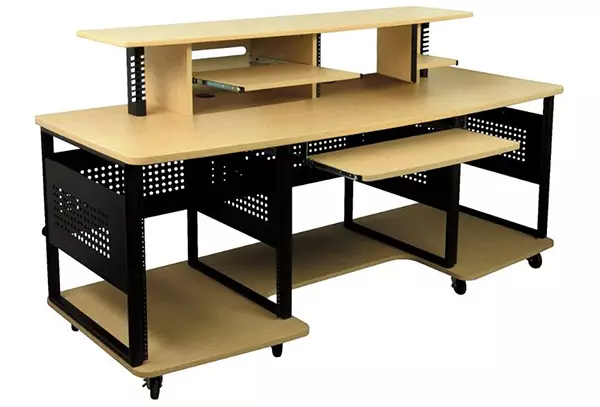 Another one by Studio RTA, the Producer Station Maple is a bit of a behemoth among these desks that we included in the list.
Just like the product described above, it's on the territory between amateur and professional-tier desks. However, this one allows more room for different rack-mounted units.
In fact, it has dual 20-space racks, monitor surface, one smaller rack below the monitor surface, keyboard tray, an extra slide-out tray, and the lower surface for computers.
The main surface is over 70-inches wide, while the upper monitor surface has about 60 inches of width. Pretty impressive if you're planning on having many rack-mounted units.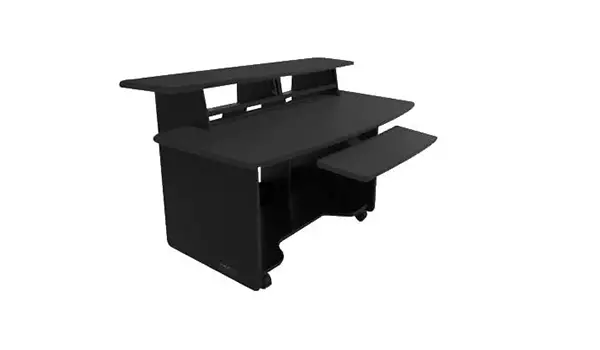 Now, Omnirax Presto 4 Studio Desk is also one of those lower-end professional work stations like the Nucleus-Z Explorer.
It can be found for a bit less than $900, but it's more than worth it for a desk of such quality that has ergonomics and spaciousness in mind.
The upper shelf for computer monitors and near-field monitors, the very spacious main surface, keyboard shelf, and two rack spaces – is there anything else you need?
It's also very well-built and comes in a few different color options. It might be a bit heavier, but it provides so many features for professional or semi-professional-level