Last Updated on December 22, 2020 by IDS Team
A couple of decades back all the gear that music producers had at their disposal was a measly 8-track machine and a bit of good will.
Nowadays it's easier to record and produce tunes than ever; all you need is a smartphone and a decent quality app.
However, the market is overflowing with dozens and dozens of applications in this field; some are useful, some are not so much.
With this in mind, we've decided to compile a list of the best Android Music Making apps, so if you're looking for one, you're certainly in a good spot. Without any further ado, let's dive into it:
Let's start off easy with Beat Snap; essentially, this is a free downloadable app that is best suited for beginners.
It includes some of the most basic composing functions, including beatmakers, virtual instruments, and drum pads, all of which are remarkably simple and straightforward.
To top it all, it can store more than 200 virtual instruments (from third party sources) and can hold up to 500 different sounds.
It even features six controllable and customizable effects that you can use to mold the tracks to your liking, as well as a looper sequencer and a metronome.
However, the only downside of this music-making app is that it's not exactly a Hi-Fi one.
Its versatility leaves a lot of room for improvement, but it's absolutely essential if you're new to music production and compositional world.
Thousands and thousands of professionals are using Fruity Loops Studios, but not many people are aware of the fact that it's gone mobile.
The heavily acclaimed beginner-friendly FL recording software is now available on a mobile platform to all Android users, and we warmly recommend you to check it out.
It rocks an interface that largely resembles the one that the original FL Studio comes outfitted with; the only differences are that it comes supplied with fewer features and that it's a bit smaller.
Needless to say, it's packed with virtual instruments, plugins, and both preset and customizable presets, as well as options that will allow you to integrate your own FL banks and files into it.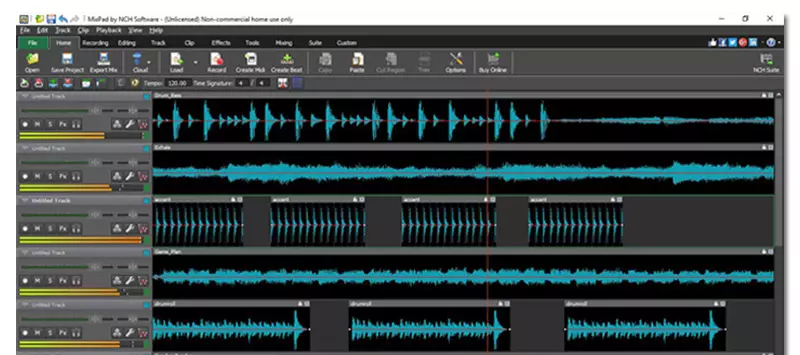 Although this is primarily a DJ application, MixPads offers a unique approach to making beats and loops.
It offers simple and straightforward features that are mostly aimed at producing pre-recorded tracks and MIDI files, so it's technically not a music-making app, but it does feature over thirty different drum pads that can help you create authentic rhythms and grooves.
One of the things that most people who've used MixPads don't know about is that it actually comes supplied with a voice recording feature too.
You can use this function to layer vocals on top of your drums and beats, which is again phenomenal if you're a DJ.
Most Android-based phones feature a 'notebook' of some kind, but these features do not exactly allow you to memorize audio files.
That's where SongMemo comes into play; this is free downloadable software that offers basic audio recording features, and more importantly, it even allows you to add multiple instruments to previous projects.
In a nutshell, SongMemo is a very simplistic music-making application that works best for sudden 'Eureka' moments, although it does seem a bit limited in the field of actual music creation as the features it comes supplied with are not exactly versatile in nature.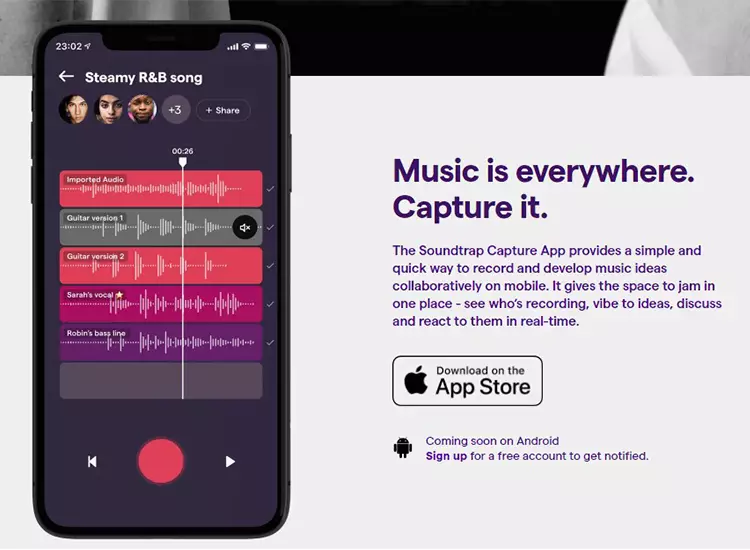 Soundtrap is one of the few full-fledged music-making applications available on the market that actually features preamps, virtual instruments, and samples that people can use to compose unique music straight off the bat.
It rocks a minimalistic interface that is fairly easy to read, and self-explanatory functions such as 'save', 'add FX', play, record, and 'instrument'.
Additionally, it can be integrated with your cloud storage, allowing you to properly secure your files and audio tracks at all times.
Last, but not least, it includes both strung and percussive instrument samples, so you will be able to record most (if not all) instruments with the tips of your fingers.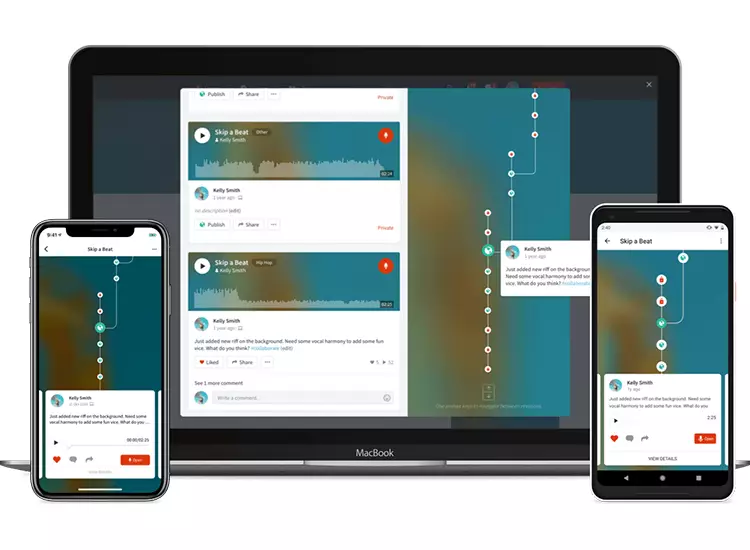 Many people have seen the BandLab recommendation in their Play Store after downloading a couple of music-related games and software; this is only natural because this program is completely free and is readily available for people who are looking for a quality music-creation app.
It packs production-based essentials and offers simple modes of mixing, but the best thing about it is that it also allows you to share your tracks with a huge, well-established community of people who're using the same app, which in turn provides you with an opportunity to share experiences with like-minded individuals and learn from them.
Even though the DrumPad is not one of the most eclectic music-based apps out there, it's easily one of the most practical drum beat machines that you can download on an Android-based phone.
It was basically designed to replicate a standard drum machine, offering simple customizable pads and features that optimize its arsenal of percussive instruments.
Dubstep is easily one of the most influential music sub-genres of the decade, and many people are wondering how the songs that belong to this particular style are even supposed to be created.
A couple of years ago you would have needed to go into a regular studio and spend weeks with a producer if you wanted to search for authentic effects, but today all you need is an app.
The Dub Step Music Creator features an 8×4 drum pad, a 4-band EQ, and a small virtual mixer that allows you to create top-notch beats, utilize world-class effects, and toy around with numerous soundstage presets.
It's one of the best choices for people who are looking for creative, yet simple means to record electronic music with their phone.
Conclusion
Although there's a myriad of music-making apps on the market, there aren't exactly many that are free, beginner-friendly, and easy to use.
Luckily for you, we've managed to dig up a couple after scouring the market; we hope you've liked our selection of the best Android music making apps and hope you've found what you were looking for.