Last Updated on February 1, 2023 by IDS Team
This 2023 list of hardware for music production is by no means exhaustive and each of the headings here could deserve a list in its own right. However, to kick off 2023, this article is a snapshot of the BEST hardware to consider across multiple categories. To make this list, gear had to be both affordable for the average home sound designer or producer, as well as stand out somehow in its niche. Read on for a brief look at ways to inject some new energy into your studio for 2023.
2023 Music Production: Best Hardware Drum Synth – Korg Volca Drum
This is a really affordable and staggeringly sophisticated little drum machine which makes the bold decision to generate its kick and snare sounds through digital FM synthesis as opposed to via samples. This isn't the only drum machine in the Volca series but it is the most creative. Billed as Korg's bold experiment in introducing you to new sounds on their website, it lives up to the hype there by totally delivering on its unusual features whilst still making them sound great. The Volca hits the sweet spot between innovation and crowd pleasing, which is no small feat and at a low budget is a seriously exciting and compact drum machine.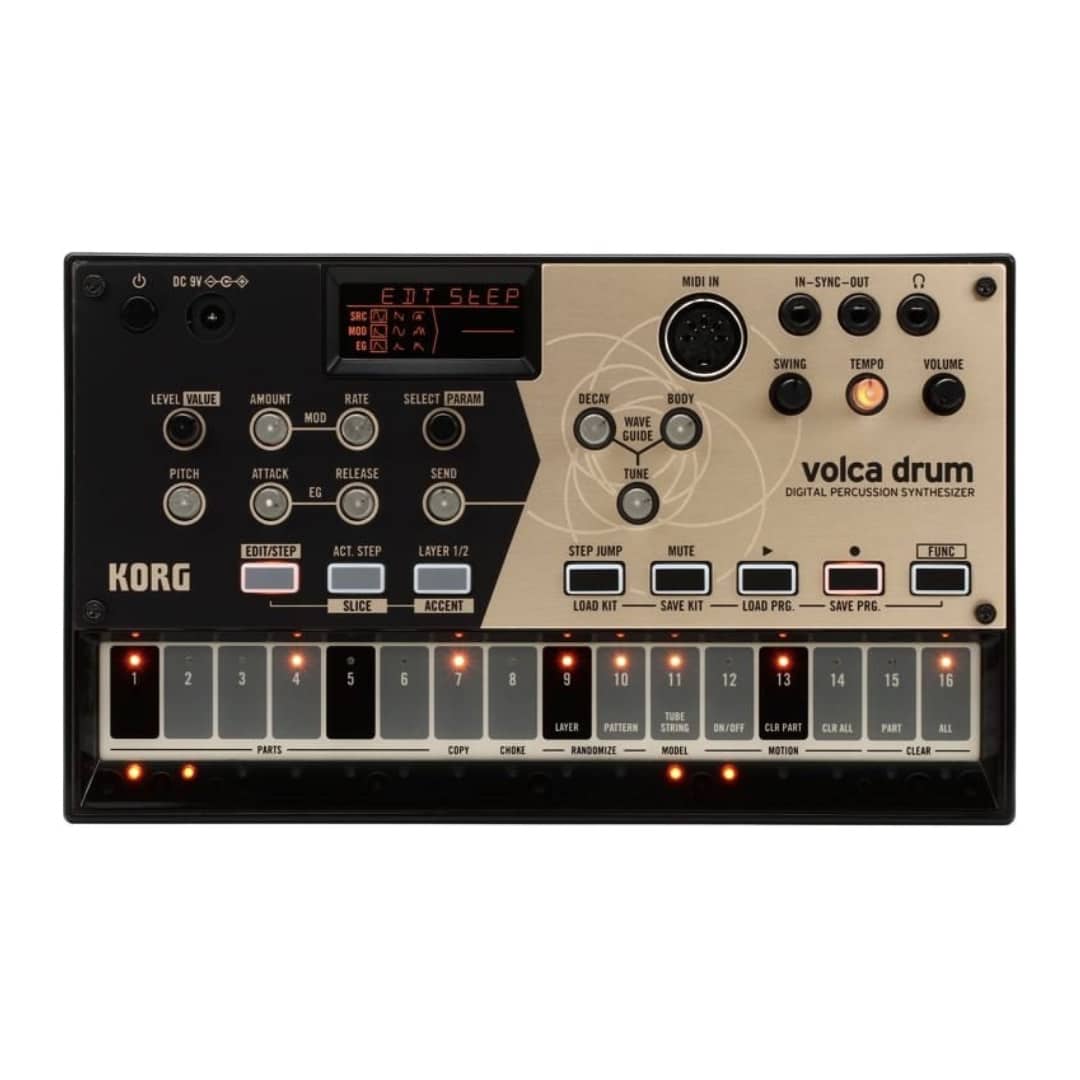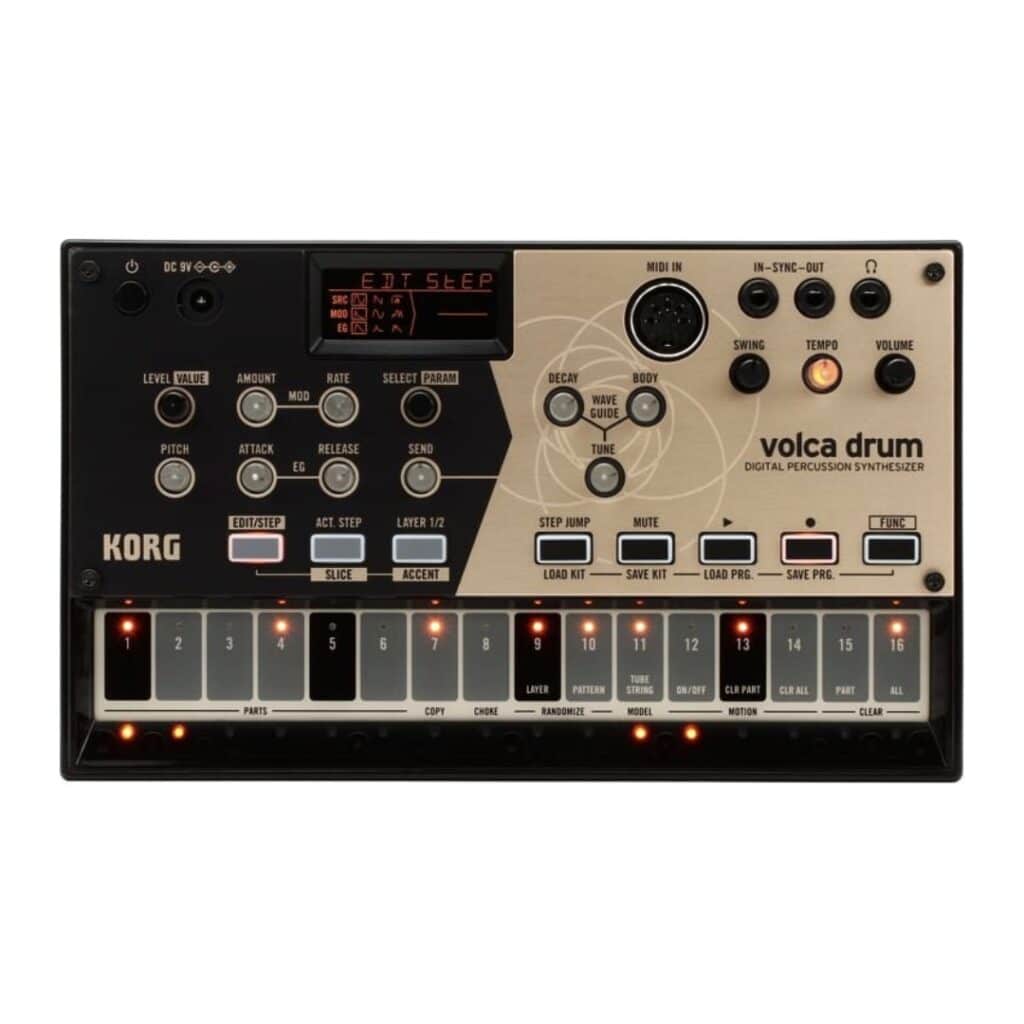 Features:
Sound produced digitally from a six part DSP engine
Automate up to 69 parameters
Wavesculpting and waveguide resonator effect
2 layers per part for lush, sonorous undertones and overtones
Slice and accent features
Clean and intuitive LED screen to keep track of your work
Layer isolation capacity to give you total control over undertones and overtones
Compact and intuitive control matrix with connection to LED screen
Can produce both drum and synth sounds
Availability and price:  circa 150 USD from Korg's website. You can also scoop a great deal on Reverb.com by clicking here.
2023 Best Hardware Sampler – Elektron Digitakt MKII
At over 600 USD, this isn't a cheap sampler. Yet despite the fact it's in the higher range of the price spectrum, it absolutely delivers on what it promises. The ability to use both internal tracks and external MIDI sources means that you have limitless creative possibilities, especially in terms of tonal and textural variety. This is a sampler which has the processing power to cope with your wildest sonic imaginings.
Like with most Elektron products, the sequencer is also top notch and the Digitakt MKII could have taken a spot on this list based on that alone. However, where it really shines is its workflow, opportunities for streamlining your music making, and ability to encourage creative sampling due to how it seamlessly blends internal and external audio.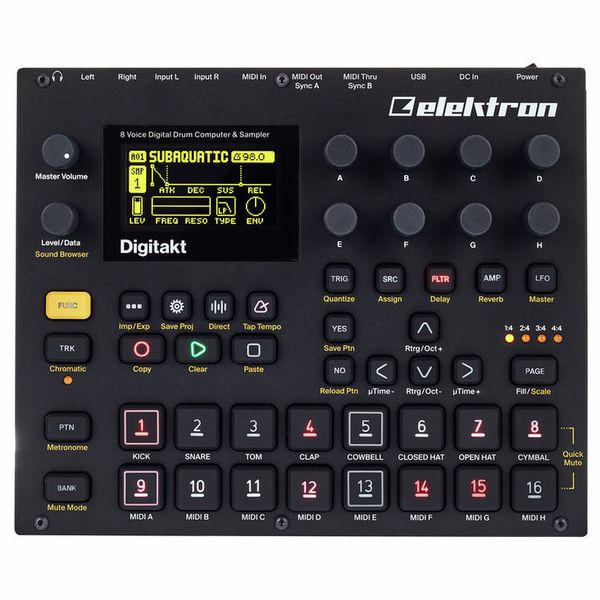 Features:
Cutting edge power and processing
Combines 8 internal tracks with 8 external MIDI sources
Over 400 factory samples
23 drum kits
Two LFOs for double the modulation
Full processing for external audio sources including stereo capacity, reverb, and delay
One basewidth and multimode filter each per audio track for ultimate variation of parameters
Stereo compression
Ability to send reverb and delay
Smooth yet gritty high quality overdrive
Availability and price: arround 800 USD, and available from their website. Also available on Reverb in both new and second hand options – click here.
Best Music Production Hardware Sequencer 2023 – AKAI Professional MPC One
AKAI actually developed the term MPC, standing for MIDI Production Center. The MPC One is basically a standalone sequencer and workstation, which can create beats and loops plus also lets you compose melodies both from built in samples and from your own sample uploads. Where it stands out is in its compactness and versatility; it really shines even when away from the rest of your studio equipment.
In fact, AKAI are adept at making gear which helps you be flexible. Their products are easily adaptable to the rest of your gear and always high quality at great value for money. Indeed, they're still relatively underrated and you can check out another of their best offerings here where we cover the MPK mini MKII MIDI controller. The MPC One offers the same level of connection and fluidity in a standalone workstation.
Demos show how it can be used to create full fledged, seamless, and modern beats but there's a lot more to it than just that. The MPC One Standalone lets you access you Splice library and other sound files too, so you can take your favourite sounds with you. Just remember it needs to be plugged in at a socket.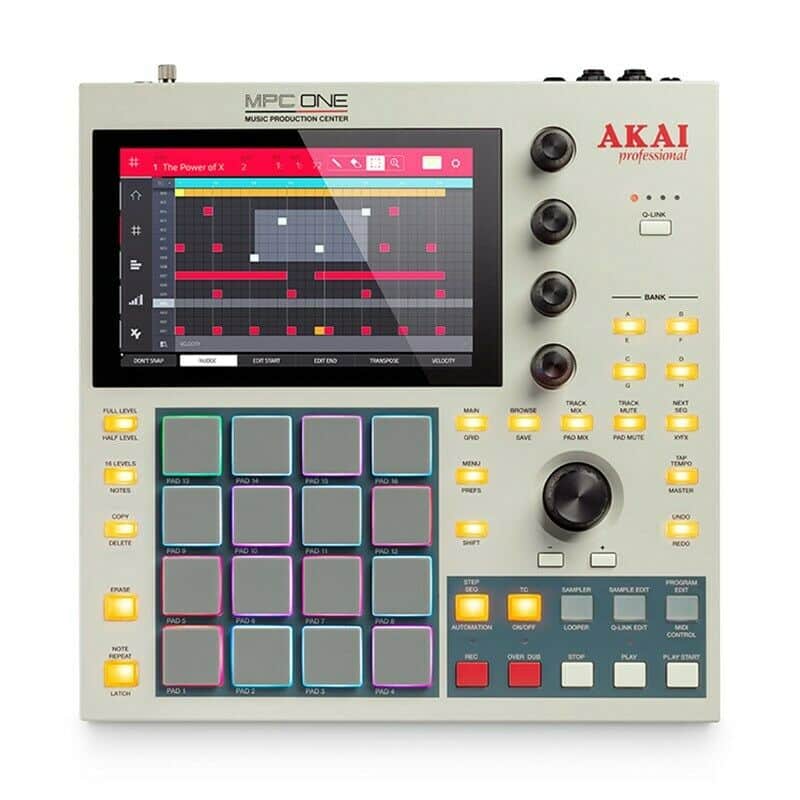 Features:
Looping, sampling, and arpeggiation
16 backlit pads for playing at all venues
Ability to sync with your MIDI technology in the studio
Totally modern up to date sounds capable of producing trap beats or old school melodies
The single most compact MPC from AKAI yet
Standalone capability makes it an ideal workstation for on the go
Built in drum programs with a leaning towards urban and dance music but with real creative potential for all musicians
Availability and price: Ranging from 700 to 850 USD. Not available on their site but can be purchased from all good retailers such as Andertons and Thomann. If you want to support the channel, use this link to buy from Reverb – we get a small kickback. 
Best Overall Synth – Uno Synth Pro From IK Multimedia
If there had to be one lesser-known modern synth to make this list as the absolute best recently updated machine, it's the Uno Synth Pro from IK Multimedia. Although not a synthesis heavyweight such as Korg or Behringer in terms of output, this affordable and intuitive little synth has been met with rave reviews despite or perhaps because of features like it's potentially polarising capacitive touchplate keys.
Plus, IK Multimedia also offers the Uno as a tabletop synth, which is a great dealbreaker if you have limited space or a small studio.
Features:
Variable waveshape oscillators
FM and ring modulation
Hyper-connectivity including midi inputs and outputs plus ability to connect audio input directly to FX and filters
Studio grade delay and reverb
Weighted keyboard
Free mac/pc editor
Comes in black or red
Availability and price: 300-350 USD for the desktop version and available from their website, and also on Reverb.com – click here to see the deals.    
Final Thoughts
This music production hardware roundup for 2023 obviously doesn't cover every great bit of gear out there – just some of the most interesting in each category. Some entries could have easily taken a different spot, and the beauty of music is there are no hard and fast rules. However, these were chosen due to both their high quality, value, but also for their potential for inspiration to ensure new musical beginnings for the upcoming year. Happy music making!
Love music hardware? We have a whole section here.