Last Updated on January 15, 2023 by IDS Team
What are the best hardware guitar pedals of this year? Although it's hard to choose, the greatest tend to hit a sweet spot. Great pedals balance staple sounds with creative circuitry. 2023 is no different and though some of these are on the pricier side, here are the best picks on the market.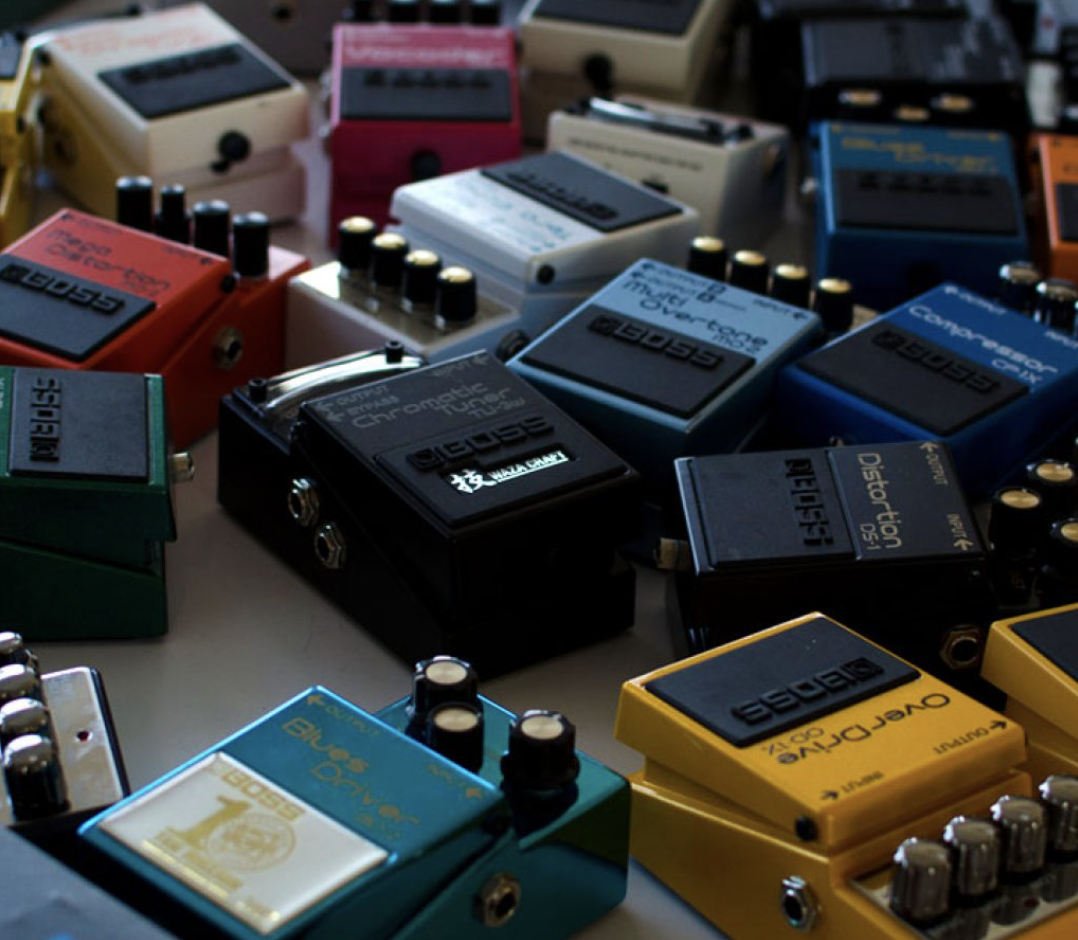 Best Hardware Guitar Pedals – Best for Blues: Boss BD-2 Blues Driver
The classic Blues Driver pedal from Boss has been updated for 2022 and is one not to miss. It has real versatility and it can be incorporated into many more genres than blues. The Blues Driver BD-2's sound is kept fresh and modern. It can easily fit both favourite blues songs – as well as indie, hard rock, ballads, and alternative rock. But what about it makes it such an enduring pedal?
The valve amps this pedal is modelled on add warmth and resonance to more genres than just blues. It also provides a sought-after sound associated with old amps, yet makes this accessible to the average musician. It has three simple knobs – tone, level, and gain, and that's it. The ability to switch between standard and custom mode means you can either keep its original circuitry (standard) or add a richer, more modern overdrive with increased sustain (custom). All in all, the Boss BD-2 is everything you want in an easily available format, making elusive tones mainstream and resulting in its cult status.
You can check the Boss BD-2 price on Reverb (and if you buy via this link, you are supporting this website as we get a small kickback)
Best for Wah: Boss PW3 Wah Pedal
One challenge of keeping pedals up to date is how musician preferences can constantly change. Wah is a classic effect, yet this pedal keeps to the cutting edge – Boss have really added something new. The Boss PW3 specialises in its 'rich' mode, which means that it retains low to medium frequencies. These are responsible for much of the tone and are actually lost in typical wah effects.
As a result, the sound is much fuller and has more depth. In fact, to do this, Boss had to alter the circuitry. This addition works especially well if you're not after typical vintage sounds yet still want to experiment with wah. The setup is simple with one switch to toggle between rich and vintage, and the physical pedal to add either a tiny bit of wah or rev on full. Used to more current sounds but want to investigate this classic effect? The Boss PW3 is perfect.
You can check the Boss PW3 price on Reverb (and if you buy via this link, you are supporting this website as we get a small kickback)
Best for Overdrive: JHS Double Barrel
The JHS Double Barrel is on the chunkier-looking side. However, it is a combination of two classic pedals, the Moonshine V2 on the left and the Morning Glory on the right. The first of these provides a well-crafted overdrive with a difference. However, when combined with the Morning Glory, this pedal really comes into its own.
The Double Barrel contains a toggle to switch the order of the two pedals in your circuit. There are three knobs (volume, drive, and tone) and a gain switch for the Moonshine; the Morning Glory has knobs for volume, drive, tone, and clean, plus a high gain toggle which works with the JHS pedals Red Remote. From this, the guitarist has a multitude of deep, rich noises to choose from. If something sounds a little tinny or top-heavy, all you need to do is tweak what lies underneath. With the sheer amount of combinations, there are plenty of options until your tone is as you like it.
You can check the JHS Double Barrel price on Reverb (and if you buy via this link, you are supporting this website as we get a small kickback)
Best for Distortion/Crunch: Ibanez Tube Screamer TS808
The Tube Screamer is a fantastic classic pedal which does so much more with less. How come it makes the list? Tube Screamer diversifies itself by keeping things simple but refined. In fact, Ibanez Tube Screamer TS808 is made in Japan and the well-known quality of Japanese craftsmanship definitely shows. It has three knobs (overdrive, tone, level) is very intuitive, and adds thick, warm overdrive to your signal chain.
Popularised by Stevie Ray Vaugh, it has been described as the 'holy grail of tube screamer plugins' and prioritises rich, full sounds. Since its inception, its analogue circuitry has remained largely unchanged. As a result, it is absolutely perfect at balancing out the top-end which often comes with shredding and guitar solos. Instead of just a wall of distortion, all the emotions and melody of your playing remain. Just be careful of knock-offs – there are lots of copies out there.
You can check the Ibanez Tube Screamer TS808 price on Reverb (and if you buy via this link, you are supporting this website as we get a small kickback)
Best Hardware Guitar Pedals – Fuzz: EarthQuaker Hoof Reaper
EarthQuaker launched the fantastic Palisades V2 in 2014 but it is unfortunately discontinued. However, EarthQuaker is still a really creative plugin manufacturer and the Hoof Reaper Double Fuzz goes to show this. This pedal was originally a limited edition but was so popular it was kept on the market. It features EarthQuaker's Hoof Fuzz pedal and the Tone Reaper pedal as a two-in-one. However, what you also get is an octave-up switch. In this way, not only do you get great characterful fuzz, but you also have huge amounts of creative control over the sound's overtones.
There are buttons to select either or both pedals and one for the octave. The Tone Reaper has three knobs for level, fuzz, and tone, whilst the Hoof Fuzz has four. These are level, fuzz, and tone, but also shift, which allows you to sculpt the mid frequencies. With this amount of freedom, you can find the perfect sound to express your musical ideas.
You can check the EarthQuaker Hoof Reaper price on Reverb (and if you buy via this link, you are supporting this website as we get a small kickback)
Final Thoughts
Whilst some of these pedals have been on the market before, all of them are making waves in 2023. This is due to either their repurposing, as well as the fact they continue to come out on top. That indescribable quality they add to your guitar playing has all helped earn their inclusion on this list. They also all include great craftsmanship and creativity in terms of really adding something new to your tone. Whichever you might choose, they will all present new creative possibilities and give you ample room to explore. 
Enjoyed this article? Check out more in our section for music hardware here.