Last Updated on January 15, 2023 by IDS Team
There are many contestants for the most creative guitar pedal VSTs of 2023. Guitar pedals are easily one of the most exciting parts of playing. The choices out there for sound designers can really bring this to life in their dizzying breadth and scope. To keep up with all the new developments in this world within one year would be impossible. Nevertheless, some of the most stand-out plugins take classic and well-known effects such as distortion and place their own innovative twist on them. Read on to find out some of the VSTs which do this best. from metal to blues, there is something for everyone!
Mercuriall Chorus WS1: One of the Best Chorus Guitar Pedal VSTs of 2023
Mercuriall Chorus WS1 has a fantastic pedigree. It's modelled after Boss Chorus CE-2, which came from one of the world's first chorus pedals- the Boss CE-1. CE-2 was made in Japan to celebrate its pedigree and the ingenuity of Japanese craftsmanship is evident in Mercuriall.
The Chorus WS1 is not as detailed as some of the distortion pedals on this list in terms of operation. However, its simplicity is a great introduction to chorus effects. It contains dials for speed, depth, and mix, nothing more, nothing less. Another major thing in its favour is it's completely free. American and British audiences may not be immediately familiar with Russian brand Mercuriall, but their gear is extremely worth checking out in general – and while the Chorus WS1 isn't the only free plugin they have released, it is certainly great at what it does.
Forum reviews have also shown that this pedal goes above and beyond. In fact, some users feel like it's one of the only decent chorus pedals out there. It may not have some of the niche or unusual features as others on this list. However, it deserves an entry as it has taken a tricky-to-get-right effect and crafted masterful ways of achieving it.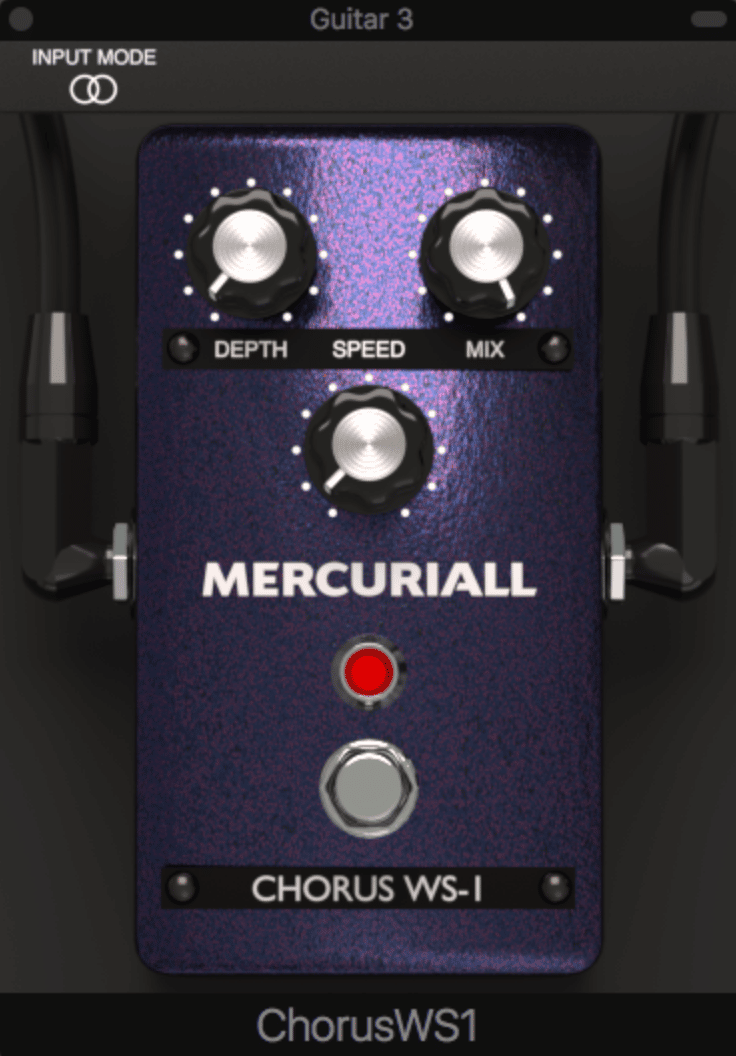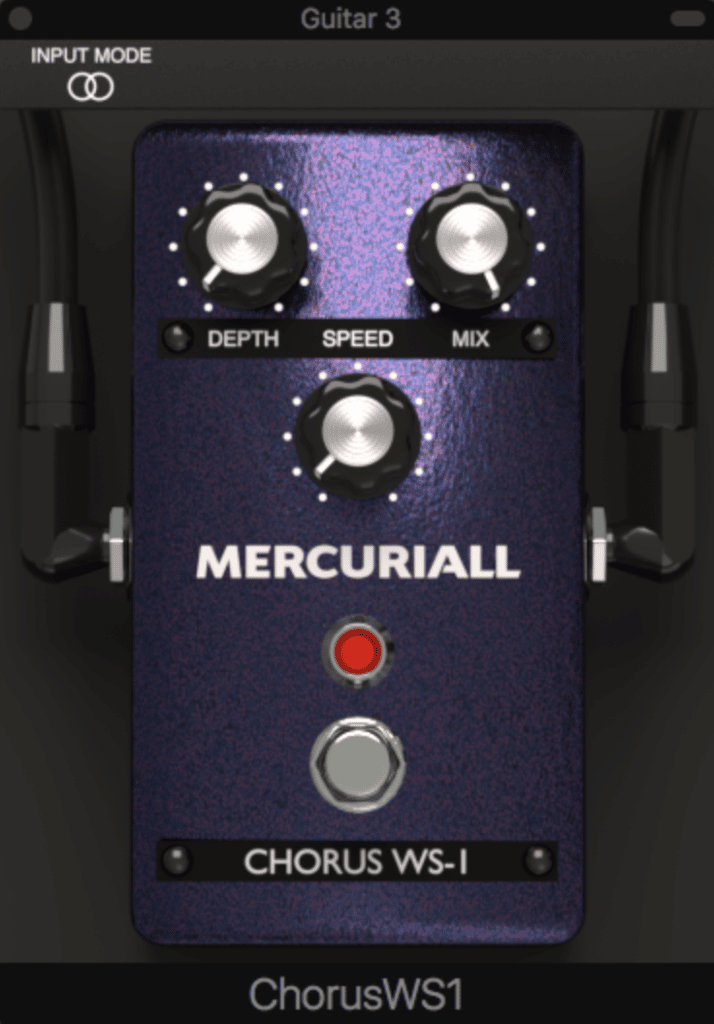 Requirements: Works for both Windows and macOS, exact versions not listed. Works as AU and VST for Windows and AU, VST and AAX for macOS
Price: Free, to download check their website by clicking here (there are other free products available)..
The Bluesman by Audiority: A Creative Vintage Blues Overdrive Pedal
Analogue modelled simulation – '90s Marshall Blues Breaker made to replicate tone of 1962 Blues Breaker amp This plugin is an 'amp in a box' pedal. What does this mean? Well, it allows the artist an unprecedented level of control over the intricacies of tone. It's not just a clear case of whether the pedal is on or off. This is a really nuanced pedal and the sounds shown in Aurodirty's demonstration have fantastic realism. This nifty pedal is perfect for classic rock, blues, or even harder rock as well as spicing up pop tracks.
The Bluesman lets you control gain, tone, and level plus explore three different pedal circuits. It also includes a noise gate, and mix control. This little pedal plugin does anything an amp VST could do and does it just as well. Out of all guitar pedal VSTs of 2023, this one is without a doubt one of the most creative and refreshing. Whilst blues isn't always looked at specifically in the general market, The Bluesman really does have everything you need.
Requirements: Windows 7 64bit or later, OSX 10.8 or later or macOS 11 or later
Price: 13 EUR or 12.93 USD. Click here to check current price on pluginboutique.com
Heavy Pedal by Audiority: Real Innovation for Heavy Guitar
From the laid-back sounds of blues, this list turns to the stormy sounds of 80s Swedish death metal. Audiority modelled Heavy Pedal after a notorious analogue stompbox which fuelled the sounds of the evolution of the Scandinavian metal scene. So why have we included Heavy Pedal on this list? Metal guitarists may find occasionally that most of the market does not serve their needs, and Heavy Pedal is valuable in filling these gaps. However, it's a surprisingly versatile pedal in general for other genres such as thrash, punk, and industrial.
Heavy Pedal is an ultra high gain pedal – meaning things can get intense. It's also of extremely high technical quality. The folks behind it at Audiority modelled it off a circa-1984 Japanese Boss-HM2. This model fuelled the Northern European metal scene, yet found itself popular in the land of the rising sun. With all of this combined, Heavy Pedal is truly something special.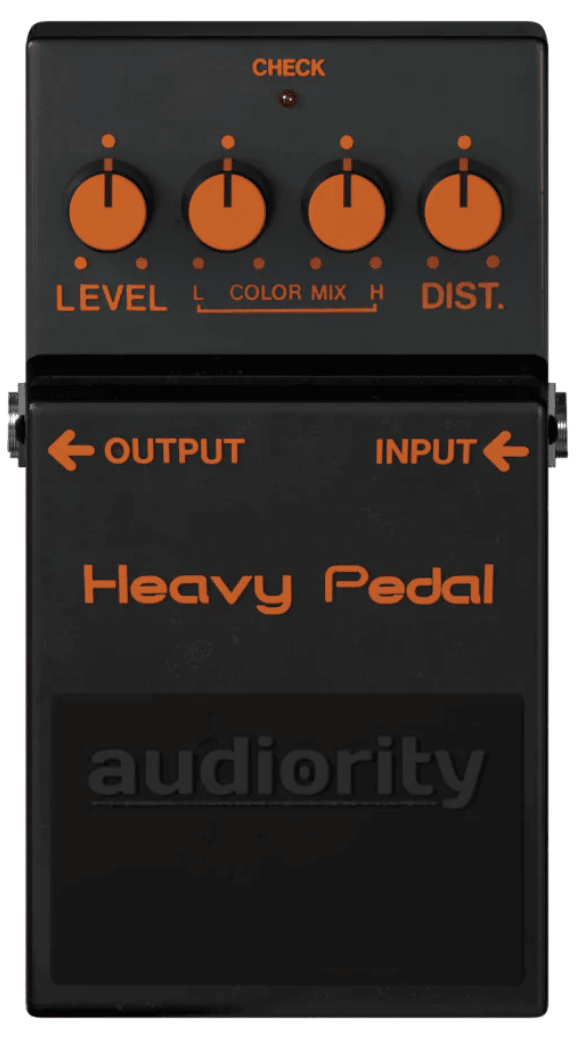 Requirements: Windows 7 64bit or later, OSX 10.8 or later or macOS 11 or later
Price: 20 EUR or 20 USD. Click here to check current price on pluginboutique.com (we get a small kickback from your purchase).
Bx_yellowdrive by Brainworx/Plugin Alliance: Perfect for Adding Tone
Why does Brainworx make this list? Firstly, the love and care which Yellowdrive use in the manufacturing process are second to none. The second reason is more hidden. Legendary pedal manufacturer Boss is responsible for a huge amount of innovation. However, most people do not know just how many VSTs take inspiration from classic Boss pedals. The bx_yellowdrive is one of these, and it's an exacting replica. This means it has all the tone of the pedal it is based on, the Boss SD- 1.
The bx_yellowdrive is a welcome oasis in the world of software. It has a warm, rough-around-the-edges feel, which is something that partly comes from its asymmetric circuitry. Another trick it has up its sleeve is how it responds to your playing in real-time. This is really a plugin which embraces all the nuances of playing and analogue gear. Simultaneously, it brings you all the convenience of digital software. Ultimately, this is not a distortion plugin – it's a tone plugin. It's there to add warmth and sonic character to your playing, and in doing this it fills a real gap in the market.
Requirements: macOS 10.11-12, Windows 8-11
Price: 49 USD. Click here to check current price on pluginalliance.com
Misstortion 2 by Nimble Tools: Intro to Bit-Crushing and Clip Distortion
Nimble Tools isn't famous within the world of pedal plugins. However, Misstortion is a really unique and fascinatingly designed bit of kit. Unlike many other products on the market, it actually explores the worlds of both bit-crushing and clip distortion. This means its sound has a gritter, somewhat more industrial edge. If you are used to playing heavier music, you may find this very welcome. It's even useful if you want to combine your guitar playing with something more electronic. Misstortion's interface is also really great – although it doesn't model itself visually on any hardware pedals. Nonetheless, it has a really smooth, clean interface with all features easy to find.
In fact, the more exploration, the better Misstortion actually gets. It even has a tone filter which allows you to set the filter to the frequency of a particular note. With controls over symmetry and both soft clip and hard clip distortion, this is a real deep dive. Misstortion recognises you may want a smoother and more fine-tuned sound design than simply letting the plugin do the work. As a result, this is really one plugin to get stuck in with.
Requirements: Available as a VST for both macOS and Windows, however, the website lists multiple variations depending on your version of the software and storage space
Price: Starts free but the website offers options to name your price.
Final Thoughts on Guitar Pedal VSTs of 2023
So there you have it! This is not an exhaustive list of all which has gone on this year for stomp box VSTs. However, it is a selection of some of the most interesting and creative. All these plugins have really been designed to add a little extra spark back into your playing. While this list focuses on distortion, we have also chosen these plugins for creativity in general, hence the inclusion of Mercuriall's Chorus WS1 and the bx_yellowdrive. In addition, they are all great at adding tone to your riffs and licks when used in small amounts too.
If you enjoyed this article, why not check out some of our other plugin and VST articles? Find them in our software category: https://www.idesignsound.com/software/