Last Updated on January 15, 2023 by IDS Team
Hello and welcome to our run down of the best Guitar VST Plugins. We will go straight to the list, make sure you bookmark them and check our Deals category for a chance to get them at a better price. The order of this list is random and we do recommend you get them all as the overlap is very big.
Ok, so the praises of this pedalboard have been sung by just about every guitarist and magazine out there. But does it live up to the hype. Absolutely. Beyond the dizzying array of pedals, effects, and other features which it contains – which would take an entire article to fully do justice to – its main draw is its guitar match feature.
What does it do? Essentially it takes the guitar you are using at the time of playing and turns it's tone and overall sound it into any model of guitar digitally – giving you the ultimate freedom, variety, and flexibility in how you sound. Playing a Fender but always wanted to try a Gibson SG or an Ibanez? For those who love tone – or even major audiophiles who are not guitarists but want to try out different models before buying – this can be one of the most freeing features of an already stellar piece of kit. In addition, it comes in three versions: standard, professional, and elite.
Specs: macOS Sierra 10.12 to Big Sur 11.6.1, Windows 8 or later
CHECK PRICE AND BUY BIAS FX2 BY CLICKING HERE
Baby Audio Crystalline Algorithmic Reverb can be calibrated to the very BPM of your track. How does this work – and why is it so fantastic for guitarists? It means that reverb can recreate almost exactly the echoes and rhythms of soundwaves in real spaces as they bounce off the surroundings in time with your music – or even with a bit of delay.

For genres which rely heavily on rhythm such as the chugging riffs of metal or djent, this can also add that extra oomph to your tracks in order to really make them groove. However, it's not just for metalheads – this reverb is notably used by Stephen W Taylor, the mix engineer for 80s acts such as Peter Gabriel and Kate Bush, and when applied to guitar, it can easily give those lush, far out sounds which were characteristic of the era and which can be achieved either by synths or by a carefully produced 6 string – as well as tackling the nuances of a lot more genres besides.
Specs: Mac OS 7 and up, Windows 7 and up
CHECK PRICE AND BUY CRYSTALLINE BY CLICKING HERE
BEST Guitar Sounds/Loops: Perry Frank's Ultimate Guitar Sounds Bundle
This one is a little different as it is aimed at producers as opposed to guitarists themselves. Designed for those who either don't play guitar or don't have access to a guitar, but who want proper rock, blues, and metal -inspired sounds to add interest and edginess to their tracks, it takes samples and loops from a wide collection of real guitars to provide you with the very best for your current project. What makes it stand out so much? Simply the breadth and depth of the samples, and the way they have been carefully selected so there is something for every piece of sound design which you may desire to add a bit more crunch to. There really isn't anything else out there like it for those who want the sheer variety of different guitar sounds – as well as the realism and human feeling which comes from sampling real guitar as it is being played. This might be one of the most expensive plugins on the list, but is well worth investing in for those who love guitar beyond simply playing it – and who want to see how it can add to pieces of music far outside the typical genre conventions associated with the instrument.
Specs: As a bundle of samples as opposed to a plugin proper, this is available for practically all operating systems, including lesser-used DAWs such as Reaper. It's versatility – and the fact that samples can be transferred without the constraints of software incompatibility -mean that in many ways, it is well worth the price.
CHECK PRICE AND BUY THE LOOPS FROM PERRY'S BANDCAMP
BEST Guitar VST Plugins: UJAM Silk
So many plugins out there are designed for electric guitar as opposed to acoustic. Even in physical guitar shops, acoustic guitars are generally further towards the back of the store in comparison to the huge market, which is rock, metal, grunge, blues, indie, and all other genres which use classic Fenders, Gibsons and others. In this way, it's very rare that you find plugins which are so good at replicating acoustic guitar – and which do so with such attention to the guitar itself.
This isn't just any acoustic guitar being turned into a virtual instrument – the classic nylon-string sounds heard here come from a model made by a renowned luthier and add just the right amount of softness and feeling to your track – something which can only come from the campfire-ready tones of an acoustic six-string. If you're looking to go off the beaten track in terms of bringing acoustic guitar to your electric-guitar based sound design, then there is nothing better.
Specs: Note – this plugin is 64 bit only and available for Windows 8 or later as well as MacOS X 10.11 or MacOS 10.12 or later
CHECK PRICE AND BUY SILK BY CLICKING HERE
Although not as memorably named as some other plugins on the market, the HY – MBMFX2 is certainly a memorable plugin to use. As guitarists, we are often more oriented towards doing things physically and practically, and the purely digital sphere of DAW-based sound design can occasionally clash with the way we compose music.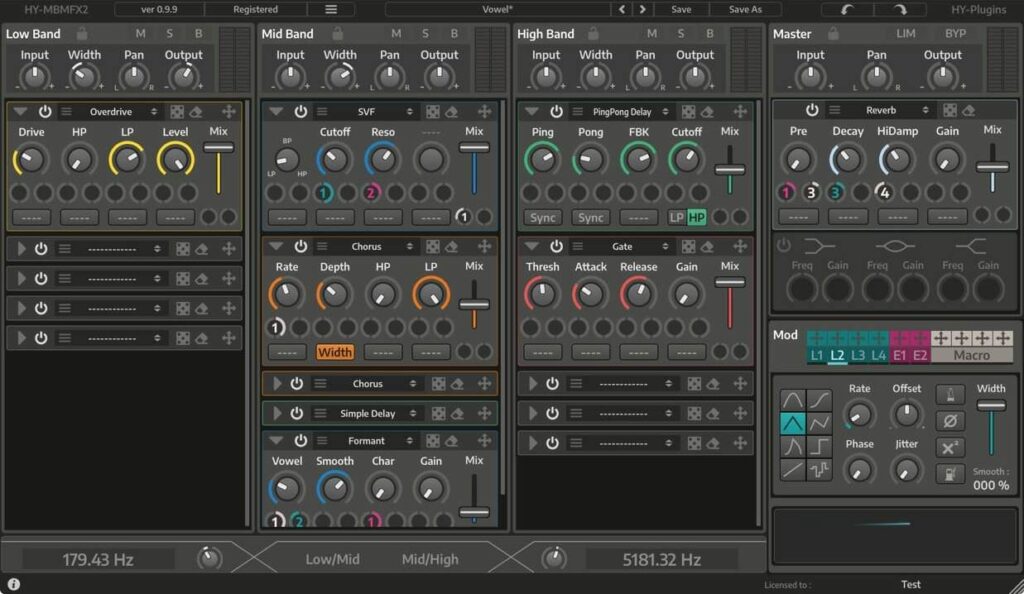 That's where plugins like the FX2 come in handy so much – by detailing every single variable feature in order to break down the process of how it's sounds are formed, this multi-FX processor lets guitarists get hands on in shaping their sound digitally just the same as when they are using their instruments. Control over tone and sound processing is paramount in this plugin. It's got seven kinds of FX, five FX per band, ten modulation options, and 22 other randomizable functions.
Specifications: MacOS 10.12 Sierra and up, 64 bit only as AU, VST2 and VST3; Windows 7 or higher as VST2 or VST3 as 32 or 64 bit.
CHECK PRICE AND BUY HY – MBMFX2 BY CLICKING HERE
Conclusions
These are just a handful of the plugins out there which can really make you reconsider how guitar works and how music can be put together, especially through the process of sound design. Though they are all very different from each other, what the designers have shared is a fresh approach in looking at the instrument and adapting it creatively for DAWs – so that the nuances and tone which have made it one of the world's most popular instruments are properly translated to the digital sphere.