Last Updated on January 15, 2023 by IDS Team
Hello and welcome to our round-up of the best portable music studio gear in 2023, for producing electronic music on the go and also for live music shows. This list is by all means non-final, and will get updated when the market provides us studio-heads with more options. So if you want to go on the road, you found a nice spot that gives you inspiration or even if you don't have a permanent place to stay, this one is for you.
Below you will find only the greatest portable music production equipment, we bring you the best of the best and the second offer, so don't expect an all inclusive 15-item list, just our own selection.
This one is a no-brainer basically. It is the most compact portable digital audio mixer in existence, and had a very good reception when it was introduced back in 2019. While the 1010music blackbox studio – compact sampling and mixing device does not have the hands on control of a traditional mixer, it packs in all the features.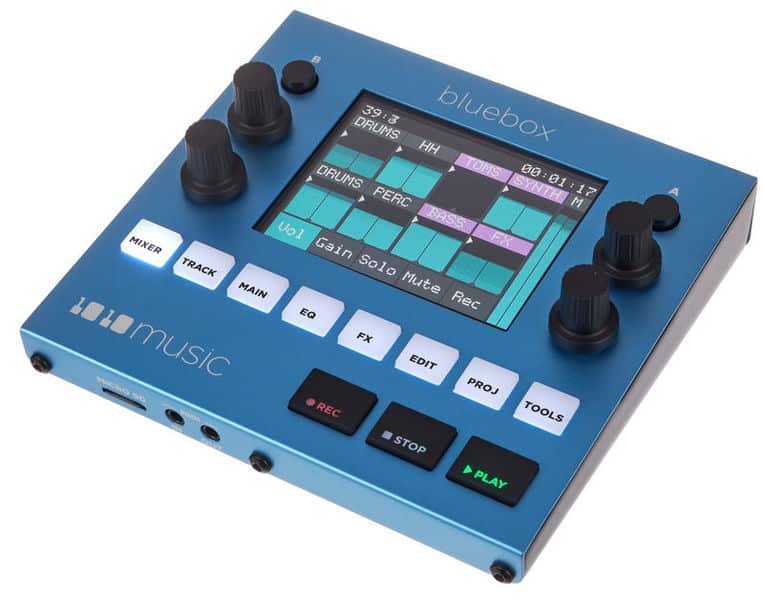 1010music bluebox provides 6 stereo 3.5 mm TRS inputs. Of course you are not going to get your studio-grade 16, 24 or 32 input mixing console, but if you are travelling, you will not be doing so with your full collection of synths to actually plug in to 24 audio channels. Yes you cannot do the smooth fader movements, often 3-4 at one time, but again going portable is all about compromises.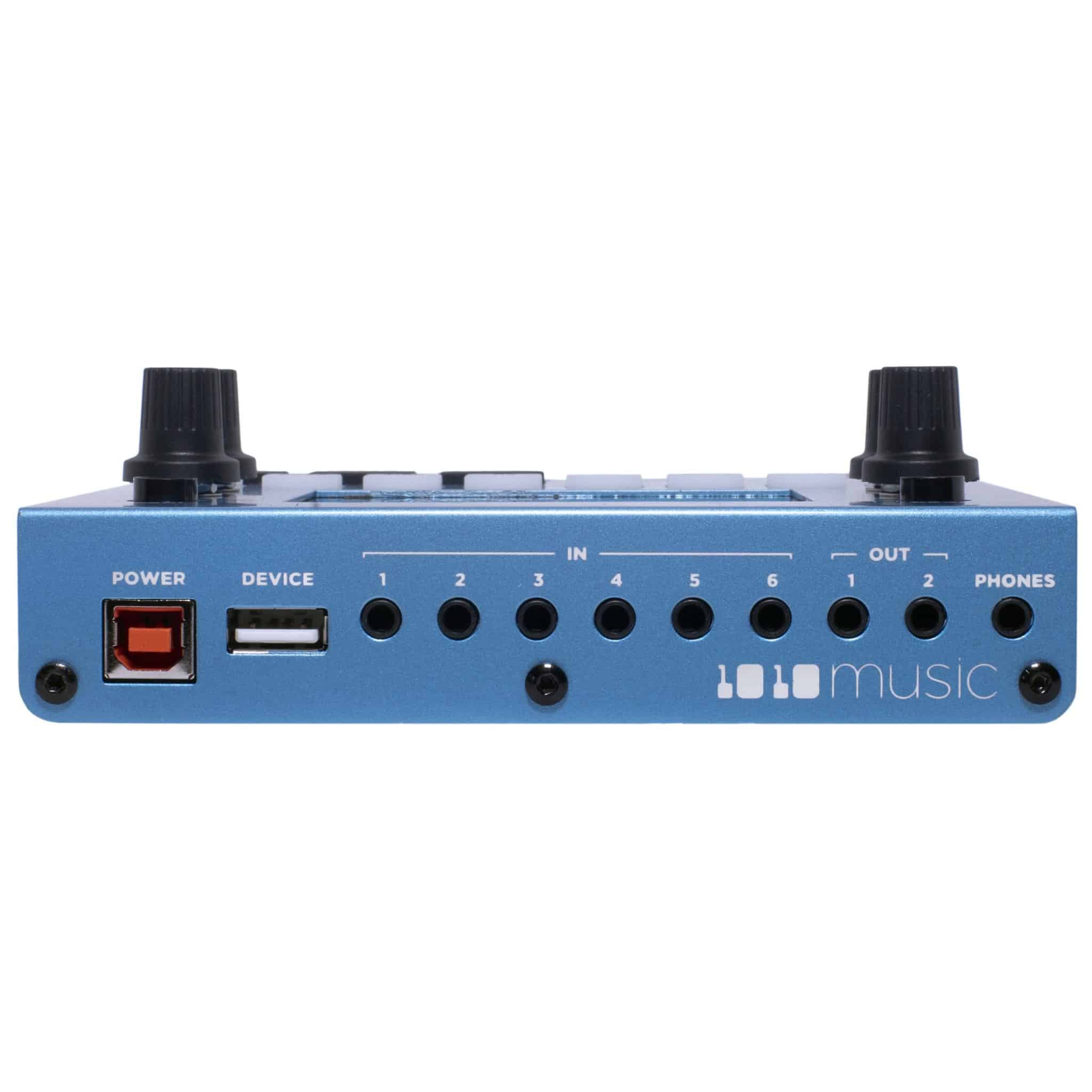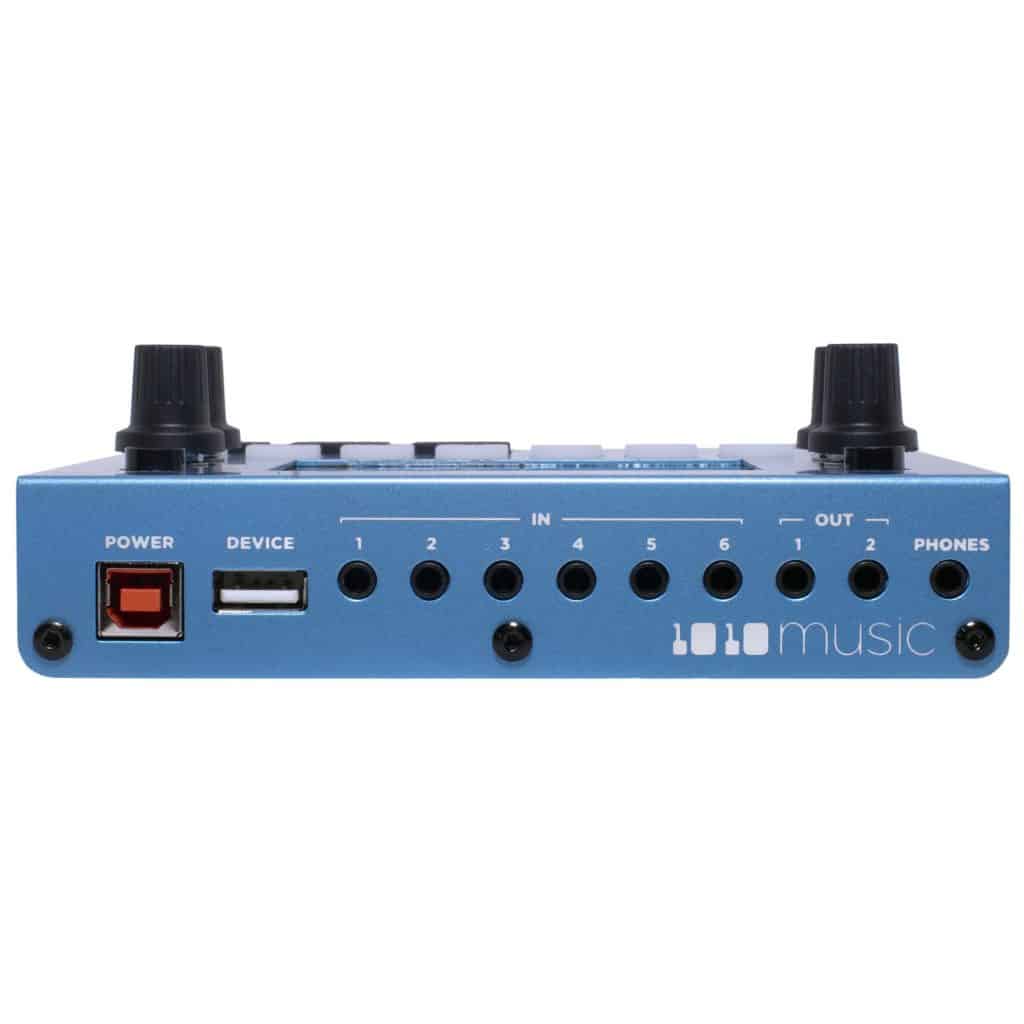 So yes, there is menu-diving and yes you rely on a touch screen for most of your work with this, but the size in unbeatable and the price is extremely good too. You can record everything on one or more micro-sd cards which is also a very nice feature as it can completely remove your laptop from your portable setup if this is what you want. If you are travelling on a plane and you are limited in weight of your luggage, it is excellent.
It also has two outputs plus headphones, so there is the option to have some outboard processing as well, as it has the option to create bus style routing. Overall, it can be the centre of you portable music studio or live act setup as it also comes equipped with MIDI I/O, a four-band EQ for each channel,
The Bluebox mixer supports USB power so it most definitely can run off an USB power bank, just make sure you get a name-brand one as the cheaper alternatives are not that stable and may end up frying your gear or just cutting the power without saving your work.
For live acts, it might not be the best weapon that you have as it lacks tactile speed of a normal mixing board. This one is more of a set-and-forget device, so you have to be aware of it's shortcomings.
You can buy the 1010music bluebox mixer on Amazon right here.
You can also check out second hand options for the 1010music bluebox mixer on Reverb by clicking here.
This portable music studio mixer is more for the old-school types that want to have a more hands on approach, and prefer to trade off some space for this (obviously). This Yamaha mixer does not have a screen, but it does have two microphone XLR connections with phantom power, plus two stereo/four mono inputs. It does not have the ability to record on external media, but it offers a metal rugged chassis and you can just use what recording device you can get including a sound card and a laptop; maybe take them from your fixed studio?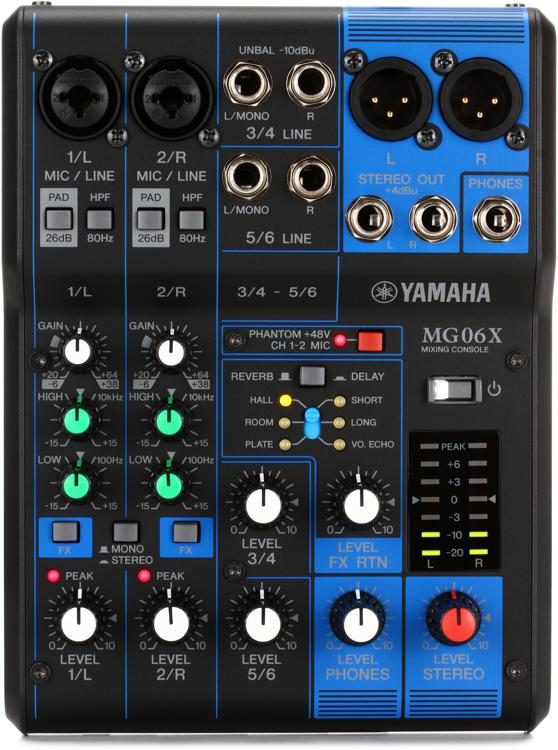 Yes while it has it's drawbacks, it still boosts an extra compact layout and has some rather good built-in effects, two sets of (identical) outputs, phone outputs and high pass filter option on the inputs (to filter out the low 80hz frequencies). While 1010music are a newcomer to the game, Yamaha has been building studio gear for a long time, and knows its way around mixing equipment.
The inputs of the Yamaha MG06x are studio grade and other than the effects, the sound processing is fully analog. It is also good for the money you pay for it, and weight in at just about 2 pounds, it will fit into your bag without problems. Just don't expect to run this thing off batteries, it will only work with mains level power.
You can buy the Yamaha MG06x 6-input portable music studio mixer on Amazon right here.
You can also check out second hand options for the Yamaha mixer on Reverb by clicking here.
Again a piece of studio gear from 1010music, who specialises in very portable equipment. The blackbox is a very interesting sampler with extra features. It has a touchscreen that is both bright and generous (given the full unit size).
Again, the purpose is mostly to replace your computer as it features an arranger and song builder completely out of your samples, but you can also use it to capture performances on your $20.000+ synths that never leave the studio and just jam with what you recorded when out and about.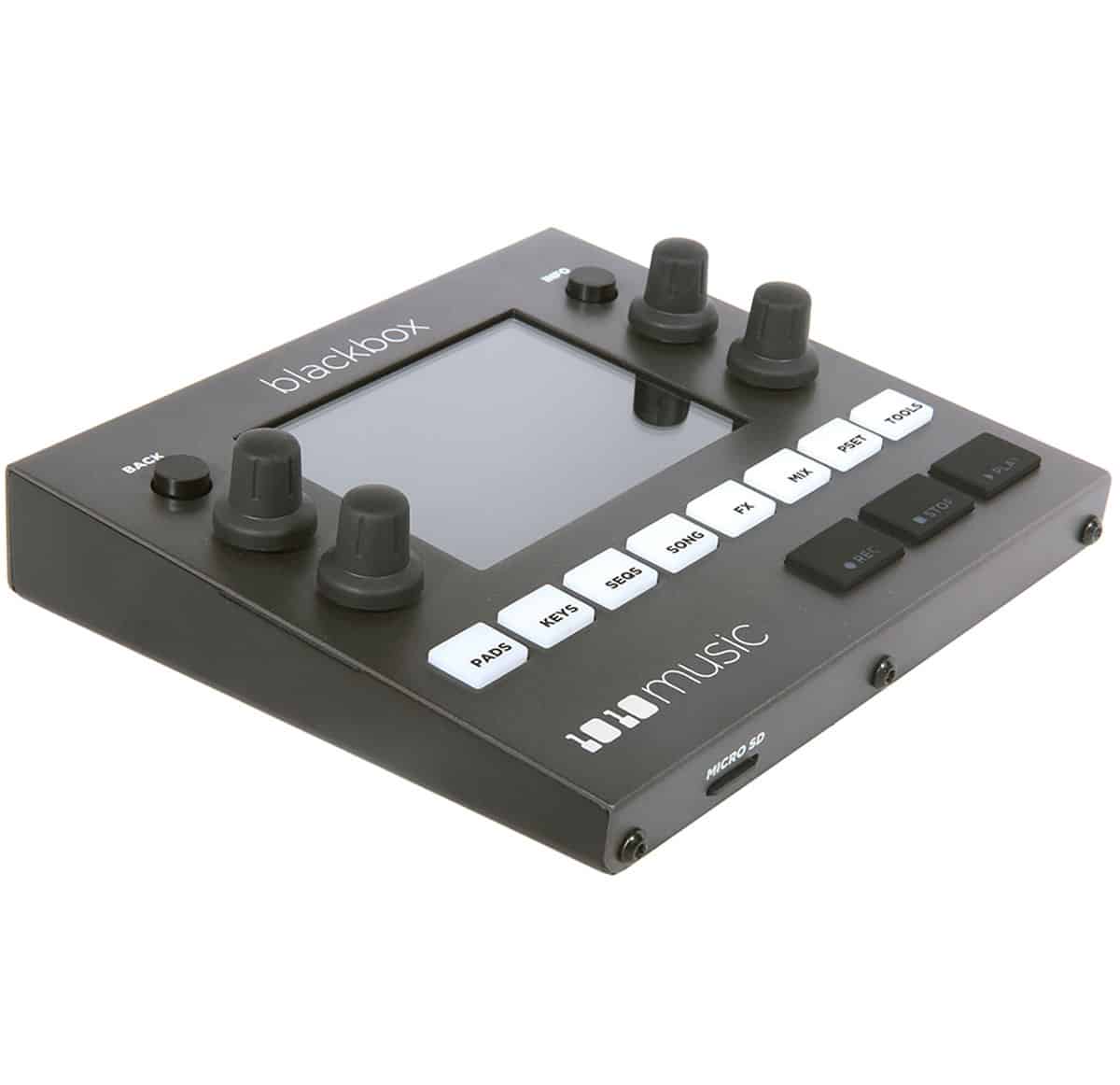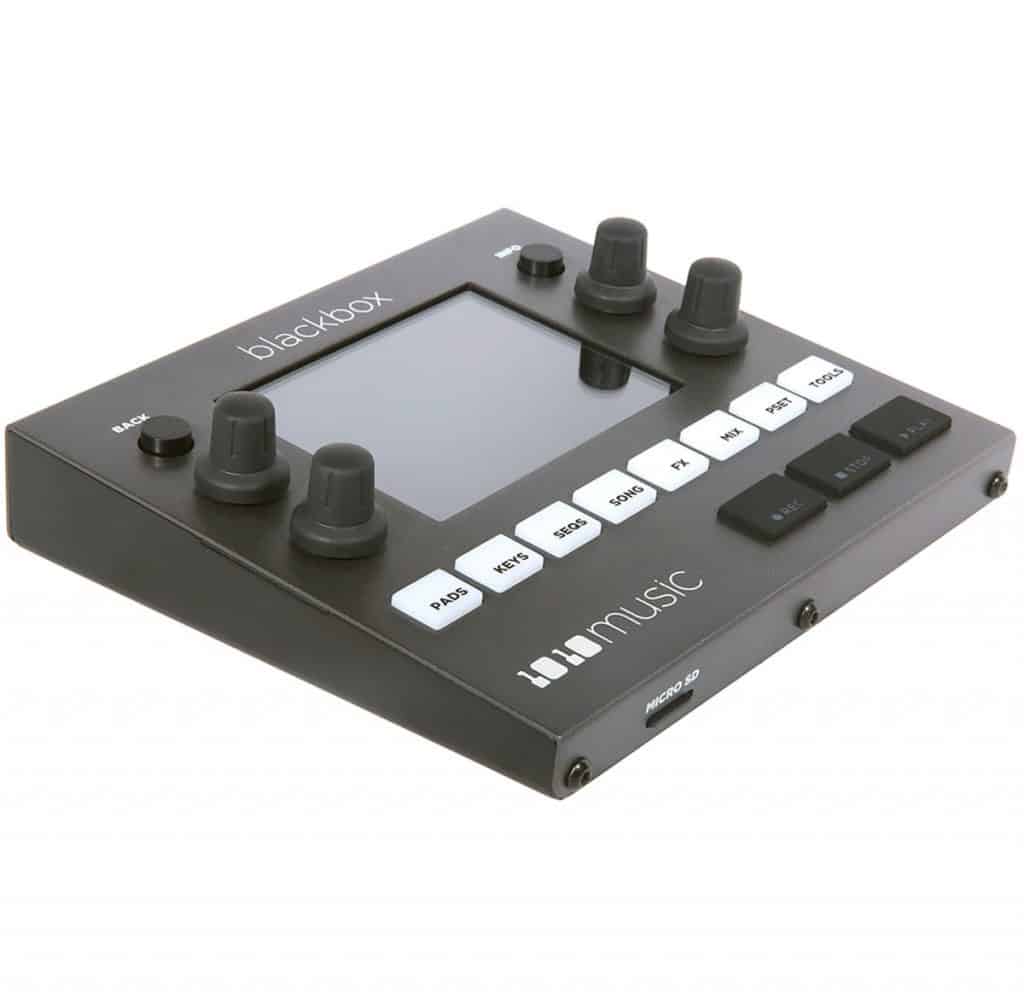 For that purpose it gets the job done with a bit of creativity to spare thanks to the internal effects and presets.. The 1010music blackbox also supports an SD card like the blue box and takes in both mono and stereo samples at 16, 24 and even 32bit. It has a 24 bit DAC so your recordings from the analog world will sound best.
Just like the Bluebox portable music studio mixer, the Blackbox sampler can run off an USB power bank, just make sure you get a good one that provides a stable voltage.
As i/o connectivity goes, you can put one stereo channel in and get three stereo channels out but don't forget that you can internally mix these analog signals with the samples that are run internally (16 channels). It also supports 16-note polyphony and USB and TRS midi (you will need an adapter if you want to MIDI interface with other traditional 5-pin sockets).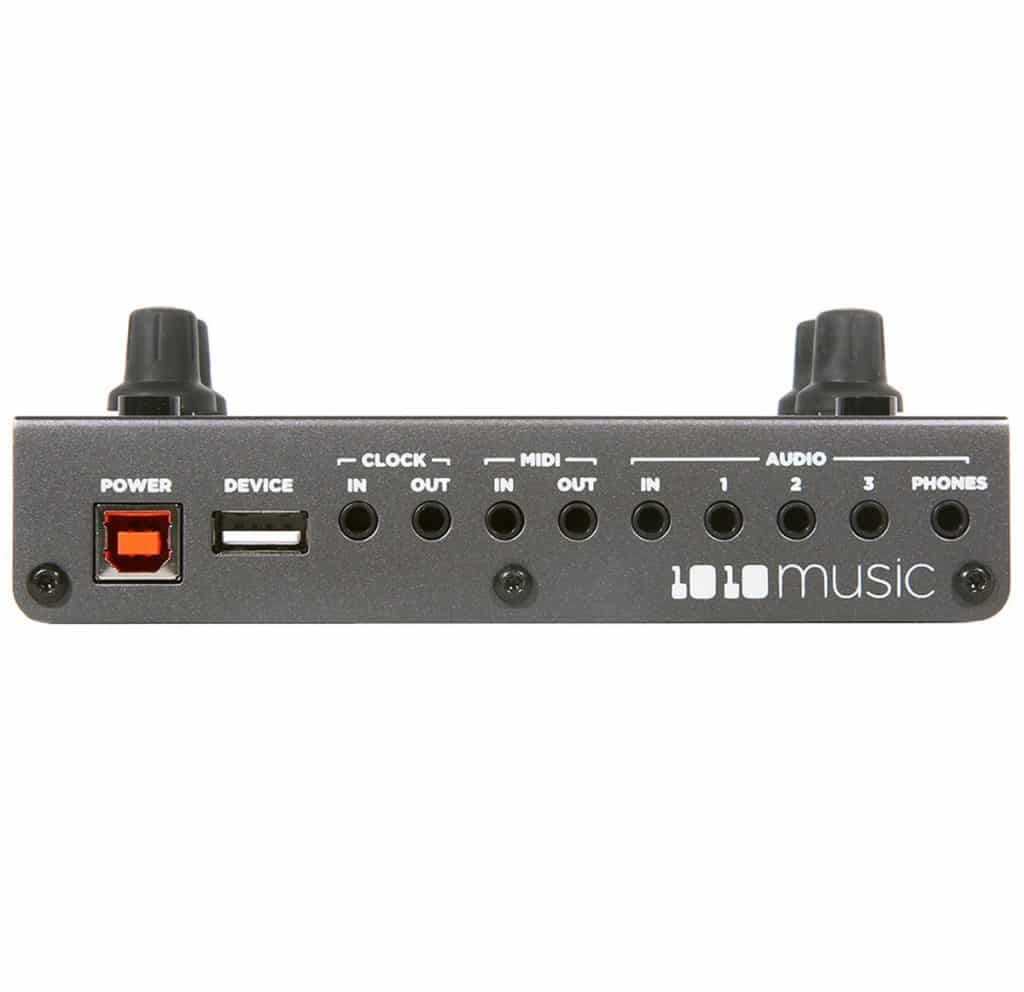 So this portable music studio piece of equipment seems to tick all the boxes, but what it does not have is hands on approach. So while it is good for production, in a live show you might not really want this as it takes a bit of time to do significant changes to your sound and also because of the touchscreen interface, the control might be a bit wonky.
Still we think it has it's place arround gear-heads and you can buy the 1010music Blackbox sampling studio it by clicking here.
While the previous sampler is considered by us the best, this is mostly because of the portability factor and also because most people use samplers more as sample players, and just changing the sample recorded from time to time without serious editing in real time.
However, for those that want more control and are willing to sacrifice a bit of portability, there is the Elektron Model:Samples.
Yes we are huge Elektron fans here at idesignsound. These Swedish guys nailed it with their grooveboxes, their workflow is fun and their specialty is flexibility. With the exception of the mixer and effect category, Elektron are present with offerings on all portable music studio gear types presented in this article
The Elektron Model:Samples is considered a very entry-level way of getting familiar with the way that this company handles it's workflow. Everyone will tell you that they have a bit of a learning curve and that they see things a bit differently. Some will even say that they tend to make user experiences that are overly complex, even for the most trivial of tasks. But we tend to disagree, as all things that they do, they do for flexibility and power.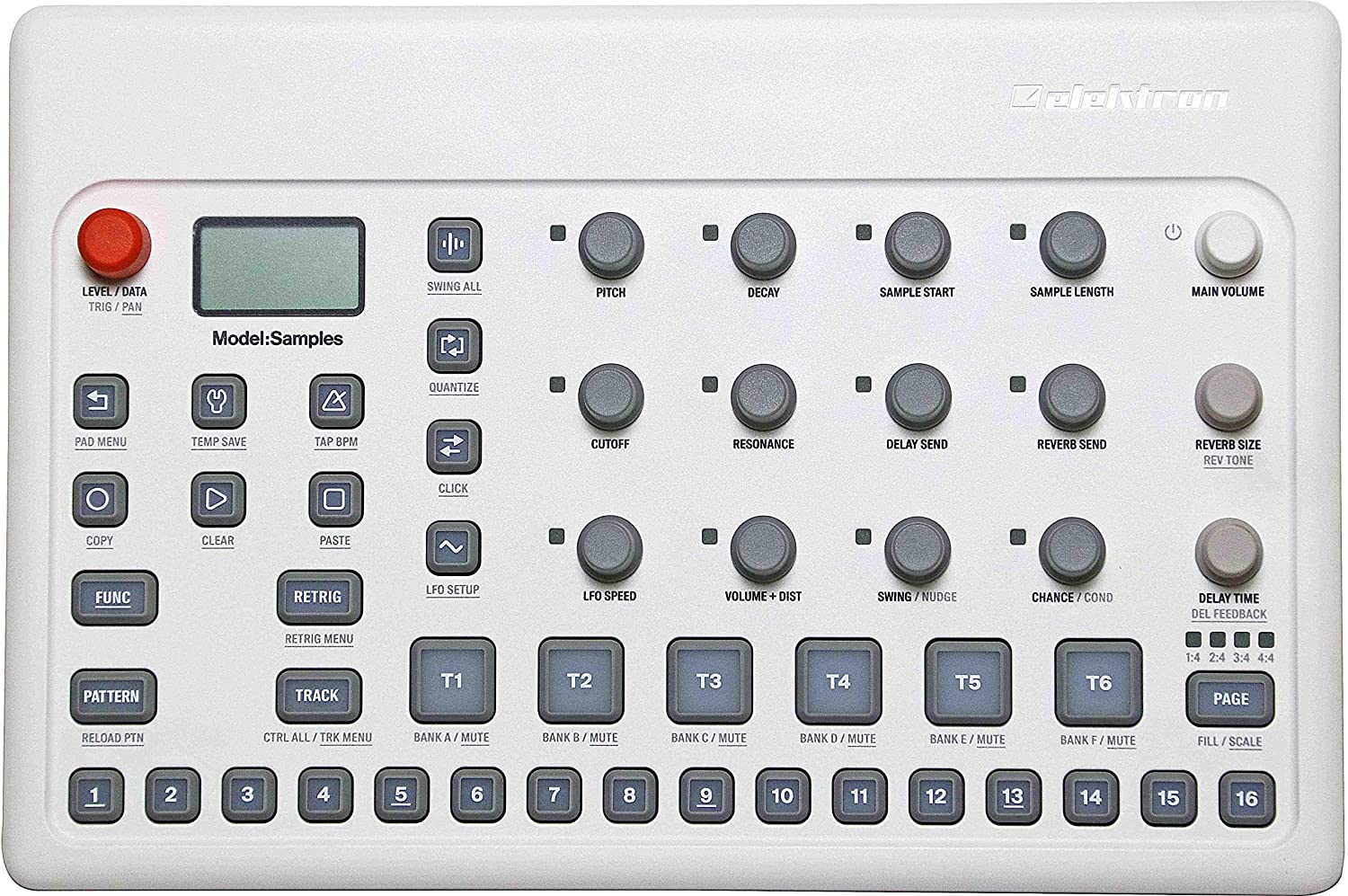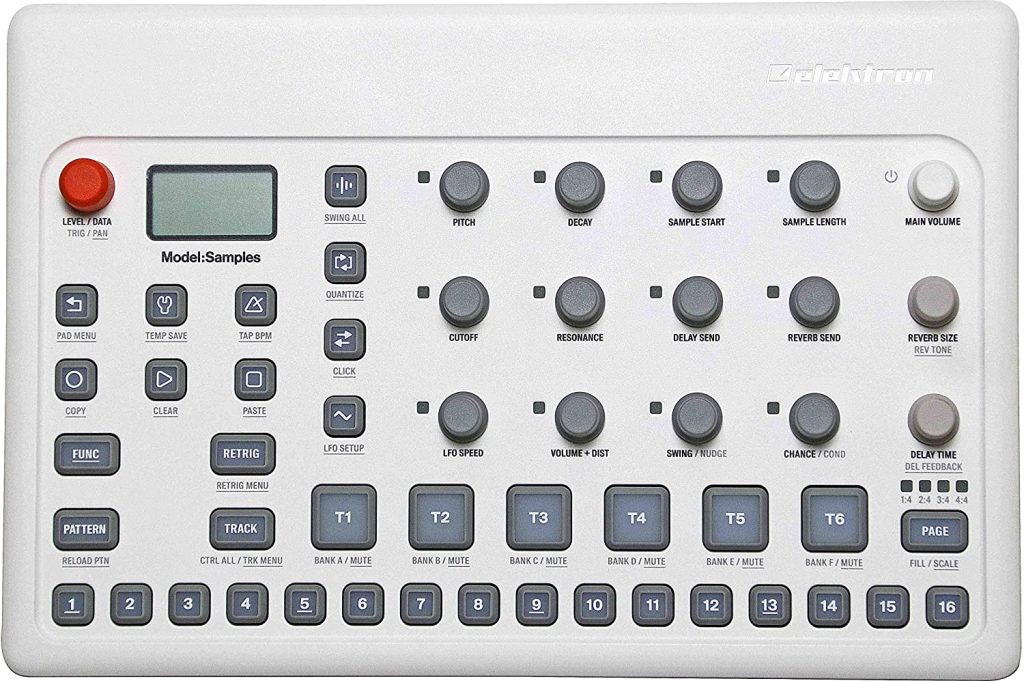 It is clear to us that with the Model:Samples they tried a bit of simplification. They offer a lot of one-function-per-knob controls which is very rare these days, especially in compact gear. They seem to create a lot of space between these knobs so they are perfectly suited for live performances where you don't really get great lighting and you may twist the wrong knob if the controls are very close to each other.
The features are great on this product, and we would like to firstly point out the sequencer. Yes, Elektron have probably the best and most powerful sequencing options in the game and have made this their most important trademark. You can record live, you can program changes of parameters in each step, you can have odd sequencing times and you can have probabilities and micro-timing settings too. This is basically standard for this company, and the Model:Samples makes no exception. Then, you have the six velocity sensitive pads to get finger drumming, the retrigger and the stereo effects, all very useful.
While the sampling and sound engine is limited, this is to be expected as the company offers more products with a higher price tag and better sampling features. Let's remember that this is an entry level product and that sampling is mostly just sample playback.
You can buy the Elektron Model:Samples portable music studio sampler from Reverb by clicking on this link.
Best portable electronic music studio polyphonic synth: Elektron Analog4
Ok, now we get deep and dirty with the Elektron offerings. While the previous product we discussed, the Model:Samples was considered an over-simplification, the Analog4 ticks all the boxes of the Elektron not-so-beginner-friendly way. The Analog4 is an excellent sounding and extremely versatile synth. Most people swear by it in every live show, although some consider the oscillators and sound engine to be a little thin. We personally disagree, and we have alywas enjoyed the sound that you can get with an Analog4.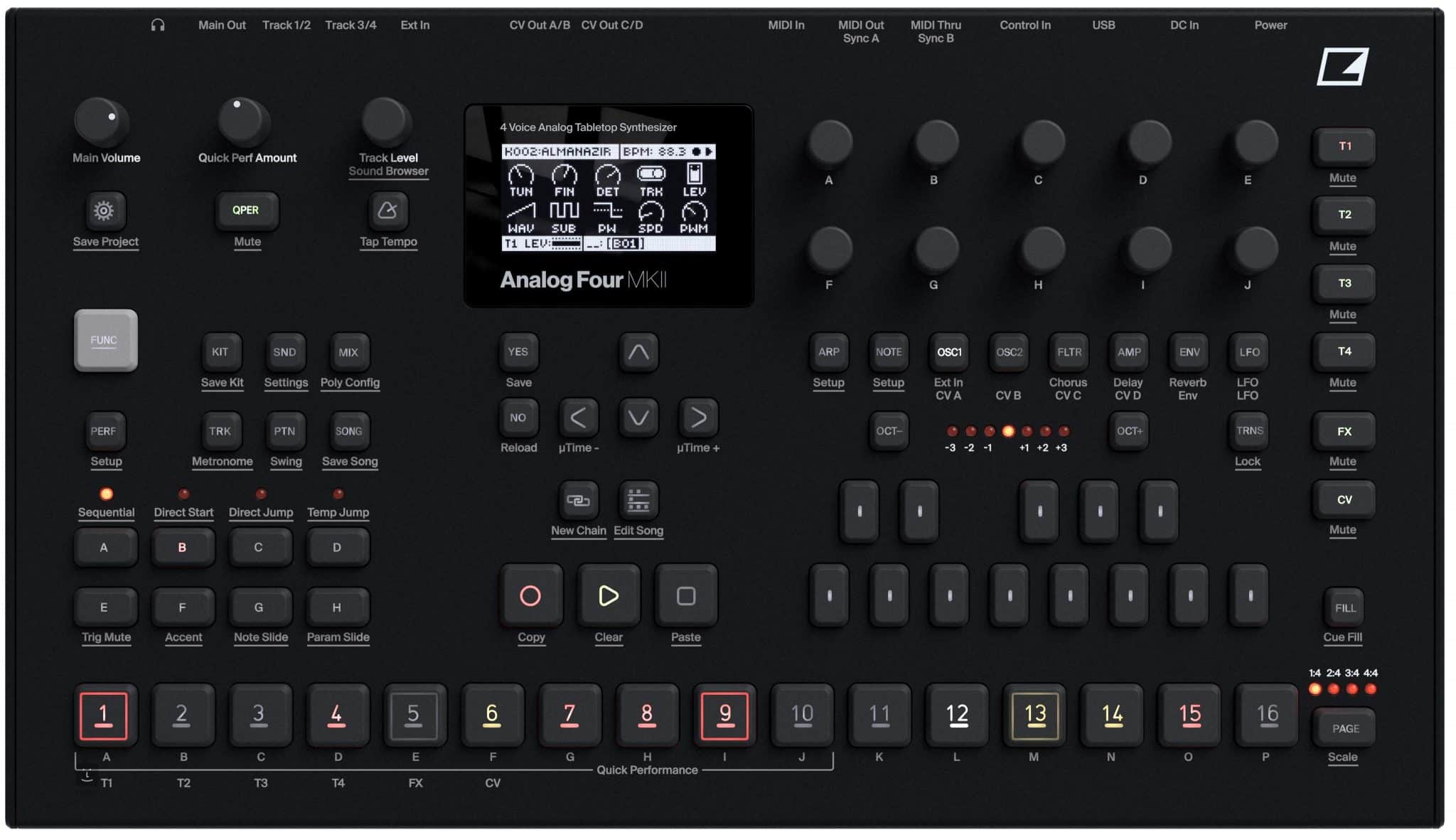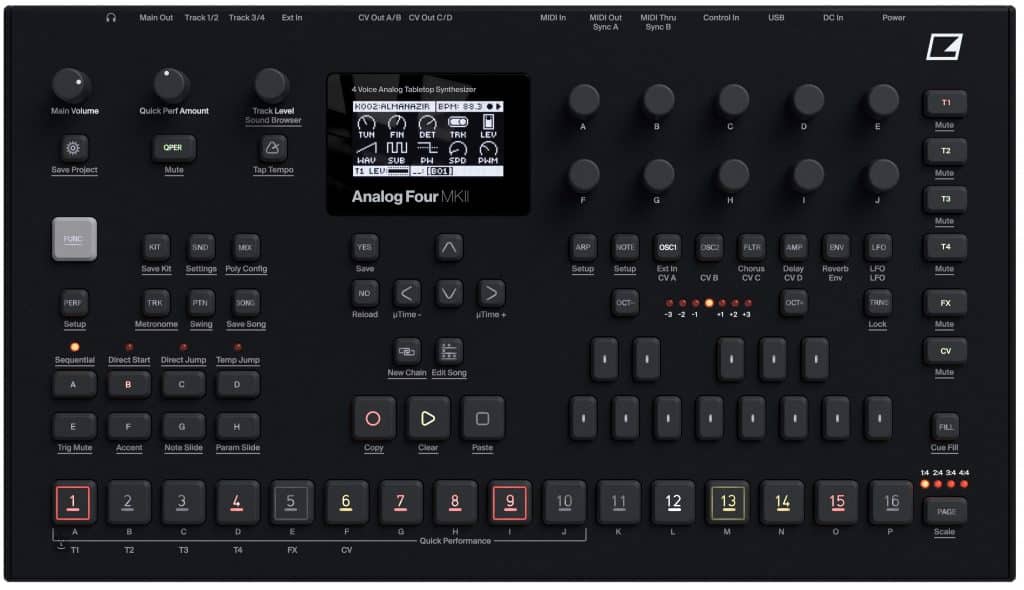 This is mostly because of the complex modulation routings possible with it (basically you can modulate every parameters of the synth) and the waveshaping possibilities (all oscillator wave types can have the pulse wave modulated). There is a very interesting trapezoid wave type, there is partial oscillator sync, there are a lot of envelope shapes to choose from and there is AM. The new MK2 version of the Elektron Analog4 has a redesigned outer shell, it looks very pretty but if you want extreme compactness, you should look for a used MK1 as they have the classic rectangle groovebox shape profile.
The 4 in Analog4 stands for the separate synth channels that this thing can output. This is called multi-timbrality. What this means is that while you are buying one single unit, it is capable of creating four individual and distinct sounds that can have their own sequences and their own modulations (albeit these four distinct channels will be monophonic meaning you can only play one note at a time)
If you don'y want four mono channels but actually need some polyphony, this thing can switch to four-note polyphonic play (so you can do chords with it). The voice routing is extremely flexible and you can have eveything in between (two mono channels, one 2-note poly) including four note unison.
The sequencer on the Analog4 is state of the art, with every possible creative trick at your disposal. There is a lot spoken about the Elektron sequencer, it being an entire subject on its own, so it is important that you actually research this if you plan on buying this product. What is important to say si that with the most recent patches applied, you can even send the sequencer notes via MIDI to other gear and have the Analog4 as a midi brain, sending notes to the other compact equipment that does not have a means of inputting notes.
There are three stereo effects on board this beast, and there are also two audio inputs so you can use these effects for your other sound generators. The delay shines and you can sync it via MIDI too. Speaking of audio inputs, the Analog4 can even work as a sound card via USB, getting two mono channels of sound in your computer or getting two mono channels of sound from your computer in the analog realm. The converters on this are 48khz-24bit.
You can buy the Elektron Analog4 MK2 from this link as new on Amazon.
You can also check the Analog4 MK2 as second hand on Reverb by clicking here.
Last but not least, you can also try the older Elektron Analog4 MK1 as it is cheaper and somewhat similar. You can explore Reverb options for the MK1 by clicking here.
Oh, and if the Analog4 is up to your taste but not your budget, you can also check the Elektron Digitone – not analog, more compact, more cheap. We will write a review soon!
So for those of you that were a bit intimidated by the Analog 4, there is a much more streamlined option: the Moog Minitaur.
Sure, the first thing you will loose is features like a sequencer, polyphony, midi output, sound card features, modulation matrix, pulse width modulation, FM/AM modulation. Now that we got that out of our heads, the Minitaur is the easy way into the Moog Sound. And boy what a sound that is. if you are into bass-heavy music, you can't go wrong with it. They even call it a "bass" synthesiser, but that is mostly because of the limited feature set.
What you actually get is a two oscillator one lfo synth. The wave shapes are limited; pulse or triangle and there is no way of modulating anything other than the pitch and filter. You do get two ADR/ADS envelopes, glide/portamento and an audio in for either plugging in external gear through the filter and envelopes or (more commonly) creating a feedback loop to thicken the sound.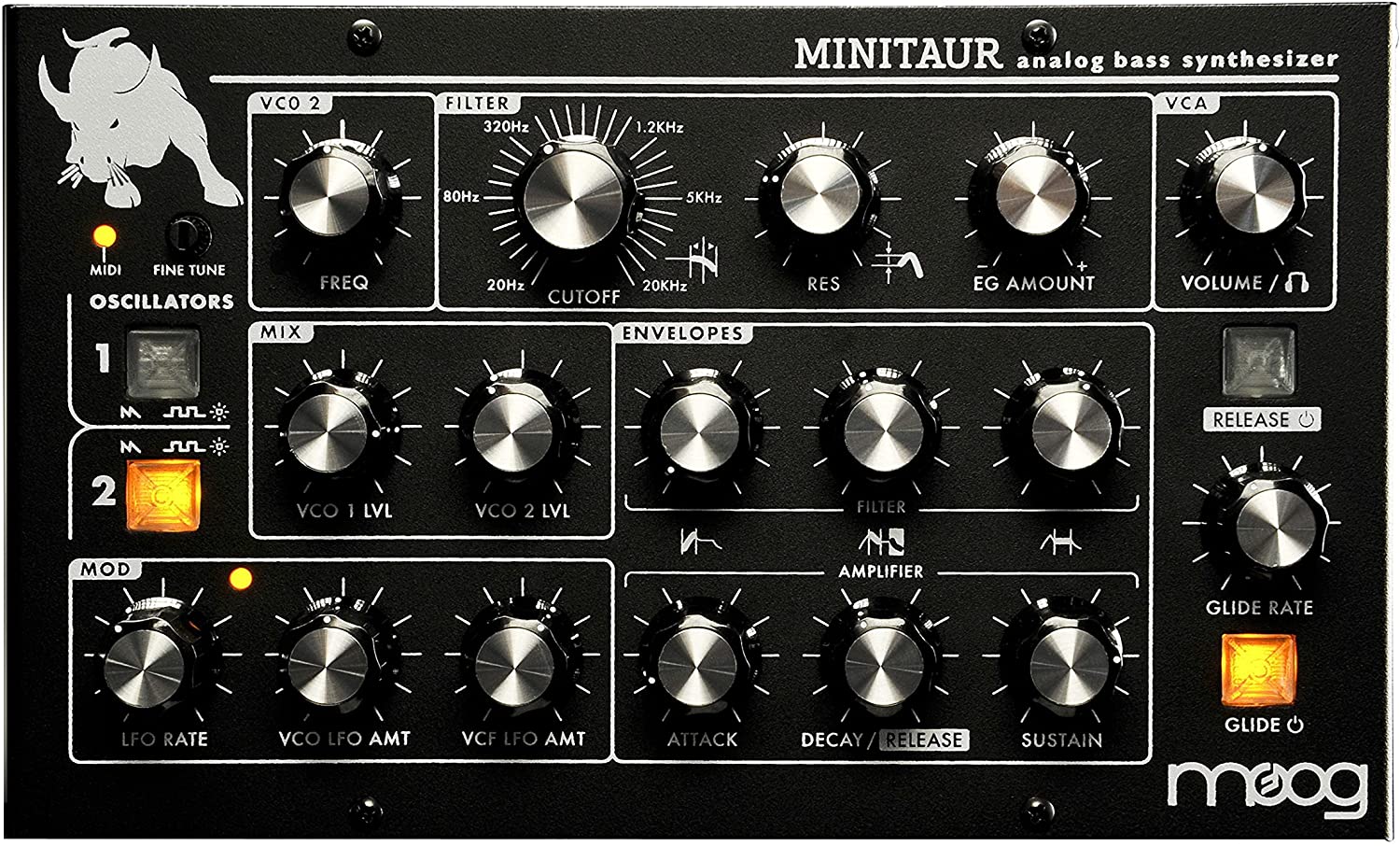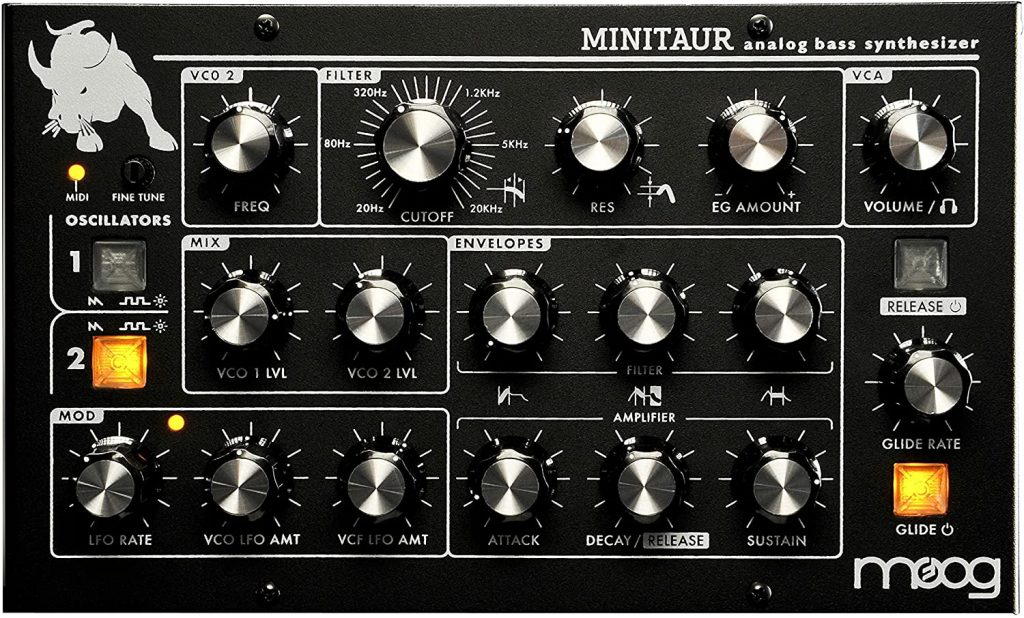 Although by using a computer and the control VST you will get some added features including a preset management library, in a portable setup that can or can not be achieved. It all depends if you use a computer or not.
Although the computer brings in more flexibility (and midi – USB), we still think that the Minitaur is made to be tweaked-upon. The sound is lush and the filter is what you expect from a Moog.
You can buy the Moog Minitaur on Reverb by clicking here.
Other portable synth mentions
There are some new Synth offerings from 1010music that we covered separately in individual reviews:
1010music fireball – wavetable synth – read our review by clicking here
1010music lemondrop – granular synth – read our review by clicking here
Best portable electronic music studio drum machine: Elektron Analog Rytm
As we said, we are big Elektron fans. Elektron Analog Rytm MK2 is made to be paired with the Analog4 and is Elektron's take on drum machine, and also a successor to the highly sought-after digital drum machine from the previous generation: the Elektron Machinedrum.
What you get with the Analog Rytm is: basically everything.
You want to do finger drumming like on the MPC – you got it!
You want to use samples – you got it!
You want analog drums – you got it!
You want to modulate as much as possible – you got it!
You want to control other gear with the sequencer and midi – you got it!
You want to output individual tracks – you got it!
You want to process external sounds in each of the total eight tracks – you got it!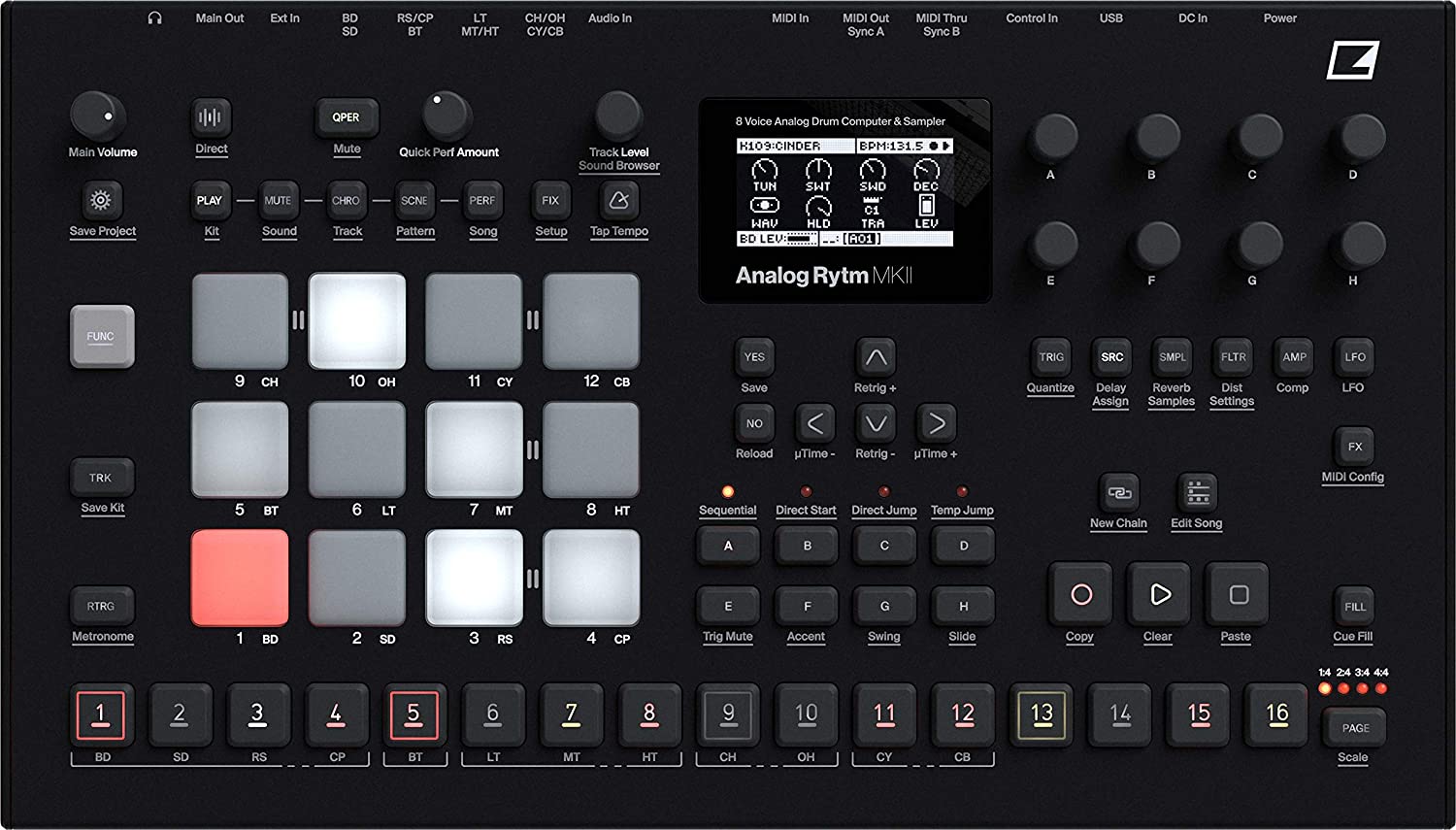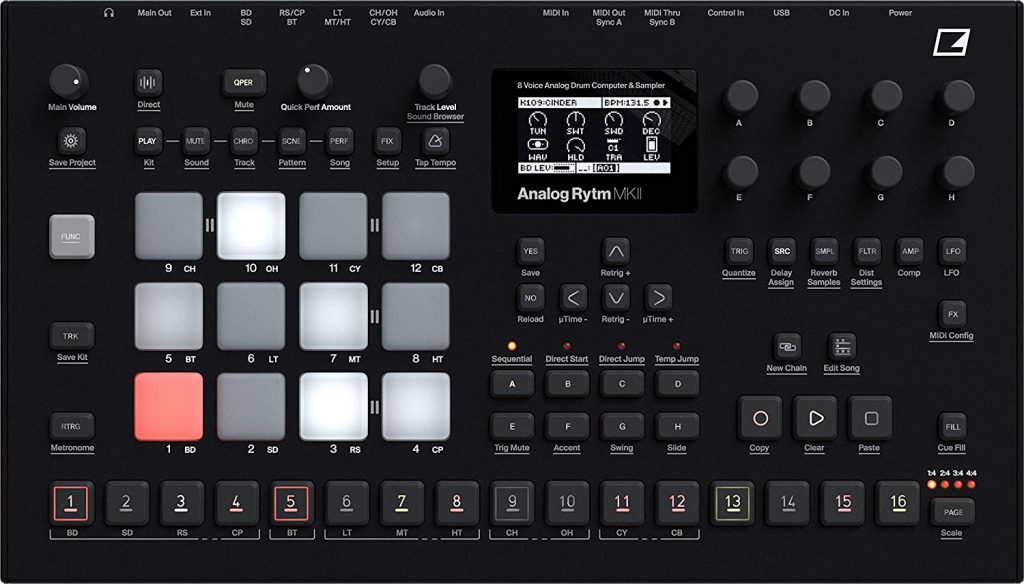 Coming it with it's distinctive sequecing power, individual step settings (p-locks) and all the workflow improvements that this company is known for, the Analog Rytm is an eight-track monster packed in a very compact format.
The sounds it's analog engine make are world class, you can hear it in most modern productions and if you still don't like them, you can switch to your own samples without issues. You can even mix both in a single drum kit.
Drum machines are, in our honest oppinion more simpler than synths, so there is not much we can cover about them, the sounds you can either love or hate but the workflow, once you get used to it, will raise your standards for life.
You can buy the Elektron Analog Rytm MK2 here.
You can also check the Analog Rytm MK2 as second hand on Reverb by clicking here.
Last but not least, you can also try the older Elektron Analog Rytm MK1 as it is cheaper and somewhat similar. You can explore Reverb options for the MK1 by clicking here.
If you would rather have something even more compact and more affordable than the Rytm, while still keeping true to the Elektron workflow, you should check out the Elektron Digitakt.
MFB-522 portable drum machine
Yes this is a classic and yes this is discontinued for a long time. Yes this is an 808-clone. But it is by far one of the most compact drum machines ever.
While really very simple and very hard to use, especially if you have big fingers, we still felt the need to mention this tiny piece of 100% analog gear. We just love it.
Yes we love it's weight and it's color scheme. We love that it has four outputs given it's size and that you can really get some punchy sounds out of it. The hi-hats choke, and the kick bounces.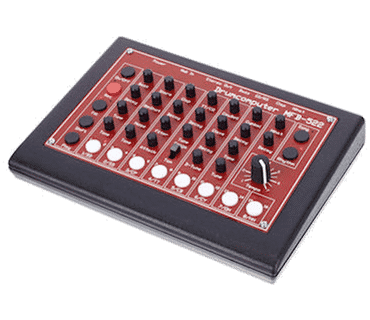 Just throw it in your bag, purse or even your pocket (this thing is tiny) for some instant 808.
What we don't like is the sequencer. You really should not fiddle with the 522 during a live show, but for a portable music studio you really can't go wrong.
You can find the 522 on the used market, however in recent times it's becoming a rare sighting. You can check Reverb by clicking here.
Portable Music Studio Gear: Honorable Mentions
Here we will put other compact studio gear with some notes, they are good just not the go-to for us so they did not have their own article sub-section.
Conclusion
While the portalble music studio equipment landscape is as dynamic as ever, nothing will be able to replace the laptop or even an eurorack modular setup in terms of flexibility. This is why we did not bother to go into effects, because these tend to be one trick ponies and it's a good idea to actually add effects in the digital realm. We have a great article about using analog effects right here, if you are interested. Most hardware effect units are actually digital inside so the whole analog vs digital battle does not apply to them. There is also something magic when you max in the digital realm and use a laptop, or max the opposite, analog spectrum and get a very multipurpose eurorack module selection. These are maximums for compactness that also allow you maximum flexibility and the most efficient storage space management possible.
While we did make a point into not discussing these two tools – modular and laptops, having a portable music studio for both production and live performances is extremely fun and inspiring. Just breathe in that fresh mountain air and sport a nice solar panel to recharge your batteries (you should have multiple packs of them), while you make your own flavour of music and soak all the inspiration that the outdoors can provide!