Last Updated on January 15, 2023 by IDS Team
Want to find the best ear training software of 2023? Look no further for a handy breakdown of some of the different options out there on the market, what they work best for, and how to find what suits your specific needs.
EDITOR CHOICE: trainyourears.com – BEST Starter Option
This one is simply the best because it is one of the simples and easy to comprehend piece of Ear Training software. We have extensively covered this product in a separate review, which we highly recommend as it goes in-depth. You can read our trainyourears.com review it by clicking here.


We chose this as our Editor Choice because is is the easiest and most recommended way to get into Ear Training as a first-time encounter. If this is your first attempt to use Ear Training software and have moderate musical knowledge (willing to master them fast), start by clicking here (open trainyourears.com website).
Best Ear Training Software for Focussing on Frequency: QuizTones
QuizTones is a fantastic app which comes from the folks at the Pro Audio Files. This is a website and an online course dedicated to mixing and mastering tips. The developers designed QuizTones to take the entire EQ process and turn it into a fun, intuitive, and interactive app. This allows the user to hone their skills in real-time in order and enhance their aural sensitivity.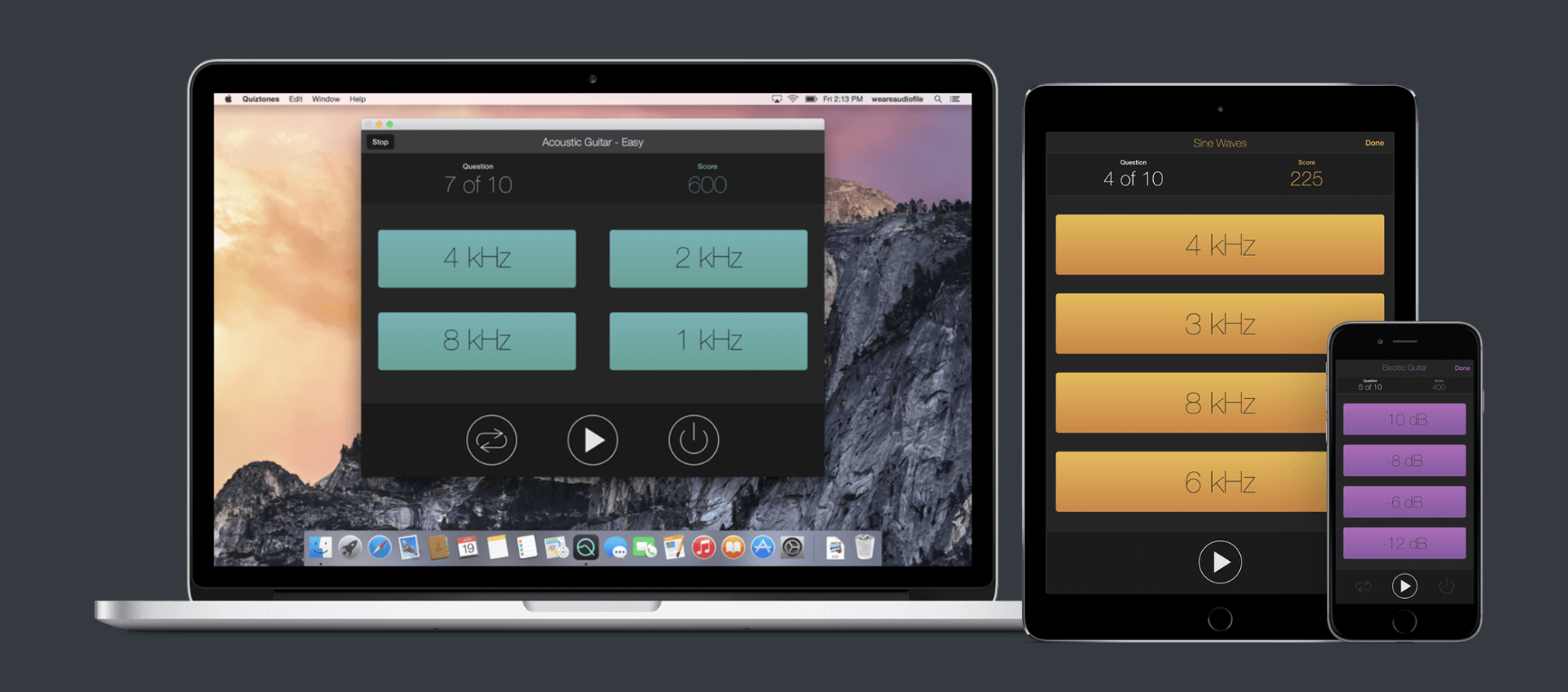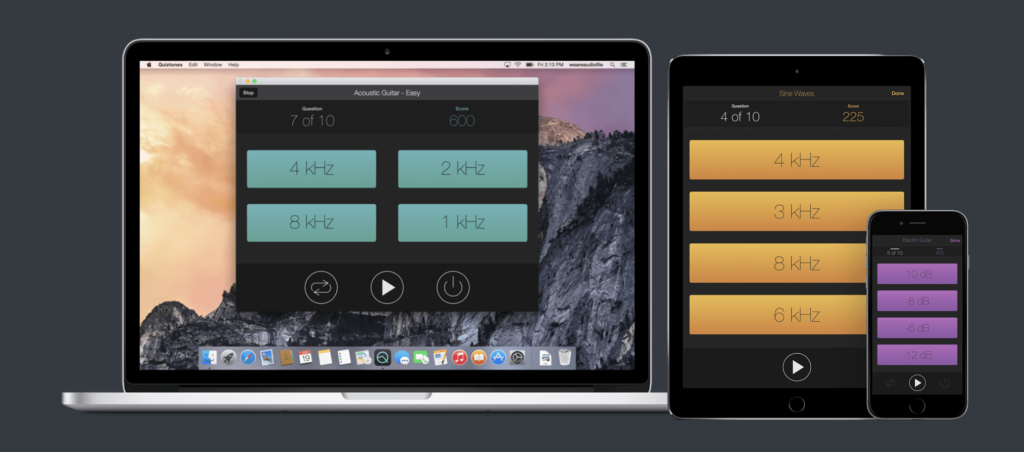 With quizzes for tone, EQ, and more, QuizTones builds up your skills step by step. QuizTones is one of the most popular apps on the market for this kind of thing. One stand-out feature is how it eliminates the need to sweep for audio. QuizTones also allows you to choose different difficulty levels. It even lets you import loops from your own library and see what they sound like when you isolate different frequency bands. This learning in context is really what makes QuizTones stand out from other, similar apps.
Price: 14.99 USD for Mac, 4.99 USD for your iOS handheld device
Requirements: Mac and iOS only. You can check their website by clicking here.
Best for Simplicity: Ear Plugins
This is a totally deceptive plugin. At first glance it looks extremely simple, however, when you unpack its features you discover everything which you need.
In terms of design, this plugin is almost like a piece of retro technology. There is also a small game feature. Here, it tracks the number of guesses you've made of a particular bandwidth on the EQ spectrum. Due to the fact it's small and not distracting, this is also a great plugin to keep on the side. Therefore the ability to incorporate it into the rest of your computer's interface discreetly makes it phenomenal for busy musicians.
You might need more time to set up and install this than the average plugin. The developer originally intended it for his personal use, however, you can find easy-to-follow instructions on their website. What I like about EarPlugins is really its design and layout. It's easy on the eye means that there is more focus on the sound itself. It also helps that you can plug in any of your own sound files to use to train. Find it and even get in touch with the developers below.
Price: Free
Requirements: available for Windows only
Best for A Comprehensive Look: SoundGym
SoundGym is an absolutely phenomenal ear training programme. This is, in fact, one of the most comprehensive pieces of software on this list. SoundGym operates on the same premise as a real gym. It also includes all the most common plugins and FX to train your ears as well.
Ear training has sometimes come to mean frequency detection or focus on the EQ process. However, SoundGym takes into account is compression you struggle with. It even has separate sections for training beat identification as well as the classic focus on EQ. SoundGym's production and audio courses, in fact, are all designed to revolutionise how people ear train.
The only downside of SoundGym is it's more of an online platform than anything else. There is no windows or iOS compatible app at the moment. However, you can track your progress, and train and compete with thousands of other users online and worldwide. This makes it truly addictive and properly challenging.
Price: Free
Requirements: Internet access – this amazing website is entirely online!
Best Ear Training Software for Consistent Practice: Complete Ear Trainer
Complete ear trainer really does what it says on the tin. It's comprehensive and works with notes, intervals, and chords. This last feature makes it a really smart app for musicians who prefer to learn how things fit together. After all, focussing on your relative pitch, it also understands that it's necessary to learn things holistically.
Apart from that, the developers put this app together simply but well. It has everything you need without too many distracting features. This makes it perfect for those who just want to focus. Its unique video game format means that it's super easy to maintain a consistent practice. Like anything, ear training is a skill you can improve with repeated mastery. Of all the apps and software on this list, this one is possibly best for maintaining skill level. In fact, it hits the sweet spot between breaking things down and additional features.
Price: Free – an amazing price for such a comprehensive app
Requirements: Your handheld device – Complete Ear Trainer is available for both Apple products, Huawei mobile, Android, and also available on Amazon as a free download.
Best Ear Training Software for an Academic Approach: EarMaster
EarMaster is the software on this list which deals the most with traditional academic style ear training. This means that it has options involving written music notation. It really gets you back to the basics of conservatory style interval and pitch training. Nevertheless, it doesn't just do a handful of basic things, it also has a special section just for jazz musicians. As jazz uses lots of complex chords which don't always show up in regular chord and interval training software. As a result, this is an absolute lifeline for jazz musicians. Indeed, it helps anyone who wants to familiarise themselves with chords and intervals which are less easy to find online.
Apart from this, it has options for both ear and rhythm training. The latter is something which not many other apps or software cover. Functional ear training means you can also use a keyboard, sing, or use solfege syllables to match notes. This is very helpful as you will gain familiarity with a wide variety of methods.
A lot of musicians prefer doing things by matching the software they use. This could include using their favourite EQ frequency plugin or a midi keyboard. However, it doesn't hurt to get back to basics sometimes. EarMaster is exactly the kind of app which will walk you through that from scratch to perfect audio sensitivity.
Price: Free versions available, more in-depth versions available for a monthly 4.99 Euro or 5.01 USD subscription
Requirements: Windows 7, 8, 10, 11, Mac 10.12 + and iOs 10 +
Final Thoughts
It's not really possible to choose the 'best' software as every musician will have a different style of learning. Nevertheless, this list includes a varied number of different options. This way, there is something for each preference. Whether you want something more traditional, need to focus on your jazz chords, or learn best when things are interactive, it always helps to investigate different choices. In addition, take both your playing style and habits into account. That way, by knowing what works, your ear training journey will inevitably go much more smoothly.
Enjoyed this article? We have a whole category of music software, available at the following link: https://www.idesignsound.com/software/