Last Updated on February 1, 2023 by IDS Team
The best new hardware synths call is a difficult choice to make. Finally rounding it down to three options, this article looks at what makes these synths stand a cut above the rest. To find out the results of this difficult choice and draw in some inspiration for the new year, read on.
Teenage Engineering OP-1 Tenth Anniversary New Edition
Ten years ago the OP-1 made waves for its unparalleled creativity and now it's been re-released for its tenth anniversary. Modelled off a pocket calculator, it has more unique points than possible to list. The Op-1 has ultimately become one of the most talked-about releases of recent years – so let's take a look at why…
Teenage Engineering Op-1 Tenth Anniversary Edition: Features Included
Don't let the size of this little synth mislead you! Courtesy of the classic creativity of Teenage Engineering, it has a neat and efficient selection of features, including the following…
mixer and FX – it has a four-channel mixer with 7 distinct stereo FX to apply to your sound, giving effortless numbers of sonic permutations.
a wide range of synthesis options ranging from string synthesis (physically modelled) to FM Synthesis – 10 in total
unique fingerprint to EVERY OP-1 due to the fact its 'DNA synthesis' feature is modelled on a machine's unique processor ID. No two machines sound the same! This is broken down further in one of their blog posts and is essentially a noise synth, but with a difference.
works as both a synthesizer, sampler, and sequencer
controller mode changes the synth into a portable MIDI controller
disc mode allows the export of sounds made on the OP-1 as separate tracks to be stored on your computer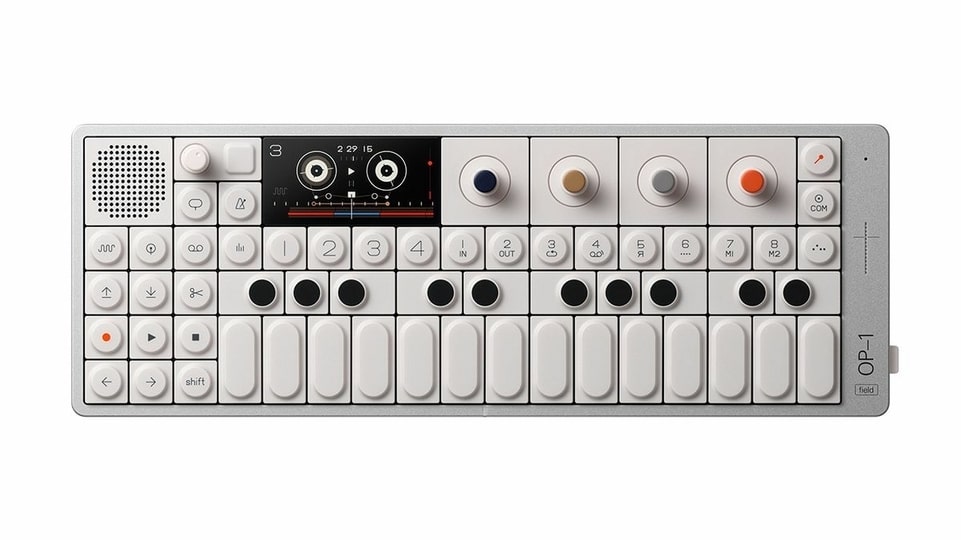 Best new Hardware Synths: What Makes the OP-1 Stand Out From the Rest?
The OP-1 is billed as 'the portable wonder synthesizer' by Teenage Engineering and it's not hard to see why. It is versatile enough that it has been used by both Trent Reznor of Nine Inch Nails as well as French ambient and electronic musician Jean Michel Jarre.
A real innovation is how you can use its FM radio feature as a form of input, meaning you can sample real radio stations and then modulate them with the synth's effects. the possibilities are endless – ultimately, this is just a snapshot of what has made the OP-1 so popular.
Price and Availability:
At the time of writing, the Op-1 Tenth Anniversary Edition costs 1683 USD and is available from Teenage Engineering's official website. You can also check the options available on Reverb.com by clicking this link.
Best New Hardware Synths: Behringer 2600 – A Much Needed Gap in the Market
The Behringer 2600 is a version of the 1970s classic ARP 2600, updated for the modern age. This is a synth which plays with nostalgia yet remains innovative. It comes in three colours – black and orange, also known as Christmas Tree, Blue Marvin, and Grey Meanie. The synth is semi-modular, so if you've always wanted to get into modular synthesis it makes both a great intermediary as well as a fantastic value high-quality synth in itself.
Behringer 2600: Features Included
For a full breakdown of features, visit Behringer's website. However, the below is just an example of what the 2600 offers for different purposes…
3 VCOs which also double as LFOs, VCA, and VCF
Completely analogue circuitry modelled off the original ARP 2600
Semi-modular synthesis possibilities don't require patching, although the Behringer 2600 also offers the option of 83 patch cables for those who really want to shape their own sound
Attenuator, mixer, inverter and post-filter distortion, and other interesting creative options
Noise generator
ring modular, lag processor, sample and hold modules and much more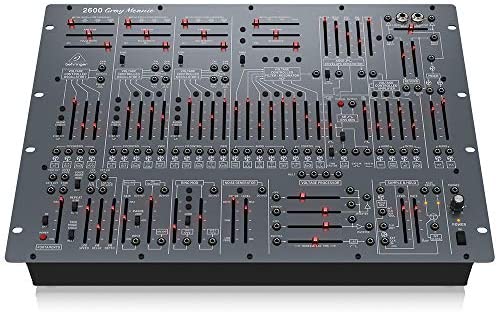 What Makes the Behringer 2600 Stand Out From the Rest?
Ultimately the Behringer 2600's only competition is the Korg 2600, which is much, much more expensive, clocking in at over 1000 USD. The original ARP 2600 was responsible for classic seventies tones and fat bass sounds. If you want a budget replica, the Behringer is your only real option, but it's a very good one.
However, this synth also stands out on its own merit. It manages to be both a crowd-pleaser and an innovative homage, and its semi-modular capabilities and technical possibilities make it an option for modern styles of all kinds too.
Behringer 2600 Price and Availability:
Currently, the Behringer 2600 sits in the 400 to 600 USD price range and is available from a variety of retailers including Andertons, Thomann, and Sweetwater. For other options including second hand, click here to check out our partner Reverb. We get a small kickback if you use this link to buy so you will be supporting this website.
Arturia MiniFreak: Best New Hardware Synths – Keyboard Synthesis
And to round up the list, we have chosen the Arturia MiniFreak, adding a keyboard synth to the top three. The MiniFreak has been subject to rave reviews and when you take a look at what it includes for the price, it's not hard to see why.
The Arturia MiniFreak: Features Included
The MiniFreak excels at being intuitive with its keyboard and OLED screen, however, it has many other draws to it such as the following:
two LFOs
6-voice polyphony
ability to modulate everything up to and including filters, FX, and sound engines
FX ranging from bitcrusher, multi-comp, 3-band EQ, phaser, flanger, distortion, reverb, and delay
randomisation capacity for all new permutations of sound
chord mode which turns notes into chord stacks
scale mode ensures effortless harmonisation
OLED display
USB capability
stereo outputs
can work with MacOS 10.13+ as well as Windows 10+ (64-bit)
Best New Hardware Synths: What Makes the Arturia MiniFreak Stand Out From the Rest?
Described on Arturia's site as producing sounds which are 'curious, beautiful, and chaotic', this keyboard synth generates stunning results at a low price. The MiniFreak is clearly branded as non-linear and creative, with a 'modulation matrix' which can modulate virtually any part of the signal. Basically, this synth is designed to give you fluidity and intuition. If you want high-quality sound and an artsy, left-field bias, the MiniFreak offers plenty of possibilities.
Price and Availability:
The MiniFreak can be bought from Arturia's website for 599 EU (628 USD) but alternatively you can get it from Reverb.com by clicking here.
Final Thoughts:
Choosing the top three new hardware synths was not an easy task. However, this roundup offers both the pinnacle of classic mini synths with the OP-1 as well as two other options which won't break the bank.
if you liked this but still want to look at more options for hardware synths, we have a whole selection here in our hardware section.