Last Updated on August 15, 2022 by IDS Team
As any guitar player knows, Guitar Rig and Amplitube are undoubtedly two of the most famous and popular guitar emulators available. They're the best at what they do, but which one is actually THE BEST?
We have updated our article in light of the recent Amplitube 5 release, available on IK Multimedia's website. Comparing to Amplitube 4, this one has been upgraded user experience department, being by far much more user friendly. It now suports Retina-displays and the GUI is fully-scalable. Also, in the new department you now have the option to do parallel effects, with the addition of the dry/wet control and a lot more devices to play with.
For those interested in an upgrade path from Amplitube 4 to 5, here is a sheet from IK Multimedia, explaining the differences and also listing the contents of the Amplitube 5 package.
And if you are interested in a music production laptop as well, we have an updated comparison article right here for you.
Today we're going to talk at length about the differences and similarities between Amplitube and Guitar Rig, their pros and cons, features, specs, and ultimately decide which platform offers bigger and better benefits, so let's begin with the most recent price, avaialble by clicking these buttons:
To be fair, we will compare Amplitube 5 to the "PRO" version of Guitar Rig – because the free version is in a league of it's own. Sadly there is no free entry point to Amplitube, so we have to have an apples-to-apples comparison.
For the lack of better words, the selection of amps, cabinets, and effects stacked into the Guitar rig is absolutely incredible. Of course, its eclecticism and versatility mainly depends on which package you've opted for, but even the factory Guitar Rig 6 Player is better-rounded than the vast majority if boutique guitar emulators.
You'll be able to choose between some of the iconic amps, such as Hot Plex, Citrus, Tweed Delight, Jazz Amp, Hot Solo+, and many others, although the bulk of these presets are reserved for Guitar Rig 6 Pro users.
The newest additions (in comparison to the Guitar Rig 5 Pro) are the Chicago, Bass Invader, and the Fire Breather amps, all of which bring brand-new and highly unique features to the table.
Overall, Guitar Rig offers surprisingly authentic, great-sounding amps. We have a full review of Guitar Rig 6 available by clicking right here!
Amplitube's selection of amps is perfect for literally all kinds of music styles and subgenres. The Standard Amplitube 5 package has 34 devices while the MAX version has a whopping 107 items.
You'll be able to use five British Stack amps, including Brit 8000 and Brit 9000, the Red Pig, Brit Valve, the Brit Silver, two American Tube amps, as well as a solid-state Bass preamp. The standard edition of Amplitube 5
These amps work wonders regardless of whether you're looking for a poppy sound, a fuzzed jazzy tone, or a heavily distorted metal timbre. However, Guitar Rig's selection of amps is just slightly broader.
Guitar Rig 6 offers matched cabinets for their amps, which is generally pretty great. Furthermore, you'll be able to make great use of the Control room cabinets & mics features if you've upgraded to Guitar Rig 6 Pro.
However, the downside here is that you won't be able to mix and match 'unmatched' cabinets like you would with Amplitube.
As far as cabinets go, Amplitube 5 offers 27 models, while the MAX version comes equipped with a HUGE ARRAY of 101, including six 4 by 12s (matching the amps), one 1 by 12 Open Vintage cab, a 2 by 12 Closed Vintage cab, and a 1 by 15 Bass Vintage cabinet.
While Guitar Rig had the upper hand in terms of the amp selection, Amplitube does a bit better job in the realm of cabinets, offering more than twice as many models and presets.
In a nutshell, this is more than you'll need to capture the sonic essence of the recognizable sounds of guitar heroes with ease.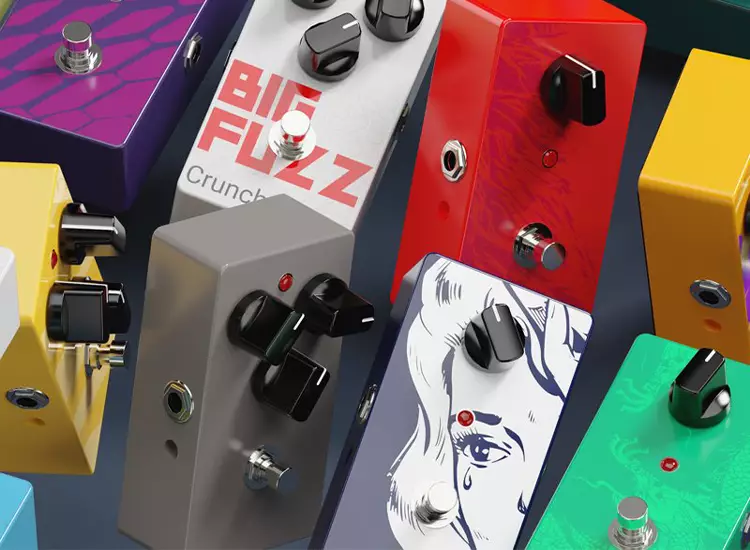 There are almost more guitar effects aboard the Guitar Rig 6 platform than can be counted, starting with five delays (Twin, Delay Man, Psyche Delay, Quad Delay and Tape Echo), 12 Distortions (Fuzz, MeZone, Sledgehammer, Gain & Treble boosters, Cat, Demon, Skreamer and more), 10 Dynamic effects, 5 EQs, 7 filters, 8 modulation effects, 3 Pitch effects, 9 reverbs, and three 'Special' effects (Resochord, Ring Modulator and Grain Delay).
Barely a dozen of these effects are available as factory presets, though, which means that more than half of aforementioned guitar effect models are only available with the Guitar Rig 6 Pro package. We have a full review of Guitar Rig 6 available by clicking right here!
The Amplitube simulator offers 10 different stompbox models, including choruses, flangers, delays, wahs, diode overdrives, volume pedals, graphic equalizers, compressors, tremolos, and acoustic simulators. With the new Amplitube 5 version you can run them in paralel with the dry/wet setting.
All of these effects are taken from actual analogue effect pedals and sound as original and authentic as can be. The same list of items contains an inventory of all the stomp effects contained. We have a full and honest review of Amplitube 5, you can read it by clicking here!
The good and the bad of Guitar Rig 6
Basically, Guitar Rig 6 is free to download, which is a massive benefit in itself. However, the factory presets selection is modest, to say the very least, which means that it's a pretty basic software with relatively poor versatility if you don't upgrade to the 'Pro' version at some point.
Let's discuss the positives and negatives of Guitar Rig 6 PRO:
Pros:
Decently affordable upgrade to Guitar Rig 6 free
Exceptional range of guitar amps
Quality analogue bass amp
Authentic sounding tools, models and presets
Unparalleled selection of effects
Decently easy to use, even by beginners
Cons:
The basic (free) package is not overly versatile
Difficult to mix and match cabinets
Almost no effect pedals and stompboxes to speak of in the free package
The good and the bad of Amplitube
Amplitube is decently approachable guitar software that packs a hefty selection of stompboxes, amplifiers, cabinets, speakers, microphones, effects, and rack units. With the new update to Amplitube 5, the user interface is extremely well built, scalable and looks great on Apple devices. We have a full and honest review of Amplitube 5, you can read it by clicking here!
Obviously, it's more expensive than the (free) Guitar Rig 6, but it is well worth the buck considering how beginner-friendly and eclectic it is. Some of the highlighted advantages and disadvantages of Amplitube are:
Pros:
Highly intuitive interface
Excellent selection of stompbox effects, amplifiers, cabinets and microphones
Several rack effects and speakers
Onboard tuners
Constantly expanding roster of amps and effects
Great for beginners and seasoned veterans alike
Cons:
Not available for free, although demo can be downloaded free of charge
Conclusion
The specs, features, and UI were some of the most notable parameters we took into consideration when comparing the performance of Amplitube and Guitar Rig.
Even though these guitar simulator programs are completely different, they actually do have a lot in common. Both programs are laden with a myriad of top-quality amps and effects, and both actually sound extraordinarily great.
Be it as it may, Guitar Rig tends to do a bit better only because there is a free version to which Amplitube cannot compete. Overall, Guitar Rig offers surprisingly authentic, great-sounding amps. We have a full review of Guitar Rig 6 available by clicking right here!
Without cutting Amplitube's worth short, it's amazing software that has enormous potential to usurp Guitar Rig's throne in near future.