Last Updated on March 11, 2022 by IDS Team
Billed as the industry's favorite amplifier and effects modelling software, this is a totally honest review of the IK Multimedia AmpliTube 5 guitar processing pack, which has recently been updated to version 5.3 with a bunch of new features. With obvious reasons why it is so popular amongst the industry, AmpliTube 5 turned out to be intuitive and easy to use in terms of interface and a design. It works with the flow of the average musician and it has really been created with the thought processes of the user in mind.
How is IK Multimedia AmpliTube 5 set up?
What stood out to me first was the way the entire signal chain has been modelled, with a crisp, clean overview of the chain including everything from direct input to pre-amps, gain, stomp-boxes, and more. You can see the whole thing from a bird's eye view and drag and drop the different parts around to experiment with positioning. Different lines are color coded – and you can go with dual input or even three different parallel lines of FX connected to the same DI, which makes it extremely nonlinear and versatile. I was refreshed by the way that AmpliTube 5 seems to go above and beyond in terms of having a layout which explicitly works with the way most musicians seem to think and practice. It almost feels as if it was designed for guitarists, by guitarists. The gear selection process has been updated to drag and drop, and the gear view window is photorealistic and designed to be as hands on as it can possibly be without having the actual gear there in front of you – with a mixing window which is along the same lines too.
What makes IK Multimedia AmpliTube 5 stand out?
This is software which isn't messing around. It's been designed with a wholistic view of the production process and includes the following features:
The entire signal chain is covered from start to finish in terms of modelling.
Sound is hyper realistic due to IK using its own specifically trademarked DIM and VIR technology.
8 track recording software allows the creation of nuance, layers, and walls of sound.
Set up and ease of use speed up each part of your workflow and thus minimizes processing power needed to create great sounds.
All FX are based on real gear and IK Multimedia has worked with real manufacturers including Orange, Mesa Boogie, and Fender thus allowing them to focus on what they do best with intuitive interface design while simultaneously including pro-level sounds created by those who have already hit the sweet spot with tone and popular appeal.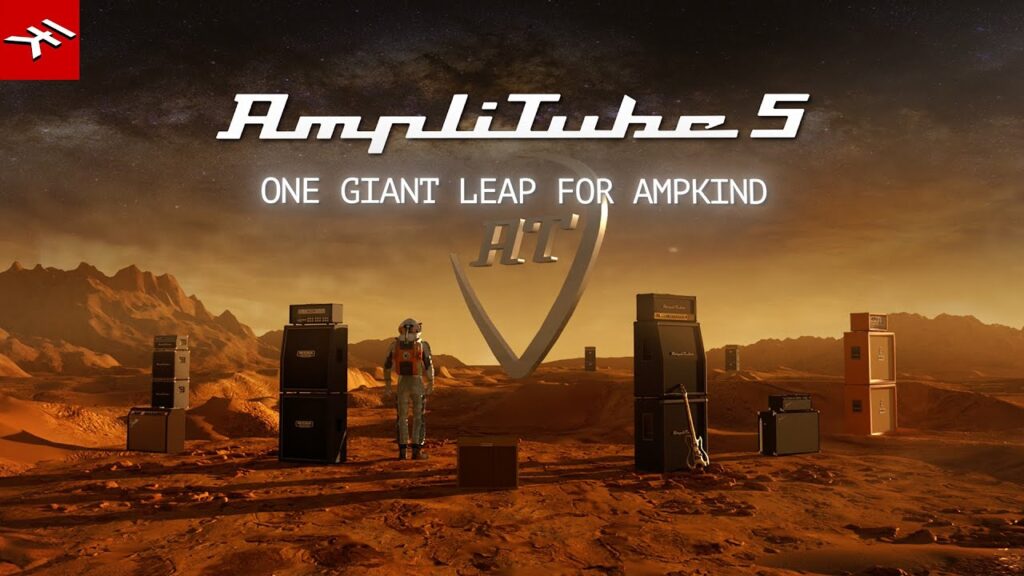 What does IK Multimedia AmpliTube 5 include?
The FX themselves are extremely well chosen. Some modelling software tends to have a bias or bent towards one side or another. AmpliTube 5 is a clean, neutral territory. There are over 400 different bits of gear and the designers have taken their time to work with classic, crowd-pleasing companies such as Fender to hit the sweet spot between familiarity and the ability to spice things up enough to spark ideas. IK Multimedia has split it into three sections, with the signal/FX chain modelling being the main focus and a mixing window which is positioned above, as well as the gear selector window to one side which contains AmpliTube 5's magnetic selection of options bound to draw in any gear lover.
Why purchase the IK Multimedia Amplitube 5?
Personally, I found it was in the realm of inspiration where the AmpliTube really comes into its own, and while I investigated it, I realized this is not just FX modelling which attempts to cram as many different options into one rig as possible but instead includes carefully chosen collections of software which bring new options and idea combos to the table. AmpliTube 5 has focused on user interface and managed to combine creativity, a format that actually works for musicians, and an excellent level of variety, so it doesn't feel just like a set of different VSTs and tech. Instead, it's an interconnected ecosystem of sound design which works equally well for indie rock as it would for hardcore punk. I also found because of how different components are deliberately linked, they connect to each other in a way that ensures your workflow won't be interrupted. As a result, this is a setup which works for both beginners and pro sound designers in separate ways. Beginners will find the fact that it is easy to use – without much technical detail needed to create amazing blends of sound – a real bonus when struggling for inspiration. On the other hand, anyone with a deeper grasp of the production process will be pleased with the sheer level of different plugins available for creative use, and how IK Multimedia has laid them out to spark new combinations of ideas.
Pricing and availability
Amplitube 5 can be bought off IK Multimedia's website at $299.99. At this kind of price, it's beyond the budget of the average bedroom producer or beginner, but it is a bit of software which is well worth investing in – in terms of sheer density of different options per unit of cost plus the way it frees up workflow and creates a smooth, easy-going sound design process.
Click here to check the latest price on their website!
Final Thoughts
I found everything about the AmpliTube 5 to stand out in terms of care and consideration taken to make a top tier product which focusses on the user as opposed to bunching a lot of different techs together. It has two main points of appeal – the variety of FX and thus possibilities in sound design and chain modelling – and the creative, non-linear set up designed to release workflow issues for speedier and more enjoyable music production. Personally, the workflow and interface design make it sold for me – but it's the sheer number of options in terms of how you want to work with sound that means it has an appeal beyond any single genre. And if you want to read more reviews by us, head on down to our Reviews category by clicking here!