Last Updated on July 15, 2023 by IDS Team
Ok, so this COULD just be another Guitar Rig 6 Pro review. There are a LOT of reviews of Guitar Rig 6 by Native Instruments out there as well as detailed comparisons with other amp sims such as Helix Native and AmpliTube, such as our detailed breakdown here.
The world of virtual guitar processing sometimes leaves musicians overwhelmed by choice, but what THIS article is all about is why exactly you may go for Guitar Rig 6 over any other option. Going for the right software is especially crucial for musicians on a budget, and if you've seen all the hype about the Guitar Rig series and been unsure as to whether it's the amp sim for you, this guide will help you decide why or why not.
One of the most frequent choices in picking an amp sim is 'Guitar rig 6 or Amplitube -and which is better?' We're already done a comparison with Amplitube 5, so this isn't a detailed breakdown of the specs between the two. Instead, it's more like a side-by-side of who Guitar Rig 6 is best for and why – and how to choose between Guitar Rig 6 Pro or Player. If all the information out there is somewhat confusing, hopefully, this guide will break down who exactly it is that Guitar Rig 6 is aimed at, and a no-holds-barred look at how you might use it in your playing, so read on.
Guitar Rig 6 Pro General Audience
The Guitar Rig 6 Pro vs Player vs Helix Native, AmpliTube and other amp sims debate has been going on ever since Guitar Rig launched over 5 years ago now. This is pretty classic software. Current iterations have not changed much from the original. For an honest Guitar Rig 6 review in more detail, click here. However, in short, it aims mostly at giving you the broadest variety of amps and cabinets possible whilst not breaking the bank and offering a smooth and modern interface. 
You can get Guitar Rig 6 Pro from Native Instruments' website by clicking here (and if you buy using our link we get a small kickback so you will be helping our website).
Is Guitar Rig 6 Just a Basic or Beginner-Friendly Amp Sim?
The short answer is yes and no. While Guitar Rig 6 isn't as high-end as Helix native it still isn't something to laugh at with a relatively decent feature count and 13 FX even at the free level.
Why Guitar Rig 6 Pro AND Player are Best for Home Recording
The ability to mix, match and modify the whole FX chain is also a winner that it shares with its competitors but in a simpler and more streamlined style.
The simplicity and classic focus of the guitar rig series is basically everything you need to get started ith home recording. With the other options on this list, there may be extra features that aren't worth it if you have access to a studio or hardware guitar gear.
The Pro vs Player debate really just boils down to whether you need to pay the full cost for Guitar Rig 6 Pro. The obvious benefit is that if you opt for Player you can test it out to see if you like the general guitar rig software and then use that to help your decision between pro and whoever other amp sim you are considering. How much guitar will you actually be using?
Pro is simply a paid-for version of Player that has more features. Ampos and FX skew towards classic rock, pop, and other guitar-based genres like indie and punk. There are also jazz tones and classic effects like fuzz and phaser.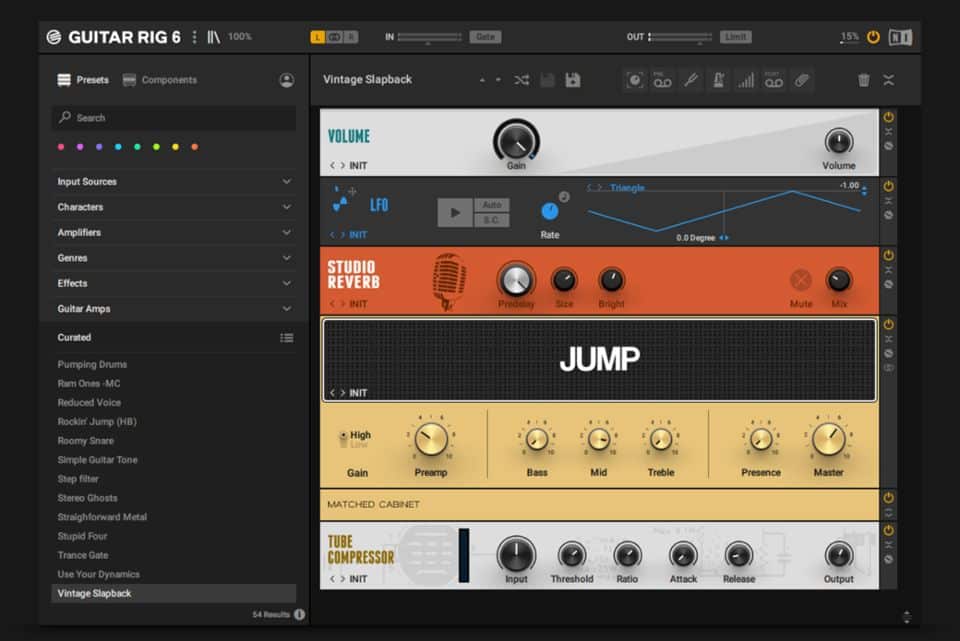 That being said, Player is relatively basic compared to other contenders and does not have as many FX. It only offers one cabinet, in practice it works a bit more like a pedalboard than a full-fledged amp sim. However, it's worth it if you want to decide between Guitar Rig 6 and Amplitube, for example, as both have their free versions.
Guitar Rig 6 vs Amplitube 5: Why Guitar Rig 6 Is The BEST Beginner Choice
At the heart of it, Guitar Rig 6, even the pro version, is simply the BEST choice for beginners looking for an amp sim. Now, to make this clear, we mean both beginner producers and beginner guitarists. Simply put, there is not so much dependent on your understanding of tone, mic placement, acoustics, or analog recording rooms in Guitar Rig 6 as there is in AmpliTube. Yes, it's close. But the granular choices and interface of AmpliTube can benefit from background knowledge in order to fully appreciate it.
Therefore, if you are relatively new and want to start messing around and learning as you go right away, Guitar Rig 6 is hands down the best, market-leading, top-of-the-range amp sim. It is beginner friendly, yet varied enough to occupy you as you progress. From another angle, Amplitube is simply a bit more detailed.
Guitar Rig 6 v Amplitube: Does it Stand Up For Audiophiles?
The ONE downside of Guitar Rig 6 compared to something like Amplitube, apart from the detail levels, is that Amplitube has a real edge with its VIR technology. This models the sound of actual amps in a non-linear way, capturing the nuance and individuality of classic amps by brands such as Orange and Mesa Boogie.
If you care a lot about tone and want something realistic sounding, even at the earliest level, we would then advise you to skip Guitar Rig 6 and go straight for Amplitube 5. AmpliTube is less about the number of features or straight-up feature count and more about emulating and matching classic amps to simulate the experience that you would get doing a proper studio recording of moving mics and other tangible features.
However, bear in mind that the free version of Amplitube (Amplitube CS) is VERY limited. Scrolling through the amps to choose from, most are locked, which can be disheartening when you first download it. However, the major benefit of Custom Shop is the purchasing model where you can incrementally add features to your collection, making it personalized and cutting through any unnecessary purchases. 
You can get Amplitube on the IK Multimedia website by clicking here.
The Amplitube 8 Track Recorder and Mixer: is AmpliTube Worth it Because Of This Feature?
There are a lot of articles already giving you a Guitar Rig 6 review in comparison, and mentioning how great the Amplitube 8 track recorder and mixer is. Yes, it is a brilliant feature and done really well, but it raises one question: is it really necessary if you already have a DAW?
One of the benefits of Amplitube 5 is that is DOES come with an app for iPhone and iPad. In this way you can record guitar on the go, turning your phone into a portable DAW or 'tone studio'. This DOES give it an edge over Guitar Rig 6 because it means if you have an idea or experiment that you want to try out on the go… you can.
However, if you already have a confident home studio setup, you may not need this feature as much.
Guitar Rig 6 vs Helix Native: Why Helix Native is Better for Experienced Guitarists
Is Helix Native Worth it Compared to Guitar Rig 6?
At the most basic level, Helix Native is a high-end industry-leading amp sim designed for professional musicians recording full albums hence the higher price. Sound quality is top notch and it allows you to record unprocessed guitar that you can play with to your heart's content afterwards.
However, for audiophiles, there is a potential reason to go for Helix Native over Guitar Rig 6. However, the VIR technology of Amplitube 5 challenges them both.
One potential benefit of Helix Native is that the FX such as reverbs, delays, and even pedals are more creative and nuanced, there's marginally more variety and diversity, and they're slightly more skewed towards musicians who want to push their sound.
If you're looking for MORE than just classic sounds and want something a bit more out of the box, Helix Native is the one to go for. Guitar Rig 6 is great, but it's more skewed towards giving you a good variety of classic and popular sounds.
How To Decide Between Different Amp Sims
There are so many Guitar Rig 6 review articles breaking down the specific specs of these amp sims without looking at how they work in reality. As a result, we have done a bit of research to see how the different options available work regards your individual situation.
Guitar Level:
Are you a beginner or a more experienced guitarist? It may not sound like it matters with an amp sim but if you are just starting and want to record yourself, Guitar Rig 6 has more than enough options without breaking the bank. It is also infinitely more beginner-friendly as at this stage you may not be able to fully exploit the quality or range of options Helix Native has to offer.
Production Level:
Like your playing level, this is even more important to consider as it's crucial to getting the best sounds out of any amp sim. Great equipment can only go so far, if you're not fully confident on how to use a more complex amp sim having better gear won't make yoru tracks sound better. Either way all three options are very intuitive and help visually represent the signal chain.
Genre:
There are MANY pop, hip-hop, indie, alternative, synthpop, post-punk, and electronic producers who still use a bit of guitar in their music now and then. The key question is how much will you be using guitar? If you are playing a guitar-heavy genre like metal, punk, indie rock, or hard rock, then Helix Native may be the option for you – or Amplitube for the greater control and diversity it offers.
However, if you're looking for an amp sim simply to add a bit of guitar into tracks of a genre that doesn't heavily use it, AmpliTube or Guitar Rig 6 is the way to go. Simply put, Helix Native is an amazing amp sim but won't be worth it if you're intending to mix your guitar sounds into another genre where they will interact with lots of effects. However, if guitar is to be center stage, helix native is definitely worth considering.
Gear Setup:
Ok, so who wouldn't want over 400+ FX, pedals, and other options for your guitar? All of these are essentially tone modeling studios, but whether you go for a fuller or more basic option will depend on how much analog gear you have and how satisfied you are with it. If you've already found your sound and are playing something pretty stripped back with a few hardware amps you may not want as many of the features on offer with these amo sims in which case it makes sense to go for the most basic.
However, even at the free level, sims like Guitar Rig 6 and Amplitube are LIFESAVERS when it comes to providing creative sounds for bedroom musicians on a budget.
Bottom Line
Any Guitar Rig 6 review needs to mention that in the end, there is no strict hierarchy of 'which is better' when it comes to amp sims. There are many musicians who find Helix Native to sound more realistic but ultimately it depends on your purposes and if you aren't necessarily going to use all the FX a particular sim has to offer, then it makes sense to opt for a more basic option.
There's also the fact that limitations can stimulate creativity, and thus a more 'basic' amp sim like Guitar Rig 6 that is still industry-leading and very high quality can be a smart choice – especially if you want something to cut your teeth on as a new producer and/or guitarist.
If you found this useful to help distinguish what amp sim is right for you, we have many more comparisons in our reviews section here. In addition, if you simply love reading about VSTs in-depth and checking out new software, take a look at our software section.