Last Updated on December 29, 2020 by IDS Team
As a music producer, songwriter, musician, or audio designer, an audio interface is a virtual workshop that can make or break your work.
Consider your computer the workstation and the interface as the toolbox where the quality of your audio and your options in mixing, synthesization, and production are determined by the quality of the interface.
Whether you produce music on Mac or PC, there are tons of options for audio interfaces to buy in 2020. These 5 choices should be enough to get any musician thinking about their options and comparing the price, features, compatibility, and aptitudes of each machine. The buying guide below these reviews compares the major features that should be considered when buying one of these audio interfaces.
This guide should help anyone looking for an audio interface in 2020 compare models based on their needs and expectations to choose the right one for their work.
Reviews of the Best Audio Interfaces
The Audient iD4 audio interface has 2 inputs and 2 analog outputs (it has no digital outputs, in other words).
By offering a simple interface, complete with a mic preamp, phantom power for condenser mics, and instrument level DI for guitar and bass, the Audient iD4 is the best overall choice for an audio interface, especially on a budget.
The iD4 also has dual headphone outputs and an output for speakers.
The whole interface works on USB power and features compatibility with Apple's camera connection kit, as well as mobile optimization for iPads and iPhones.
USB audio interfaces come in many shapes, sizes, and costs. Audient's iD4 2-in/2-out USB interface is the best in its price range, with enough features to satisfy experienced audio producers and the optimization for Apple devices that many designers crave.
Pros
Simple interface with premium condenser mics
Dual headphone outputs and speaker output
Powered purely by USB connection
Affordable price
Cons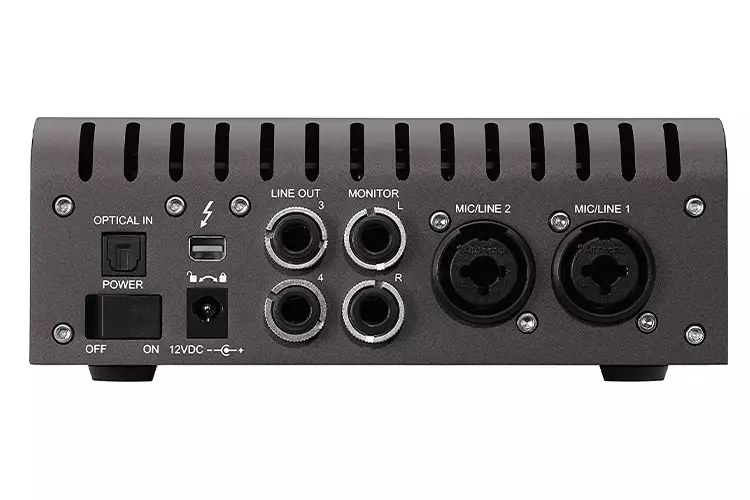 Featuring thunderbolt connectivity, 2 analog inputs, 6 analog outputs, optical Toslink digital connectivity, and an audio resolution of 24-bit/192kHz, the Universal Audio Apollo Twin MKII Duo is our pick for the best premium-priced audio interface available in 2020.
Its audio output and UAD-2 plugins have a quality second to none on this list, though the price reflects it.
The Apollo Twin MKII Duo is a desktop-format interface that connects to Mac or PC by Thunderbolt, rather than by cable, and has to be powered from a wall outlet rather than by USB power. This restriction may be a con for some audio designers.
The Apollo Twin MKII Duo can also power UAD plugin effects and comes with Solo, Duo, and Quad options.
The Unison pre-amps are also great emulation plugins for each of the Universal Audio Apollo's input paths.
Real-time UAD processing allows designers to track audio through vintage tape machines, compressors, pre-amps, and guitar plug-ins with zero latency.
Premium preamps, line outputs, and real-time analog classics UAD plug-in bundles make the interface a premium design choice for songwriters and producers.
Its updated 2.0 software bundle includes a drag and drop interface, resizable windows, and channel strip presets.
For anyone who can afford it, the Universal Audio Apollo Twin MKII Duo is the premium choice on this list.
Pros
High-quality output with an array of options
UAD plugin effects
An array of preamps and emulation options
Real-time analog classics bundles and other extra features round out a premium package
Cons
Thunderbolt-only connectivity can be restrictive
Powered by wall outlets rather than USB
Premium price
This 3rd generation Focusrite Scarlett Solo audio interface features pro tools, USB connectivity, and a top of the line preamp.
The bright, high-quality sound output of the Focusrite Scarlett is due in part to its switchable air mode.
It also features two hum-free outputs and a guitar/bass input.
Its high-quality converters record and mix at a quality of 24-bit/192kHz, which is the industry standard for premium audio output. For those less experienced in audio interfaces, its quick-start tools help new users install and run the interface easily.
The Focusrite interface also features pro tools such as Ableton Live Lite, Softube Time and Tone Bundle, a plug-in suite, a creative pack from Focusrite, and other virtual instruments available through download.
Focusrite also offers an XLN addictive keys subscription and a Nugen Audio Monofileter Elements plugin. Focusrite Scarlett Solo's integration with online subscriptions, as well as its USB-powered system, make it a quality modern audio interface for those shopping on a reasonable budget.
Pros
Pro Tools and other online subscriptions give users a lot of options for customization
Its converters and recorders are high-quality and industry competitive for audio output
Its plugins are available by subscription through many free services offered by Focusrite
USB-powered audio interface
Competitive price
Cons
Lack of compatibility for USB3 ports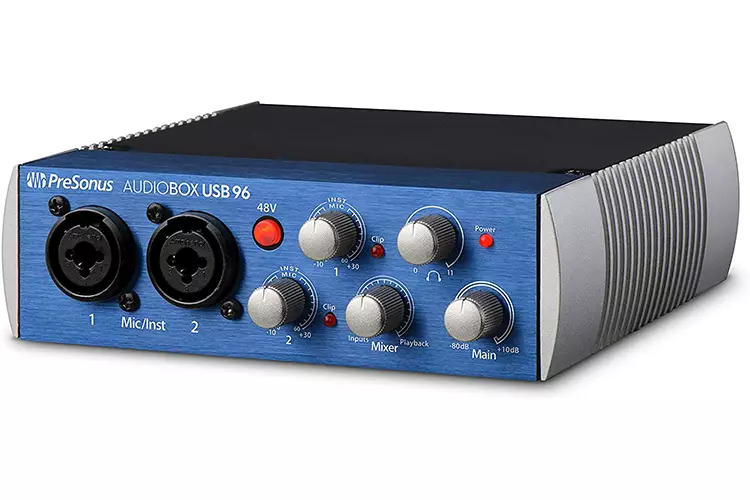 The PreSonus AudioBox Audio Interface is compatible with PC and Mac and bus-powered by a USB 2.0 audio and MIDI interface.
Pretty much any recording software that songwriters and producers use is compatible with the PreSonus AudioBox.
It also features a low budget price for designers that need a quality interface without putting up a ton of cash.
It features 24-bit resolution audio output and an array of kHz sampling rates, including 44.1, 48, 88.2, and 96. Its 2-combo mic and instrument inputs feature high-performance, high-headroom mic preamplifiers, and low-noise output.
PreSonus uses over 6 GB of third-party resources, including software and plugins like the Studio One Artist DAW software and the Studio Magic Plug-in Suite.
Its features combined with its high-quality output and add-ons make it the top choice on this list for budget-priced audio interfaces, for both PC and Mac users.
Pros
Compatible with PC and Mac
USB 2.0 audio output and MIDI interface
24-bit resolution audio output
Third-party resources including pro plugins and add-ons
Low-budget price
Cons
Without a powered USB 3.0 hub, the PreSonus experiences some connectivity trouble
The Behringer Audio Interface features a 4×4 2.0 Audio/MIDI interface powered by USB.
Its professional audio has an output of 24-bit/192kHz. For those that want to design audio on many different recording software programs, Behringer's audio interface works with Ableton Live, Avid Pro Tools, Steinberg Cubase, and other popular tools.
Behringer streams through 4 inputs and outputs, as well as featuring a MIDI I/O with ultra-low latency.
This audio interface is compatible with Mac and PC.
The Behringer has 4 modern MIDAS-designed Mic Preamplifiers with 48 volts of phantom power. The chassis on the Behringer is made of impact-resistant metal.
As a studio tool, the Behringer Audio Interface works with a myriad of plug-in microphones, instruments, and line-level sources for incredible studio flexibility. Behringer also flourishes with MIDI devices to improve control.
Pros
High-quality audio output
4×4 2.0 Audio/MIDI interface
Powered by USB
Compatible with various audio interface tools from Ableton, Avid, and more
4 inputs and outputs, as well as preamps with over 48 volts of phantom power
Impact-resistant casing
Cons
A single phantom power switch for all channels can detract from mixed audio sources
Best Audio Interfaces: Buying Guide
This buying guide for audio interfaces in 2020 compares the major features that will fall under fire when audio designers and songwriters shop for different brands.
Even if you don't prefer the ones listed in this review series, you can still use this buying guide to compare models of your choice for their features, including audio quality and specs, hardware features, cost, software add-ons, and compatibility.
Audio Quality
The audio output quality is a huge part of any decision to purchase an audio interface for composers and audio producers in 2020.
Many of the devices on this list output at 24-bit/192kHz, which is professional quality for a personal studio.
Many also feature Audio/MIDI interfaces, phantom power, combo mics, high-performance instrument inputs, and other audio devices.
The most expensive model on this list, the Apollo Twin MKII Duo, has options for UAD plugin effects and comes with Solo, Duo, and Quad options, as well as other emulation and performance fixes.
Thankfully, you don't always "get what you pay for" with audio interfaces since even the budget options on this list come with a ton of features.
There are some premium input and output options that you can only get at a high price, however, so audio engineers and producers that are looking for specific optimization features should prioritize the features most important to them when comparing interfaces.
Hardware Features
The hardware can make or break these interfaces. The number of audio in/out ports differs between interfaces.
The microphone input and the options for additional hardware compatibility differ as well.
The most significant difference in hardware between interfaces is the power source.
Some of these devices can be powered purely by USB input, which is desirable for most composers. Others require wall outlets to power, which can be less convenient.
A designer's inputs are limited by the physical ports for plugins. Some interfaces, for instance, such as the Focusrite Solo, lack compatibility for USB3. It's essential to know each interface's compatibility before buying.
Cost
Comparing cost is a simple comparison between audio interfaces.
The models on this list range from budget options under $100 to $800 premium audio interface hardware.
The price isn't always proportional to the number of features offered. Our top pick, the Audient iD4 interface, has a mid-low price compared to others on the market. However, the premium features offered by the high-end interfaces may be exclusive to that price range.
For general shoppers, our budget recommendations should easily suffice. Only those with specific premium features in mind should opt for pricier alternatives.
Software Add-Ons
Many audio interfaces come with access to other suites and program add-ons that can be purchased or even subscribed to for free (PreSonus is big on these).
These add-ons give users a range of compatibility options, as well as access to other audio mixing and design suites through their interface.
Ableton Live and Softube offer fantastic, multifaceted design suites that some interfaces can easily connect to and use.
Compatibility
Not all interfaces are compatible with certain design suites. Veterans of Ableton or other specific tools should check compatibility before purchasing an interface.
Compatibility also matters in terms of hardware. Not only are power and output options a concern, as mentioned, but software compatibility matters as well.
Some audio interfaces are compatible with PC and Mac, but some are not. This could narrow your list automatically.
Audio designers with specific programs they want to run also need to check compatibility between the audio interface and the suites, plug-ins, extensions, add-ons, and other performance features and subscriptions they may want to run through their new interface.
The Takeaway
A new audio interface can make sound mixing, composing, design, recording, and other audio engineering feats easier.
Many interfaces are compatible with software upgrades, add-ons, and other subscription services.
No matter how much customization a sound designer wants from their at-home design studio, there are audio interfaces out there that can provide those services and more.
Choosing the right one requires knowledge that we hope to provide in this review series and buying guide.
We reviewed several of the most popular and well-reviewed audio interfaces to compare their features and present the options for sound designers that want them.
Our all-around pick for the best audio interface in 2020 is the Audient iD4 interface, which has a simple design and a ton of compatibility with software plugins, despite being designed for Mac users.
In our experience, most composers prefer Apple devices anyway, but for those that are die-hard PC fans, there are options for them as well.
Comparing the hardware compatibility, power source, plug-in options, software interface, audio quality, and versatility should give any composer or producer in 2020 the options they're looking for in the realm of quality audio interfaces.