Last Updated on December 29, 2020 by IDS Team
DJ headphones are a significant investment for any music mixer, designer, producer, or DJ.
It doesn't matter if you're an up and coming artist or a big name, you can always do with a little experimentation.
New gear, whether it's to up your game or try something different, can be the difference between staying steady and making it big in your industry.
These 5 headphone models provide diverse picks for quality, special features, and low prices in DJ headphones for 2020.
No matter your needs or experience as a DJ, one of these pairs of headphones should be enough to enhance your work.
Even if not, you can use our buying guide to compare the main features between models for a more informed decision, even between brands you choose yourself.
Reviews of the Top 5 DJ Headphones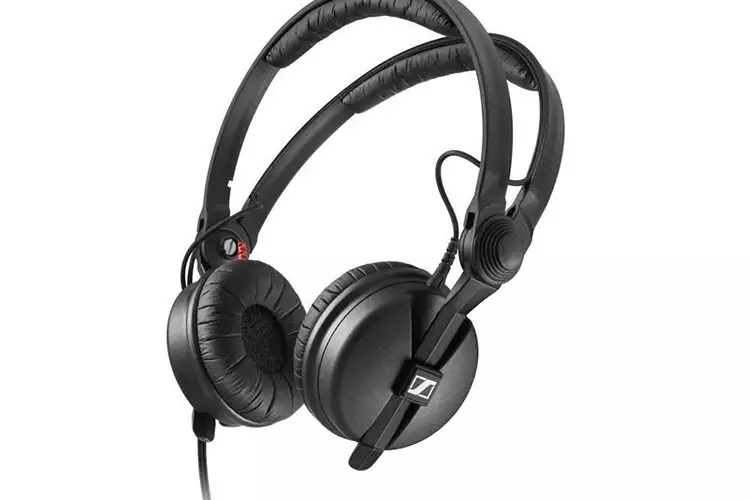 The HD25 headphones from Sennheiser Pro are considered to be the gold standard for professional DJs by many professionals.
We can't find a reason to dispute this reputation, which is why they lead this list as our choice for the best overall DJ headphones in 2020.
They're built well – you can tell the difference as soon as you pick them up. They have a sturdy feel and perform at professional levels in sound reinforced, studio monitoring situations.
In that sense, the HD25 headphones are the best around for cameramen and DJs, with high sensitivity sound quality owing to its lightweight aluminum voice coils and its ability to take a lot of sound pressure without overloading.
For a career DJ, it's also essential for their headphones to be comfortable during long work hours.
Thankfully, the Sennheiser Pro Professional headphones are light and comfortable even during the long haul.
They conveniently detach from a single-sided cable, work for single-ear listening modes, and feature a rotatable ear capsule for the purpose.
At a reasonable price, the HD25 headphones are the best overall pick for professional DJs and hobbyists in 2020.
Pros
Reinforced for studio monitoring settings
Sensitive sound quality
Lightweight coils
Comfortable construction
Rotatable ear construct
Cons
Some users recommend custom ear pads for extended use
These professional studio headphones from OneOdio can be used without an adapter for professional sound mixing and studio monitoring, as well as advanced 50mm neodymium drivers.
In its budget price range, the OneOdio professional studio headphones have stellar sound quality, with clear vocals, powerful bass, and crisp high notes.
Its ear cushions are made of high-quality padding to maximize noise isolation and comfort during long studio mixing sessions.
The 10-foot cord and standard plug let you use these headphones without an adapter. The headband adjusts to a range of comfortable angles and also swivels for single-ear listening.
Long sessions with the OneOdio studio headphones are cushy and free of fatigue. The headphones are compatible with iPad, iPhone, Android, iPod, and other audio devices.
With OneOdio's shareport technology, you can connect multiple headphones to the same OneOdio pair without using any splitters.
These headphones are also collapsible for easy traveling, for listening or even mixing on the go.
With the extremely low budget price, the OneOdio professional DJ headphones easily make our pick as the best budget headphones available to buy in 2020.
Pros
50mm drivers
Budget price
Clear vocals, powerful bass, and crisp high ranges
Comfortable noise-canceling earcups
10-foot cord
Cons
Some users report that they could be smaller for easier portability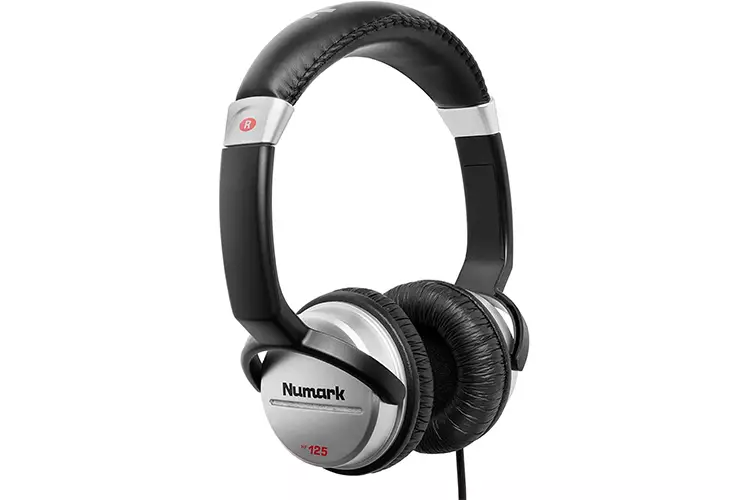 Numark Professional DJ Headphones are cheap and ultra-light.
Those who don't really know what they want from their DJ headphones can't go wrong with these professional models from Numark, which have a padded headband and ear cushions even at the low price.
The Numark headphones have a hard wired cord with a 6-foot length, a 1/8" TRS connector, and a ¼" TRS adapter.
Pretty much any mixer you have will be compatible with these headphones. The headband has 7 positions and the 40mm Mylar speaker drivers are high-quality. These headphones should easily carry any DJ through a long mixing session with clarity and precision.
The Numark HF125 Professional DJ Headphones prioritize ease of use, cheapness, and portability. These small, light headphones are easy to carry with you on trains and planes to mix on the go.
Keep in mind that the ultra-low price comes with some concessions: some customers have reported that the headphones run a little hot and feel a little tight, despite the adjustable headband.
Regardless of minor setbacks, the Numark HF125 Portable Professional DJ Headphones are cheap, light, and extremely effective in their price range.
Pros
Low price
Lightweight construction
Wired 6-foot cord
7-position adjustable headband
40mm Mylar speaker drivers
Padded headphone cups
Cons
They tend to run a little hot in long sessions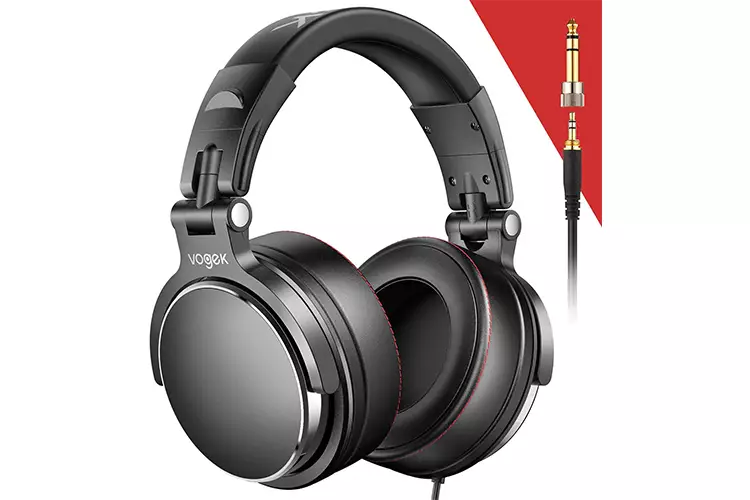 Versatility and value are the name of the game with the Vogek over-ear DJ headphones.
They have a 2-in-1 plug with a standard 3.5mm and 6.35mm diameter, easily switching between them. Since you don't have to buy another cable for different equipment, a DJ with a complex sound setup can make use of the Vogek's adaptive cable.
The music experience on the Vogek headphones is ahead of the game in its price range, which is really low. 50mm speaker drivers give users a powerful bass range.
The HIFI sound range of the Vogek Over-Ear DJ Headphones can't compete with models worth hundreds of dollars, but in the less than $50 price range, the Vogeks shine with professional-grade quality.
For those that like taking their headphones with them on the go, these stereo monitor Vogek headphones feature a 90-degree rotatable earcup. The 3-meter cable is flexible and strong.
With compatibility across instruments and devices, including electronic guitar and bass, drum, piano, iPhone, iPad, Samsung, Android audio devices, and iPods, the Vogek headphones offer DJs a versatile option at a great value.
Pros
2-in-1 plug with 2 sizes
50mm speaker drivers
Wide bass range
Comfortable, rotating earcups
3-meter flexible cable
Versatile compatible across instruments and devices
Budget price
Cons
Some customers report that the Vogeks are mid-frequency heavy
With both wired and wireless models, the Audio-Technica ATH-M50x Professional Studio Monitor Headphones are critically acclaimed by engineers, DJs, and audio reviewers for a reason.
The cable detaches from a 45mm aperture driver with copper-clad aluminum wire voice coils and rare earth magnets.
These headphones are priced at the higher-end of these commercial DJ headphones, but it shows in the fantastic circumaural contoured ear cups, which provide professional-grade sound isolation in even noisy environments, which any DJ should appreciate.
They provide excellent clarity, a deep bass response, and a wide frequency range.
The ear cups are padded for comfort and swivel 90 degrees for single-ear listening modes.
Top audio engineers support Audio-Technica with their reviews and purchases and we agree. They're last on our list of top 5 DJ headphones but not at all least in comfort, sound quality, or versatility.
Pros
Extended frequency range
Accurate bass response
45mm aperture drivers and high-quality detachable cable
90-degree swiveling earcups
Cons
The manufacturer's earcups can be fatiguing during long mixing sessions
Best DJ Headphones: Buying Guide
Use this buying guide to compare the main features between headphone brands to manage your needs as a DJ, no matter your experience level.
These features include comfort, sound quality, construction, appearance, and price.
Comfort
The comfort, rather than the sound quality, is the primary consideration of most audio professionals when they're buying their DJ headphones.
The reason is that DJs mix and perform for hours either in their work as a DJ or their music mixing and design in their off-time.
The perfect DJ headphones need earcups and a headband that promotes adjustment and wearability over long sessions without causing fatigue in the user.
You may know that your ears or head shape requires a certain design to match your needs.
You want to look for headbands that are padded and adjustable. Those small comfort factors matter exponentially more for DJs that need to work long shifts at their job.
The headphones you choose not only need to withstand the work in terms of the sound quality but also in terms of comfort.
A fatiguing pair of headphones can seriously impair a DJ's concentration.
Sound Quality
Different headphones have different sound qualities. This may be the feature with the widest range of quality difference in proportion to the price.
It also factors heavily into each DJ's personal preference.
Some prefer a wider range of bass while others prioritize the natural highs and mids.
Sound quality also factors into the materials used to build the headphones. Rare metals, earth magnets, and the metal coils factor into the sound quality.
Higher priced headphones often have rarer materials, but it's important to notice when headphones with a high price tag don't back it up with the right metals.
Soundproofing also factors into sound quality for a DJ, since you'll likely be working in a studio or a loud environment.
Sealed ear-cups that are built at the right size for your ears are essential here.
The material used to make the cups – whether they're spongier or rubberier – can heavily impact the soundproofing and isolation. This can make a huge impact on your performance as a DJ.
Construction
Other than the metals used in the cables and the material composition of the ears, there are other considerations when measuring the headphones' construction.
The headband should be cushy and adjustable with enough range to fit your head.
Earcups that can swivel 90 degrees can be used as single-ear listeners, which many DJs prefer both at work and in the studio.
Cables could be a different millimeter in diameter or detachable, promoting ease of use and versatility. The aperture drivers make a difference in their hardware compatibility.
The need for an adapter can also change how versatile the headphones are.
Appearance
The Appearance of the DJ headphones can mean more to a DJ than the ear cup design and cable construction.
More expensive models can be glossier and look more professional, with ears that have a metallic finish and an attractive headband.
For prestige DJs that want to put up a certain front, it can be beneficial to spend a little extra and get a nicer looking model.
Cost
The cost range of these DJ headphones is pretty wide, ranging from our budget picks as low as $20 to our luxury picks priced as high as $150.
You can pay even more for premium models available out there, but we wanted to keep the ones on this list affordable for normal users.
The main consideration for cost comes from the mix of quality construction and special features. However, DJs of different experience levels will interpret the cost differently.
Those who want to try out different features may opt for cheaper models to get a feel for what they want.
Those who know the special features they need can afford to choose a premium model built exactly for their needs.
The Takeaway
Professional DJs need the right equipment to shine.
Our buying guide prioritizes the features we think audio professionals need to consider to choose the right headphones for their experience level, including physical construction, sound quality, and especially the comfort level.
More than anything else, DJs need to design and mix for long sessions without fatigue. Comfort is paramount.
The HD25 headphones from Sennheiser Pro are our pick for the best overall DJ headphones to buy because of their comfortable construction, lightweight design, sound quality, and how reinforced they are for studio monitoring.
DJs of any experience level can get a lot of use out of the Sennheiser Pro DJ headphones and use them for long sessions without fatigue.
Whether you're studio monitoring, designing and mixing music, or pulling long sessions as a professional event DJ, one of the models on this list should satisfy your needs.