Last Updated on December 29, 2020 by IDS Team
With such an abundance of effects, VST plugins, and all the other stuff, things might kind of get a bit chaotic.
At one point, we tend to forget about some of the most basic stuff that's essential to making our recordings sound better. And this same thing happens no matter the instrument that you play, or whether you're a vocalist or a mixing engineer.
We get so obsessed with effects that we might forget about the fact that a simple EQ can help us completely improve the recorded audio, to the point where it sounds completely different, or just fits the context of the song or the song section better.
The problem with some plugins these days, in general, is the fact that they might be expensive for some. If you're a home-recording enthusiast just looking for a simple way to do some EQing, then you just might want to avoid paying ridiculous amounts just so you could have some basic stuff.
But worry not, as we've done some digging and found a few interesting EQ plugins that are completely free of charge.
You should be familiar with how the EQing process works in order to use them, but that shouldn't be much of an issue as all these are pretty straightforward. So let's get into it.
Melda are pretty well-known for their abundance of useful plugins. So here, we're including their cleverly named MEqualizer.
And it's a pretty straightforward one, that can handle any type of simple processing or coloration you need to apply to your recordings.
There are 6 frequency ranges that you can edit, as well as 7 different filter types. The plugin also includes tube saturation and a few other useful additions.
But in order to get it, you'll need to download their entire MXFree bundle, which includes a few other great plugins, all of which are free of cost.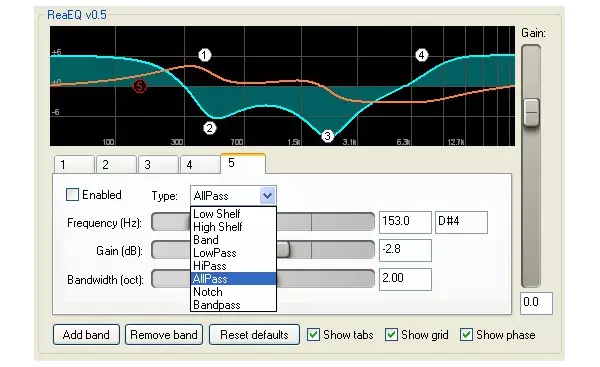 ReaEQ became known as one of those very useful plugins that come free of charge with the famous Reaper DAW.
Nonetheless, you can also download it for free as a ReaPlugs package. Knowing how well Cockos made Reaper, there's no doubt this is another one of their great products.
But what really makes it stand out is the fact that you can technically have an unlimited amount of bands to tweak. It's the classic parametric type EQ where you can determine the frequency, its level, and the bandwidth.
To put it simply, it's one of the best and most intuitive EQ plugins out there, and it's pretty weird that it's available for free.

Here we have a parallel parametric EQ on our hands. There are five bands that you can edit, as well as optional low-pass and high-pass filtering.
Now, what makes it stand out is the addition of a compressor within the same plugin. Yes, it may look a bit weird with its interface, but it's actually a very potent EQ.
We wouldn't recommend this one to beginners though. But if you're more experienced, you'd be surprised by what this plugin is capable of doing.
This is yet another one where we need to admit that it's pretty weird to know that the plugin is completely free.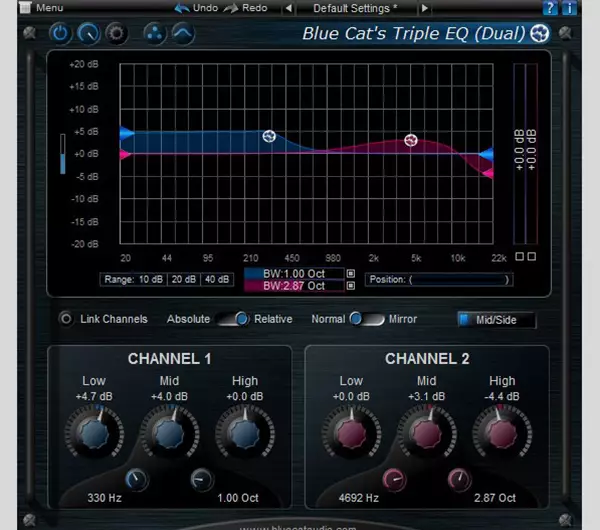 Blue Cat's Triple EQ is, as its name suggests, a simple 3-band parametric equalizer plugin. You can completely customize the curve's shape and even do some basic frequency filtering with it.
It works with low shelf and high shelf filters. We also have a very wide range of gain here, with 40 dB of both boost and cut.
It also comes with its own "Smooth Update" mechanism which helps you control the equalizer curve in real time. To be fair, it's not a very versatile one, at least compared to some other EQ plugins here.
Nonetheless, it's a great option for those who need to do some filtering and tweaking for free.
But not to make this whole guide just about parametric EQs, there are some great classic linear ones that are worth checking out. After all, these might be easier to use for some. For instance, Voxengo's Marvel GEQ is a pretty great and simple-to-use plugin.
In it, we can find 16 different bands for tweaking. The exciting part comes with the fact that it comes with multi-channel support, covering up to 8 inputs and outputs.
Overall, Marvel GEQ is one of the easiest ways to do additional EQ tweaking in combination with parametric equalizers.

Knowing that Sonimus has a lot of great stuff in their line of products. One of the examples is their SonEQ equalizer plugin. Just like with some of their other stuff, the plugin adds somewhat of a vintage vibe to the processed signal.
It's a pretty simple one, rocking only three basic bands to tweak. However, it also comes with the pre-amp section that can add some of that classic analog mixing console feel to it.
We can also find low and high-pass filters on it, as well as a bass booster. It's able to achieve great clarity with the detailed resolution of 64 bits and 192 kHz sample rate. It's a good addition for anyone who's into vintage stuff.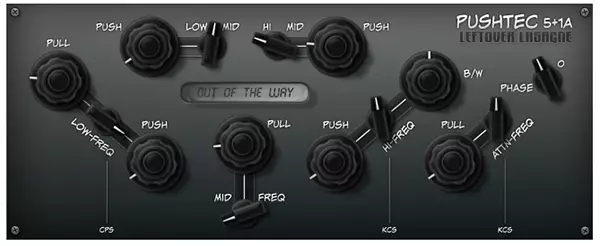 While the brand name is a little weird (to say the least), Leftover Lasagne has one great equalizer plugin to offer, the Pushtec 5+1A EQ. Now, this is something for those who are looking for more exciting plugins.
It's unlike any of your standard EQs and it might be a little confusing to some beginners. But after getting a hang of it, you'll be able to do some serious tweaking.
It sort of works like a parametric EQ, although you don't get the intuitive graphic interface experience with it. Nonetheless, it's a great equalizer plugin.