Last Updated on December 29, 2020 by IDS Team
Headphones for audio production need a few major qualities to improve their functions, features, their ability to cancel noise, and their modern technology conveniences such as voice activation and control.
Comparing these features can be difficult when you're dealing with not only the major brands but the diverse models they offer.
This review series and buying guide are designed to give you the inside track on the best headphones to buy for audio production in 2020.
We'll go over the key features of the 5 major models we like and then compare them by criteria in a buying guide to help you determine which will best suit your needs.
Even if you don't want the models we list, you can still use the guide to work through your own choices and compare their aptitudes against your needs in audio production.
Reviews of the Best Headphones for Audio Production
These reviews of the 5 best headphones for audio production include their major features as well as any possible drawbacks they may have.
Audio-Technica is one of the most critically acclaimed names in studio monitor headphones and the ATH-M50x tops our list for the same reasons that people have been buying them professionally for years.
Audio engineers and pro reviewers agree that these professional studio monitor headphones are some of the best that money can buy.
The extended frequency range of the ATH-M50x headphones gives them industry-leading clarity in both accurate bass response and the higher registers.
Audio-Technica has circumaural design earcups that completely cover your ears and provide professional sound isolation for mixing and design even in a noisy environment. This makes them perfect tools for a busy engineer or a club DJ.
These premium headphones though have something the cheaper models don't, which is a 90-degree swiveling mechanism on the earcups that provide efficient ear monitoring. The earpads and headband were also ambitiously comfortable compared to the price.
The detachable 45-millimeter proprietary cable fits into a large aperture driver for optimal sound delivery. Rare earth magnets and copper-aluminum wire voice coils promote professional sound quality and clarity.
Though the price is premium, there are more expensive models on the market with lesser quality.
Audio-Technica's ATH-M50x studio monitor headphones are recommended by audio professionals everywhere and we see no reason to dispute them.
Pros
Superior sound quality and clarity, as well as an extended frequency bass range
Proprietary aperture drivers, 45-millimeter
90-degree swiveling earcups for maximum sound isolation
Comfortable pads and headband
Cons
These headphones are built for audio monitoring and production; some users have noted that they can become uncomfortable when used for casual purposes like gaming
Status Audio's CB-1 headphones have a ton of industry-leading features that make them a favored budget option for some top musicians and audio producers, both for quality and comfort.
They show up on top technology review compendiums for a reason – we simply had to include them on our list of the best audio production headphones for 2020.
The 50-millimeter drivers on the CB-1 headphones set them apart, giving the sound quality a more expansive range.
Two 9-foot cables and an adaptor give you the ability to take them throughout a larger workspace and a custom locking mechanism prevents them from popping out.
CB-1 headphones are compatible with any audio cables, ensuring that any professional sound producer can use them with the equipment they already have.
The design and aesthetics also really impressed us. The Status Audio headphones have a slim look that doesn't show off any branding. They're built small enough to fold and store easily for travel.
Speaking of design, the CB-1 headphones are also designed with comfort in mind, with a padded headband and stuffed earcups that stay comfortable for hours of wear.
The cup fully covers your ears, making it unnecessary to create a noise-canceling effect using a tight headband – the earcups do it automatically.
For comfort and style on a lower budget, the Status Audio CB-1 Closed Back Studio Monitor Headphones are another top choice.
Pros
50-millimeter drivers
Studio-quality audio production
Minimalistic, unbranded design
Slim construction promotes storability
Padded earcups for complete ear enclosure
Cons
Not the best bass range response on the market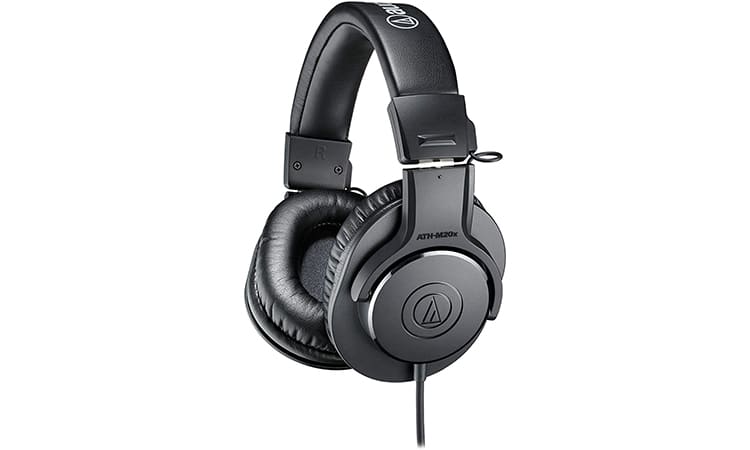 Audio-Technica tops our list as the best studio headphones in general, and they're coming back for a top budget pick.
For their winning designs in both engineering and features, offering premium sound cancelation, ideal aesthetic construction, and the perfect physical technology to maximize the quality and efficiency of your sound production in 2020 without breaking the bank.
Audio-Technica designs their headphones specifically for audio engineering, both tracking and mixing.
If you know anything about sound design headphones, you know that they usually aren't wireless – the 40-millimeter drivers on the ATH-M20x studio monitor headphones are copper class aluminum wire voice coils for the best possible sound quality. They're tuned to enhance low-frequency performance for more accurate mixing.
The aesthetic design is also top-notch, with contoured earcups that provide perfect isolation and cancelation in even noisy environments, ideal for both sound production and being a DJ.
Those who are into tracking, mixing, or design know the conveniences of a single-side cable exit, which the Audio-Technica has in a magnet neodymium slot.
For audio production headphones on a budget, look no further than Audio-Technica.
Pros
Sturdy construction
Rare earth magnet drivers with copper-aluminum wire voice coils
Contoured earcup design (circumaural) for premium sound isolation/cancelation
Single-side cable exit with 40-millimeter drivers
Cons
The 3-meter cord may be too long for some, depending on the workstation setup
The Sennheiser HD280PRO Headphones are for people who know their technical specs and want quality audio production headphones on a smaller budget.
For those with painful necks, these headphones also have a weight advantage, weighing a comfortable 285 grams in total to take the strain off.
Circumaural ear coupling improves sound isolation for professional mixing and production.
The natural sounds on the Sennheiser headphones are responsive and warm, with a nominal impedance of 64 ohms and a sound pressure level of 133 dB.
Those who are technically minded and know what they want out of their specs will be happy to know they have a frequency response of 25000 Hz
The Sennheiser HD280PRO headphones are also refined for comfort, with earpads and headband padding that help you stay comfortable while wearing them for long periods.
Pros
Lightweight construction makes the Sennheiser headphones easy to wear for long production sessions
Ear coupling provides unique sound isolation properties that encourage working in noisy environments
Replaceable pads, headband padding, and audio cord
Cons
Some users complain that the pins on the internal jack get bent when the stiff cable on these headphones pull on them over extended periods
While most audio engineers opt for the higher quality metals and surer quality of corded headphones, some prefer to be modern, perhaps because of the constraints of their workspace.
For that, they may want a Bluetooth option. While not as lauded as corded headphones, there are some great wireless headphones for audio production out there.
Our top pick in that category is the Status Audio BT One Wireless model.
These headphones have a 40-millimeter driver that promotes clarity, giving a full bass range competitive with the corded models in its class.
The metal frame gives it a sleek, modern design, with modern conveniences like button controls on the headphones themselves to promote ease of use.
These include playback and volume controls, as well as a microphone that lets you make calls from your headset without taking them off to use your phone. It easily folds for travel.
Of course, with the Status Audio BT One Wireless On-Ear Headphones, you're wondering about the Bluetooth.
The Bluetooth 5.0 of the Status Audio BT headphones supports two phones, tablets, or computers. Compatible devices include those made by Mac, PC, Android, and Personal Media Players Pixel.
Being wireless, you also need to consider the battery life on these headphones.
Thankfully, the Status Audio BT headphones last 30 hours on one charge, making these headphones the ideal companion for sound producers traveling long distances.
They charge by USB in just over an hour. These features make the Status Audio wireless headphones our pick for the best Bluetooth-enabled headphones for audio production available in 2020.
Pros
Convenient Bluetooth technology compatible with most smartphones and tablets
Modern, minimalist design aesthetic
30-hour battery life on a 1-hour charge
Quality bass range
Built-in buttons
Cons
The plastic frame and headband aren't as durable as some of the more expensive models
Buying Guide
Here are the main categories of features that should be compared between these headphone models.
By shopping with this list in mind, you can make sure to buy exactly what you need.
Sound quality
The sound quality is stellar on the headphones we listed, but not everything on the market is made equally.
When you're shopping, look for things like the decibel limit, bass range quality, and other technical-specific features and compare the models for their specs.
Construction
Construction will set some of these models apart, with price factoring heavily into the material quality of the headband and frame, as well as the cord.
Some have stiffer cords made of rarer metals and others have budget plastic constructions that might save you money but may cost you durability.
Earcups are another significant aspect of construction, with some of the models listed providing professional-level sound isolation by covering your whole ear, which is what you want from audio production headphones.
Construction also factors into the aesthetic design of the headphones, with some favoring flashy branded designs and others being sleeker and more minimalistic.
This can affect practical use as well as preference, however, since some models are slimmer and more foldable for use in travel.
Cost
Cost is a measurable response to your preferences depending on your needs. From our top premium pick, down to our budget pick, both by Audio-Technica, you should be able to find audio production headphones that work with your budget.
Special features
Some of these headphones have special features, which could make or break them in terms of your preferences.
Some are easier to take on the go, including the completely wireless Bluetooth versions that can connect with smartphones and tablets and are ideal for mixing music on a plane ride.
Other more expensive models have swiveling earcups such as our top Audio-Technica pick, and others have built-in buttons.
The length of the cord also factors in here, with some providing too much or too little compared to the needs of your workspace.
Since these features can't be compared to each other numerically, you need to know what special features are a priority for you before you start looking so you can match the audio production headphones to your specific needs.
The Takeaway
Audio production requires subtle and effective tools. Comparing headphone brands and models can be complicated if you don't know the standard of comparison.
This review series and buying guide are designed to help you sort it out by comparing the main features of the different models available, including their construction, aesthetics, and cost.
Our top pick for headphones for audio producers and mixers is the Audio-Technica ATH-M50x Professional Studio Monitor Headphones.
They have superior material construction, including the earcups, headband, and lead wires, and industry-leading professional sound quality. The earpieces have leading sound isolation tech, giving you the ability to mix and design sound on a professional level for a consumer-grade price.
Though you might buy different models depending on whether your needs involve travel, wireless functions, or a specific millimeter driver, the models listed in this review guide should serve you well so long as you know enough to compare their construction and functions to your needs as an audio producer in 2020.