Last Updated on February 16, 2023 by IDS Team
There's a lot to be said about Moog and Moog VST products, but in short words it's the longest-running, best-performing synthesizer that stretched from the realms of analog to the world of digital, increasing its already-massive versatility.
Nowadays with such incredible advancements in technology, Moog's performance and well-roundedness can be tweaked, refined, and sharpened to cater to the needs of individuals with even greater precision via VST (virtual studio tools).
Today we are going to talk about some of the best Moog VSTs in 2023, so without any further ado, let's get straight to it.
Truth be told, when it comes to Moog VSTs it doesn't get much better than the Mini V.
First and foremost, Arturia is a massive brand, and you should feel free to set your expectations sky-high before checking out its specs and features.
Speaking of which, the highlight feature of Mini V is the fact that all of the original's MiniMoog keys and control knobs are authentically positioned and replicated onto this software.
The main screen of the MiniV is separated into five main parts, including Controllers, the Oscillator Bank, a small mixing console, modifiers, and output.
Now, the controllers are pretty simple and straightforward; here you'll be able to tweak the Glide, Tune, and the overall mixing controls; the Oscillator bank features three separate oscillator knobs, each featuring its own control knobs; the mixer is the essential component of the MiniV, although its features are pretty simplistic.
The Modifiers section is absolutely brilliant, as it offers separate Filters and Loudness contour controls; here is where you'll spend most of your time if you're into production and mixing more than actual recording and playing.
Last, but not least, let's not forget the 4-octave keyboard that sports built-in glide, decay, legato, and bend controls. All things considered, the MiniV is a compact feature-packed VST that is an absolute necessity for all Moog enthusiasts.
Just like its name implies, Synapse's Legend is an iconic VST that boasts unparalleled versatility and unequaled mixing capabilities.
Given the fact that Moog features some of the most authentic sounds that are virtually unattainable via digital software, we daresay that The Legend is one of the very few exceptions.
This VST is perfect for studio engineers who have a couple of years of experience under their belt (to say the least), as it is not as simple and straightforward as our previous pick.
It features multiple mixing, oscillating, and filtering control knobs, all of which are incredibly responsive.
The largest chunk of The Legend's display is taken up by the Oscillator controls.
Basically, there are three separate Oscillators while each has its own set of fine-tuning controls, including 7 waveform presets, range-warping parameters, and semitone pitching.
The Filters section is relatively basic; it features Cutoff, Resonance, and Keytrack controls, all of which are pretty easy to use with a bit of trial and error.
Next up is the Filter Envelope, featuring four built-in effects that can massively alter your tracks; here you'll be able to tweak Attack, Decay, Sustain, and Release after you're done shaping the waveforms and recording the initial tracks.
The Legend Moog style VST is not super-cheap, but luckily you can get it in rent-to-own fashion on Reason Studios (by clicking here) which will allow you to familiarize yourself with its features and decide whether or not it is worth the money.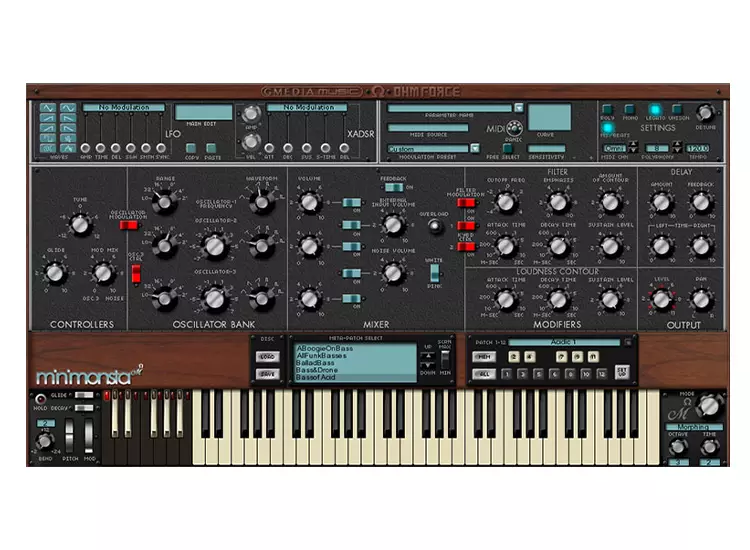 The 'MiniMonsta' is true to its name only in regards to its relatively tiny features; this is a fully digital VST that comes packed with dozens of presets and built-in samples, as well as a fully customizable keyboard, all of which will definitely come in handy while experimenting with tracks regardless of your preferred music genre.
One of the biggest differences between MiniMonsta and other Moog VSTs we've covered so far is the fact that it has a digital mixer (instead of an analog one).
This means that it's significantly more forgiving to beginners and intermediately skilled producers and mixers, as all you have to do is simply choose the samples you want to use from the massive built-in library.
The upper section of the MiniMonsta is also digital, and it features LFO, XADSR, and MIDI controls, again all of which are incredibly easy to use.
There are dozens of analog control knobs too; the Controllers, Oscillators, Mixing knobs, modifiers, output knobs, filters, and the overall settings are all analog and remarkably responsive.
In simple words, the MiniMonsta offers affordable means to spice up your Moog experience; it's versatile enough to cater to the needs of seasoned veterans, but its most basic features are plain enough to be rewarding to beginners too.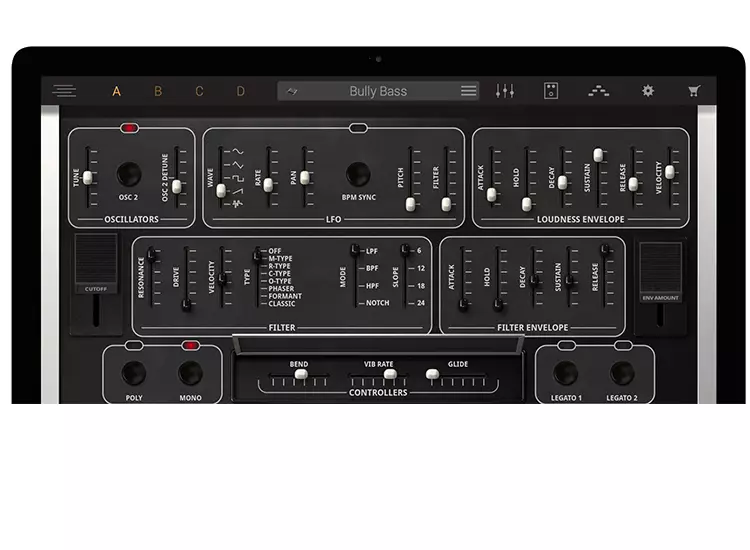 Our final pick is the 'Bully', which is a vehement juggernaut of a VST that can easily overpower most of its competition with dirt-cheap price, accessibility, and sheer simplicity.
Now, this is the first beginner-based VST for Moog on our list, and that does not necessarily mean that it's not as versatile as its more feature-packed counterparts.
Basically, this is a digital representation of a fully analog Moog mixer that features simplified FX, oscillators, filters, and volume controls.
This VST features two separate oscillators with Tune and De-tune controls; a relatively basic LFO with 5 built-in waveform samples, pitch, pan, and rate controls; an old-school loudness envelope section with Attack, Hold, Decay, Sustain, and Velocity faders, and lastly, one of the simplest Filter sections laden with a plethora of fader controls.
Although it does not feature a built-in keyboard, it's supplied with a wonderful array of customization controls, sliders, and faders that more than make up for this little shortcoming.
All things considered, it's twice as cheap in comparison to most popular VST plugins, and it's certainly well worth the buck. You can get it on IK Multimedia by clicking here. If you buy using this link, we get a small kickback as affiliates of IK Multimedia so you will be helping our websites a lot by doing this.
Conclusion
In all honesty, Moog is so iconic and authentic that most people don't quite want to 'defile' it with VSTs.
However, we have your back covered for the other topic as well, so make sure to check out the Best VST Synths in 2023 rundown. Stay safe!