Last Updated on August 22, 2023 by IDS Team
Welcome to our article on the BEST Online Mastering Service! Mastering and mixing an audio track is a craft that takes years and years to master (no pun intended). However, improvements in artificial intelligence and music production software have made it so that this skill actually isn't really necessary to learn anymore.
Today's article will show you exactly how cheap and good some of the available INSTANT online mastering services are.
They obviously are not perfect. We are of course talking about on-the-spot instant mastering, and not just going and filing an order on-line for a human to master your tracks later. There is no human interaction with these online mastering service tools, you are the only human hearing them.
At the end of the day, there's no way for these tools to know what your vision for the track is, and nothing beats the personal touch of an engineer.
Having said that, all of the tools tested in this article improved our track pretty much instantly at a very small cost. Some of the best online mastering service products were truly mind blowing, producing radio-ready tracks in a matter of minutes.
We have no doubt that these platforms will open the doors for hundreds of thousands of home producers and artists, allowing them to have good quality mixes in the time it takes to drink a coffee.
And if you want updates leave your e-mail below.
NOTE: If you are on a mobile device, scroll to the right to see all picks and inside the cells to see all their content. So here they are, our favourite online mastering services, reviewed:
Product Name
Main Features
Export Formats available
Rating / Pricing
Cloudbounce

26 different settings for the final mix.

Freebies included: A Crash Course in Mixing (PDF), a bunch of Ableton templates and a Logic Pro template

Manual mastering tool with Abbey Road Studios option
16 bit WAV

24 bit WAV

MP3
9.4
CHECK PRICING OPTIONS
Aimastering.com

Automatic video creation

Automatic Youtube loudness setting

Limiter, ceiling, oversampling, sound quality, sample rate, low and high cut controls

Easy mastering mode

Huge range of statistics on pre and post mastering track

API for developers
16 bit WAV

24 bit WAV

32 bit WAV

MP3.
8.4
CHECK PRICING OPTIONS
Landr

Distribution tool for spotify apple music, google play music, amazon music, pandora and beatport.

Collaboration / Feedback tool

Reference mastering

2 master controls: Style (warm, balanced, or open) and Intensity (low, medium, or high)
LO-RES MP3 (192kbps)

HI-RES MP3

(320kbps)

WAV (16bit)

HD WAV (24bit)

8.1
CHECK PRICING OPTIONS
# BEST ONLINE MASTERING SERVICE – Cloudbounce Review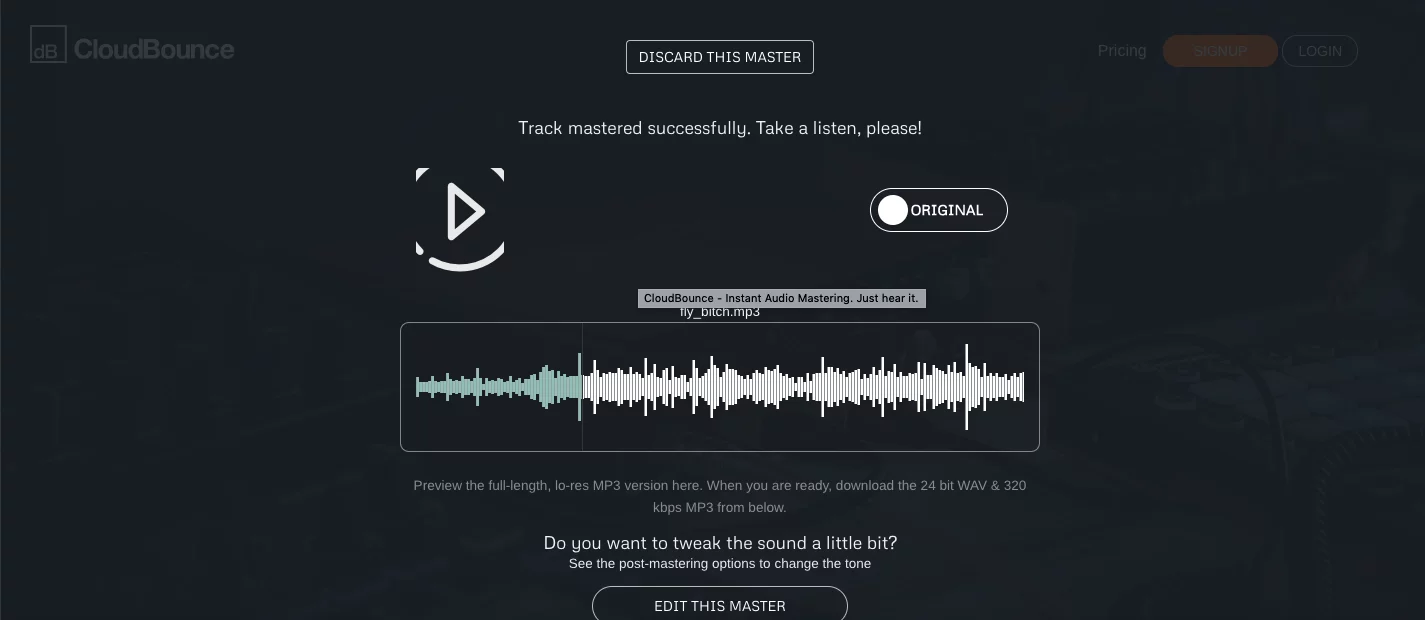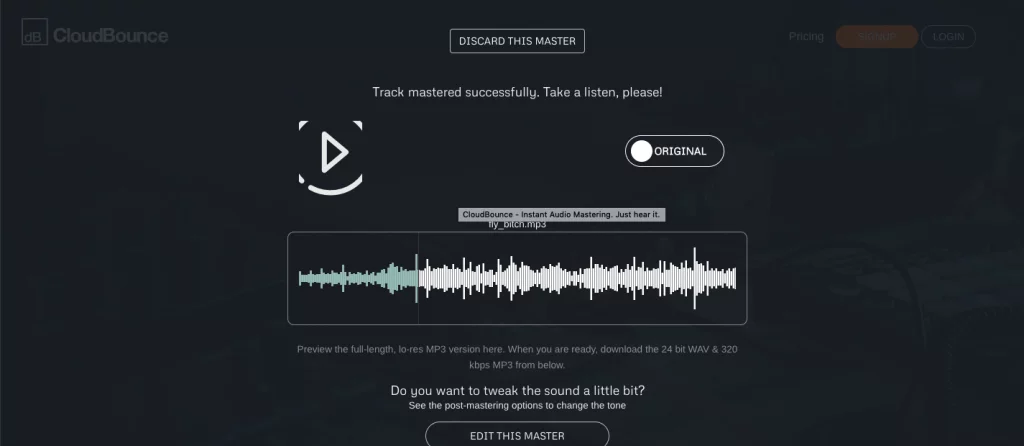 And here it is: Cloudbounce. Having launched in 2015, they're also a somewhat familiar name in the industry.
Unlike other Online Mastering Services in the list, Cloudbounce has a more stripped down approach to mastering, offering solely their mastering tool, and no other bells and whistles.
It's interface also isn't as shiny and clean as some other tools in this list, though it makes up for it with the additional controls and settings for the master sound that other tools don't offer.
We really prefer a minimal/stripped down interface because in the end we want great mastering for cheap.
Cloudbounce Pros:
Relatively cheaper than competitors (mixes start at 9$).
Different pricing plans available (per mix, per month, per year).
26 different settings for the final mix.
3 output formats: 16 bit WAV, 24 bit WAV, MP3.
Lightning fast.
A pack of freebies are included with every account: A Crash Course in Mixing (PDF), a bunch of Ableton templates and a Logic Pro template file for your mixes.
Cloudbounce Cons:
Interface was often confusing, with banners and footers obstructing buttons and menus
No additional features besides mastering (ie no distribuiton, feedback, etc)
Cloudbounce: Our Rating: 9.4/10
Speed: 9.3/10
As with most tools in the list, the upload, preview and mastering took only a matter of a few minutes. This was perhaps the fastest service in the list. Throughout this whole experiment, the speed at which these masters are produced was what most surprised us.
Interface: 7.6/10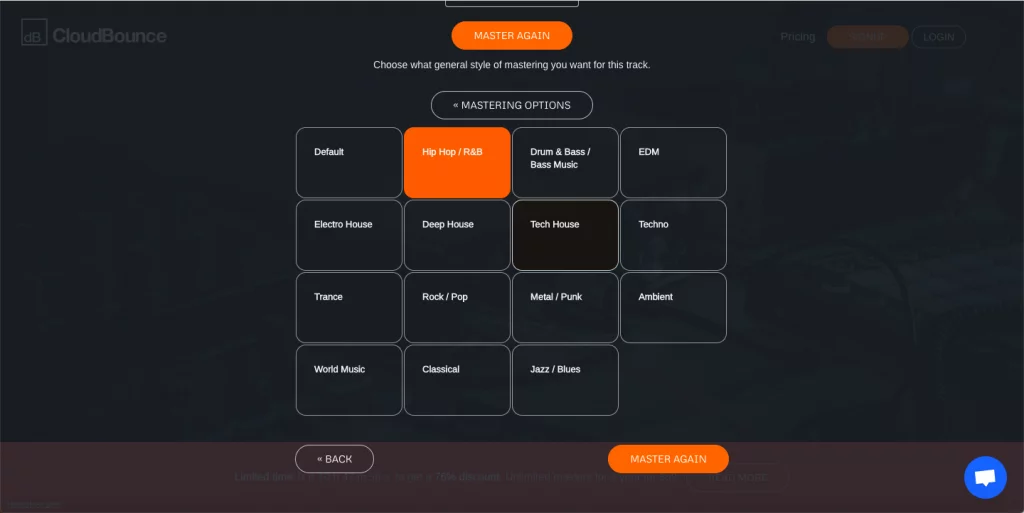 It seems like a small investment in a web designer could make this tool so much better, but unfortunately, it's still quite clunky and unfriendly to the user.
Quality of Mix: 9.5/10
The out-of-the box mix (pre-customisation) sounded really good. In our opinion, a bit aggressive and with a lot of loudness and attack, but this was also due to the nature of the track. After correcting this with the many customisation options, the track ended up sounding great.
And here is where Cloudbounce Online Mastering Service really stands out. It has hundreds of different possible combinations between the two controls (musical genre and mastering controls) that allow you to play around until you find the perfect mix. It also sounds extremely well for what it is.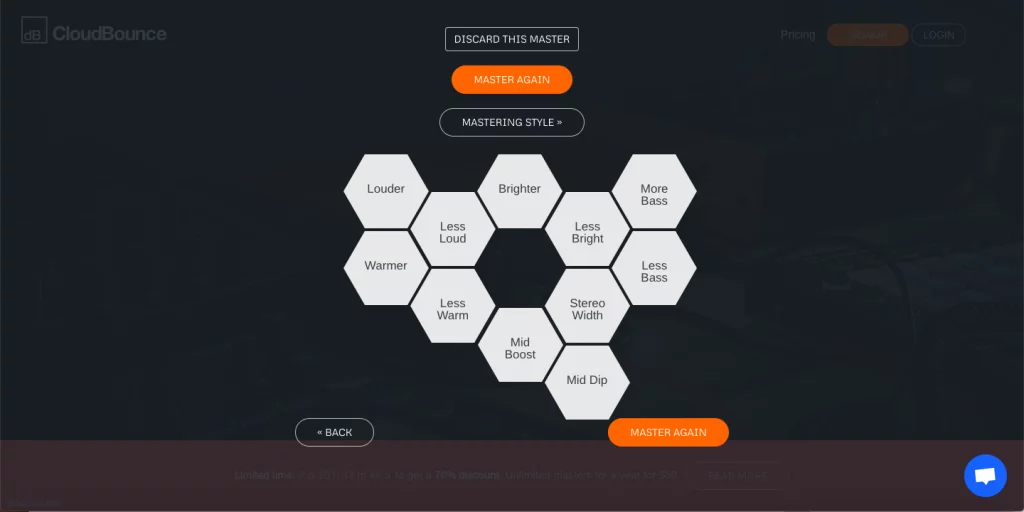 Whilst the first control (musical genre) is pretty straightforward, the mastering controls allows for much more customisation. It allows you to boost low, mid, and high sections of the music, add brightness, warmth, loudness, and more.
Due to this feature alone, we award Cloudbounce the highest grade in the list of BEST Online Mastering Service providers, in terms of mix
quality
Additional Tools: 7.5/10
There was only one additional tool we could find, however, it's one we quite enjoyed. After mastering the track, there is an upgrade available, which allows you to send the track to the abbey road studios for manual mastering by one of their engineers.
We thought this was pretty cool. This will cost you around 100$ and allows you to get a human touch on your AI powered mix.
This service will probably rely heavily on template files and presets, though its still a great way of improving the mix without investing that much.
-> Try CloudBounce for free
#2nd Choice Online Mastering Service – AImastering.com (by Bakuage) Review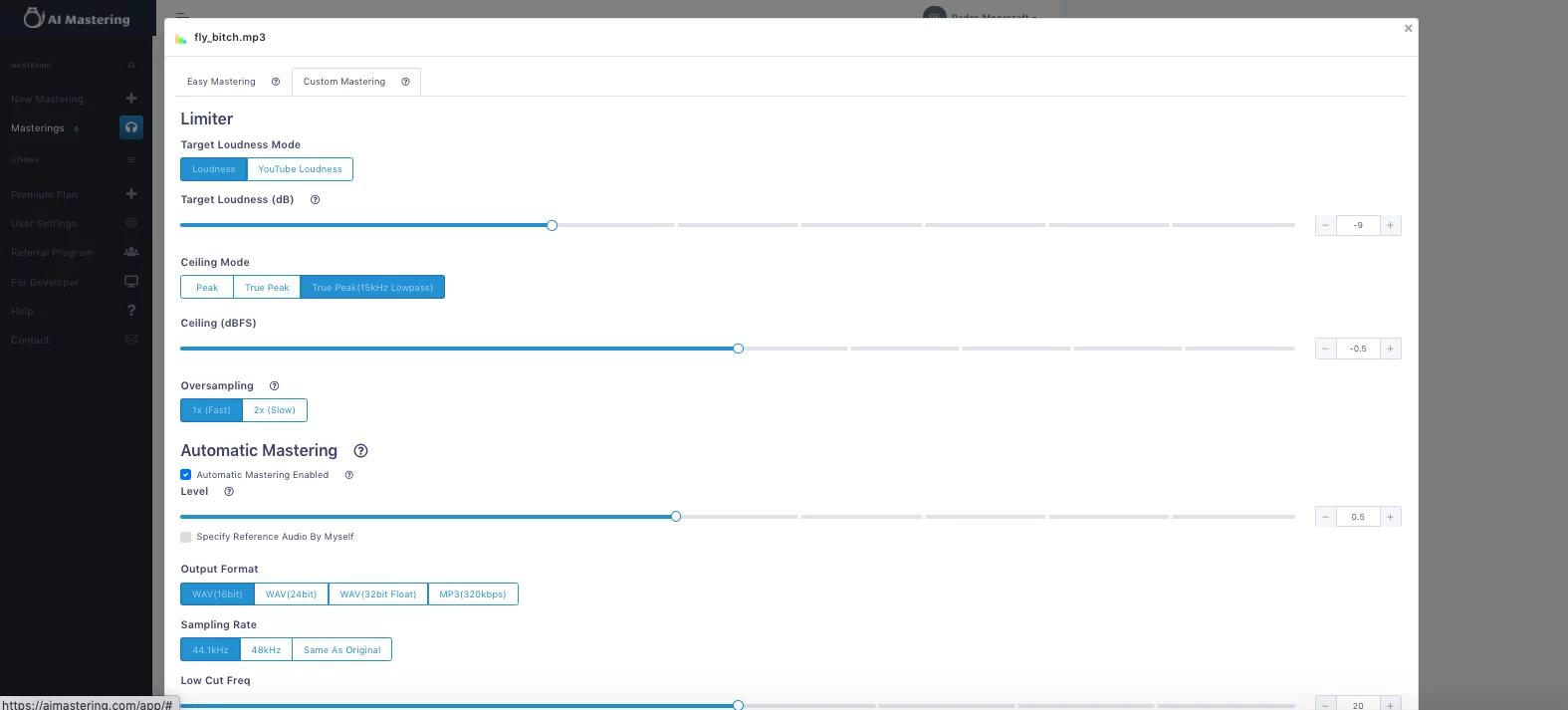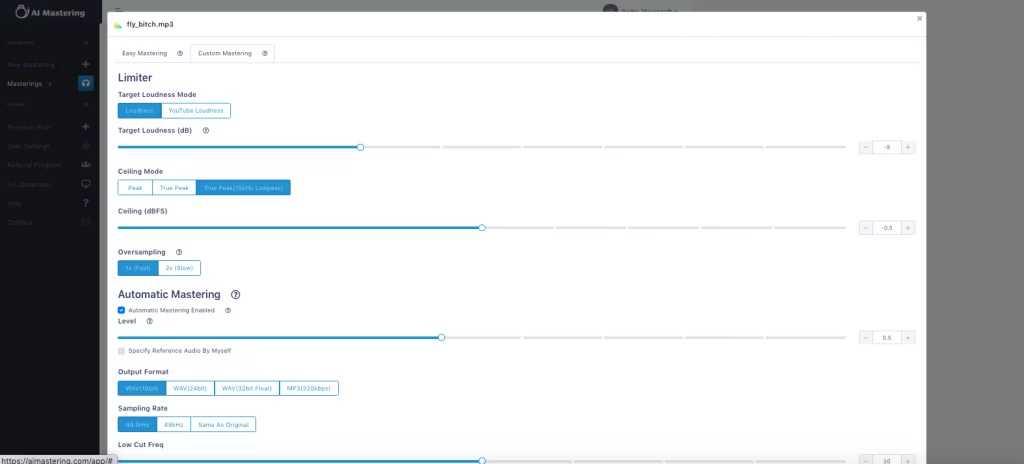 Bakuage's AImastering.com is a pretty unconventional choice for our list. You won't find them in a lot of lists, and that's really unfortunate, because we actually loved their AI.
If you have some technical knowledge of how to master a track, you'll have a lot of fun with AImastering.com Online Mastering Service.
It includes a youtube loudness feature and automatically creates a downloadable video for your song, so if you use youtube as a promotion platform for your work, this is an absolute no-brainer. But our favourite feature was undoubtedly the "statistics" page of the mix.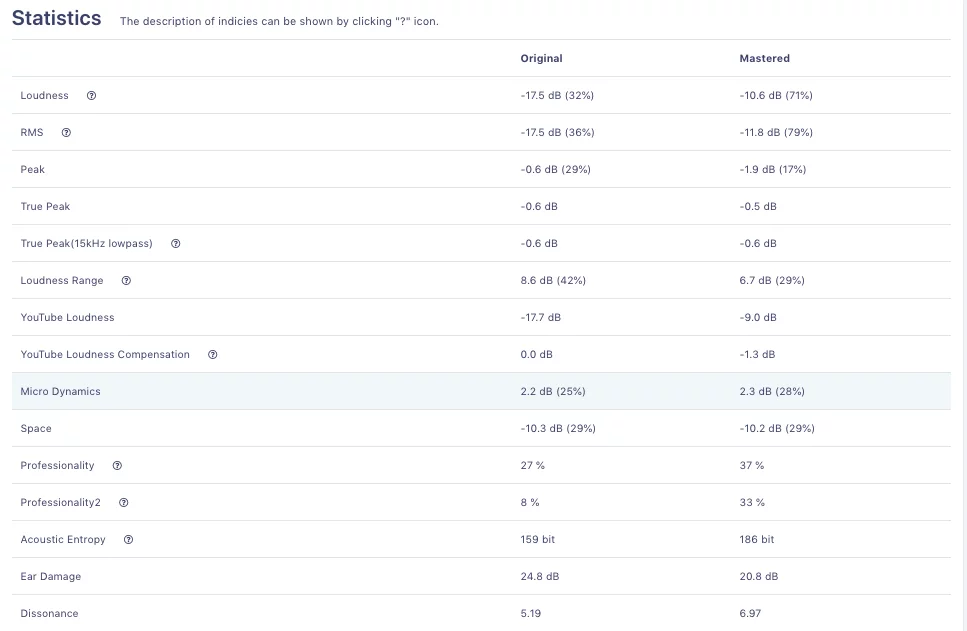 After the AI finishes the master, it creates some very interesting statistics including "professionally", which is how close the track sounds to a commercial track. This kind of "gamifies" your production and mixing skills and allows you to benchmark your progression as a musician- very cool!
There's a bunch of other analytics provided such as loudness and waveform analysis that really allow you to perfect your track and compare pre-master and master versions.
It's not all roses though. We did face some technical issues, hitting a 502 page when trying to download the master
AImastering.com Pros:
Automatic video creation for youtube.
Youtube loudness setting.
Controls for limiter, ceiling, oversampling, sound quality, sample rate, low and high cut.
4 output formats: 3 WAVs, 1 MP3
Option to preserve bass. Or not- might result in distorted bass.
Easy mastering mode– focuses on loudness only.
Statistics given: Loudness, RMS Peak, True Peak, True Peak(15kHz lowpass), Loudness Range, YouTube Loudness, Micro Dynamics Space Professionality, Acoustic Entropy, Ear Damage, Dissonance
Loads of graphs and analytics provided.
Relatively affordable– 1 free master, then 9.99$/master, or 29$/month for unlimited masters.
API open for developers.
AImastering.com Cons:
Some bugs were encountered.
Docs could be better written
AImastering.com: Our Rating: 8.4/10
Speed: 9.0/10
AImastering took slightly longer than it's competitors, though it was still very fast. Within 10 minutes, we had a great sounding mix.
Interface: 8.4/10
The interface, copy, and help docs could be improved. Their homepage simply states "Free Mastering is Available", which might be a bit confusing for a somebody who stumbles upon the site. However, despite not being very flashy, the interface works well and everything is easy to locate.
Quality of the Mix: 9.3/10
Here, we're considering the master produced with the standard options. Due to the many controls included in the tool, the range of tracks produced is huge. Therefore, we're sticking to the "easy" mode of using AImastering.com
Overall, another solid mix. It's really hard to set it apart from the other tools in the mix, though we find this track to have less loudness and bit more warmth out of the box.
Much like the other tools in the list, the final result was more than ready for distribution on the online platforms, which clip and compress a lot of the nuances of a track anyway.
Additional Tools: 7.0/10
In terms of additional tools we could only the video creator, which was pretty cool, but honestly not that useful if you're not using youtube. And even if you are, you'd probably want to invest a bit more in a proper video.
Footnote: you may also wonder why we decided to choose AImastering.com over Bandlab free mastering for the second spot on this list. After all, if you want free online mastering, it's certainly one of the best options.
In essence, you can simply get a bit more out of AI mastering as a musician. It means that although not stated on their site, you're actually getting extra and more useful data than just the release-ready master.
With Bandlab, there's no such thing and the service is ultimately a bit similar to some of the paid options on here. If you're looking for a free version of a site like Landr for Ai mastering, band lab free mastering is the way to go. However, it does operate similarly to some of the other services we have featured here.
MORE INFO
Landr Online Mastering Review
Landr is a household name in the online AI-powered mastering industry. Developed by the Canadian company MixGenius, it's been around for a while and it keeps expanding its tools, now also offering distribution, collaboration, promotion tools, and even rent-to-own plugins.
Landr Pros:
Includes a distribution / release tool for Spotify, Apple Music, Google Play Music, Amazon Music, Pandora and Beatport.
Really clean and pleasant interface.
Includes a collaboration tool which allows you to share masters and get feedback.
Allows for reference mastering.
2 controls to customise master: Style (warm, balanced, or open) and Intensity (low, medium, or high)
Different pricing models available (per mix, per month).
Landr Cons:
Less than stellar customer support, according to several reviews.
Distribution tool can take a few days to work.
Limited master customisation options.
Landr: Online Mastering Service – Our Rating:
8.1 out of 10
Speed: 9.2/10
The mix preview took about 5 minutes to prepare, whilst the actual mix took about 10 to 15 minutes. The app works in the background so you can close the browser and check back on it later.
Interface: 9.7/10
As previously mentioned, this was probably the most enjoyable interface to work with. Everything was where we expected it to be, and the layouts simply look good.
Quality of Mix: 8.3/10
We provided a rather low-quality, uncompressed hip-hop instrumental track. The result was notably cleaner, louder, and overall quite impressive.
Playing around with the customization controls (style and intensity) yielded slight differences in the mix, though the out-of-the-box mix ended up being our favorite. The reference mastering tool also caught our attention, though again, we didn't notice a huge difference in the mix after uploading a classic hip-hop track from our library.
If you're looking for a more customizable Online Mastering Service, then you might want to keep on reading our reviews.
But overall, it kind of blew our minds. The final result was pretty much radio ready and was a huge improvement from the track provided. Some nuances, tones, and little tricks might have been added by a professional engineer, but the final result was very good- a no-thrills simple mix that was very pleasant to hear.
Additional tools: 9.4/10
The standout tool is undoubtedly the ability to release your tracks directly to the major streaming platforms. So, additional points here for being easy-to-use in terms of including the whole typical supply chain of a modern musician. Cons for having less control than Cloudbounce in terms of customization making it slightly less good value.
It's worth mentioning at this stage some of the common concerns first-time users of Ai mastering services may have and how the options of this list compare. For example, if you've poured your heart and soul into your first demo and are wondering 'are online mastering services any good' you may not be willing to spend money on a final master that turns out less than stellar, especially if you're also considering using a professional mastering engineer.
It's at this point that for independent artists we would recommend testing out the whole AI mastering concept as a whole on a free mastering service like BandLab to give you an idea of what it involves before moving onto some of the options on this list for your actual master.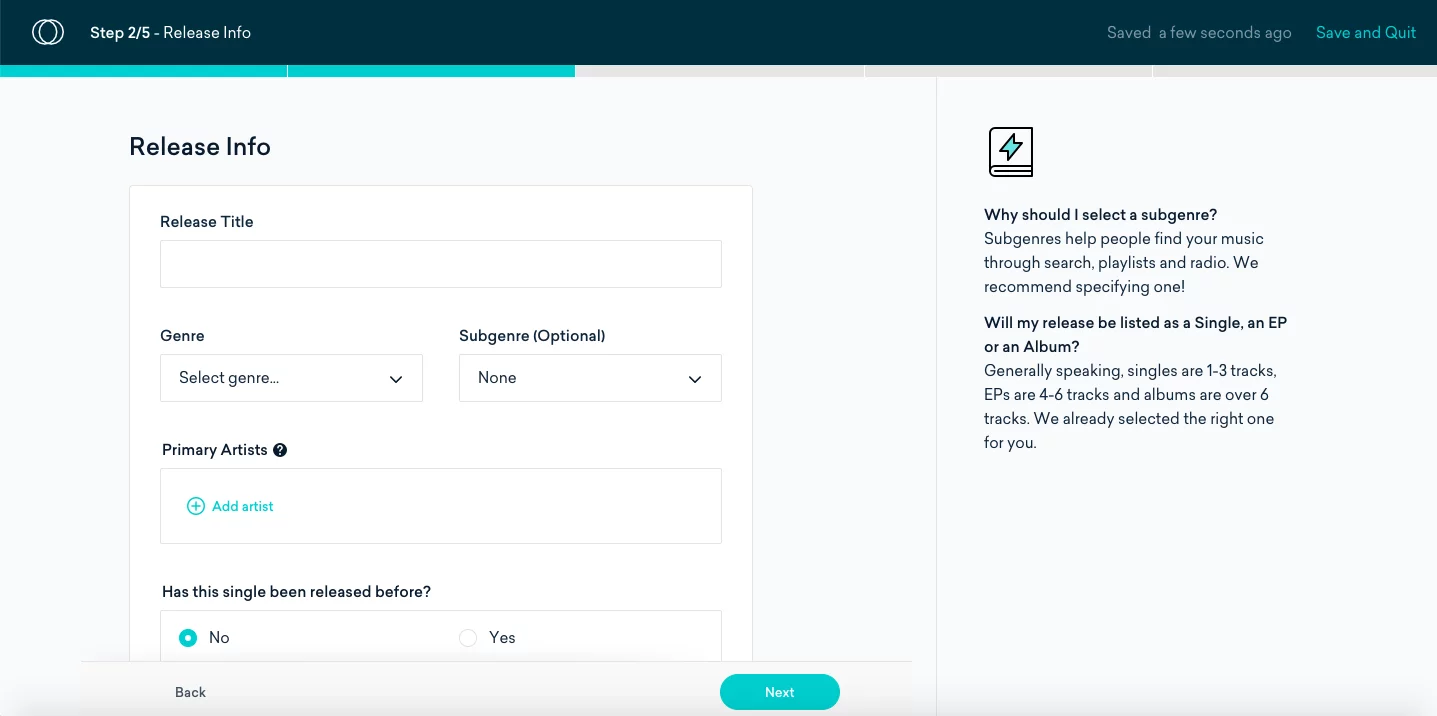 To move on, let's now look at Landr vs Cloudbounce, the good and the bad, and how they compare. This saves a ton of work and in our experience, worked relatively well, taking only a couple of days until the tracks were available in all the platforms. Some users have complained of slow release times, so we can't guarantee that all users will have the same experience as us.The collaboration tool was interesting, but in our opinion, not that useful, especially because the mix can't be customized beyond 2 controls. So even if you manage to get great feedback on your track, there's not much you can do with it.
Does LANDR do free mastering? And is it the best for free online mastering?
Here's a tip, you can actually try Landr for free, so if you go ahead and sign up, upload your mix, and wait a few minutes, you'll be able to judge for yourself. However, the keyword is this is a free trial. If you want to use it on a more frequent basis, you will naturally have to pay, especially to access the full range of features. However, we're including this because, for the purposes of mastering only one track, it might be all you need.
Landr vs Cloudbounce Online Mastering Service Comparison
After reviewing these first two Online Mastering Services, we've gathered some thoughts and notes about they compared.
Here's our rundown:
Landr is a better investment for artists looking to focus only on production and creation of music. There aren't many ways to customise the mix, and it provides an easy distribution system.
If you want to eliminate the number of decisions during these stages, then Landr is your tool. Create a track, upload it to Landr, have them distribute it, and go back to the studio.
Cloudbounce is more of a no-thrills solution that requires a bit more work.
You'll spend more time customising the master, and you won't be able to distribute or promote the track directly through the platform. But to be honest, we're here for mastering so extras don't count that much.
Cloudbounce is, in our opinion, the best solution if you're interested exclusively in the quality of the mix.
It gives you way more style and mixing options, even allowing you to send it to a very reputable studio in case you're not satisfied with the Cloudbounce version.
eMastered vs Landr Online Mastering Service Comparison
Our final comparison is between Landr and eMastered. We got asked by one of our readers to compare the two, so we thought we'd give eMastered a try and see how it stacks up. Here are our thoughts:
eMastered offers more control over the mix, with 6 controls and the option to use a reference for mastering. However, the Landr AI is, in our opinion, superior a producing a clean and loud track.
When it comes to pricing, Landr starts at a way lower price point, almost a third of eMastered. This is for the basic subscription though. The advanced Landr sub is still cheaper, but the Pro will be slightly more expensive.
How much should mastering cost?
Mastering budgets live in a spectrum. A master from a top-shelf studio will set you back several thousand dollars, whilst there are online AI mastering tools that are as cheap as 19$. But how should you decide how much to spend?
Like most things in life, you roughly get what you pay for. However, for a very small investment, you can get your track sounding pretty good, definitely release-ready and even radio-quality. By very small investment, we mean under 100$, through an automated service such as one of the ones listed above. This represents the best return on your investment. If you're uploading your track to youtube, or a social network such as Instagram or Facebook, a lot of the quality will be lost anyway.
And if you're a professional musician, who expects to have their songs played on the radio or needs high fidelity masters, you should be ready to spend a few hundred dollars in a studio such as Abbey Road, who now offers an online mastering service.
Final Thoughts
And there you have it folks! Our favourite Online Mastering Services. If you made it this far, we're sure you're ready to bite the bullet and try out one of the services on this list. At the end of the day, most services offer a free master as a trial, so you don't have much to lose. And as always, if you have any experience with any of the software in the list, post your thoughts below!