Last Updated on December 29, 2020 by IDS Team
While the electric guitar seems like a fairly simple instrument, there are a lot of things to consider with it.
Firstly, the electric guitar on its own requires an amp to work, as well as additional effects units if you want to make things more interesting.
From the earliest days of the instrument, one of the main goals for guitar players was to make them sound less "dry."
Over time, guitarists and engineers started adding atmospheric effects using different methods.
In the present day, this comes as one of the easiest tasks since you can get your hands on some very simple and effective pedals.
And talking of atmospheric effects, reverb holds an important place in the world of the electric guitar.
The other alternative is the delay (or echo) but the discussion which of these two effects is better is still ongoing.
Reverb still has its strong following and will give your guitar tone just a slight "vintage" twist in there.
With all this said, we're going to look into the best reverb pedals on the market today. Below, you can find something for everyone's needs and set budget levels.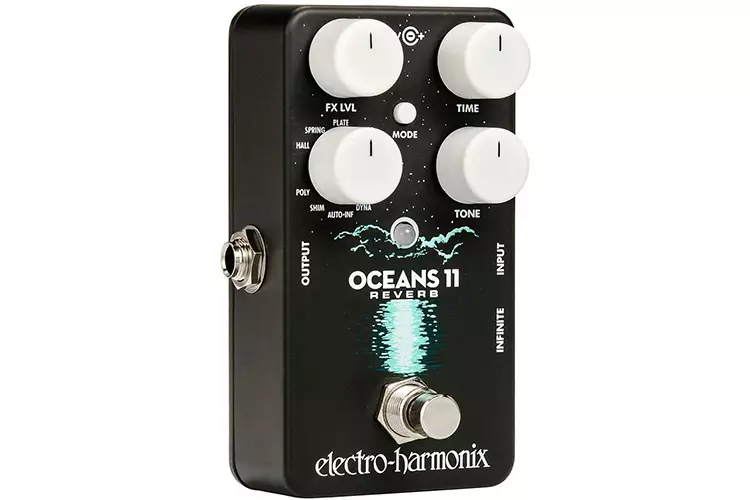 For many decades now, ever since the end of the 1960s, Electro-Harmonix kept pumping out great pedals.
Although fairly known for their impeccable distortions, they still have some other great stuff in other departments to offer.
For this list, we're looking into their Oceans 11 reverb pedal that, as you might have assumed from its name, comes with 11 different reverberation presets.
But aside from this very versatile feature, we also have an additional mode switch that does further tone-shaping on each of these 11 presets.
There's even an additional input on the side that lets you use an external switch for that "infinite" reverb that keeps on ringing out in the background.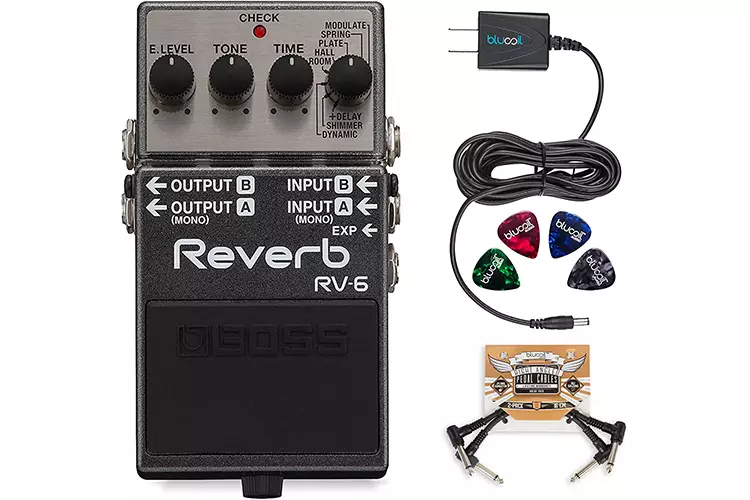 Boss is hard to avoid on pretty much any list of pedals. No matter the effect or the era in rock music, there'll always be mention of this legendary company.
As far as reverbs go, we're quite fascinated by their simple, compact, and yet very potent RV-6.
But aside from its basic controls, you can also find a switch for different reverberation modes.
The pedal also comes with a special mode that combines delay and reverb, making a super-atmospheric tone for some of those mellow songs.
You can also use it as a stereo pedal and even pair it with an expression pedal for more tone-shaping options.
Now, Boss's new 500 Series of pedals is just something else.
These are more than just the typical stompboxes that give you a few options and presets. Just take a look at RV-500 and all of its features.
This is like a very detailed and complex digital processing unit that's focusing solely on reverb.
It would take a lot of time to explain what this pedal does exactly. This fully digital device comes with an impeccable sound resolution of 32 bits and 96 kHz.
There are 12 basic modes as well as 21 reverb types. You can also dial in some of those vintage-inspired tones that resemble tape delays.
There are also other features like MIDI connectivity for more control options.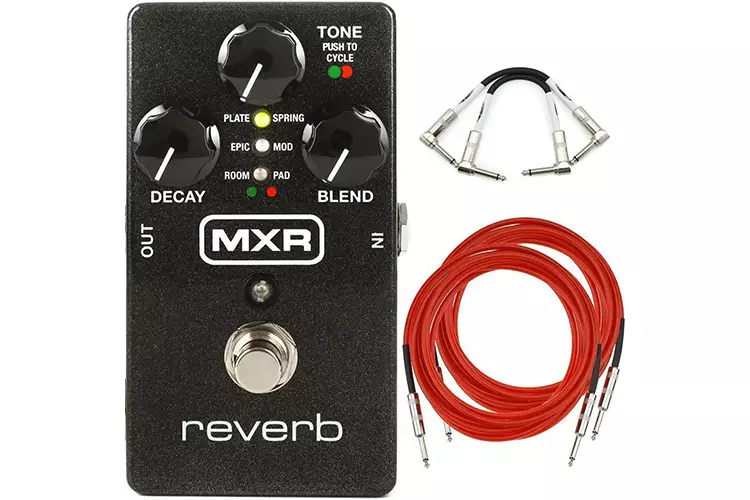 And MXR also comes as another amazing example of a brand that manages to surpass its competition in many different aspects.
Although compact and simple, their pedals are quite useful, which is also the case with their M300 reverb.
Here, we have a straightforward approach with only three basic knobs and some additional controls that allow you to cycle through 6 different modes, including one that mimics those plate reverbs.
What's more, you can add some diversity in there using an expression pedal. This is a very useful one for those who adore the reverb effect but don't feel like using complicated pedals.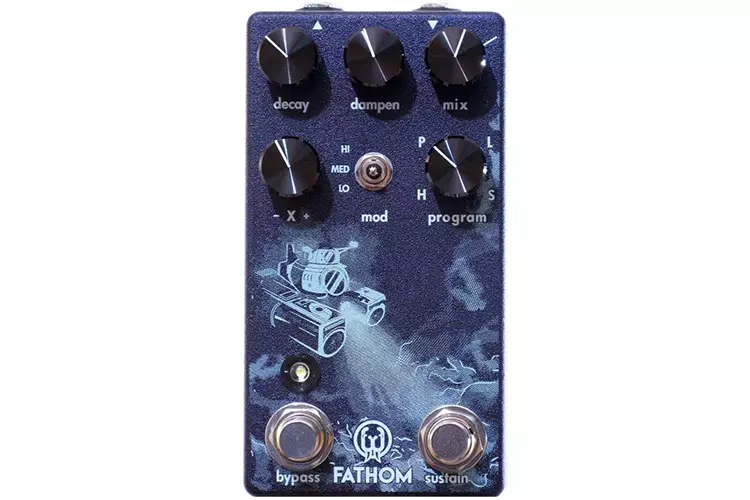 While the company is not that big and famous compared to some other that we mentioned on the list, Walrus still makes some of the best pedals on the market these days.
In their arsenal, we can find an amazing and very atmospheric Audio Fathom reverb.
It comes with four modes, all of which provide you with great spaciousness and detailed controls that let you dial in anything from subtle shimmering reverberation and up to those extremely long and psychedelic yet unique-sounding effects.
To add to all this, there's even a switch that gives you "infinite" sustain when you press on it. It's a compact pedal, but it's a real playground for reverb lovers.
When we're talking about pedals of any kind, things often get really difficult if you're operating on a budget.
Sure, all these pedals that we mentioned are great, but some of them can get rather expensive.
At the same time, it seems as if all the cheap stuff just isn't worth it. This is where Donner steps in with their amazing yet affordable pedals.
This is exactly the case with their Verb Square reverb. Packed into a mini-sized casing, it comes with just the essential controls.
It's not complex, it's just a "stripped-down" reverb unit that will help you get what you need. Considering its price, this is more than a great deal.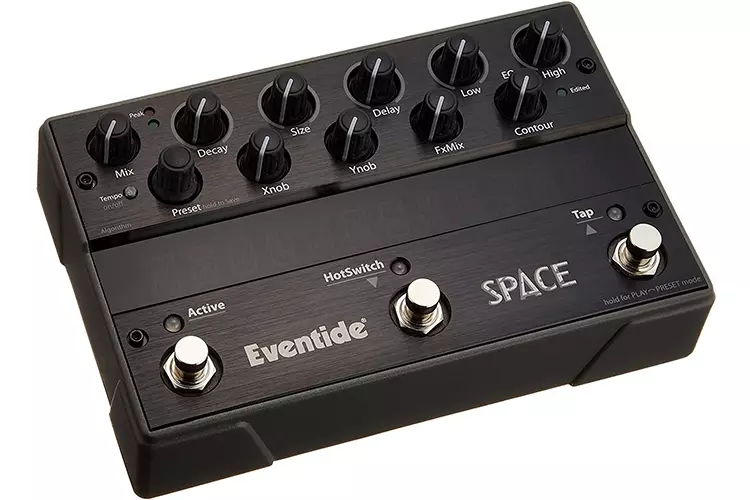 Lastly, we'd mention another one of those very detailed pedals. The unit in question is Eventide Audio's Space reverb that comes with so many options that we wouldn't be able to fit into an entire article.
And this one's even more detailed and complex compared to Boss RV-500. There's an abundance of controls, each doing different parameter tweaking depending on the reverberation mode.
It comes with 12 basic reverb algorithms, stereo mode, expression pedal connectivity, as well as USB connectivity for some serious tone-shaping options.