Last Updated on December 22, 2020 by IDS Team
Musicians all around the world are always in search of the perfect, most exquisite, and unique tone. Some resort to their ability to manipulate different sounds, others resort to using different kinds of gear.
The truth is somewhere in the middle. A good musician knows his limits and aims to compensate his weaker points with better instruments and amps.
However, the best musicians are constantly challenging themselves, pushing the boundaries, and are consistently improving and upgrading their arsenal.
Truth be told, the diversity of instruments, accessories, and gadgets a guitar player could introduce to his rig back in the day wasn't as eclectic.
There were only a couple of renowned brands, and the price ranges were substantially narrower.
There were cheap pieces of gear, and then there were expensive, boutique models available to the most prestigious players via sponsorships and endorsements.
Nowadays, luckily, a guitar player can easily morph and shift his (or her) sound with even the most heavily limited budget.
You may need a couple of months to save up enough money for a
decent amp; you may need a couple of weeks to save some cash for an instrument upgrade; luckily, you'll need much less time to come up with even money for a new pedal.
The vast majority of guitarists already have at least a couple of pedals in their rig, most likely a distortion/overdrive, a delay pedal, and maybe a basic compressor.
What we recommend to players who are looking for a new way to approach their instrument is a quality tremolo pedal. If you don't know where to start your search for one, you're in the right place:
Even though J. Rockett might not be as famous as Boss or TC Electronics, you can rest assured that the quality of pedals this brand has released is equally strong.
Mr. Moto is a highly customizable, fairly sensitive pedal that can accommodate pretty much every musical style or genre.
It packs two standard control knobs that govern the tremolo's depth and speed, but it also allows you to modify the actual shape of the tremolo effect with the 'wave' function; at the same time, you can also introduce a fully independent reverb effect with the 'Verb' knob.
Although this is a highly versatile pedal, its straightforward design makes it ideal for both beginners and experienced guitar players.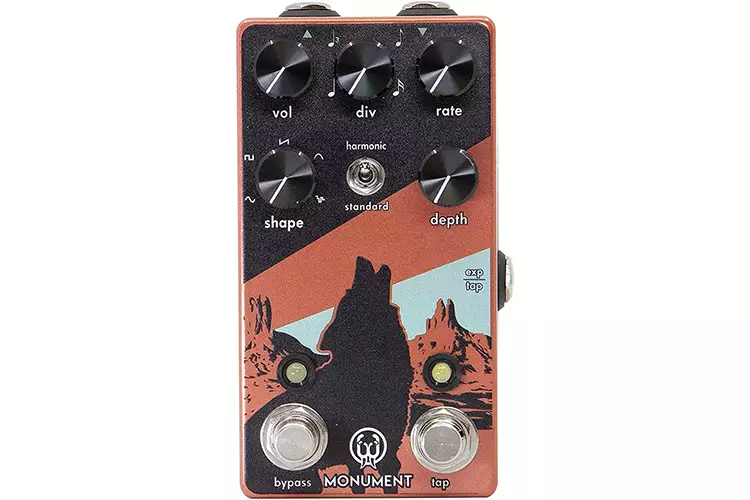 If you are a skilled player who's into classical styles of music as well as into experimental and improvisational genres, we strongly believe you are going to love the Monument V2.
Essentially, this is a highly versatile pedal that features two separate sets of Tremolo modes – harmonic and standard.
This pedal will allow you to tweak the volume, the division, rate, depth, and shape of your tremolo, but it will also allow you to completely alter your guitar's voice with as much as a flip of a switch.
You may need some time adjusting to its responsiveness, but you can rest assured that the rewards are guaranteed.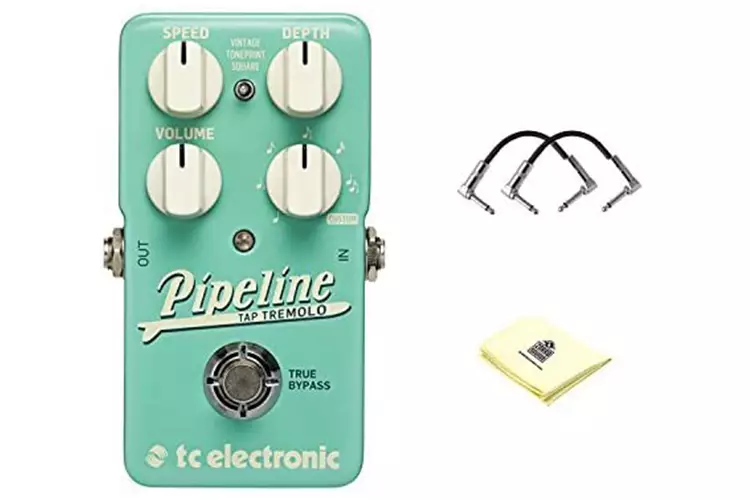 TC Electronic is one of the industry leaders in the guitar accessory department, and their Pipeline Tremolo pedal is a true representative of their quality.
At first glance, this is a relatively plain pedal that has a small footprint and is easy to use, but looks can be deceiving.
As a matter of fact, the Pipeline Tremolo is as eclectic as can be; it features six pre-set tremolo shapes as well as a custom bank, and it rocks depth, speed, and volume control knobs that offer superb well-roundedness.
Furthermore, you'll be able to switch between vintage, tone print, and square tremolo voices; this makes this pedal an excellent choice for both starter guitarists and veterans.
Beginner musicians have heard of Ernie Ball's strings; more experienced players have probably played on the Music Man guitar while those who've really dug deep know that this brand also offers a variety of instruments and accessories.
The Expression Tremolo pedal features the design of a wah-wah pedal with a ramped foot platform, a built-in spring reverb complementary effect, and five pre-set tremolo waveforms, including slow-rise, slow-fall, harmonic, square, and sine.
What's more, it's actually not even that expensive, even though it offers substantially more versatility and unique features than typical mid-range guitar pedals.
Pedals designed by EarthQuaker Devices are not for the faint of heart. Most of their models offer wild, often unpredictable results, which makes them perfect for experimental musical endeavors.
The Hummingbird is one of the chirpiest and grittiest tremolos in the middle price point category that offers a ton of different voices, ranging from old-school vintage-like timbres, over classic and nostalgic tones, to modern, new-age hues.
This pedal features three different active modes, adjustable rate, depth, and level. In fact, out of the myriad of EarthQuaker 'Devices', the Hummingbird is actually the most consistent and reliable one.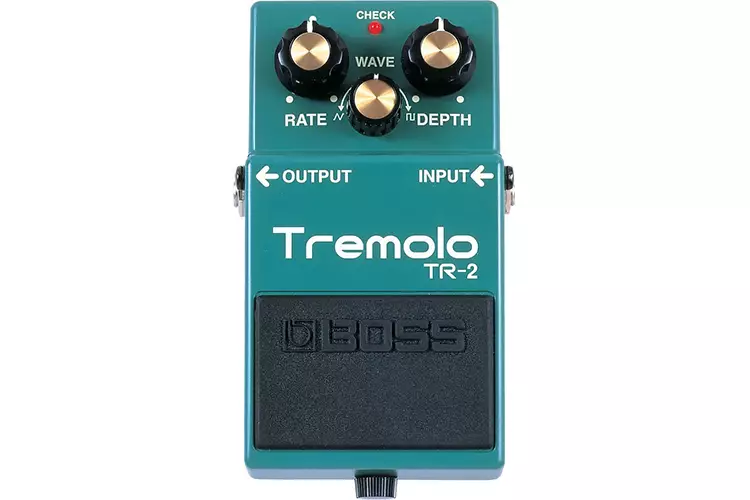 Boss is arguably one of the most iconic names in the guitar pedal world, and here we have their TR-2 Tremolo pedal.
Essentially, this is a vintage-sounding pedal tailored for musicians that have an eclectic taste for all things sonic, and it's packed in a neat, very familiar casing comprised of solid, stainless steel.
It features Rate and Depth control knobs, as well as wave-adjustment controls that are as easy to use as they are sensitive.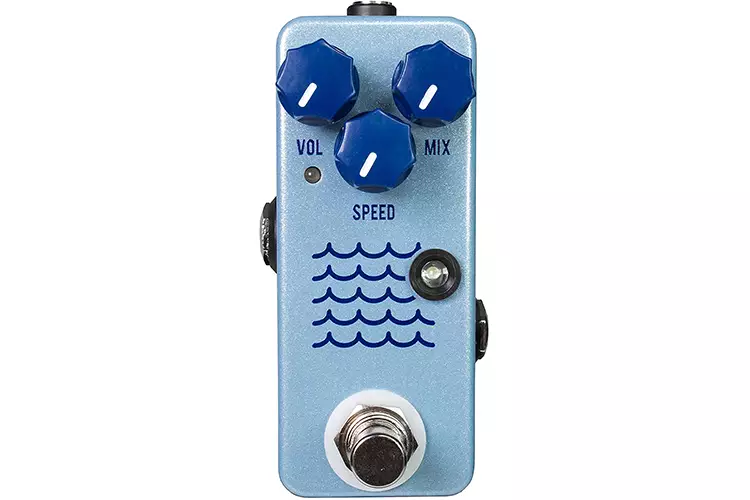 Let's pull down the curtains with JHS Tidewater, which is one of the best tremolo pedals you could possibly find while on a cash-strapped budget.
It's one of the tiniest pedals on the market that could easily fit in any kind of pedal rig and its versatility is more than you'd bargain for the money.
It offers volume, mix, and speed control knobs, as well as a 3-way mode switch. Even though it might be a bit clunky due to its peculiar (crowded) design, it's still among the best-sounding, best-rounded tremolo pedals out there.