Last Updated on December 22, 2020 by IDS Team
Sound engineers, mixers, producers, and artists know that a cheap synthesizer wasn't always an option.
High-quality sound engines used to be premium hardware for only the most dedicated and well-equipped studios.
Now, keyboards, modules, and even pocket-sized synthesizers can be purchased for a relatively low cost.
The size of the synthesizer, whether it's analog or digital, the features it offers, and the reputation of its brand all play into which cheap synthesizer is the best for beginners.
Since not all beginners are the same, there may not be a one size synthesizer to fit all sound engineers.
That's why we compiled this list of the 5 best cheap synthesizers for beginners, including their pros and cons and main features.
We also made a buying guide to help you compare the major features between not only these brands but also any that you may find on your own.
The best synthesizer is a combination of your needs with the value you can get on your budget. This list should help you narrow it down.
5 Best Cheap Synthesizers: Reviews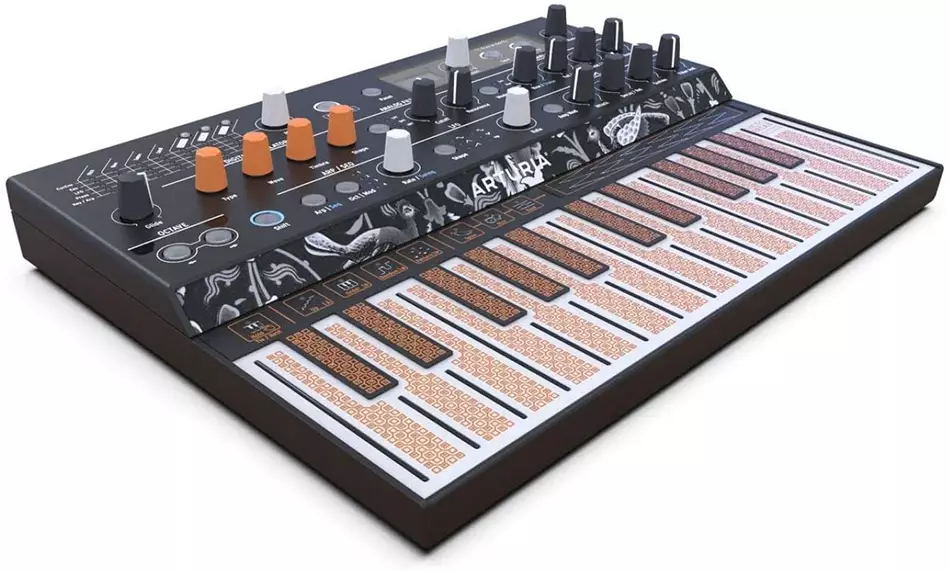 Arturia is an innovative company and this hybrid synthesizer is our top pick all around for beginners.
It's not the cheapest synthesizer on this list or the most portable, but it has a balance of features and high-end technology that makes it a great pick in general.
This 25-key paraphonic synth has a modern aftertouch keyboard. The hybrid hardware features a ton of high-end options for mixing and producing, including a wavetable, digital oscillator, modulation matrix, and analog filters.
The touch plate offers an unconventional way to control compositions but the options for sound palettes and sonic templates are amazing for the price.
Among these modes are enough software options for any beginner to try out different things and get the feel for their new synth. These include Harmonic OSC, KarplusStrong, Texturer, and Superwave.
The Arturia MicroFreak Hybrid Synthesizer is versatile in both its hardware options and its sound output.
Real-time sequence creation, randomization, and an arpeggiator are just a few key options that let composers get an incredible range of sound out of this cheap synth, with enough variety to make it a perfect pick for beginners.
Pros
Expressive touch plate
Hybrid software options
Wavetable and digital oscillators
Analog filters
Small size
Cons
Touch sensitive keyboards aren't for everyone
Factory presets are a bit outdated
We couldn't do this list without an entry by the upscale synthesizer manufacturer, Korg.
However, you should know that this mini analog synthesizer is the priciest on this list, which is why it's our premium option out of all the "cheap" synthesizers out there.
Beginners that want to come out of the gate with a big investment in their mixing or composing career should consider the Korg MS20 as the most expensive beginner's synthesizer they should be looking at.
The Korg Mini Analog Synthesizer has self-oscillating high and low-pass filters with an external signal processor and flexible patching system.
It plugs in with a USB MIDI as well as a 5-pin MIDI. Those who are familiar with the Korg MS-20 should be familiar with its reputation – this is the same tech in a smaller package.
The same vibrant leads and resonant bases can be produced with the same premium features, including two VCFs, two VCAs, a noise generator, and more.
If you're a beginner who knows they want to get into premium analog mixing and feel like you'll shell out for a premium model eventually anyway, this Korg MS20 Mini is the cheapest of the high-end premium options from the company that makes it the best of the best.
Pros
Vibrant leads and resonant bases
Adaptable mixing technology, including two VCFs and two VCAs
Two ways to plug in
High and low-pass filters
Noise generator
Cons
Premium price for the cheap list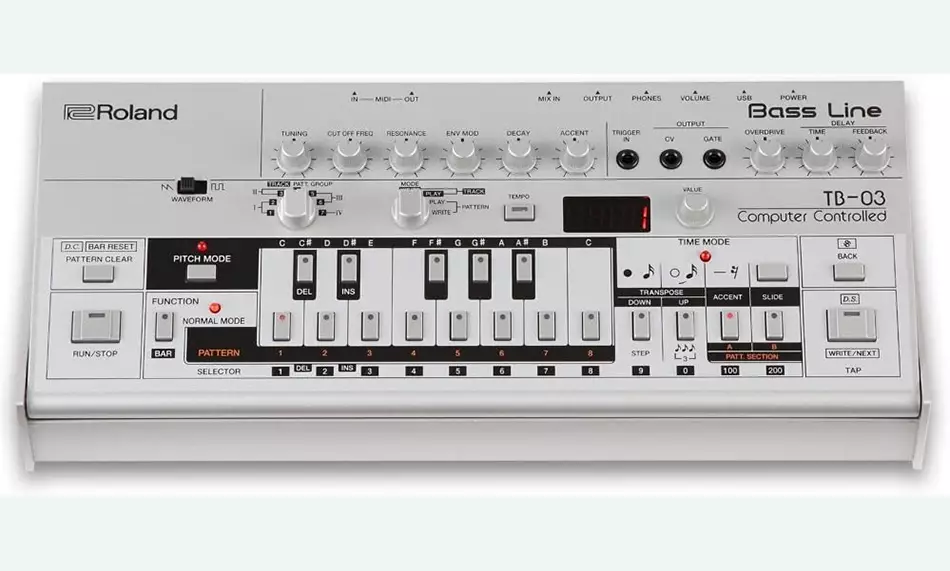 This cheaper version of a full-size Roland TB-303 Synthesizer features the same realistic recreation of the TB-303's baseline features.
This portable version, however, features an LED display, MIDI control, overdrive and delay effects, fine tempo control, and other pattern creation modes.
Other than that, the Roland TB-03 Bass Line Boutique Synthesizer has the same sound and user interface as the original version, with hands-on control over parameters like resonance, envelope mode, cutoff, decay, and accent.
This synth is battery powered and can send its control information to a studio controller via a USB or MIDI port while also functioning as an audio interface.
With similar but smaller construction and the same features as the premium TB-303 synthesizer from Roland, this portable analog synthesizer should work perfectly for beginners.
Pros
Sturdy construction
LED display
A variety of programmable effects and creation modes
Portability and multiple interfaces
Cons
The accent isn't as good as the premium synth model
Portable Monophonic Analog Synthesizer from IK Multimedia has 2 oscillators and a multimode filter. It can be easily programmed with 100 presets and taken on the go anywhere.
It has a 2-octave multi-touch keyboard, which is ideal for a portable synth, and it comes with an arpeggiator and step sequencer.
The IK Multimedia UNO Portable Monophonic Analog Synthesizer can be used on the go or plugged into a computer sound station or MIDI keyboard in the studio. It can be battery or USB-powered as the need arises.
IK Multimedia is famous for its hands-on programmability and advanced synthesis features.
Multiple independent VCOs, different waveforms, real-time sequences, an editor app optimized for Mac, PC, and iOS, onboard presets, and a 2-pole multimode filter with band-pass filtering round at an inclusive package for a beginning sound designer.
Pros
2-oscillator monophonic system
All-analog audio
Multi-mode filter
Arpeggiator and step sequencer
Intuitive touch keyboard
Cons
No lit buttons or display
For those looking for the cheapest and most completely portable synth out there, this Portable Analog Synthesizer from STYLOPHONE is a perfect pick.
It has two interfaces: a mini keyboard to play notes and a sound strip that can slide between pitches. Battery operated and with a built-in speaker, this synthesizer is the ultimate choice for portability.
It has an audio line out for headphones or speakers as well as a low pass filter, envelope effect, and LFO. It can be switched between octaves and modulated with a pulse width switch to create a chorus effect.
The STYLOPHONE GEN X-1 Portable Analog Synthesizer is a great portable secondary model for a professional or a budget pick with some great features for a beginner.
Stylophone is an iconic model and this cheap, portable version of its next-gen technology is a great starting point for anyone's music design gig.
Pros
Rich sound with effects features
Portability
Internal speaker
Sub octaves
Two interfaces
Budget price
Cons
Best Cheap Synthesizers for Beginners: Buying Guide
In order to buy a synthesizer that's perfect for your needs, you should compare the features you value and your personal budget against the models we listed.
They feature a range of prices and technology, so one of them is bound to be a good fit for beginners looking for cheap synthesizers.
Technology
Each synthesizer comes with different modes, presets, mixes, and features. We tried to summarize them for you in the individual product reviews.
Since you're a beginner and don't know exactly what you want, you should choose a synthesizer with a ton of presets and different manipulation modes.
Being able to freely control the music mode and the mix is essential when you don't know exactly what you're buying.
We chose respected brands so you would have a pick of well-built technology with different wavetables, digital oscillation, modulation matrices, and analog filters.
Interface
The interface factors into the technology but should be its own separate concern for beginners. Some synthesizers have a touchpad keyboard and others have a regular keyboard.
Some feature two full octaves and others switch between them. Since the interface will allow you to mix and design music, your creative flow depends on an intuitive setup.
We listed good options for either interface in this article, but since you can't get both, you may just have to guess what you will prefer.
The ability to plug into a studio computer or external speakers also makes a difference in terms of the interface, and thankfully that's much easier to plan for just by looking at the specs.
Construction
You want a sturdy synthesizer, especially if you plan on making it portable. The size of the device factors into the kind of work you hope to do, whether you plan on mixing with headphones on a car or plane ride or prefer to keep the synth at a workstation in a studio.
We put options on this list for both preferences so that no matter where you plan on using this synthesizer, it will work for you so long as you keep this criterion in mind.
Construction and portability also factor into the power source. Some synthesizers are battery-powered and some can run on USB power, which makes a difference if you want to take it on the go.
Some are pocket-sized and some are full keyboards: it just depends on what you're looking for.
Analog vs Digital
Digital synthesizers have some advantages of technology and can be hybrid devices, like our top pick, the Arturio MicroFreak.
In general, digital synths have more complicated interfaces, more advanced displays, and lit keys.
This isn't the general recommendation for beginners since they can be more complicated to operate and can run more expensive.
We recommend saving on cost and on headaches with the interface to opt for analog synths or hybrid models.
For those that aren't positive what they're doing, analog synths should prove more efficient.
Cost
The cost range on this list is large: from less than a hundred dollars to over five hundred.
We did this so you could find something for your needs no matter your budget, whether it's a cheaper pocket synthesizer or a full studio-ready model with displays and all the bells and whistles of hybrid analog and digital technology.
The Takeaway
A synthesizer is an indispensable piece of equipment for a budding sound designer, producer, mixer, or composer.
These machines can run into the thousands of dollars, however, and beginners need cheap options so they can make a name for themselves and maybe buy the big stuff later.
This list of 5 options offers any beginner the chance to add quality sound equipment to their studio without breaking the bank.
Some are more budget-friendly than others, but we tried to give you a heads up on where each one fits into the market spectrum and the features they offer.
For many beginners that don't know which features they need yet, prioritizing a good interface and a ton of modes could be the best bet.
That's why we chose the Arturia MicroFreak Hybrid Synthesizer as our best overall pick for cheap synthesizers for beginners to buy in 2020.
Its after-touch keyboard is slick and modern while its hybrid hardware offers a ton of premium features at a mid-low budget range. These include a wave-table, digital oscillation, modulation matrix, and analog filters.
Once you've discovered which features are important to you, you may be able to shell out for a more premium synthesizer.
Until then, use these budget options to find your feet, gauge how much optimization you need, and get your audio mixing, composing, or designing career off the ground.