Last Updated on December 29, 2020 by IDS Team
Despite the technological changes in the past six or seven decades, one thing about music remains the same – we still like it loud.
No matter the genre you're into, if it's not blasting you in your chest, then it's not loud enough.
While all this definitely sounds like fun and games, we do sometimes forget about all the possible consequences.
Yes, hearing damage and tinnitus should be your concern.
While it might seem kind of lame for some to have hearing protection on live shows or any music events, this is something every loud music lover should consider having.
Besides, these find many other uses outside of music – your work or other hobbies might involve loud noises and loud environments.
After all, as a recent study found, staying in music venues for over 15 minutes with constant noises above 100 dB significantly increases the risk of permanent hearing damage.
Many of the products out there might not be that practical or they might just feel too uncomfortable to have them jabbed in your ear canals for extended periods of time.
However, there's one pretty interesting product we thought we should check out. Called EarDial, these are described as first-ever "invisible smart earplugs."
The hype seems to be real- With over 1000 reviews averaging at 4.5 out of 5, this has to be one the best ever ear plugs: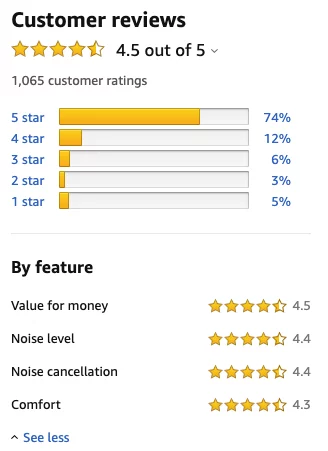 So let's see what all the fuss is about.
Eardial Features
Eardial features at a glance

Maker: Eardial
Main Features:
High-fidelity noise filter,
Flat 20db attenuation,
Earwax protection,
"Hidden" design- not visible to naked eye,
iOS + Android app.
Our Rating: 4.8/5


CHECK CURRENT PRICE
First off, things started off a few years ago as a crowdfunded project. The goal was to have "smart" earplugs that would not take away any enjoyment from any kind of live music experience.
EarDial plugs are made from completely transparent hypoallergenic silicone.
The idea here was to make them as discrete as possible and not cause any kind of irritating reactions on your skin.
Although pretty light, these earplugs are well made and are not that easy to damage.
Being so elastic, they'll fit well into an average ear. They're designed to be easily inserted and pulled out via a special grip bump and grip indent.
But EarDial's secret weapon is their high-fidelity noise filter inside the silicone construction.
This filter is designed to filter out all the messy parts of the spectrum and let only the good stuff through it.
You should hear all the music without being too much affected by the plugs while also being able to talk to people around you without anyone yelling in each other's ear.
The plugs themselves offer flat 20dB attenuation, which should be more than enough for any average concert, music event, or anything involving loud noises.
At their very end, there is also earwax protection that will keep the precision filter intact and clean.
They come along with a very compact aluminum casing with a specialized storage tray.
Nothing too fancy, but it's surprisingly practical. After all, you want to keep them clean and not carry these in your pocket without a casing.
Comfort and Design
The first thing that we could notice is that the material is really soft, making them pretty comfortable to hold in your ears, even for extended periods of time.
In addition, they're fairly unnoticeable.
They won't stick out of your ear, unless for the small pull-out handle. If you're in a standard music venue, there's almost no way someone will notice you have something in your ears.
Why are they called "smart" earplugs?
These earplugs come with a specialised app for iOS and Android devices. Well, it's nothing that works with the plugs themselves – there aren't any Bluetooth or other connections in the EarDial.
The app is actually measuring the intensity of noise around you. It then calculates how much time at this level you'll be safe from permanent hearing damage, with or without EarDial plugs.
There's also some additional info about how noise may affect your hearing in the app itself.
It's nothing high-tech so the "smart earplugs" label is not fully justified. Nonetheless, the app is still pretty useful.
How they compare to "conventional" hearing protection
Despite this, the EarDial is significantly different compared to any other conventional earplugs out there.
The first and most important thing that we can notice is that they don't "suffocate" the music. While they reduce the noise and keep you safe from noise, many of the plugs you find today make everything sound so muddy.
Thanks to the sophisticated filter, EarDial plugs do 20dB flat attenuation. This way, the sound spectrum is not significantly altered and you don't get that heavy bottom-end boost.
EarDials are also smaller compared to other plugs.
This is pretty useful for aesthetic reasons, but it might be just a bit annoying when you want to pull them out. Some have even complained that they're too small for bigger ear canals and that they don't hold too tightly in their ears.
On the other hand, the size and the material make them pretty comfortable compared to standard foam and silicone plugs. They're pretty soft and elastic and are, in most cases, easily adaptable to ear canals.
Obviously, they're significantly more expensive compared to most of the standard earplugs.
However, we would argue that the price is justified.
CHECK PRICE
First, you get great comfort, making it possible to have them in your ear for hours without being bothered too much.
Secondly, they're pretty easy to carry around in the small compact aluminium casing.
The biggest strength comes with the high-fidelity noise filter. It's as if the unwanted noise magically disappears with music and speech getting through the filter just fine.
If you're constantly exposed to loud music or just loud noises, then EarDial will definitely be worth the price. If you're a frequently gigging musician, earplugs are a must (especially if you're a drummer).
But as most earplugs are not exactly comfortable and tend to make everything sound too muddy, some may get discouraged to get themselves a pair. EarDial, on the other hand, will be the perfect solution.
Some have also argued that these help with shooting ranges or high-noise construction works and loud machinery.
We didn't test them out in these particular scenarios, but would rather recommend you go with other designated hearing protection for those settings. As for concerts, music events, and your own live performances, EarDial is the way to go.