Last Updated on December 22, 2020 by IDS Team
Iconic analogue synthesizers are either too hard to find, too pricey, or both.
Even though we'd all love to have beautiful beats such as Steinberg's E or Roland's SH 101 physically present in our workspace, the age of technology provides far more convenient and compact alternatives.
Today we are going to talk about some of the most famous synth emulation programs; replicas that are true to the originals in terms of aesthetics and performance, and plugins that are incomparably cheaper.
The Jupiter 8 is, without any shadow of a doubt, one of the most eclectic synthesizers Roland has released, and it's now available in a software format called the Cloud Jupiter 8.
It's an exact replica of the original, sporting all of the features that Jupiter 8 comes supplied with, and it's a perfect choice for people who are looking for a highly versatile and almost perfectly designed synth.
It offers eight polyphony voices, compatibility with VST, AAX & AU, total hardware control via USB connection to the Roland's proprietary System 8, and a broad spectrum of configurable parameters, knobs, sliders, and faders.
Starting from the very top, the Cloud Jupiter 8 sports a customizable wavetable packed in the LFO section, a comprehensive modulator panel, two individual VCOs, and two identical envelopes.
Furthermore, it comes outfitted with the classic arpeggiator controls and five assignable modes.
The option to blend different patches, being one of the key elements of the original Jupiter 8 synth is also present.
The effects section is isolated, sitting right next to the 5-octave keyboard.
Even though it's quite modest, it's true to the original Jupiter 8 and sports effect type configuration, delay time, and revert type knobs.
Obviously enough, Jupiter Cloud 8 is perhaps not as versatile as some up-and-coming VSTs and plugins, but we should not forget that it's been the industry's standard for quality of sound for nearly 40 years straight.
Regardless of whether you're looking for the Jupiter 8 specifically or simply are in need of a strong, well-rounded synth VST, we can safely say you won't regret trying it out.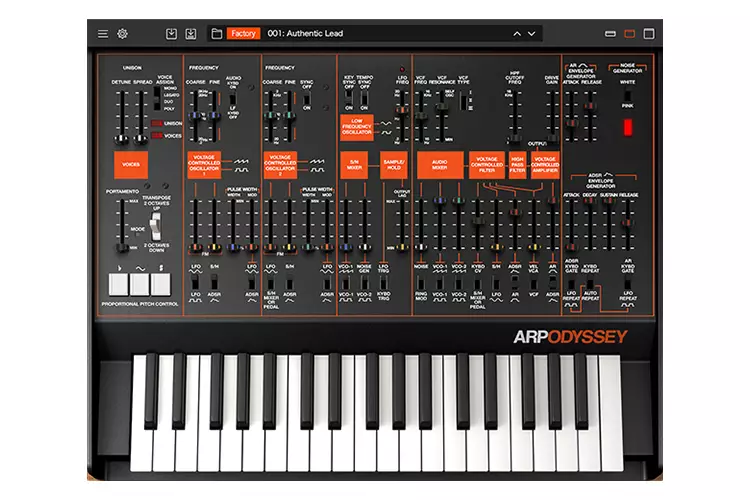 ARP's Odyssey is almost a decade older than Jupiter 8, which can easily be discerned by its design and features.
Even so, it was a groundbreaking synthesizer at the time, and it certainly garnered quite a following in the old-school rock and alternative world.
Korg's recreation of this remarkable synth is true to form down to the tiniest of details, but there are a couple of obvious differences.
For example, the original Odyssey has a different method of accessing the patch library (analogue) whereas Korg's version allows you to do that in a much simpler and faster way.
Another striking difference is the fact that the original Odyssey is pretty small and the Korg's recreation of it can be 'stretched out' a bit, which would make the features a bit more visible and thus easier to use as well.
Starting from the top, the first section is dedicated to a split between FM and wavetable-based features.
There are two frequency modulators that come supplied with the same sliders, only in different color.
The sections that follow are meant for fine-tuning of parameters such as key sync, tempo, cutoff, modulation, and such.
There are only a couple of simplified LFO settings on the table, although the Odyssey makes it up for you with a rich VCF section.
One of the biggest features of the KORG Odyssey is the massive EQ section, sporting sliders in different colors for easier organization and navigability.
Lastly, it packs a 3-octave built-in keyboard, which is excellent for electronic music, but not so much for slightly more complex genres.
In a nutshell, EFM's SCP5 is a free VST that aims to recreate the performance of the heavily acclaimed Prophet V designed by Sequential Circuits back in 1970.
It doesn't resemble it aesthetically, and it only borrowed a couple of its main features, but on the upside it's completely free to use.
It did not 'dress to impress', rather the layout of its features is as such that whoever's using it can expect to quickly navigate between the oscillators, envelopes, and arpeggiators, which is the reason why it's suitable for both professionals and beginners.
Nearly all of the sections that SCP5 is outfitted with sport a multitude of control knobs and selectable modes (such as synchronization, filters, external oscillators, unison, and such), with the exception of the dedicated Filter, Mixer, Amplifier, Delay, Chorus, and Master sections, which offer control of the most basic parameters.
Using the SCP5 certainly has its downfalls too; it does not come supplied with a built-in keyboard, nor does it have any kind of wavetable editorial features; again, it's a free plugin that does offer access to some of the most important Prophet V features, which makes it worth checking out.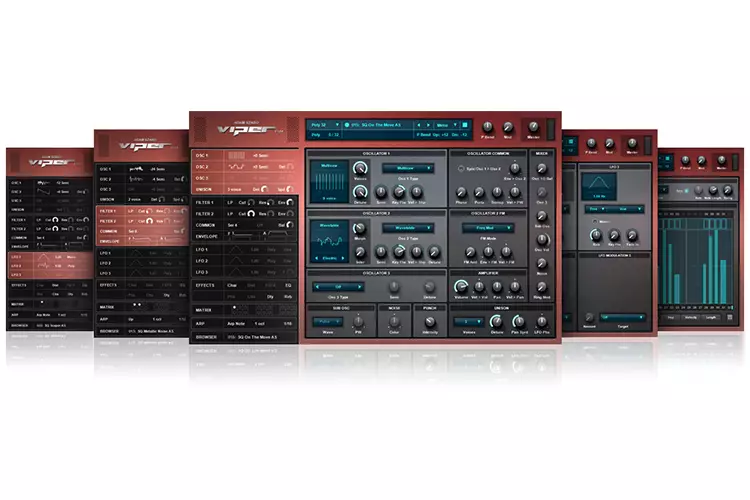 Viper is the recreation of the infamous Access's Virus, which is one of the younger top-shelf boutique synthesizers that came out back in 1997.
It offers a mixture of authentic and brand-new features, but its performance is definitely based on the actual performance of the original Virus.
Viper offers an all-encompassing wavetable editor, three oscillators, three LFOs, eight effects (all of which can be used simultaneously), twin filter sections, and a smallish Matrix board. It also sports a very versatile mixer board, as well as onboard amplifier controls.
Should you want to boost the well-roundedness of your Viper software, you can also download Phazor free of charge too.
Basically, this is a complementary plugin that offers stage-selection, an additional mix knob, a basic EQ section, and another LFO.
It was specifically designed to be gentle on CPU usage, and it can even be used as a standalone feature, although it's pretty basic and offers minimal mixing options.
It fills the gaps in AS's Viper performance, though, and given the fact that it's a gratis downloadable feature, there's no reason not to try it out.