Last Updated on December 29, 2020 by IDS Team
The mixing process in music and film has become pretty advanced at this point.
To put it simply, one should never leave anything to chance, but always have control of every aspect of an audio recording. And this is especially the case with music.
No matter the genre or any other creative and artistic factor involved, a mixing engineer or a producer or an independent music creator should always strive to make the best out of it.
After all, the standards are pretty high these days and it makes no sense to release music that will sound outdated or just unpleasant. However, with such a harsh competition these days, how are you supposed to do great mixing?
Well, thankfully for all the serious mixers or independent music makers, there are some pretty great all-around mixing plugins worth checking out, something that encompasses many different plugins into one. This is exactly why we decided to cover Izotope's Neutron 3.
Relatively new on the market, there's a lot of exciting improvements compared to the previous version. But let's get into it and see whether this plugin will make wonders of your audio recordings.
Features
Essentially,
Neutron
is a virtual channel strip with six different modules. On it, we can find
two different multi-band compressors, gate (or expander), a very detailed EQ, Transient Shaper, Exciter, as well as their new Sculptor
.
To add to all this, there's also the company's Track Assistant which can analyze the coming audio and create appropriate presets for it dynamically.
It comes in three different versions which are labeled as Elements, Standard, and Advanced. The one we're interested in is Advanced Neutron 3, which is the flagship version.
Compared to the second edition, Neutron 3 has a fairly improved graphic interface. On it, we can see control panels of all the modules with all the display meters. In this regard, it's pretty similar to iZotope's Nectar 3.
While the Track Assistant is pretty much the same as we've seen with the previous Neutron edition, the addition of the Sculptor module is something that provides more options in this regard.
It's also worth noting that Neutron 3 comes with the Mix Assistant that does its "smart" track analysis for pan, width, and level controls. And it's pretty simple to use.
Just set one track as the "center," play the whole piece, and the plugin will do its automatic tweaking.
When it's done, you get five main groups that your tracks are put into – voice, bass, focus, musical, and percussion. You're then free to adjust everything and sort tracks into these groups the way you want to.
Performance

But no matter how great features like Track Assistant and Sculptor are, there'll always be some additional tweaking.
This is pretty much expected as your plugins just can't create magic on their own. You're supposed to do some work as well, but at least it's not heavy lifting with these useful additions. It just gives a starting point for you to work with.
The same could be said about the Mixing Assistant. After the automatic setup, you're free to change things according to your needs.
One of the downsides here is that the Visual Mixer lacks some of the much-appreciated features. For instance, mute and solo buttons would be great in such a setting.
Either way, with the right set of skills, you can get some really surprising results with Neutron 3.
For instance, using the Focus option in the Mixing Assistant on the main vocal track, you get more than half of your otherwise tedious work done automatically.
Even with a larger number of tracks, it helps you get the desired results with ease. It might be a little trickier for instrumental tracks though, as you don't exactly have a very "focused" setting in there.
But with all this said, you're supposed to have a good set of skills for this plugin. It's not exactly a cheap piece of software intended for occasional fun mixing an amateur will do at home.
What's really exciting about Neutron 3 is the relatively low CPU and RAM usage. If we're talking about the same hardware configuration, Neutron 3 will actually load noticeably faster compared to Neutron 2, which is definitely a surprise. Optimization is always welcome.
Conclusion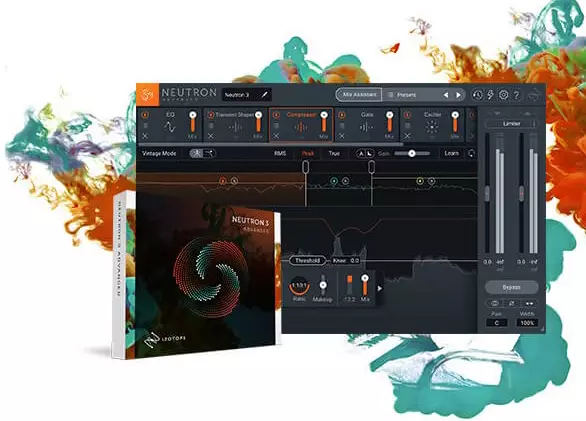 And we could go on for days about countless features of Neutron 3 and how exactly they all work. But, at the end of the day, what is our conclusion here? Not to get into it too much, but this is a fully professional plugin.
It's not exactly something you'd want to purchase if you're not at least entering the world of professional mixing and production work. That's also obvious when you look at the plugin's price.
What's more, a plugin like this one will make a difference only paired with professional equipment.
If you're a home recording enthusiast, then we would advise you not to purchase Neutron 3, unless you're willing to spend a lot for an expensive piece of software that you won't be able to fully implement in your work.
We would argue that this one is "reserved" for either fully professional studios or highly experienced independent music creators who are armed with all the necessary equipment and skills. And if that's the case, iZotope's Neutron 3 will serve you for years to come.
The signal processing modules here are definitely a selling point. Although it's not a cheap one, the plugin offers a great deal for the price.
The additions of these assistants that we described above are definitely welcome.
However, even without them, Neutron 3 would be a plugin worth checking out. They just come as the icing on the cake, as Mixing and Track assistants make your life easier by reducing your mixing hours.