Last Updated on December 22, 2020 by IDS Team
First version of Predator was simple to understand but still advanced and deep synth from synthesis guru Rob Papen. Classical architecture of 3 oscillators and 2 filters and tons of great presets that are covering most of EDM genres made first Predator a goto synth for many producers of different level from beginners to gurus.
Predator 2 looks like same classic Predator but supercharged with lots of cool new sound possibilities which can take sound to the next level.
Let's take a closer look into what's new in Predator 2:
Predator 2 User Interface
Original UI of Predator was nice and clear and in general 2nd version took most of the ideas of original Predator UI with slight redesign. Though many people on forums were complaining about dark GUI – I found it easy to use and pretty easy to move from Predator 1 to 2.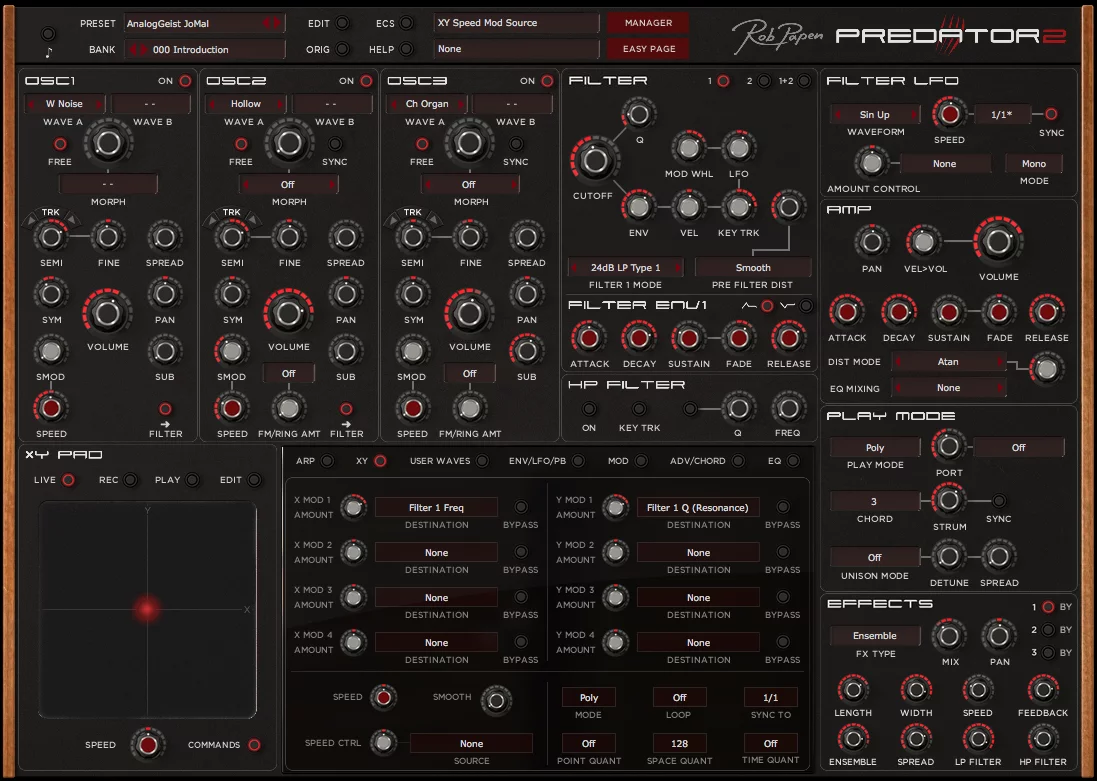 For those who prefer playing with presets slightly tweaking its parameters there is Easy Page view – that shows only important parameters: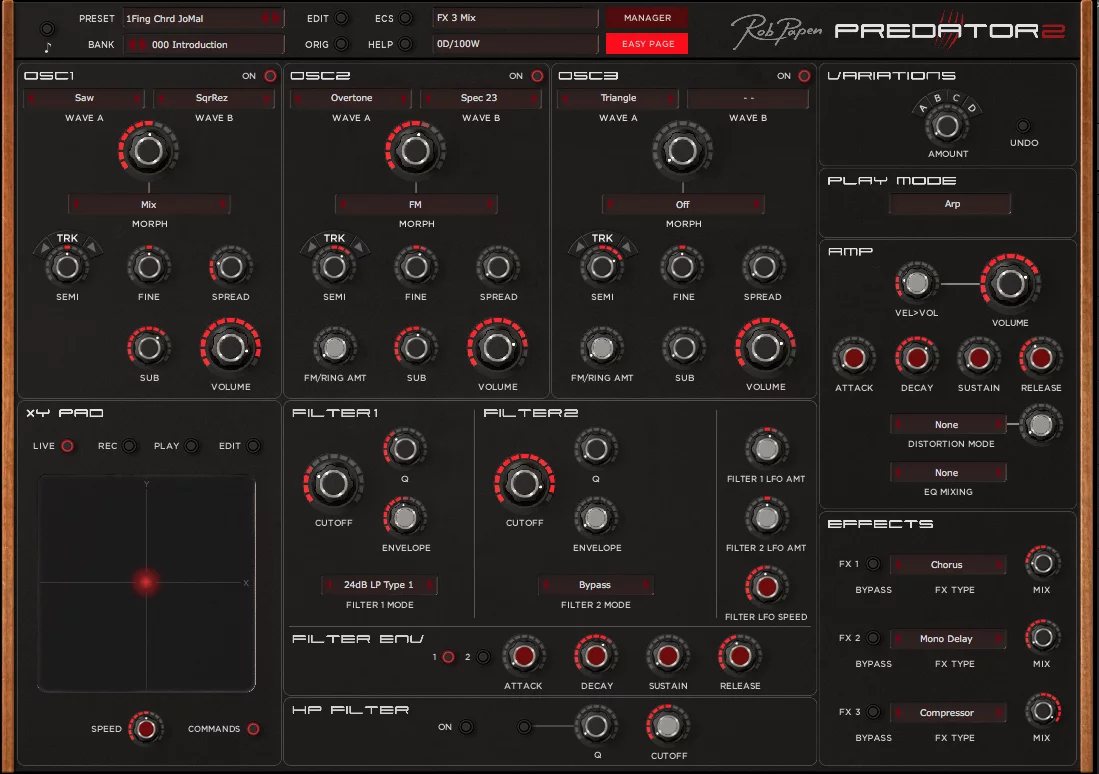 Predator 2 Oscillators:
Morph mode
Each of the three Oscillators can now have two waveforms and morph between them using various algorithms – which is probably the best new feature that opens huge amount of new sound design directions.
Also you can now use User waveforms – draw wave or partials phase to get your unique sound. As a starting point for user waveform you can load prebuilt waveform and modify it.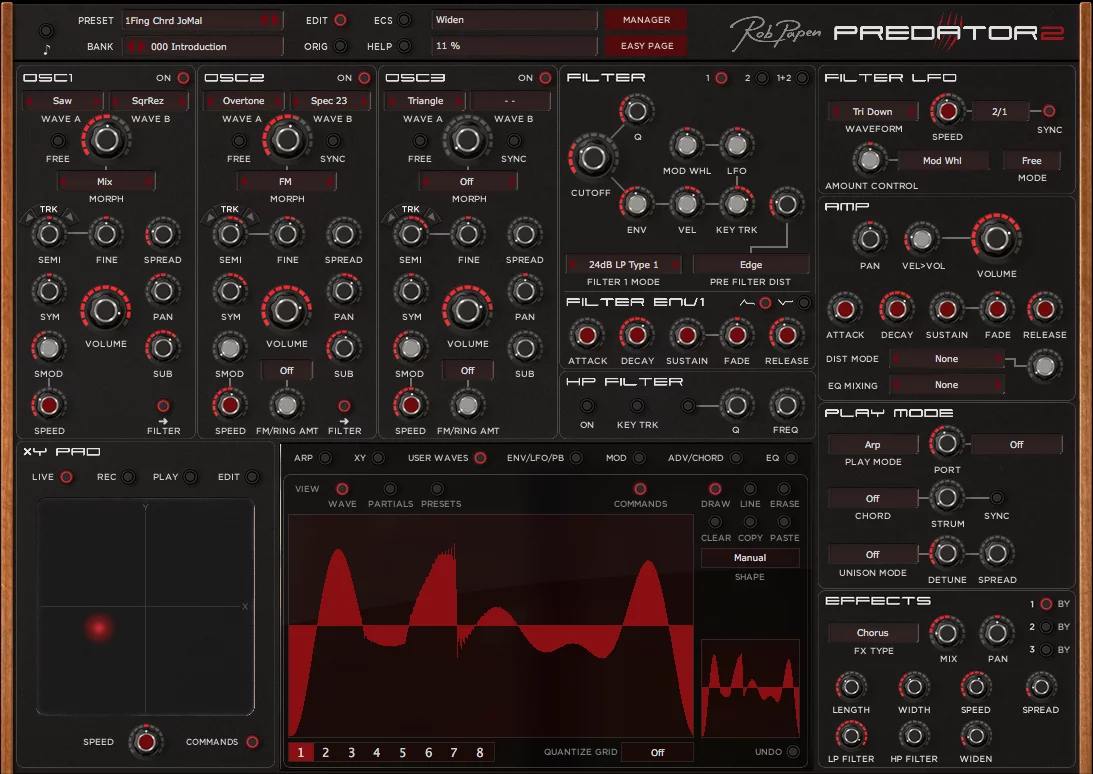 Second and third oscillators can be modulated with FM/Ring/PM and some other algorythms. So you can really combine lots of synthesis methods in one single patch: wavetable morphing, classic subtractive, FM.
Filters:
Comparing to Predator 1 there seems to be same filter models but what's new is pre-filter per-voice distortion with three modes: edge, smooth and dirty, and drive knob.
Also AMP stage has its own distortion with wide range of algorithms.
Play mode
Strum: guitar-like effect of sequencing
Nice sounding Unison (in the play mode) with many different options including two types of Unisons with up to 8 voices and Octave spread mode.
EQ: Predator 2 comes with new graphical EQ.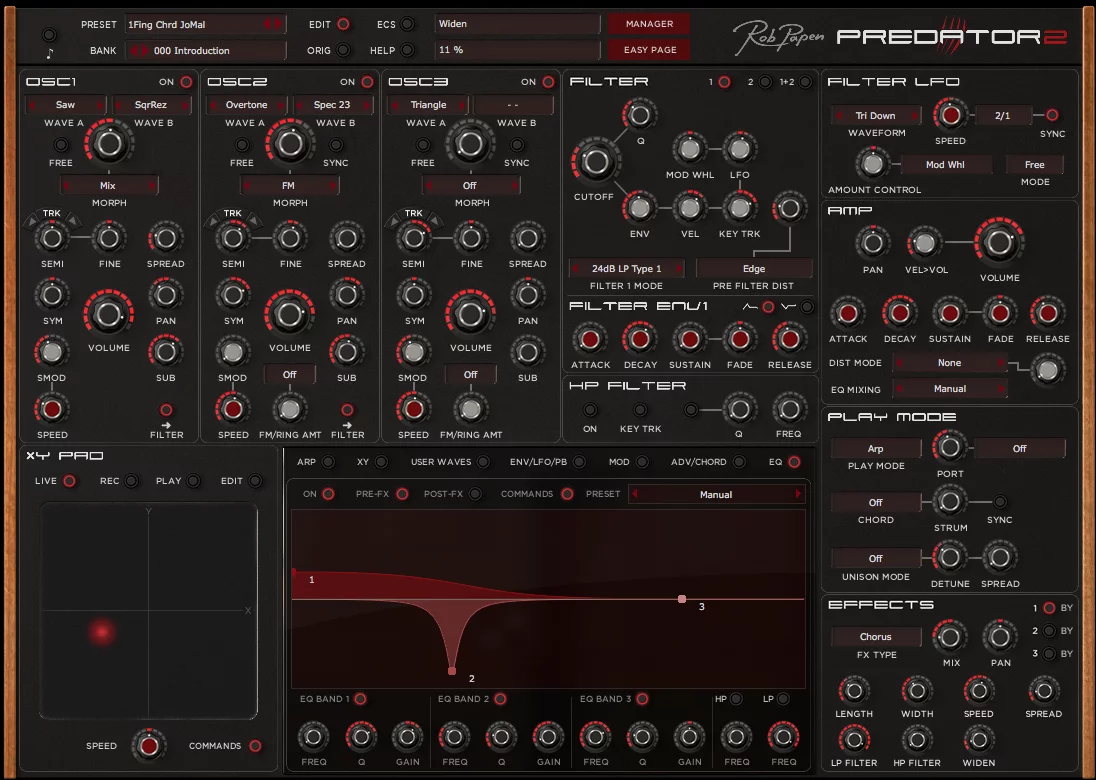 Presets:
All Rob Papen synths are famous by its presets. Particularly Predator library had the best soundest on the market. Predator 2 adds some new presets and old Predator 1 library as well. But even without presets – the synth is pretty strait forward to program – with all the main controls well positioned on the main window.
Also as already mentioned somewhere – in future updates Predator 2 would bring NKS support so Maschine and Komplete Kontrol users could take full advantage of their controllers to natively integrate with Predator 2 and it's presets library.
It is great to see legendary synth updated to version 2. And we can't wait to see when next release of Predator 2 with NKS support and more presets that take advantage of powerful new features: morphing between waveforms, waveform modulations, user waveforms, new EQ and others.
Predator 2 is available at for $149/€149. Upgrade from Predator 1 is just $49/€49. Predator 2 is included in the eXplorer 4 bundle with all other RobPapen plugins.
UPDATE: Rob Papen just announced that coming update will introduce new light interface: