Last Updated on December 29, 2020 by IDS Team
Music production is an expensive business to get into because of the software and hardware overheads.
Finding free plugins and apps out there to give your tech an edge over the competition and improve your music with premium features usually reserved for premium services could be a huge plus to your business.
This is why we compiled this review list of the top 5 free autotune plugins you should consider in 2020 to up your music production game for no out of pocket cost.
We also created a buying guide comparing their features more generally so that you can make an informed decision of which plugin is the best for you based on your needs and the needs of your business.
You could also use the guide to compare plugins you find on your own if you have a specific brand in mind.
Reviews of the Top 5 Free Autotune Plugins
These are the 5 best free autotune plugins we reviewed. We go over their main features and pros, as well as some of the drawbacks so you know exactly what you're buying.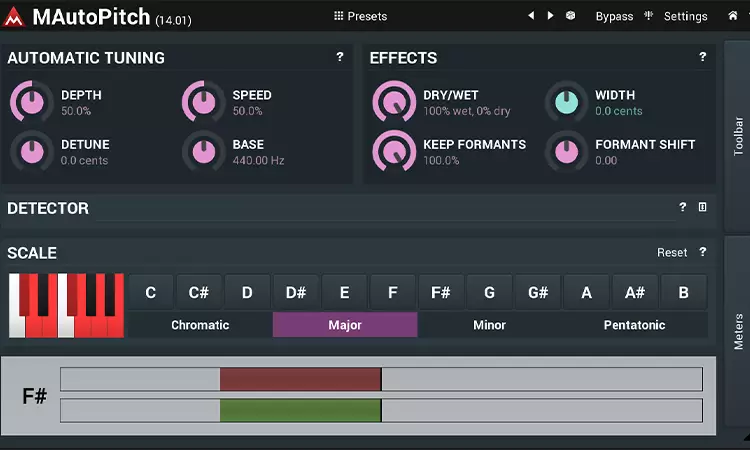 For visualization and customization, MAuto Pitch is the best free plugin we tried out.
It has a range of features that improve music production on many levels, including fine-tuning sets, configuring formats, and enhancing performance.
The first thing you'll notice about MAuto Pitch is its interface. Its modern, intuitive visuals are easy to interpret but also organized with the options at your disposal to make your music production work easy.
Namely, the main features MAuto Pitch excels in are its depth, speed, and tuning controls.
Its depth control features give you enhancement functions that allow you to alter sound depth to your specifications. This includes fine-tuning the pitch to get it exactly the way you want it.
The speed control similarly lets you set the parameters for the program to skip the out of tune sounds, jump around, or smooth it out with transition controls. Both the high and low speeds on the MAuto Pitch plugin give you options to customize your experience.
This multi-functionality and control make MAuto Pitch the best plugin we reviewed.
Pros
Optimal sound, depth, and speed controls
Modern, intuitive interface
Enhancement functions that offer tons of customization
Cons
For the heaviest music production work, MAuto Pitch, which is designed for lighter edits, may not have everything you need compared to premium software options
GSnap is a popular option when it comes to vocal pitch tuning and other various effects and is well-known for its adeptness in altering vocal sounds.
Of course, it can mix and produce for instruments as well, but it's in the vocal range that GSnap shines and may top your personal list if those functions appeal to you and your work, though it doesn't quite top ours.
The user interface, both in graphics and controls, is easy to use. It has two sides so you can view the original and updated pitches, as well as a MIDI control box that allows you to input and link notes to the track you're working on.
GSnap has features in the program that guide you through the work that needs to be done, taking you to the areas that need work on its own.
It's a multifunctional app as well, with 12 control knobs that help you edit effects with a lot of customization. Speed and vibrato knobs are particularly useful, allowing you to use pitch detection and manipulation to make the music sound more organic and in tune.
The gate and threshold knobs are also useful, allowing you to pitch-shift at will and adjust the sound detection so that the plugin reads the sounds differently depending on what you're producing and for what medium.
This multi-functionality makes GSnap a great alternative pick that might be the top pick for those that focus on thresholds or who want a plugin that emphasizes voice controls.
Pros
Pitch tuning and effects are more varied than the average plugin
The interface is sparser than some modern applications but still intuitive
12 control knobs give you a ton of features to play with
Cons
GSnap is not available for Mac
For voice conversion, KeroVee is a great choice.
It comes with a ton of tools and functions that can help you manage pitch correction to your specifications and replace organic voices with mixed mechanical equivalents.
This applies to instruments as well, which can be autotuned on KeroVee as well as on many premium applications.
The display is broken into two sides, which show the initial and mixed signals and allow you to fine-tune the results with knobs on the display.
Pitch adjustment is accurate on KeroVee even to demanding specifications and is perfect for formatting, panning, and transposing sounds.
Its MIDI controller can detect notes automatically and give you corrections that you don't even need to input manually. Its calibration and nuisance knobs let you remove discrepancies, adjust vibrato, and set the plugin's correction speed.
KeroVee's plugin guides and automatic correction software are finetuned for professional autotuning work.
Pros
Autotuning software offers optimal control
The interface is simple but functional
Numerous fine-tuning knobs give you customization and functional pitch shifting, formatting, and calibration options
Cons
KeroVee is built to finetune vocals, not as much for overhauling huge multi-track instrumentations, so some producers may prefer another plugin
Auburn Sound's Graillon autotune plugin hasn't always been free, but Graillon 2 gives you its premium features at no cost to you.
The Graillon 2 plugin has to be the top choice for autotuning in metallic or robotic sounds with its smooth correction module controls that can adjust the speed of sound changes.
You'll notice right away that Graillon 2 has a classy interface with a nostalgic color scheme and large decorative font. The central display gives you access to the current sound and intuitively helps you see how the program is correcting it.
Graillon 2 has inertia and speed knobs that reduce pitch correction. It also has a bitcrusher function that gives you access to distorted and robotic sounds that are specific for certain compositions.
The growl sound functions and bitcrusher combined with the vintage interface make Graillon 2 a compelling classic experience with a lot of features.
Pros
A perfect plugin for autotuning metallic sounds and turning voice samples into artificial sounds
Nostalgic, high-end interface appearance and intuitive controls
Bitcrusher function gives you multifunctional distortion options
Growl sounds and other knobs round out a versatile plugin package
Cons
The lack of semi-tone jumps and some tricky pitch-shift dial options can take some getting used to for some users
We've talked about the interfaces on each of these autotune plugins but AAS Autotune is our pick for the best plugin that has no interface at all.
This means that you can only set one correction parameter at a time, but the plugin still works well for certain needs.
For tuning fast sounds, especially robotic ones like autotuned vocals in pop tracks, AAS Autotune works well for the most simplified functions possible.
For some tuning, this can be a useful application, especially if you don't want to mess with a ton of features.
AAS Autotune can be turned on and do its thing without you nursing it so if your goal is to use software to truly "auto" tune the sounds, AAS Autotune might be the choice for you.
Another bonus to the lack of an interface is that it takes up almost no processing power on your computer, freeing it up for other tasks if you want to work on something else.
Pros
Low RAM requirements make it easy to run with other applications
True automatic tuning makes it easy to set up and run without messing with a ton of features
Fast tuning for metallic sounds or hectic pop tracks is easier with AAS than doing it manually with something else
Cons
No interface means no frills and fewer options for customization – just make sure you know what you're getting into
5 Best Free Autotune Plugins: Buying Guide
This buying guide summarizes the main features you should be looking for when comparing these and other autotune plugins.
Interface
The first thing to look for is a plugin that features an interface you can use, since it won't matter what features it has if you can't use it efficiently.
Some have classy interfaces like Graillon 2's decorative font style and some don't have any interface at all: AAS Autotune, for instance, is just a program that you run on your computer and doesn't have any windows or extra features.
This gives you a wide array of choices when you're looking at the interfaces that might work for you.
Since you're probably using this plugin for work, you need something that you can spend hours on, view the options you need easily, and make your sound design changes with as little hassle as possible.
The good news is that since all these plugins are free, you could theoretically try them out one at a time until you find one you really like.
Control features
How each plugin plays on the traditional features of autotune programs will go a long way to determining which is the right application for your needs.
MIDI controllers, speed, vibrato, gate, and other function knobs (as well as various autotune effects) give the plugins their own identity.
They go from pure minimalism to ultimate multi-functional style tools with as many as 12 knobs to view on increasingly complex interfaces.
What you want to accomplish with this plugin, from voice manipulation to instrumentation conversion, needs to be compared to the desired effects themselves and will largely affect which plugin you choose.
Compatibility
Compatibility is something to check on any plugin before you try and incorporate it into your workspace. GSnap, for instance, isn't compatible with Mac operating systems.
Some require more RAM than others to run successfully (consider AAS Autotune, for instance, whose minimalism makes it an easy application to run on any computer).
Compatibility may not be on your list of desired features but it's essential by nature to consider when you're making your decision.
Uses
This category is separate from the features because, in addition to looking at what the plugins can specifically do, you need to look at how you intend to use them to choose the right one.
For example, one plugin may have more features but may lack another's accuracy in terms of specific conversions of natural voices to robotic effects or adding vibrato, or another specific function you may need.
You need to compare your intentions to the features to know which plugin will work best for you.
Cost
As stated, all these plugins are free, so this is no concern here.
The Takeaway
Free autotune plugins can be extremely useful additions to any audio mixer or music producer's toolkit.
Usually, they come at a price, which is why we assembled this list of the 5 best free ones you can use to mix and tune music and sounds without paying a high premium.
Many of these plugins feature versatile features, control knobs, clever interfaces, and tons of customization options.
One of them (AAS Autotune) doesn't feature any of these things but instead offers a streamlined approach to autotune plugins that lets you run applications quickly and without the hassle of figuring out bells and whistles. No matter which you choose, you'll be choosing correctly.
Even still, the wealth of options makes MAuto Pitch our top choice for free autotune plugins because of its wealth of features, beautiful interface, and options for fine-tuning compositions to exact specifications.
No matter if you choose one of these or a brand of your own, use our buying guide to compare the main features so you can match the plugin to your audio production needs.
Autotuning complex compositions is difficult but it doesn't have to be expensive – use this guide to get a premium autotune plugin for your software arsenal without spending a dime.