Last Updated on December 22, 2020 by IDS Team
'Soft' synths refer to software-based synthesizers, which is something more and more people are picking up on.
While the authenticity of hardware (actual) synthesizers can't be replicated, it can be compensated for with extra flexibility and versatility.
These are just some of the many reasons why soft synths are so popular and actually incredibly useful these days.
We've taken the liberty of handpicking some of the best-performing soft synths in 2020 for your convenience, so without any further ado, let's get straight to it.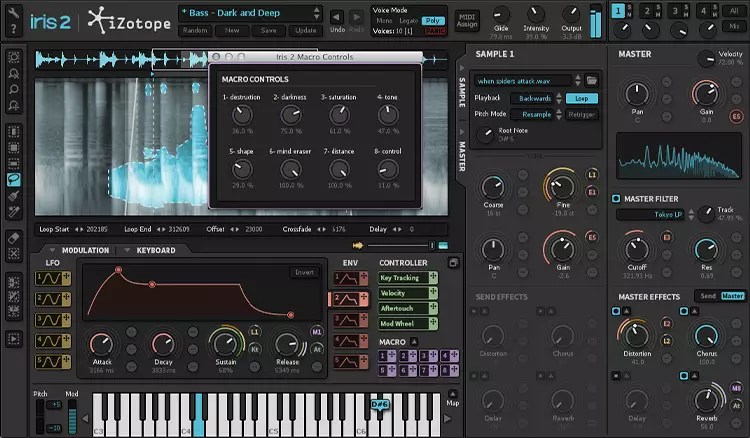 When iZotope launched the original Iris many people have praised its versatility and well-roundedness, but it didn't get as much attention as it deserved; it's often regarded as unorthodox simply because it comes supplied with rather unconventional patches and samplers.
Iris 2 made things a lot simpler and substantially more intuitive, bringing it closer to beginners and moderately skilled producers, designers, and DJs.
First things first, the Iris 2 boasts a highly intuitive UI with plenty of space for each segment of features.
It rocks adjustable individual sample tracks, a comprehensive sidebar of classic track tools, a straightforward compositional keyboard, and a well-balanced EQ.
It packs multiple wave-shaping features, and an array of simplified virtual knobs that can be used to tweak any parameter from the overall volume, over the soundstage, down to tiny details regarding the samples themselves.
Another thing most people really like about the Iris 2 is the fact that it sports a massive library of WAV files; obviously, WAV formats take up drastically less space, so your RAM will not be as encumbered.
On the downside, Iris 2 is one of the most CPU-starved soft synths on the market. Be it as it may, it still does an amazing job for the buck.
Our next recommendation is the Dune 3 VST synth plugin. This is a mid-range soft synth that offers a tremendous amount of control over your tracks and samples.
Despite its well-roundedness, it's still pretty easy to use, as its interface is well-designed and all of its components are clearly visible.
Even if you didn't have the opportunity to use some of the previous iterations of Dune, the third version offers a premium-quality multimode filter, 2 arpeggiator units, top-notch oscillators, and a plethora of high-quality effects.
Most people like it for its simplistic and highly responsive wavetable editor, which allows you to tweak existing and create brand-new waveforms.
The plain and straightforward approach to this feature makes it very easy to use, even by immediate beginners.
Among the numerous features that this remarkable VST comes supplied with are also included 0-delay feedback filters, 4 graphical envelopes, 3 LFOs, a top-shelf modulation matrix alongside all the proprietary FX parameters, and full patch compatibility with the previous version of Dune VST plugin.
Last, but certainly not least, Dune 3 is actually fairly affordable given the broad arsenal of settings it is packed with.
In a nutshell, this is a beginner-friendly professional VST that will certainly help you create exquisite, unique sounds and tones.
Spire is developed by Reveal Sound, which is a brand that many professionals rely on despite its straightforwardness.
One of the reasons why we've included the Spire on our list of the top soft synths is that it's very flexible and highly upgradeable.
The base package is comprised of four multimode oscillators packed with five effects (classic, noise, AM Sync, Saw PWM and Noise), nine unison voices built into each oscillator, two multimode filters, a comprehensive FX processor, a ton of modulation features (including LFOs, envelopes, macros and matrix slots), arpeggiators, and a top-shelf wavetable.
Now, back to the upgradeability of the Spire; it's compatible with all Reveal Sound patches (all of which are fairly cheap, just like the VST itself); although these patches are well-rounded and versatile, they're mainly focused on electronic music, which is a bit of a downfall.
U-He's Diva is in the same price range as the Spire, and frankly it's even easier to use.
Diva is an analogue soft synthesizer plugin that offers impeccable sonic customization capabilities and versatility.
Starting from the very top, Diva features a dedicated wavetable segment, which packs tune mods, shape mods, and range controls.
The Mixer stands on its right side, featuring volume, feedback, and noise. There's a simplified VCF Ladder control panel where you can manage sonic cutoff and emphasis.
Now, the bottom bracket of the UI is where the fun work begins.
Diva offers two separate LFOs, a dedicated amplifier section, and two completely different effect sections.
Even though one could argue that Diva is a relatively basic soft synth, it's actually pretty well-rounded and well worth the buck.
KV331's Synthmaster is our final pick, and it encompasses everything a quality soft synth needs to have.
It is a bit more expensive than most VSTs we've covered so far, but its performance is also drastically superior.
The first and most notable feature of the Synthmaster is the Filters panel; basically, you'll have three customization options (parallel, series, and split), which will make the UI a bit easier to handle in terms of aesthetics.
There's also a variety of effects at your disposal; they're split into two separate types (layer & global), which means that you'll be able to affect the entire track or fine-tune tiny little details with extra precision at the same time.
It also has an incredible library of samples and presets which is fully upgradeable.
KV331 also offers an abundance of downloadable and purchasable patches that you can use to further increase the versatility of your library.
As mentioned earlier, the only potential downfall that might dissuade you from trying the Synthmaster out is the fact that it's slightly pricier than average.
However, it's one of the best-rounded soft synths available, and to top it all, the brand also offers a considerable discount on the Synthmaster 1 & 2 bundle in case you want to get the most value for your buck.