Last Updated on December 22, 2020 by IDS Team
At first glance, hip-hop music might not seem as complex as, for example, hard rock or heavy metal.
There are no crazy guitar-shredding solo sections, fast-paced drumming in odd time signatures, or slick bass lines, but producing this type of music is just as hard and rewarding.
While rockers and metal-heads have it easier given the fact that they just have to record their instruments and send them over to a mixing engineer, hip hop artists need to come up with unique sounds, beats, and tones from scratch.
That's why today we are going to answer one of the most popular questions regarding this particular type of music production – what are the best VST plugins for hip hop?
Stick with us for a while longer as we review the most versatile, best-performing virtual studio tools that will change the way you produce for good.
Plainly put, this is one of the best-rounded VSTs on the market that boasts an incredible array of highly versatile features, a ton of presets, and unparalleled sonic customization options.
It's a professional tool designed for professionals by professionals, so be well-prepared to tackle its learning curve.
First and foremost, the Avenger rocks a total of eight OSC modules, each being equipped with individual Supersaw, LFO, Chorder, sub-OSC, and synthesis generators.
You'll be able to seamlessly switch between dozens of octaves, voices, pan-spread settings, stackers, and even generate completely unique effects on every module.
Furthermore, it packs eight ARP modules, an eclectic arsenal of OSC-transformation EQ settings, eight SQ modules, eight mod-envelopes, eight pitch envelopes, four AMPs, four filters, shapers, and an all-encompassing drum sequencer.
The list of its built-in features goes on and on, but all you need to know about the Avenger is that it possesses everything you need to record and produce top-quality hip hop tracks.
It's packed with dozens of individually-assigned effect slots, wavetable shapers, multiple macro controllers, and an exquisitely designed Mod Matrix system.
To top it all, it's not nearly as expensive as some of the less versatile plugins out there.
Serum is a highly advanced multi-purpose VST that sports elements of waveshapers, compositional virtual tools, and eclectic mastering equalizers.
It's significantly easier to use than the Avenger, and it's also a bit cheaper, which is why we recommend it to hip-hop producers who are relatively new to the industry and who are on a budget.
One of the best things about Serum is that it features creatively designed oscillator panels put right next to the filter section.
You can easily toy around with your custom wave shapes while laying down the foundation stones of your new track on the bar right beside it.
Tinkering with any parameter will immediately and graphically be shown on the envelope and LFO bars below, allowing you to have instant feedback on the changes you've made to your tracks.
Although this VST doesn't have an incredibly rich library of presets and samples, it does have a highly customizable virtual keyboard that will help you muscle through the initial stages of recording.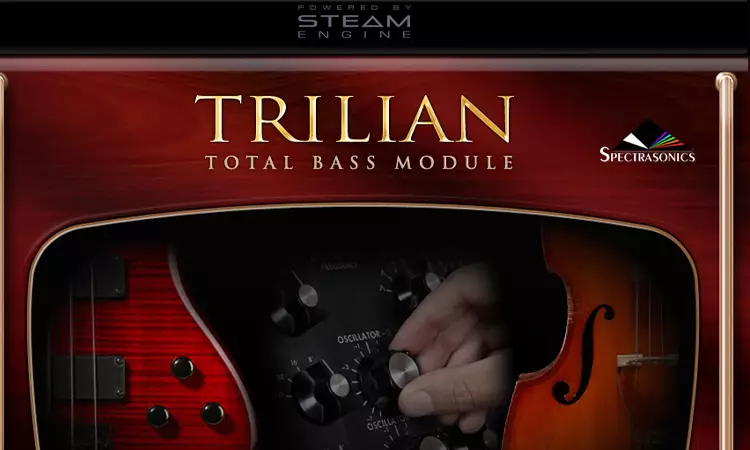 There's a very obvious reason why Trillian is the go-to VST of many hip-hop producers; this is an all-encompassing bass module that will give you the edge you need in the fields of lower frequencies.
What's so amazing about Trillian is that the entire module is based on instruments that were recorded in real-time.
It boasts a massive selection of various bass instruments along with controllable 'techniques', such as staccato, sustain, vibrato, slides, harmonics, and such.
Obviously, having a real bass instead of a clunky digital one on your tracks will help your tracks grow in a more organic way.
You'll be able to pick and choose from the vast bass tone library, all of which are played on different instruments using different playing styles (electric, acoustic, fretless, picked, tapped, fingered, and so on).
Of course, there's a ton of electronic tones and modules that you'll be able to utilize into your analog-reinvigorated arsenal, or you can simply stick with a bit more traditional tones and timbres.
Those in need of creative samples and presets might want to check out what Nexus 3 has to offer.
This VST is basically one massive library of different sounds and tones that is complemented with a customizable digital keyboard and simplistic mixing features.
The Nexus is a VST program that complements the performance of other, a bit more 'focused' ones; even though its highlight feature is the library of over 8,000 factory presets (which is upgradeable, by the way), it does come supplied with basic filter, delay, reverb, and filter control knobs.
It's remarkably easy to use, and it's among the cheaper modules on our list of the best VST plugins for hip hop.
The AD2 is a dedicated beat-maker VST that offers fine-tune programming and presets, electronic and acoustic drum kit colors, and a variety of straightforward percussion FX tables.
One of the most notable features of AD2 VST is the 'Kit selection' panel; here you will be able to choose between dozens of actual drum sounds that were recorded in real-time.
Another very cool feature of this virtual studio tool is the 'beat clicker'; basically, you'll be able to click on any drum component of your chosen kit and simply 'add' these elements to your programmed beats if you think that something's missing.
When combined with Trillian, you'll be set with authentic instruments and ready to lay down some electronic vibes to the table.
Conclusion
In essence, you'll need a wave-shaper, a mixer, a beat-maker, and a bass VST to start producing hip hop music.
You'll quickly expand your library of plugins as you become more successful and professional, so finding your footing with versatile VSTs at the very start is crucial.
We hope you've liked our selection of the best VST plugins for hip hop and wish you luck in creating the most exquisite tunes.