Last Updated on December 29, 2020 by IDS Team
It's pretty mind-blowing to see how much technology has advanced and how it shaped the music world. What was once literally considered to be science fiction is now possible through simple and affordable software.
When it comes to music recording and production, one thing comes to mind – the legendary Auto-Tune.
It was first introduced in the 1990s by Antares Audio Technologies, and it drastically changed the approach to how vocals are recorded and processed. The principle is simple, any noticeable variation in pitch that doesn't fit the song can be adjusted and corrected.
But even though it's so helpful, Auto-Tune was also met with criticism.
Many consider this to be cheating, as almost anyone can now sound good in the studio, in combination with this software and heavy editing possibilities of many DAWs. But nonetheless, it fins use both for correction and the obvious use, as is the example of the "robotic" voice in modern music.
In this brief guide, we thought about covering some of the best alternatives for Auto-Tune.
After all, the software became so widespread and the standards, at this point, require a lot of pitch-altering and similar processing that it's almost impossible to make a representative vocal recording (or even instrumental) without at least some meddling in the style of Auto-Tune.
So, here's what we decided to include…
Waves Tune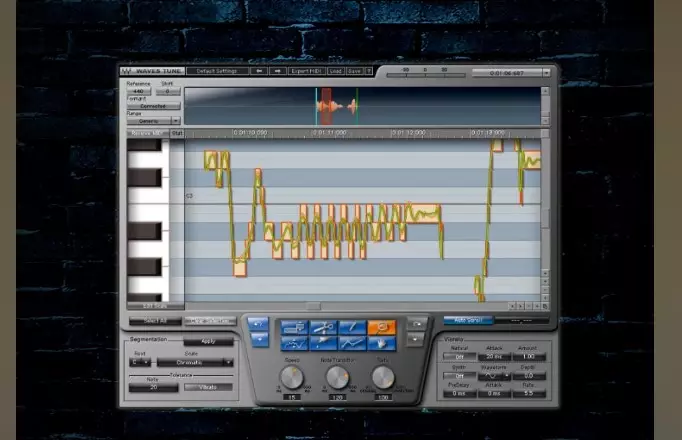 So first, we would like to look into the Waves Tune plugin, which provides both basic and more complex pitch altering. But whichever of these uses you require, the plugin will handle it all well.
The interface is pretty intuitive, although it might take a little time for some users to get accustomed to it. But what's really exciting, and what makes it stand out in our view, is the addition of the real-time vocal pitch correction. It's a fairly advanced feature, although it's accessible even for non-professional users.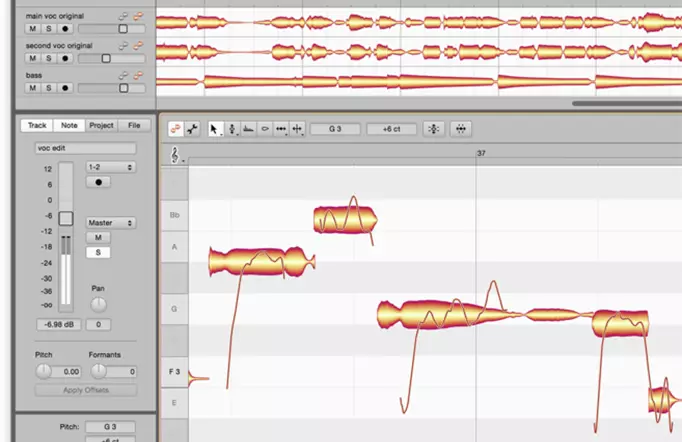 If you've been into music recording and production, there's a high chance you've already been introduced to Melodyne by Celemony Software. The great thing about it is that this is one of just two products made by the company.
This means that they're fully focused on quality and functionality, rather than an abundance of random numerous mediocre plugins. And they're updating their stuff all the time, so everything works like a charm, no matter the operating system.
Melodyne, which is now in its fourth full version, also features the company's now-famous Direct Note Access technology. This means that you're able to tweak individual notes in an already polyphonic audio file. This is a very advanced feature and we can't remember another plugin with such a great addition.
Cakewalk + Roland V-Vocal
Now we head over to V-Vocal, which comes as a collaboration between Cakewalk and the legendary Roland. This particular plugin can not only correct and adjust the pitch, but it also allows you to mess with the timing, add some dynamics to it, or even put a vibrato. These are all essential features when recording and processing vocals, or even some specific instruments.
While it might seem just a little confusing, once you get a hang of it, V-Vocal will be a good ally in adding pitch correction to an audio track.
It even lets you zoom in drastically in order to take care of some seemingly unnoticeable and "microscopically" small mistakes. Many producers, both professional and amateur, have been using it for years.
Mu Technologies Mu Voice
You don't often find such an advanced plugin like Mu Voice by MU Technologies. Interestingly enough, it's not a demanding piece of software, yet it provides you with so many controls and options for detailed pitch correction.
It includes a very unique package of tools and lets you edit everything without the annoying pitch curve editing. What's more, it works with ultra-low and unnoticeable internal latency, about 5.8 ms. This means that you can even use it in live settings without even noticing any performance lags or other related issues.
Steinberg Pitch Correct
Steinberg pretty much cemented their place in the world of music production and mixing, both with their famous Cubase DAW and the revolutionary VST protocol. Expectedly, they also have an abundance of other great products in this sphere, one of them being the Pitch Correct plugin. It first appeared in Cubase 5 and was later included in many other versions.
It handles the processing pretty well, but it's also very potent for any real-time settings as well. It's fairly easy to work with, although it's not as advanced as some other examples on this list. Nonetheless, this is a great tool for home-recording enthusiasts who are used to Cubase products. It can also find use in some professional settings for minor tweaking.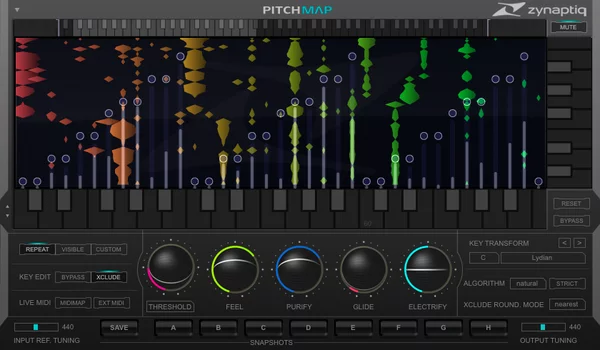 Zynaptiq are not one of those big and famous companies. However, they still make some of the best products on the market. The one we're including here is their PITCHMAP.
Now, what's very interesting with this particular plugin is that it gives the user an option to mess with all the melodies and harmonies in real-time using a MIDI keyboard, or any other type of a MIDI controller. You can even suppress individual sounds in the mix or add synth-like effects.
To add to all this, PITCHMAP has a very intuitive interface, allowing easy and fast handling. To put it simply, you just can't go wrong with Zynaptiq's PITCHMAP, no matter the musical style that you're working with.
Here, we would also like to include the Revoice Pro 4 plugin, which is made by Synchro Arts. So aside from the regular pitch editing, you can also add vibrato to the vocals and mess with the pitch and also edit the audio's timing.
At the same time, the audio quality remains as good as the original one. This is a very advanced professional plugin, with the main focus on keeping the audio resolution.