Last Updated on December 22, 2020 by IDS Team
It is no secret that guitar effects pedals have completely changed the way we see music today. The impact this instrument made on music is obvious.
However, these effects pedals are not only limited to guitars.
On the contrary, they can be used with a variety of different instruments, including synths and keyboards. As long as your instrument uses a 1/4 inch TRS cable, chances are that an effects pedal will work just fine.
The reasons to use these pedals with synths or even keyboards are numerous.
Analog synths don't come packed with a wide array of effects like their modern counterparts do.
If live performance is important, you will have to add all of your effects there on the spot.
With that in mind, we wanted to find out what are the best guitar pedals for synths and keyboards you can get right now. As you are about to see, options are plentiful.
For a summarized version, check out the table below:
Boss RE-20 Space Echo Pedal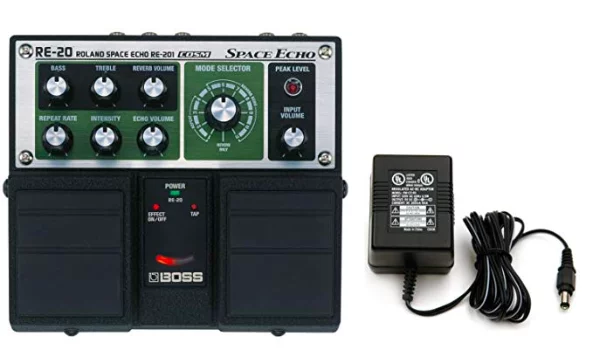 One of the first effects pedals we have to mention is the Boss RE-20 Space Echo.
To those who don't know the history of this model, it probably looks just like another digital box.
However, it is so much more than that.
Roland RE-201 Space Echo used to be, and for the most part still is, the pinnacle of analog echo effect.
It offered the perfect tape echo, very subtle details that only a masterpiece analog unit could and everyone loved it.
However, getting one of these is just borderline impossible these days due to its cost and scarcity.
Enter the Boss RE-20 Space Echo.
Roland and Boss worked together to revamp the original RE-201 in all of its glory. Even though it is fully digital, the quality of tone is literally identical to the model it was inspired by.
As impressive as it is though, the Boss RE-20 Space Echo will forever remain a studio queen. The device's clunky nature makes it extremely hard to use in a live setting.
With that said, if you are looking for the best of the best, Boss RE-20 Space Echo is the way to go.
For a quick demo of this pedal, check out the video below:
MXR M101 Phase 90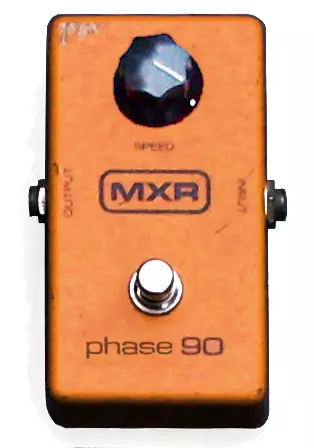 Here's a complete change of pace.
From a high dollar legend to an affordable orange stompbox.
MXR's Phase 90 used to be one of the best, if not the best phaser pedal available at the time.
The instrument's simple analog circuitry made it a reliable piece of gear that many guitar players use to this day. As such, it wasn't long before Phase 90 found its application with keyboards and synths.
It essentially brought that vintage, organic sounding phase effect to a largely digitized world of keyboards.
Easy to use and very competitively priced, MXR M101 Phase 90 is one of those effects pedals that you can get without feeling the impact on your bank account.
With that said, it is also the type of pedal that can completely change the dynamic of your tone, whether you are using a keyboard or a synth.
Electro-Harmonix POG2
Octave pedals are a must-have piece of gear.
They have been allowing guitar players to enrich various sections of their music with girth and range.
One of the best pedals of this type that works with keyboards and synths is the Electro-Harmonix POG2. One quick look at the control panel and you immediately know what you are dealing with here. It's no ordinary octave pedal, that's for sure.
This one comes with an FX section as well.
In terms of pure performance, you are looking at the range of two octaves above and below the nominal value.
Effects available come in form of an attack control, a two-pole resonant LP filter and an enhanced detune. Pushing the functionality even further, Electro-Harmonix designed this pedal in a way that allows you to save presets for later use.
Have a look at the POG2 in action:
POG2 is among the most rugged and natural sounding octave pedals out there, definitely the one you'd want to use with a keyboard.
Electro-Harmonix Lester G
Up next, we have another great creation from Electro-Harmonix. This time around we are looking at their legendary Lester G.
Why is it legendary?
Because this is one of the best rotary speaker emulators on the market right now. Leslie rotary speakers are a pretty niche piece of gear that was used extensively only a few decades ago.
These days it is considered an exotic. Since using the original version of this device meant that you had to get a clunky, cabinet sized speaker itself, another solution had to be devised. Electro-Harmonix is one of the few companies to even attempt to recreate this effect in a digital pedal.
Unlike most of its competition, Lester G brings you the absolute control over the effect it offers.
You can dial in everything from acceleration to sustain. Even though it was designed to be used in a guitar signal chain, keyboard and synth applications are too good to be ignored. Especially considering that it comes with both stereo and mono I/O options.
Eventide Space
This pedal has any reverb model you may need for guitar, keyboard, synth or even drums and percussion.
I've seen many Eurorack-based setups that use this pedal for adding reverb.
And it can go from classic algorithmic room and halls to plates and weird granular processing.
Blackhole mode is my favorite mode for synths – beautiful for pads. And Eventide even released Blackhole algorithm as a stand alone VST plugin.
Interested in seeing it in action? Click play:
Elektron Analog Drive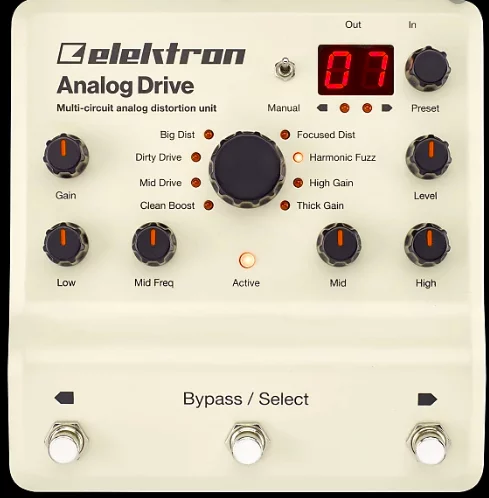 Elektron is well-known for any electronic musician or keyboard player for their synths (A4 and Analog Keys), drum machines and one of the best samplers (Octatrack). But they also have one pedal called Analog Drive.
It was remade from the Analog Heat desktop device (filter/saturator), and it has 8 different analog saturation circuits. From subtle saturation to crazy distortion – this pedal is a must-have for keyboard/synth players.
API TranZformer GT Guitar Pedal
Most of us don't have ability to record using large consoles primarily because of their costs of tens of thousands of dollars.
But if you are looking for a signature sound of API consoles – Tranzformer GT is the way to go.
It has fully discrete signature API circuit design, compressor, 3-band EQ and input gain with up to 30db to overdrive the circuit.
Fulltone OCD Obsessive Compulsive Drive
Last but not least, let's talk dirt. Overdrives are not the type of effect that you often see used with synths or keyboard.
However, a good vintage OD pedal can really add some grit to your tone.
Fulltone OCD comes to mind as the perfect candidate. T
his thing was designed to bring the tube sound in a compact package, and boy does it deliver. It also meets one of the more important requirements for overdrive pedals used with a synth, and that is tone control.
OCD allows you to be as subtle or as aggressive as you need to, without completely drowning your signal. It infuses the tone with sweet sounding dirt while retaining definition.
Final Thoughts
Pedals we've shown you above are by far some of the best guitar pedals for synth and keyboard use.
Some are more affordable than others, but most of these have been tried and tested many times in this particular application.
Sometimes, in music production, even the cheapest pieces of gear can open up a universe of sound and completely redefine your music, so we urge to keep exploring and keep re-inventing your sound.
If you are just starting to consider effects pedals as a possible tool, we strongly suggest that you start with these pedals.