Last Updated on August 22, 2023 by IDS Team
Wellcome to our round-up of the best Online Dj Courses money can buy in 2023. DJing is a dying art form. There, we said it! Long gone are the days where manual beat matching, scratching, and DJing with vinyl were normal DJ skillsets. With the advent of DAWs with automatic syncing and beat matching, the DJ has become more of a curator and personality than a musician.
However, these same DAWs have opened the doors to a whole universe of possibilities.
Ableton Live, for example, has enabled DJs to basically become whole bands and produce new sounds on the spot. With that in mind, we set out to find what is the best Online DJ course out there in 2023.
We purchased close to 10 online DJ courses, here are the ones that made the TOP 3 Best Online DJ Course (+1 great mention if you're into Hip Hop):
Course Name
Teacher
What's Included?
Musical Genre Focus
Price / Our Rating
DJ Courses Online Bundle

DJ TLM
Isaac Cotec
Nick Trikakis
– 14 video based dj courses on DJing techniques, Serato, Traktor, Ableton Live, and more.
– 30 Day Money Back Guarantee
– Close to 100 hours of content
All Genres
Point Blank- DJ Skills Online Course

Dozens of lecturers, including:

Mr Dex (DJ for Wu Tang, Estelle, and more)


Ben Bristow


DJ Davine


Rockwell
– Diploma from a world class instituion,
– Weekly online masterclasses,
– Personal, 1-on-1 tutorials every 2 weeks,
-Recordings of all classes available on demand,
– Student forum and alumni network, which includes leading DJs and Producers

All Genres
Armin Van Buuren Masterclass

Armin Van Buuren

– About 3 hours of video content
– Downloadable class workbook
– Access to other masterclasses, such as Deadmau5's.
EDM / Trance
Learn how to DJ From The Wu-Tang Clan

DJ Symphony

– About 7 hours of video content
– Certificate Upon Completion

Hip Hop
TOP 3 Best Online DJ Courses
It was a tough decision, but due to its laser-sharp focus on DJing only, this one wins as one of the best ways to learn to DJ online. It's the quality of the content, as well as the price, the DJ Courses Online program takes the number 1 spot.
DJ Courses Online Bundle- Key Facts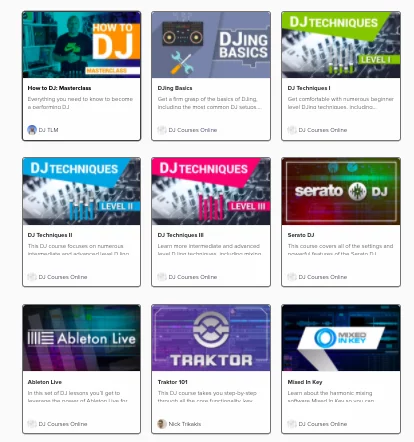 Duration: Unlimited / On Demand
Instructors:
DJ TLM– DJ and producer with 25 years of experience
Isaac Cotec– Certified Ableton teacher
Nick Trikakis– Former employee at Native Instruments and AKAI, producer, and DJ.
What's Included?:
– Over a hundred of hours of videos
– 14 full courses for all skill levels
– 30 day money back guarantee + email support
Price:
Starts at 19$


CHECK CURRENT PRICE
All in all, there are over 10 online dj courses included for a monthly fee of only 19$. It covers all major DAWs as well going in-depth into some really interesting and complex DJ theory. Of all the dj courses we tested, this was by far the most in-depth one we found.
Unlike some of the other DJ courses in this list, the instructors don't have big names in the industry, however, they more than make up for this with their knowledge of DJ techniques.
Some of the techniques included are:
Beat counting
Beat matching
Syncing
Song Structure
Song selection
DJ equipment
EQing
Effects
Cue Points
Looping
Transitions
Sampling
Backspinning
Organising your library
Scratching- in-depth techniques
Recording mixes
Branding
Serato
Ableton Live
Tracktor
Career DJ Tips
And much more. And this is where the course shines.
For 19.99$/month (the price of a cheap lunch), you'll have access to all information you could ever want on the topic of DJing.
Anything that you could possibly think of has been covered by these guys, including DJ tips for anything from career to branding and organising your library- loads of gems to be found. And what's more, the course is delivered in a straightforward and easy manner. The platform works great on both mobile and desktop and the classes are to the point and effective.
If you end up not using the online dj course, you can always ask for a refund, as they have a great 30 days money back guarantee.
This school shouldn't need an introduction. It's been chosen as the 'Best Music Production School' by the readers of DJ Mag. If you are wondering 'are DJ courses onilne worth it?' this is the course that will give you a YES.
Point Blank DJ Skills – Key Facts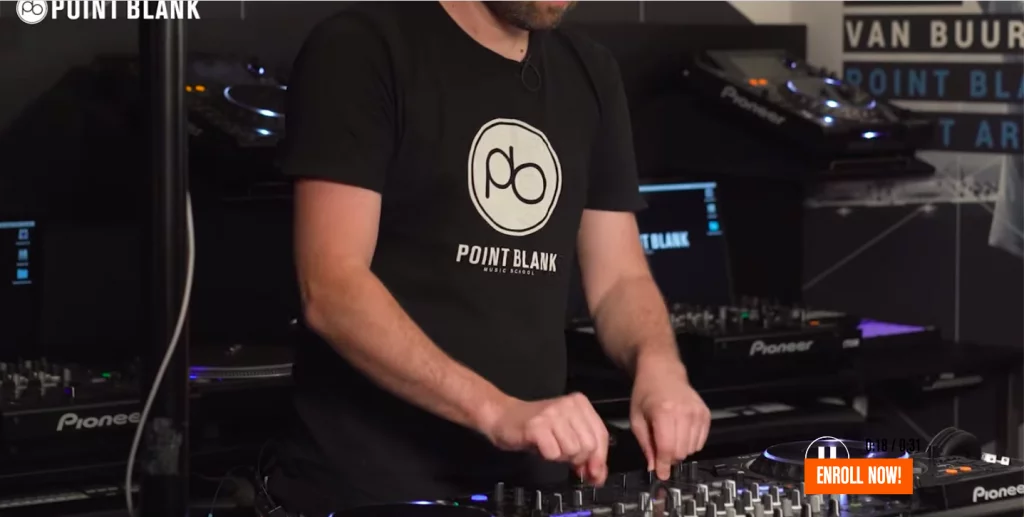 Duration: 3 months live course (Not on demand)
Instructors:
Ben Bristow aka Mr Bristow– DJ, producer, beatboxer. Has played in Space (Ibiza), as well as ministry of sound, scala, and cargo.
Darren Henry aka Quest– Dubstep pioneer DJ
Nigel Hosten aka Mr. Dex– DJ for the Wu-Tang Clan, Sway, Scratch Perverts and DJ Jazzy Jeff.
David Clarke aka DJ Davine– Has played Ministry of Sound, The Garage and the Mother Live 333.
What's Included?:
– Weekly online classes, bi-weekly 1-on-1 online classes
– Access to student forum
– Diploma upon completion
Price:
Starts at around 450$


CHECK CURRENT PRICE
It's the school that Goldie turned to when he wanted to learn Ableton Live, it's where Patrick Topping honed his skills as a producer, and it's where countless many other leading artists went to hone their skills before making it big.
And that's where Point Blank really shines – Its student network is simply unrivaled.
And this extends to their online DJ courses too. By enrolling in the DJ Skills course, for example, you'll have access to the student forum, WhatsApp groups, and weekly masterclasses with your peers, many of whom will undoubtedly make a name for themselves in their craft.Even if you're not looking to network, Point Blank is well worth its price. It's one of the most practical online DJ courses in this list, teaching you not only the skills needed but the whole logistics and operations behind managing your music library and gigs.
Here's a quick look at the topics covered:
Equipment Overview
Cueing
Drop Mixing
Beat Matching
Equalisation
Transforming
Rekordbox (Export Mode)
Programming Mixes
Recording a Mix
Here's a sample of a class:
#3- Armin Van Buuren Masterclass Review: The Production Value Choice, Plus the BEST Way to Learn to DJ from the Pros.
For those of you who don't know, Armin Van Buuren is an iconic DJ and producer from the Netherlands. He's the 4 time consecutive best DJ in the world according to DJ Mag and one of the four "trance" artists nominated for a Grammy.
Armin Van Buuren Masterclass – Key Facts

Duration: On demand
Instructors:
Armin Van Buuren– Legendary house/trance producer and DJ
What's Included?:
– 3+ hours of video
– PDF workbooks
– Student support forum
Price:
Starts at around 50$


CHECK CURRENT PRICE
Now masterclasses tend to have the reputation of being sometimes light on the technical side, though we didn't find that to be the case for this program. There is one caveat though: The course focuses a lot on the production side of things with Logic.
However, there is still a solid amount of content regarding playing live sets, including the following lessons:
Approaching Your DJ Set
Building a Set: Edits and Mashups
Using the Decks: Basics
Using the Decks: Armin's Techniques
Performance DJ Tips

The good thing about masterclass is that you can pay monthly, starting at about 20$, so once you get done with the DJing classes, you can cancel your subscription without doing the rest of the course. Though we do recommend the rest of the course if you're interested in trance / EDM music production.
This masterclass subscription also allows you to stream hundreds of other high-quality courses, including courses by deadmau5, Hans Zimmer, Timbaland, and more.
If you want to learn to DJ from the one of the best, look no further.
This course we simply couldn't ignore. Not only is this the best specialist choice, it is potentially one of the ones that is most worth the money. After all, most things are temporary but the Wu is forever. In this course, the legendary hip-hop DJ Symphony goes through some classic hip-hop DJing techniques as well as some overall DJ theory. It includes over 7 hours of video and entitles you to a certificate upon completion.
Udemy, for those not in the know, is a general place to learn things online, as opposed to a specific online DJ school. However, this course is a fantastic hidden gem. The main highlight of the course for us was its production value. The camera is mostly set up from a bird's eye view of the mixing table and decks, allowing you to follow along with your deck- It's by far the most hands-on course we tested.
All the content was high quality, with the video streaming seamlessly with great definition. This makes it super easy to follow.
In addition, the teacher is a master at his craft. If you're looking for a hip-hop specific online DJ course, this one is a no brainer.
In the same vein as #4, Young Guru's DJ course on Skillshare is a must have for any hip hop DJ. Like Udemy, it is not a specialist online DJ School but a place anyone with a skill can upload a course. This does not make it any worse quality although it focuses more on skills for beginner and intermediate DJs. It covers how to setup your gear for a live performance, but we rank it after DJ Symphony's course as we found that it wasn't as in-depth and hands-on.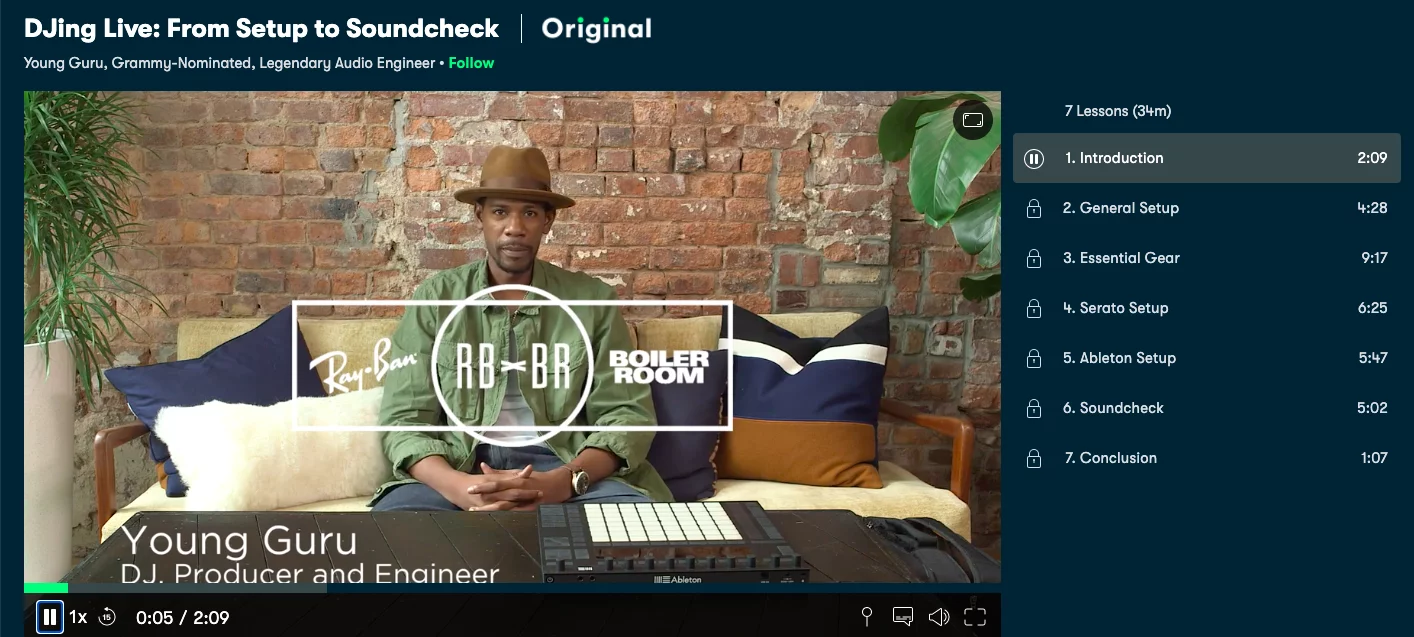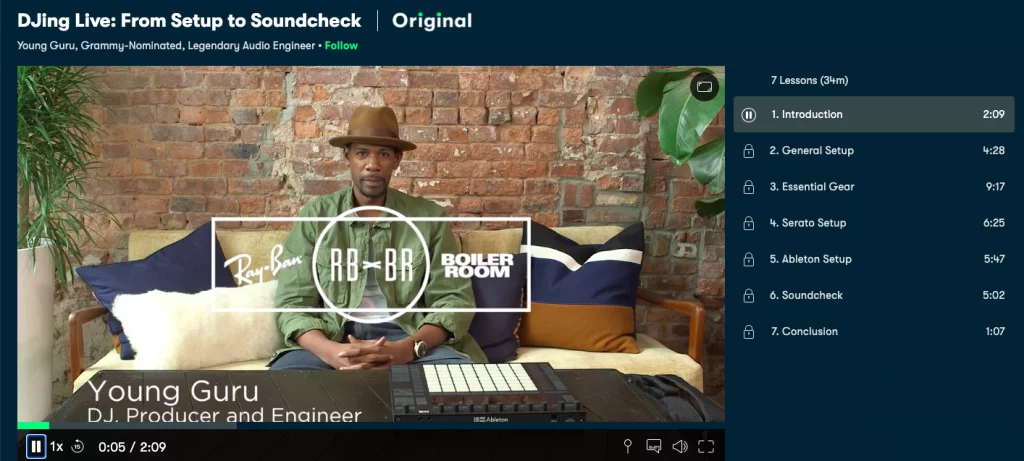 It's still a great course, coming from a legendary engineer and hip hop producer responsible for many hits from Jay-Z and Alicia Keys.
It's important to note that this course focuses solely on setting up your gear and software. No major techniques are discussed, though there are a couple of nuggets of information that are really interesting.
DAW Specific Online DJ Courses:
Producertech is one of the leading online music course providers. You could call them a completely online dedicated DJ school.
They stand out from the crowd by producing really specific dj courses focused on one particular piece of software.
Generally, the quality of content is very high, and their Ableton Live course is no different.
Ableton Live is a whole other ball game when it comes to live DJing as it comes with a huge pad that allows you to program your live performance.
Guys like Daedelus have taken the definition of being a DJ to a different dimension, with sets featuring live production and sampling with Ableton Live:
We can't promise that this course will make you an overnight Daedelus, but if you're interested in that world, it's certainly a good introduction.
Here a sample of a class: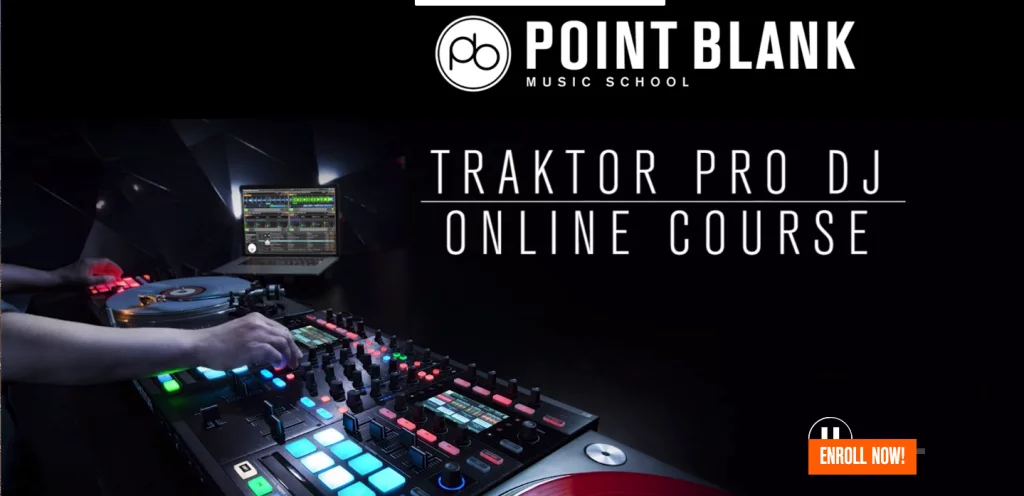 As we previously mentioned, Point Blank is a leading school in the music industry. And as you would expect, their Traktor Pro DJ course does not disappoint, thus, we have to include another course by them here, as they are one of the most worthwhile online DJ schools on the internet
If you're looking to learn to DJ in under 3 months, itwill take you about 2 months to complete it. It also requires an investment of about 400£ or 500$, depending on deals and promotions, but this is a course that is very much worth it for a very specific topic
Topics covered:
Traktor Inferface: Importing Tracks
Skills: Beat Matching, Looping, Cueing, Quantizing, Beat Jumping.
Basic FX
Harmonic Mixing: Analysing keys, mixing acapellas.
Crate Digging, Idents, Broadcast
Hardware: Digital Vinyl, Midi Controllers
Here's a sneak peek of what a class looks like:
As is the norm with Point Blank, you'll get online masterclass with your colleagues, and also 1-on-1's with the lecturers.
Hosted by Mister Gray, this skillshare is, like most skillshare courses, short and sweet.
It will take you about an hour to complete, and in the end, you'll have increased significantly your knowledge of how Serato DJ works and how to make the most of it. Particularly if you're a beginner in the ways of Serato.
The teacher is a somewhat successful DJ and producer from the United States who focuses on hip-hop and EDM / dubstep.
The production value of this course is insane, as is the case with most Skillshare courses.
The major downfall, however, is its lack of depth. This really is a course for beginners, but it's good value if you already have a Skillshare subscription
Final Thoughts
Well, that's all – it's definitely a very mixed bag in terms of quality and style, but this is our compilation of the very best online DJ course for your needs, updated for 2023. If you're looking for general music courses, or music production-related courses, we've got more fantastic breakdowns on this site, so please check out our guide on that subject.
And as always, if you have any suggestions, please leave them in the comment box below!