Investing in an online music course is one of the best decisions you will make this year.
This might seem like a bold statement, specially for those of you who have previously tried free courses or dabble around some youtube videos on production.
However, enrolling in one of the below courses is nothing like doing a free course or watching youtube videos.
It allows you to follow a tried and tested structure, plus incentivizes you to follow through, as you have money invested.
Anyways, if you're looking for a summarized version of this article, check out the below table with our favorite online music production courses.
Summarizing Table
Deadmau5 Masterclass Review
The first course we've had a chance to review is Deadmau5's Masterclass Course.
Music style: EDM / Electronic
Financial Investment: Low / Moderate
Duration: 6 hours of video + assignments
Main DAW used: Ableton, though teachings can be applied to any DAW.
Our Rating: 9.3/10.
Skill Level: Beginner / Intermediate
Certificate upon completion: No
Pros:
Very entertaining, huge production value. Very easy to follow through with the teachings.
Very well-rounded. All major topics are discussed (mastering, mixing, synths, drums, music business, live performance, and more).
Composed of videos, assignments, and discussions.
Great community if you're willing to engage.
Cons:
This 6 hour course will set you back 90$. It's not a cheap course by any means, but we found the cost/quality relation to be quite good.
It's a short course. It could benefit from going more in-depth into certain topics.
Course Structure
The course has 23 lessons, all delivered through video classes. It also has assignments and discussions.
The classes touch upon the following topics:
The Deadmau5 Production Process
Building Your Home Studio
Melodic Structures
Arrangements
Synthesized Sounds
Modular Synths
Digital Vs. Analog Synths
Sound Design with Effects And Processing
Drums / Beats
Song Structure
Remixed
Mixing
Mastering (includes case study)
Starting a Career
Music Business
On Stage Performance
Our Thoughts
Overall, this is a solid and very well rounded course.
It won't hold your hand and automatically offer you a career in audio engineering or music production, but if you follow through with all the tips shared, your chances of making it will increase exponentially.
Furthermore, if you take your time to network and reach out to the community, you'll likely make some useful connections.
This is a great course for anyone looking for a well-balanced course on electronic / pop / hip-hop / digital music production, with no specific focus on any are of the music production process, but rather a wholistic approach.
It gives you a framework, the one used by deadmau5, to produce a song. It is not a case study, i.e- it won't show you how deadmau5 produces a song from scratch, but it will show you every single step of the process.
Curious to see what an average class looks like? Then have a look at the livestream below, which shows deadmau5's process in his studio:
Note: Purchasing a single masterclass course costs 90$, however, you can pay 180$ to gain access to all classes. These include classes by Hans Zimmer, Timbaland, Armin van Buuren, Herbie Hancock, and many more.
LEARN MORE
Hans Zimmer Masterclass Review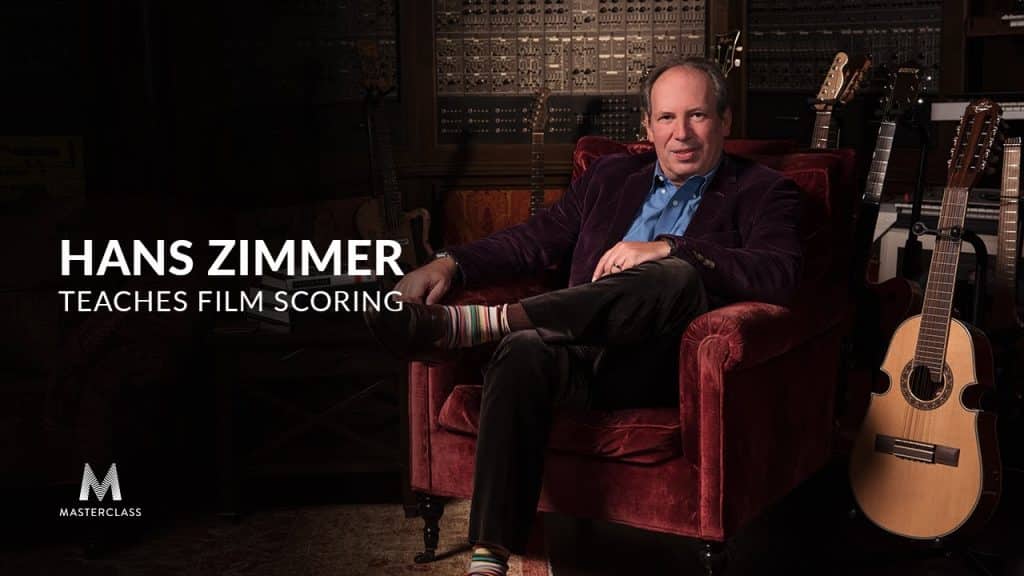 Up next is Hans Zimmer's masterclass.
Music style: Film Scoring / Soundtrack / Sound Design
Financial Investment: Low / Moderate
Duration: 4.5 hours of video + assignments
Main DAW used: N/A.
Our Rating: 8.5/10.
Skill Level: Intermediate
Course Structure
Themes
Story
Directors
Sound Palettes
Creating with Synths
Scoring to Picture
Scoring Under Dialogue
Tempo
Music Diary
Character
Case Study: Frost/Nixon
Working With Musicians
Feedback & Revisions
Audience Feedback
Writing Tips
Hans' Journey
Learning by Listening
Life of a Composer
Closing
Our Thoughts
This is a very interesting course.
The simple fact that you get to hear Hans Zimmer talk on the first person about stuff that he has never revealed on interviews is worth the cost of the program.
However, we found the structure a bit random. Unlike deadmau5's course, this program kind of jumped around topics, with one class being solely about Hans' career and progression in the industry. To be honest, if we wanted to learn about that, we could just check one of the hundreds of interviews that he's given.
Having said that, there are loads of golden nuggets there about his process, inspiration, and process. Some tips are a bit abstract but still very useful.
LEARN MORE
Timbaland Masterclass Review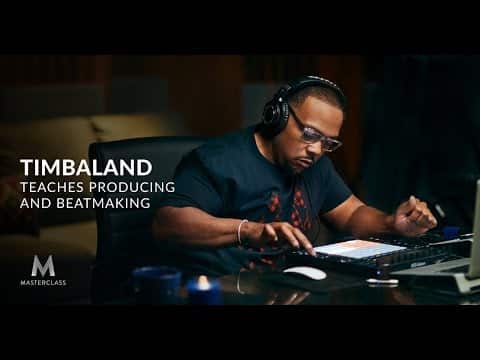 To finish off our selection of masterclass courses, we'll have a look at Timbaland's course.
Music style: Hip-Hop / Pop
Financial Investment: Low / Moderate
Duration: 3.5 hours of video + assignments
Main DAW used: Ableton
Our Rating: 8.5/10.
Skill Level: Beginner / Intermediate
Course Structure:
Studio Session: Making a Beatbox Beat
Building Beats: Tim's Process
Making a Beat: Getting Warmed Up
Song Origins: "Dirt Off Your Shoulder"
Making a Beat: Starting With a Chord Progression
Making a Beat: Tweaking and Layering Drums
Song Origins: "Pony"
Making a Beat: Manipulating Vocal Samples
Making a Beat: Creating a Breakdown
Song Origins: "Gossip Folks"
Making a Beat: Adding a Topline
Song Origins: "Are You That Somebody?"
Tim's Influences
How to Persevere
Our Thoughts
We found this masterclass to be the least technical of all masterclasses reviewed. Perhaps on purpose, as Timbaland's production process seems to be based a lot around feeling, leaning on his team to fill in the more technical gaps.
We still found it very useful and inspiring, with some pretty straight forward but useful tips such as thinking about drums through beatbox. His team of "co-producers" also share some gems on drums layering, chord progression and more.
If you're a hip hop head, you'll love this course. You'll learn about how Timba produced hits for Missy Elliot, Jay-z, and others, as well as some inspiring tips on how to succeed in the industry.
If you're not a hip hop nerd, then you might find it not that inspiring. Though we still recommend purchasing it as part of the masterclass bundle of classes.
LEARN MORE
Producertech EQ Fundamentals Review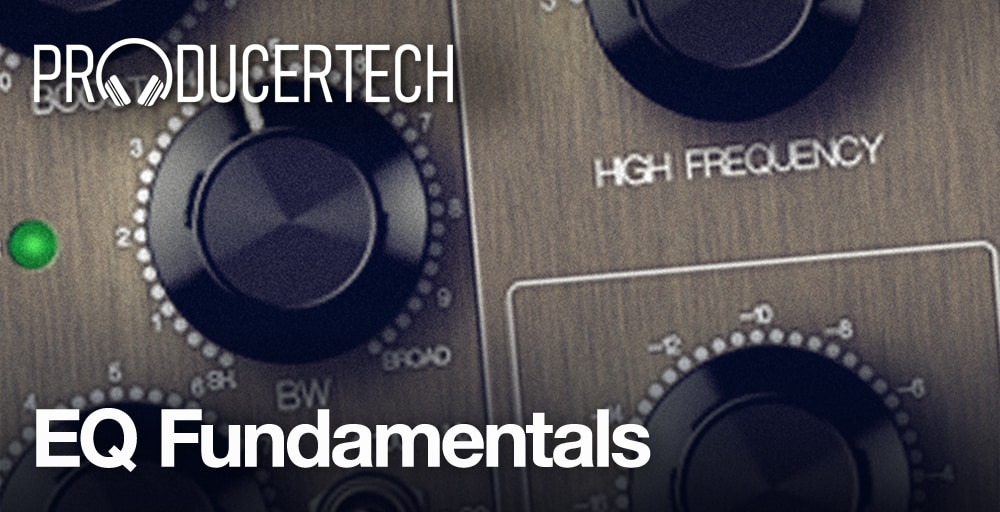 Producertech is a well established music course provider. It was founded in 2009 by Rob Jones.
Of all their courses, EQ fundamentals is one of our favorites. Here's why:
Music style: None in Specific
Financial Investment: Low
Duration: 2.5 hours of video + assignments +
Main DAW used: Ableton
Our Rating: 9/10.
Skill Level: Intermediate
Course Structure:
Introduction to Frequencies
EQ Controls
EQ in Isolation
Frequency Demo #3 – Combining the Piano and Sine Wave
The Frequency Spectrum Explained
EQ with respect to other parts
EQ'ing Drums
Common EQ Practices
EQ'ing Kick and Bass
EQ on the Master Channel
EQ In The Mix
Our thoughts:
This course is, in our opinion, a must do for all aspiring producers. Having a solid grasp of EQ can be the difference between an amateur sounding song and a commercial grade end product.
Producertech's EQ fundamentals will give you the foundation you need to make clean sounding mixed, at a very accessible cost (25$).
It doesn't have a rock star teacher or cover 10 different topics, but that is, in our opinion, a strength. There is no magic pill (or course) that will make you a successful musician. Instead, the path to success is continued investment in small courses on different topics.
This lazer focused course will give you a very complete foundation on one of the most important skills in the game: EQing.
It also comes with the EXPOSE software, which allows you to "test" your final mix for any potential issues.
We were positively surprised by the production quality of the course. Here's a sample video from the course:
There is a special focus on bass and kick mixing, thus making it slightly more relevant to electronic, hip-hop, and pop producers, though it really suits any kind of music style.
LEARN MORE
Berklee Online Review- Electronic Music Production Especialization
Berklee is one of the most famous music schools in the world.
This institution is a pioneer in online music courses, having started the online delivery of their courses in 2002 (!).
They still are an industry leader and offer the most formal type of education you'll find in this list.

Music style: Electronic
Financial Investment: Moderate
Duration: Around 6 months (4 hours / week recommended)
Main DAW used: Ableton, though teachings can be applied to any DAW.
Our Rating: 9.5/10.
Skill Level: Beginner / Intermediate
Certificate upon completion: Yes
Course Structure:
The Technology of Music Production
Introduction to Ableton Live
Creating Sounds for Electronic Music
The Art of Vocal Production
Our Thoughts:
This is a solid course for students looking for a serious commitment and some degree of credibility.
It teaches all the theoretic background + gives you a solid foundation in ableton production and recording / mastering vocals.
If you're looking for some credibility in the industry, this is something to stick in your CV that can also teach you some good theory.
However, there are more advanced and complete courses in this list in terms of knowledge.
Finally, one of the main advantages is that coursera offers financial aid to certain students.
All in all, it is pretty inexpensive, at 39$/month, and if you're feeling motivated, you can knock it off in a couple of months, getting a "mini" degree for a very affordable price.
LEARN MORE
Music Production in Logic Pro X Udemy Course Review
Next up, we have a couple of udemy courses.
We'll start with probably the most popular music course in the platform- "Music Production in Logic Pro X".
This course was developed by Digital Music Masters, a well established music school.
Music style: None in Specific
Financial Investment: Low
Duration: 38 hours of video + articles and resources
Main DAW used: Logic Pro X
Our Rating: 9/10.
Skill Level: Beginner / Intermediate
Our Thoughts
We are currently taking this course and will come back with a review shortly!
LEARN MORE
Final Thoughts
We hope that the above suggestions help you kickstart your music production career/hobby.
This article is in constant update as we try new courses, so if you have any recommendations, please post them below.