Last Updated on December 29, 2020 by IDS Team
It's not that often that you stumble upon a great vocal processing plugin.
In fact, if you're producing or mixing vocals, you're usually left with a bunch of various plugins that you need to combine to process these vocals properly.
For instance, you'll need to use separate compressors or limiters, EQs, distortion, saturation, delay, reverb, and other effects.
But wouldn't it be great to have an all-in-one plugin and not have everything scattered around different softwares?
Well, there are actually some multi-purpose options out there, like iZotope's Nectar.
In early 2019, iZotope updated their Nectar to the third version, with some graphic interface improvements and various "intelligent" mixing features.
With this move forward, they came closer to some of the most prestigious software on the market these days, raising the standards in the world of vocal processing.
While there are some same effects and options, Nectar 3 does bring some exciting functionalities that its predecessors lacked.
In fact, we could easily say that this version made iZotope a huge breakthrough with all the new additions.
And we're not the only ones to think that, some legendary producers, such as Mike Dean, producer for 2pac, kanye west, etc etc, have come forward with praise for izotopes vocal processing tool:
It also gets 5 stars from pluginboutique users, with close to 30 reviews:
With all this being said, we figured we could take a closer look, examine Nectar 3, and see what it can actually do.
Features
iZotope Nectar 3 At a Glance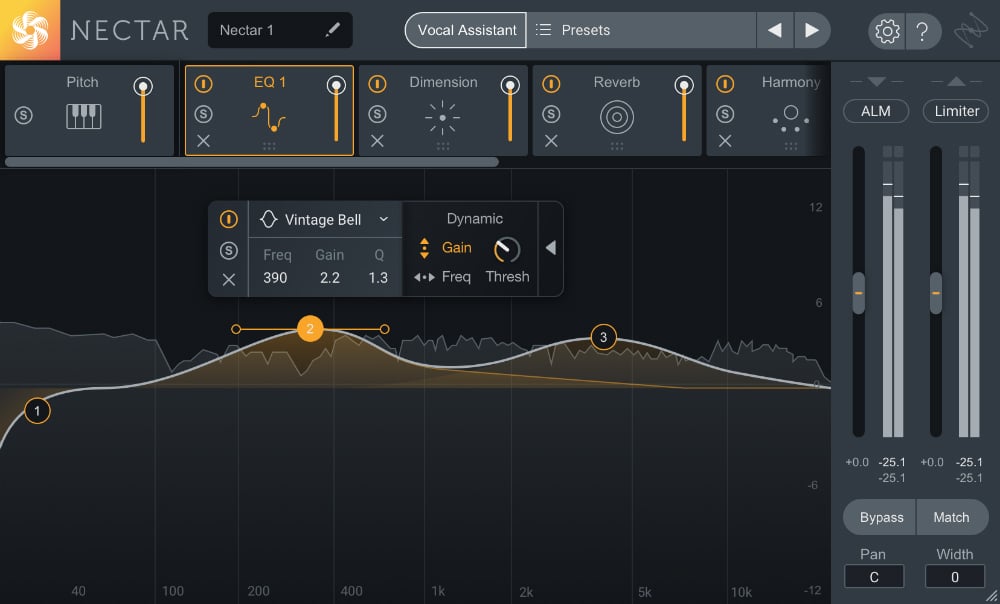 Maker: iZotope

Features:
Auto Level Mode
MIDI Controlled Harmony Parts
Vocal Assistant AI
RX 7 Breath Control
AI learning

Modules:
Pitch, Gate, EQ, Dynamic Processing, De-esser, Delay Module, Dimension Module, Compressor Module, Saturation Module, Reverb Module



CHECK PURCHASE PRICE

CHECK RENT-TO-OWN PRICE
The first important thing we need to note is that Nectar 3 now includes iZotope's special AI learning, the Vocal Assistant that we can also find on a few other of their products, like Neutron and Ozone.
There are some styles that you can choose right out of the box, like Modern, Vintage, and Dialogue, along with the options for Light, Moderate, and Aggressive intensities.
Nectar 3 then listens to your audio input and does its own custom EQ tweaking, compression, de-essing, level balancing, reverb, and even pitch correction.
As if this wasn't enough, the Vocal Assistant in Nectar 3 offers even more features for customizing presets for your needs.
Called Unmask, this particular feature works with two tracks. So first, you need to add the Nectar 3 plugin to two tracks and let them work parallel. If they have any corresponding and clashing frequencies, the Unmask feature sorts things out on its own.
This same feature can work with other iZotope plugins that have the Vocal Assistant, like Relay or Neutron.
So the Unmask feature then analyzes these two tracks, and if there's any frequency matching involved, it adds a static EQ to one of the tracks.
While this is a very useful approach, the downside comes with the fact that you can't further edit this EQ curve and would need an additional EQ plugin to do some minor tweaking.
This may come as a downside to some, but it's still a very easy solution. Of course, the Unmask feature can also come in handy for processing and mixing instrument tracks.
The plugin's EQ now features 24 bands with 16 different shapes.
There are also so-called Dynamic Gain and Dynamic Frequency modes that can assist in dealing with different peaks over the spectrum.
At the same time, the quieter parts stay unaltered in the Dynamic Gain mode.
As for the Dynamic Frequency mode, you can both boost or cut frequencies, all while tracking the nearest moving harmonic peak.
Along with the Nectar 3, we also get the RX7 Breath Control that's mostly like the Breath Control from the previous version.
With it, you can significantly reduce the volume of all the unwanted breath sounds. The downside here is that it can't be included into Nectar's track strip, but rather before or after the Nectar plugin.
There were many advancements with the plugin's GUI. As a result, the whole interface is more practical and uses all the space better.
The most in-depth and useful guide to this software we've found online is by sweetwater, who break down this great piece of software in this 26 minute video:
For many, this is one of the biggest advantages of Nectar 3 as it made things a lot easier for users. This was a significant improvement compared to Nectar 2 where there were many unused empty blocks in the graphic interface.
It's nothing crucial or spectacular but does make things run smoother. This is especially the case with the EQs, gates, and compressors, where it's now much easier to dial in everything in detail.
Performance
So it's obvious that we have many other useful additions here compared to the previous versions, like different Saturation modes and even additional voices for the Harmony mode.
But one of the strongest points, at least in our experience, is the pitch editing. Compared to Nectar 2, in the third edition, we have Melodyne Essential by Celemony. But, on the other hand, this particular plugin is not as advanced as some others available out there. It can cover some basic issues with pitch.
Overall, the automatic settings are pretty useful, and you get finalized presets right out of the box.
This makes Nectar 3 pretty useful even for less experienced users. We can also say the same about the Unmask assistant as it does wonders for vocal tracks.
Unfortunately, we weren't really satisfied with how it performed with different instruments or synths. So it's a quick solution, maybe not the perfect one for every EQ problem. The same could be said about the Dynamic Frequency feature that helps a lot with vocals but it's not exactly the best thing for instruments.
While the plugin, overall, is offering some mindblowing features, we'd like to point out that fine-tuning for most of the parameters is not possible.
Nectar 3 Rent-to-Own vs Purchase
You've got two options when it comes to buying iZotope's Nectar 3: You can use a rent-to-own service such as splice to pay a monthly fee until you've paid the full price, or you can buy it outright from vendors such as pluginboutique, or amazon.
One quick note: with both types of purchase, you'll get free access to melodyne, a great DAW made by celemony.
At time of publishing, Nectar 3 was retailing at around 250$ for the full purchase, and at 9.99$/ month for the rental.
CHECK PURCHASE PRICE
CHECK RENT-TO-OWN PRICE
Final Thoughts and Tips
It's pretty clear that this is one very diverse and useful package all summed up into one plugin.
Our assessment tells us that it can be a very useful tool both for beginners and professionals.
In conclusion – this is one mighty fine plugin with so many automated features, something that's useful for those who don't feel like bothering with too much tweaking.
One final tip- Groove3 has a great course on iZotope Nectar 3. It contains more than 2 hours of content on this piece of software and it will blow your socks off.
If you do end up buying this plugin, we recommending spending an extra 20$ on the course.