Last Updated on December 29, 2020 by IDS Team
Processing your vocal recordings the proper way is a must these days.
With so many great effects units, DAWs, plugins, and all the other physical or non-physical enhancements, you don't want to go out there with any vocal recording sounding dry or just bland.
Even the slightest changes and additions are no longer small nuances these days, and everything needs to be sorted out.
This is why a good vocal processing plugin, or a group of plugins, are always a welcome addition to anyone's setup.
Out of many options out there, we figured we could take a close look at Nectar Elements by iZotope.
Of course, this is far from the first of their plugins designed to enhance vocals, and you can tell by how well its been received by users. At pluginboutique, it gets a near perfect score of 4.9/5:
There's plenty of great vocal-oriented stuff in iZotope's arsenal, so we're pretty certain that the company is more than capable of delivering a good product here.
While the market offers an abundance of different vocal mixing plugins, we'd argue that you can't go wrong with anything by iZotope.
But now that we're at it, let's dig into it and see all of the Nectar Elements features, functionalities, and its overall performance.
In the end, we'll try to give our final verdict and see to help you figure out whether this one is the right choice for you.
iZotope's Nectar Elements at a glance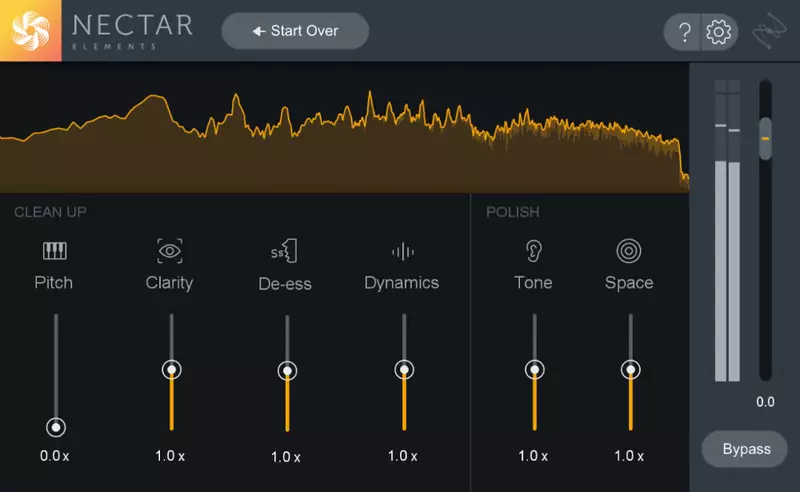 Maker: iZotope
Main Features: Vocal Assistant, Master Assistant, and Track Assistant, Three Vibes modes (Modern, Vintage, Dialogue), Scalling Controls, Pitch Correction, De-essing, Dynamics, Clarity, Tone, and Space.
Supports: AU (32 & 64–bit), AAX (64–bit, real-time), AAX-AS (64–bit, Audiosuite), RTAS (32–bit, real-time), DPM-AS (32–bit, Audiosuite), VST2 (32 & 64–bit), VST3 (32 & 64–bit)
Our Rating: 4.9/5


CHECK CURRENT PRICE
Background and features
First off, this is a relatively new plugin, released by iZotope in the first half of 2018.
There was a previous version on which this plugin is based on, but it's a fairly more advanced product, most notably due to its Assistant feature.
As the company explains, Nectar Elements is a plugin aimed at one very specific issue, and that's how vocals are sitting in the mix.
In addition to this, the plugin was also designed to deal with all of the time-consuming tasks and cutting the whole mixing time shorter.
This is done using iZotope's assistive technology, a similar principle that the company implements in a few other fields. The whole feature makes lives easier for both professionals and amateurs.
There are a few different Assistants here, including Vocal Assistant, Master Assistant, and Track Assistant. These do everything from basic setups up to figuring out your signal chain.
But it's important to note that Nectar Elements works with its six basic elements that are pitch correction, de-essing, dynamics, clarity, tone, and space.
The idea here is to do all the "cleanup" before adding time-oriented atmospheric effects like reverb or delay.
The pitch correction is early in the signal chain, so any other effects enhance the already corrected audio. It can be used for simple correction or to create those well-known modern synth-like vocals.
The Clarity feature does advanced EQ meddling and filtering. The whole idea is to get rid of very specific undesirable frequencies in order to create a more pleasant-sounding tone.
This is one of the features that can cut down the mixing time as the "hunting" for undesirable frequencies can be a really tedious process.
Another tool that's part of the Vocal Assistant is the De-esser. The one in Nectar Elements sorts out popping sounds in the 5 to 8 kHz territory.
This is another feature that makes it easier and quicker for mixers to get things done.
The Dynamics section deals with levels and compression. Through the Assistant, the dynamics are applied to any of the desired vocal tracks.
Then we also have the Tone and Space controls that serve for some basic polishing right after recording.
With the tone control, there are three settings you can choose from – Vintage, Modern, or Dialogue. This third one is pretty useful for any type of spoken part, as its name suggests.
The moment you open up the plugin, the first question you get is "What are you going for?" There are different Vibe and Intensity choices.
When you set the desired styles, the smart Assistant does its magic.
When you hit "Go," it goes through seven of its steps, including vocal signal strength, pitch, overall EQ, detection of sibilants, and other processes.
It's only when it's finished that you get the main GUI with its six sliders. Further tweaking is done by adjusting these simple sliders.
Performance
While iZotope's Assistant is definitely a useful addition, you can't expect to do all the work instead of you.
Whoever does the mixing is supposed to do all the tweaking and fine-tuning by themselves.
However, Nectar Elements and all of its assisting features drastically shorten the whole mixing process.
What's important to note is that the GUI is pretty intuitive.
The main GUI has six master sliders for the components that we explained above.
At the very top, we can also find the spectrum analyzer that gives frequency metering.
The simplicity is what iZotope was aiming at here, providing a very stripped-down interface.
For some producers and mixers, Nectar Elements might be a little too simplified as it lacks many different controls.
You often need more than just one slider to sort things out. While the general tone you get is solid, this is not a simple "one-button magic" kind of plugin that can do wonders on its own. You'll need to get other plugins going to sort things out.
More EQs, compression, and all of the other effects. Nonetheless, Nectar Elements provides a solid basis for this.
Conclusion
What's really fun is that the plugin is aimed at both pros and home-recording enthusiasts. First, it cuts down the mixing time for professionals. Secondly, it gives beginners and amateurs, in general, a "corrected" version of any vocal track, allowing rookie and intermediate users to have a better-sounding vocal track.
With all this said, we'd rather recommend such a plugin for amateurs. Professionals would be better off with Nectar 3 which encompasses everything. Don't get us wrong – this is a great plugin worth every penny. But an advanced user can find these and many other features within Nectar 3.