Last Updated on August 22, 2023 by IDS Team
Editor's Note: In this article, we will go into the best amp simulator VST plugins in the market as of 2023. If you're looking for the summarised version, check out the table below, for a full breakdown, read on. Please keep in mind that this article is constantly updated so make sure you bookmark it for future reference. Likewise, we cover a wide range here. This is not for in depth reviews but instead shows our top pics for Logic X Pro, as well as the best amp simulator for Windows, for musicians on a budget, and much more.
If you are on a mobile device, this table might seem broken. Make sure you scroll to the right to see all the products and scroll inside the cells to see all the contents in them.
If you just narrowed it down yourself to Guitar Rig versus Amplitube, we have a very popular article on this here on iDesignSound.
Without further ado, here are our picks for 2023:
Whatever musical direction you're taking, there's a high chance you'll be using at least some distortion. This effect was popularized back in the old days by blues and rock 'n' roll guitar players, who sometimes even damaged their equipment to get this tone. Nowadays, you may be a guitarist looking for revolutionary track quality and realism. If that's the case, some of the higher-end options on this list might be best for you.
However, if you're an EDM musician it's still great to have a quality amp simulator VST in your arsenal so that you have the option to use it, and we have some budget choices too if you are unsure about investing. Either way, a good amp sim can bulk out your synths and add something different to your production. In any case, it's lucky that today, achieving distortion is not that hard, and there are plenty of safe and affordable ways of doing it. Of course, the first association is often the guitar-oriented music, but we want to reiterate this list is for everyone, asgreat-sounding distortion can be found even in electronic music.
Even EDM musicians resort to using Amp Simlator VSTs, actual distortion pedals or guitar-related gear.
But if we're talking about music production, mixing, and working in any DAW, it's definitely easier and way more practical to rely on plugins. Sometimes, you can get some pretty great guitar tones, for whatever purposes, by using some great amplifier simulation plugins.
Whether you're a guitar player, bassist, DJ, instrumentalist, or even a vocalist – here are the best amp sims for you to check out. Although mostly focused on guitar-oriented music, you're always free to experiment and use them for other purposes as well. Here it goes.
A new amp simulator by Positive Grid, the Bias FX 2 amp sim brings a whole universe of options in creating one's tone. On the other hand, the best thing here is the price. Sure, it's the cheapest offering in the list, but it's the best because it can do just about everything that the others can do for a fraction of the price.
The Positive Grid Bias FX 2 Amp Simulator VST is
not

a product focused on limited types of tones and musicians.

The newest in the Bias amp series brings an abundance of different amps, cabinet simulations, pedals, and microphones, all extremely realistically representing the respective models that they're imitating.

What's also great is it's possible to kit this one out with the bass expansion pack which just offers more versatile tones for both bassist and EDM producers. Simply put if you include this, Bias FX 2 is one of the best bass amp sims as well and FX work dramatically on bass if you want them to.

You should know that if you can spare more cash, there is an Elite version and also a Pro one available.

There's a wide variety of high gain amps for our metalhead readers, as well as a bunch of experimental effects to get your creative juices flowing. In fact, we would actually recommend this as one of the best all-rounder amp simulators for metal guitar players because of how well it can mimic a real guitar rig.
Talking about amps and cabinets, Positive Grid teamed up with Celestion to bring digital replicas of the legendary speakers found in many of the prestigious cabinets. You can check the full list of amps here.
Overall, the Bias FX 2 brings some pretty advanced stuff with a surprisingly simple operation, making it our favorite amp sim in the market right now. It comes as a great option for any level of playing and musicianship. Even beginners will find it easy to use, and the Bias amp can be a great way for them to get acquainted with the world of guitar amps and pedals.
Ultimately, this is one of the best amp sim vsts for all levels of ability in both production and guitar. It also provides a free demo if you are not sure you want to switch to a paid Amp Simulator VST.
Check out the video review below:
Overloud – TH3 – Simple but Effective Amp Simulator VST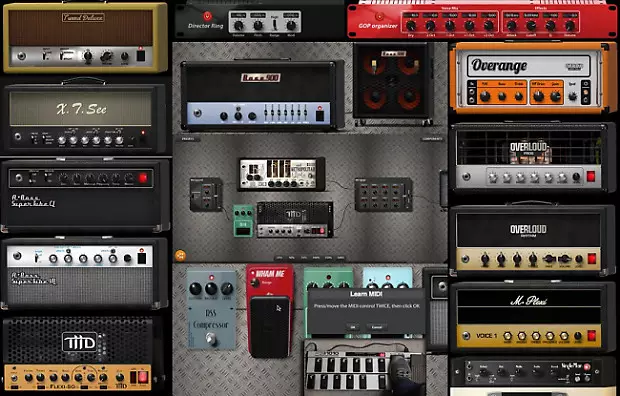 Overloud's TH3 amp simulator and plugin works in a similar way compared to the Bias, with a bunch of amp, cabinet, pedal, and mic models.
When it comes to guitars, there are 89 different amps, as well as 50 cabinets. Bass players, however, don't have that many options, since there are only 4 bass amplifier models and 2 bass cabinet models. If you want to communicate your ideas smoothly, there's a huge amount of choice. 
Going over to the pedals and other effects, there are 77 different emulations to choose from. The choice of microphones is decent, with 18 different models and the possibility to choose up to 4 mics per one cabinet.
In total, the Overloud TH3 puts 1000 different presets on the table that will help you get great amp simulations right out of the box.
What's more, Overloud collaborated with some of the famous amp brands, including Randall, to recreate their guitar tones. This amp sim has both great modelling and capturing technology as well as an appealing interface that is clear and simple.
Ignite Amps have a few interesting solutions for amp simulators, all of them giving some really solid tones, both for Clean and Distorted situations. The one we found worth mentioning on this list is the Emissary plugin, a super fun high-gain amp.
Although focusing on just one amp model, the Ignite Amps – Emissary still provides a solid amount of possibilities and great tube-oriented modern metal tones.
The physical amp that it replicates is also called Emissary and was made by Ignite for Ryan Huthnance. It may not be as versatile as some of the other plugins here, but its strength lies in a very realistic representation of this tube amp.
As well as the Bias FX 2, this is one of the better amp sims on this list for hard rock and metal guitarists. If you want tracks that will gain attention yet still express emotions through super crisp sound, the realism of this amp sim makes it a strong contender.
It has two channels, Clean and Drive, along with standard controls and some additional switches for additional EQ shaping. And the best part?
It's free! Make sure you also check out our 400+ Mega List of FREE VST Plugins.
Made by IK Multimedia, AmpliTube has been around for quite some time now. The fifth instalment in the series takes things to a whole new level, with some of the modern guitar heroes expressing their admiration for this plugin. They also did a major overhaul of the user interface, making it scalable now and optimised for Retina displays. Also you can now do parallel processing.
If you are wondering 'are amp simulators good for beginners' or 'are simulators worth it' and are not sure if you want to invest, this is the guitar amp sim for you.
It's cheap but high quality; it's been on the market for a long time, and it's great for modeling killer tones.
Amplitube 5 Amp Simulator VST brings an abundance of great amps of all the different eras of modern music, stompbox models, cabinet models, mic models, as well as possibilities to create intricate and non-linear signal chains.
Things get pretty interesting with the virtual microphone and cabinet placement, providing some very realistic-sounding amplifier tones, as well. You can place microphones in virtual 3D settings, which is a pretty exciting feature. Thus if you want a powerful amp sim that lets you create memorable setups for guitar modelling, this is one of the best choices. It lets you think about guitar the way you would in a real, analog studio.
We have a very nice article that compares Amplitube to Native Instrument's Guitar Rig Pro and we recommend you read it here.
Universal Audio – Fender 55 Tweed Deluxe Amp Simulator VST
Now, this plugin is a little different. First off, it focuses on just one amp which, expectedly, limits its versatility and leaves you with not many options. However, this was actually Universal Audio's intention, to have just one amp and recreate it as realistically as possible.
The piece in question is Fender's good old vintage gem, the '55 Tweed Deluxe. This plugin was done in collaboration with Fender, who helped them out in digitally recreating this amp's legendary circuitry. It may have somewhat of a narrow use, mostly those who are looking for those sparkly vintage-oriented blues tone.
If you want one of the best classic guitar amp simulators that does one thing really well, this is the one, and the Fender 55' Tweed Deluxe is a worthwhile amp to choose for this purpose. Simply put, it's a classic, it will never get old or dated, and it is versatile.
But the recreation is just astoundingly realistic, coming very close to the original. Take the good old Tweed Deluxe and mic it up with different microphone simulations.
Studio Devil – Amp Modeler Pro VST
Although intended for guitars, the Amp Modeler Pro by Studio Devil will also give great amp models, distortions, and other effects for electronic music makers as well.
It is not necessarily the most realistic guitar amp simulator but it is one of the best budget amp sim VST options. Plus it is good if you aren't familiar with guitar guitar and want something flexible and creative.
If you work primarily in digital audio and you don't want to bother mixing up different amps, this is a quick and interesting choice that can get you the sounds you need at a fraction of the price of buying a physical amp. This is especially good if you're not sure you'll use guitars in every song.
There are about 15 different preamps that come with it, 32 cabinets, plenty of different pedals and rack-mounted effects, as well as different controls and elaborate EQs.
It's a somewhat cheaper option compared to the other entries on this list, although it definitely manages to convincingly reproduce classic and modern amplifier tones.
October 2020 update: Native Instruments just announced the new version of Guitar Rig 6. Guitar Rig 6 comes with a new interface, pictured below, more effects, and new AI tech. It's been almost 5 years since the latest update to guitar rig, so the expectations were high within the music production community, and in our opinion, the new version lives up to the hype. This amp simulator is extremely popular amongst guitarists for very good reasons indeed.
The first thing you'll notice with Guitar Rig 6 is its brand-new interface. It's looking way cleaner and simpler to use. In addition, 16 new effects were added, including the following softube amps: RC24, RC48, CV2A, VC2A, VC76, and CC160.
Even if you are a guitarist who prefers to record amps live, there are many reasons why you might use a guitar amp sim. Simply put amp simulation and modeling give you tones you may not achieve with your studio equipment.
If you are a bedroom producer or guitarist who is short for space, this is one of the best amp modeling plugins that gives you the range of a proper studio at a fraction of the price you would pay to record elsewhere.
All in all, Native Instruments Guitar Rig 6 is one of the most diverse guitar amp simulators at the moment, with a great workflow and a very nice sound.
At the same time, it's very accessible and is one of the best options for beginners who want to learn more about amplifiers, cabinets, pedals, and other effects and units.
Comparable to AmpliTube and Bias products, there's a fair amount of amp and cabinet simulations with more than 50 effects and an option to use up to 8 different microphone models on one cabinet at the same time.
This is one of the Native Instrument's most popular products and does well in comparison to Amplitube 5.
Line 6 Helix Native – Our High End Choice
Last but not least, we have the Line 6's Helix Native.
If you are confident you want to invest, this is not only one of the best amp simulator for logic pro but also one of the best professional amp processors for experienced musicians.
If you are worried that amp sims always sound bad, or you are an audiophile, you may find that the Helix Native can change your mind. This is one of the industry leading amp sims that professional musicians swear by. Honestly, this is a high-end plugin, but the attention to detail means it is simply one of the best guitar amp simulator VSTs available.
What does it provide? This is a great model to get that vintage rock sound, perhaps even the best amp simulator on this list. It's priced on the high-end though and not exactly beginner friendly, so unless you have some experience under your belt, we'd recommend trying out an easier-to-use guitar amplifier simulator such as the Bias FX 2.
However, if you do know what you're doing, the Line 6 is a great piece of software. It includes over 100 effects and 60 amps, including some of the legendary amps used by Hendrix et al (Mesa Boogie, etc).
If you'd like to have a go at the Helix Native Amp Simulator VST, Line 6 does offer a 15 day free version.
Final Thoughts and Overall Winner
And there you have it, the very best amp simulator available for purchase right now. Combined, they represent thousands of amps, cabinets, and stompboxes.
So take your time, read about the amps offered by each, and make your decision. If you're looking for an expert opinion we'd go with the Positive Grid Bias FX 2 because you're just getting A LOT for what it costs. Still, you are good with any of the Amp Simulator VST products listed in this article.
Rock on!