Last Updated on January 23, 2021 by IDS Team
The TAL-J-8 Roland Jupiter 8 emulation is good. I mean, really good and also enjoyable. Who doesn't know the Jupiter 8? This is a rhetorical question, if you are on this website and you regularly follow the content here, you are no stranger to synths. Now, this one is actually THE synth. Top of the line.
Roland has made a couple of good synths and a couple of bad synths. They have also made some excellent pieces of music production hardware. The Jupiter 8 is one of them, and for me it is the ultimate polyphonic subtractive experience. It sounds T-H-I-C-K. It sounds classy. It NEVER sounds outdated.
A lot of replicas have tried to recreate it's unique, full and organic sounds. We have of course the Arturia replica, which is our opinion captures it pretty well. Then we have of course the Roland Cloud offering the sound. Then we have a lot, and I mean a lot of presets in other VSTs that are trying to give you a piece. If you want more information about emulating the Roland Jupiter 8 in VST form then we recommend this brilliant article here.
Or better yet, for the ones that can affort it, we actually recommend buying the hardware itself. If you can find a serviced, fully working model that is. I mean, just look at it: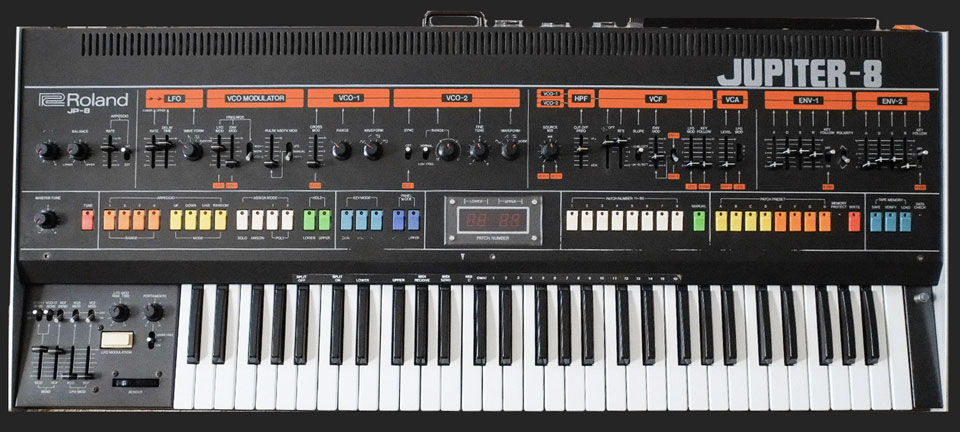 For today though, we will come back to earth from Jupiter and discuss the newest addition to the synth's ever expanding arsenal of VST Plugin emulations. I am talking about the TAL-J-8 product.
Tal has been in the space for quite some time now, emulating (successfully in our oppinion) Roland gear.
They have done the Juno pretty well. They have recreated the SH-101. They actually offer the Juno chorus as a separate VST. We love Tal, and we think that their output truly helps out music producers.
But let's dive straight in to their newest offering, the TAL-J-8 Roland Jupiter 8 soft synth. And for our lineup of BEST general-purpose VST Synths, head on down to our article here.
This VST captures the brassy, powerful but also mellow sound of the Roland Jupiter 8 very well.
Yes you know what I'm talking about. If you don't, the most accessible example for me right now is Michael Jackson's Thriller. Just listen to those gorgeous pads and the harmony that this 8 voice VCO powered monster can create.
The synth is truly cosmic, one of a kind. It can be powerful, it can be smooth, it can be in the background and it surely can be in your face. It can sound classy and it can also be new age. As you can see, I love the Jupiter 8. I could not fit it into my studio in the keyboard, standard version, so I did the next best thing and bout the 2U Rack version, the MPG-80 (Rev.4 of course). It is cheaper and it is much more compact, but it lacks the front panel (sold separately). No problem, i'll just use the VST editor.
The TAL-J-8 VST also has MPE support, we can't recall right now any other Roland Jupiter 8 emulation that has this.
This one is very interesting, and at this time this is the only Jupiter 8 emulation that can suport MPE. If MPE will not be huge in 2021, it will be extremely sought after in 2022. It is very interesting what you can actually do with just a keyboard, if it has the right sensors. For now you can use MPE to individually adjust the filter and volume on a per-note basis, with pitch pretty soon to follow I guess.
You can see the MPE controls in the screenshot below, showing the synth control interface.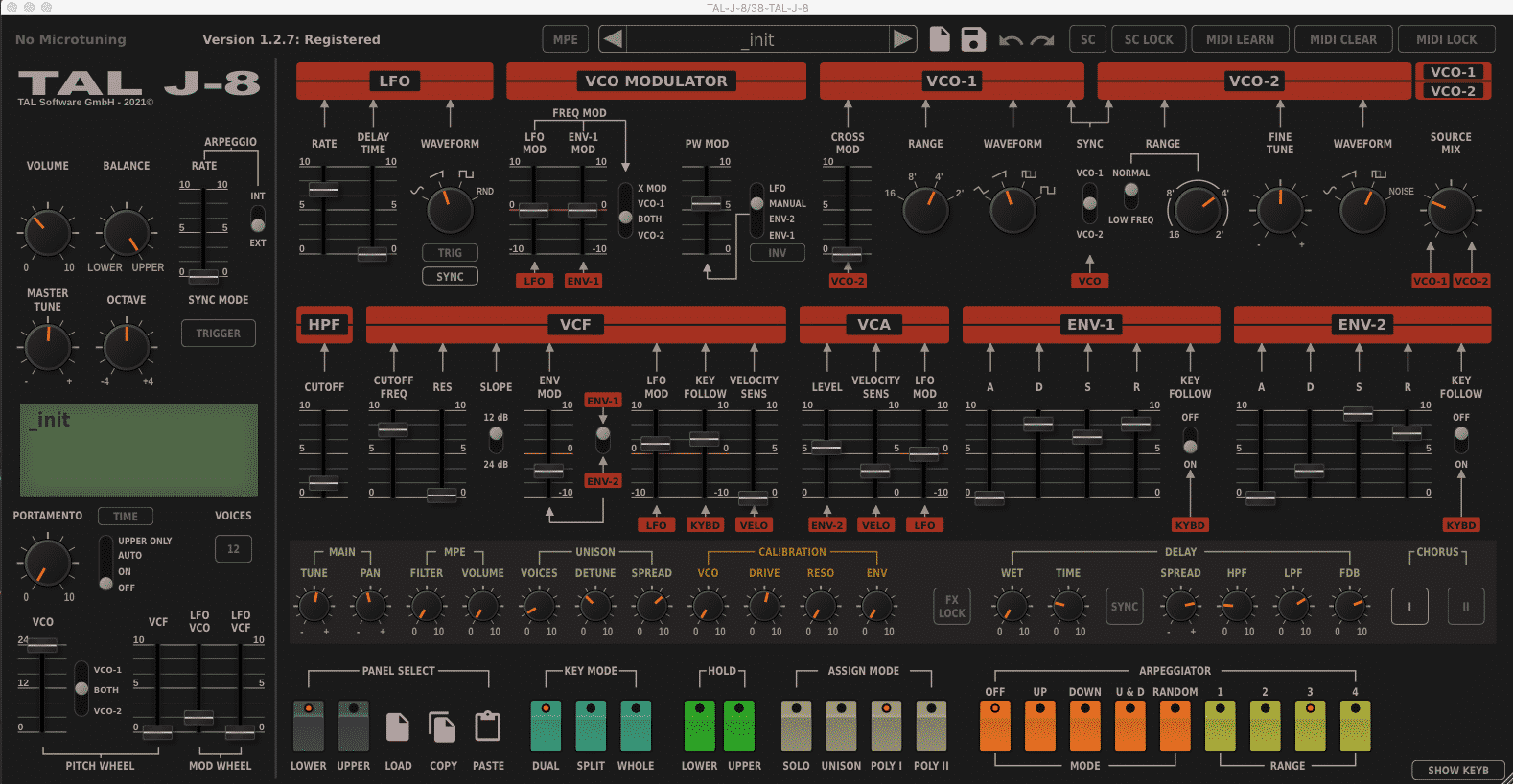 We used it for two weeks, doing all kinds of sounds on it. it shines on classic analog synth stuff like bass and chords/harmony. The filter is very nice, and if you increase the resonance a little bit, you will get that trumpet like sound for which the Roland Jupiter 8 is famous. It is hard to integrate in contemporary electronic music, but still is nice, especially if you are into sound design for movies and games.
While the unison function is nice, we do not recommend you use it on a VST Synth as it will pale in comparison to real unison on a real hardware synth.
Oh and one more thing, the 8 number in the TAL-J-8 is only to reflect the Jupiter 8. It's not a voice count though, because the TAL-J-8's polyphony count goes all the way up to 12.
Also noted is the upper/lower system implemented in most high end synths of that era, like the Yamaha CS80, Roland Jx10 and the Prophet 10. You basically get to layer two separate synths, and can play them simultaneously or split the keyboard.
Delay is also a very nice addition to the virtual synth
The delay sounds very nice, reminding me on classic analog BBD style circuits. There is also a Chorus on board, with option I and II in very classy Roland fashion. It sounds tremendous, but even without chorus, this VST has a very surprisingly wide stereo image. Pop the Chorus on and it takes it to the next level.
TAL-J-8 presets and preset browser
As requested here on iDesignSound, we will provide you with our thoughts on the preset browser, as there are more and more musicians traveling and doing live sets (well, not right now due to COVID-19) so browsing through presets on your VST synths is very important. It is not very good for browsing in a live environment. You use your mouse to browse a drop-down style menu, with folders and sub folders. But the presets are really nice.
You get the original factory presets on the hardware, some original TAL sounds plus 6 other folders, with more than 500+ presets onboard immediately after you buy it.
You can get the TAL-J-8 Roland Jupiter 8 VST at a good price.
Yes it is time limited but still it's a very good deal. TAL is a very nice VST company and I really enjoy their products.
Get the TAL-J-8 here with a 20% intro discount (until 28.02.2021).
If you prefer to pay a monthly fee and have access to a lot more VST Plugins, then we have a very nice comparison and review of the best rent-to-own VST services here.