Last Updated on December 22, 2020 by IDS Team
Waves plugins have been an industry standard for a great many years.
The vast majority, if not all, iconic producers use at least a few of the waves plugins in their mixes and they have become industry standard for pop music production.
If you listen to any even slightly commercial music, chances are waves plugins and effects were used to mix and master the track.
So in light of their ongoing sales, we've decided to assemble what we believe to be the best waves plugins currently available.
If you're busy, the table below summarizes our findings:
Note: The prices described above are as of date of publish and can change.
It's also worth noting that waves just released their new FLEX program, which allows you to rent-to-own your favorite waves plugins.
This means that instead of paying the full fee upfront, you can choose to pay monthly until you fully own it.
The programs start at 9.99$/month and can be cancelled at any time, so if the price of some of these plugins is prohibitive, definitively check out flex:
It's a subjective list to be sure, so I invite you to share your best Waves plugins as well in the comments section. Now, in no particular order, here they are: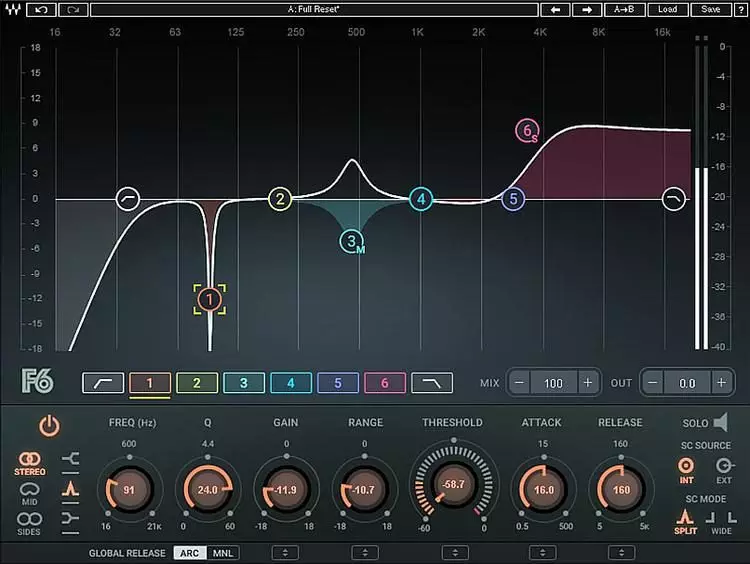 One of the most recent releases from Waves is the F6 Floating-Band Dynamic EQ. The first thing I noticed about it was the immaculate interface with various parameter knobs along the bottom. But it goes far beyond just being eye candy, this is a truly flexible and high quality dynamic EQ.

Each of its 6 bands can be either a hi/low shelf or bell and have independent controls for frequency band, Q, gain, range, threshold, attack and release.
The range control is unique because it compresses or expands depending on the position of the knob. Turning the knob left will compress the signal, while turning it to the right will expand the signal.
The F6 can be used in either mono, stereo or mid-side mode as well so you could throw it on a bus or even on your master chain.
Personally I wish it had a frequency spectrum, but I guess you can't have everything. Maybe we'll see it in a future update perhaps?
At any rate, it's still a fantastic tool to have at your disposal.
Waves Center Review- A simple solution for a complicated issue
I've been using Center on every mix since I bought it. It allows you to enhance the stereo width of your mix by blending the hi-end/low-end levels of your signal between the sides and the center.
You can also blend the transients to the sides or center of your mix to add punch.
Center is a one trick pony, but it's the best plugin I've found for easily adding focus and punch to busses and overall mixes. It's extremely easy to use and once you start using it, it'll become an indispensable tool in your arsenal.
The iconic SSL E-Channel has been around for as long as I can remember and probably needs no introduction.
A couple of weeks ago I was one of the lucky folks that caught this baby being sold separate from the bundle of plugins it's normally included in and it was a great find let me tell you.
Based on the Solid State Logic 4000-Series analogue consoles, the SSL E-Channel features the same all-discrete design and Class A, VCA chip as its hardware counterpart.
Additionally it has a 4-band parametric equalization section, Hi Pass/Low Pass Filters and a dynamics section with a compressor/limiter as well as an expander/gate.
The equalization section is based on the Black Knob equalizer developed with celebrated producer, George Martin in 1983. As on the original hardware, the dynamics section can be placed pre or post EQ via the (CH. OUT.) button.
Automatic gain make-up, calculated from the Ratio and Threshold settings, is applied to maintain a steady output level.
Upon trying it out on a drum bus, I noticed a warm analog sound and it gave my drums a noticeable punch which I've read the SSL E-Channel is famous for.
The generous number of presets offer a great starting point with contributions from Grammy Award Winning audio engineers and mixing gurus such as Dave Pensado and Chris Lord-Alge.
Here's a great video from Graham Cochrane showing how to turn your computer into a virtual SSL console by instantiating the E-Channel on every track of your mix:
Another household name for any experienced producer.
The CLA-2A is the compressor of choice for many top notch producers and for good reason.
Works great for bass, guitars, and vocals, though it's an extremely versatile compressor / limiter. It has a slower release than some of its competitors which gives it its signature sound.
Comes with Chris Lord-Alge's (Rolling Stones, Madonna, Bruce Springsteen, etc) presets. We'd recommend having a look at his Signature Series, which contains 6 great plugins.
Brauer Motion– Auto-panner for the masses
Another recent release from Waves, Brauer Motion is an innovative circular auto-panner that moves an audio signal within the two- or three-dimensional space between the listener and the loudspeaker.
It was created in close cooperation with Grammy Award winning mix engineer, Michael Brauer and combines his signature panning methods with Waves' plugin engineering expertise.
The whole idea behind this plugin is for the end user to be creative with movement on instruments and vocals in your mixes and there are a generous amount of parameters to achieve this.
The GUI alone makes me want to tweak and see what kind of unusual movement I can get from my synths.
I haven't gotten a chance to play around with this one yet, but I can tell there are a bunch of creative uses for Brauer Motion.
Here's a demonstration from Michael Brauer showcasing how this great plugin works along with a few creative tips:
Kramer Master Tape is an emulation of a rare ¼" reel-to-reel vintage tape machine. I haven't seen any mention of which tape machine it models, but this plugin is surprisingly flexible and can be used for a variety of tasks.
It has adjustable parameters for wow & flutter, tape speed, bias, flux and noise. You would normally add a plugin like this when you need to eliminate some of the harshness that digital signals generate, making the mix sound cleaner.
While Kramer Master Tape delay excels at that, it also can be used for delay throws, slapback delay and noise saturation.
A good alternative to the Kramer Master Tape is the h delay, which is a great hybrid solution that works great on those old school sounding tracks. Check out the h delay user guide here.
The preamp section on the bottom left of the interface has adjustable knobs for input (RECORD LEVEL) and output (PLAYBACK LEVEL).
These knobs can be linked so that turning one knob will affect the other, so you can really dial in how much signal you want coming in while taming the output level.
Try using this on virtually any channel and go through the presets. Listen to what it does to the signal and tweak to your liking. I'm pretty sure you'll be pleased with the results.
This is one of the best plugins to achieve a clean mix, and is surprisingly easy to use.
Lastly, if you're undecided and looking for a complete solution of plugins, the abbey road studios plugin collection might be what you're looking for.
It contains emulations of the studios' REDD and TG12345 consoles, the RS56 Passive EQ, J37 Tape, Reel ADT, the King's Microphones, and Abbey Road's echo chambers and reverb plates.
One of the highlight of this pack is the signature signal chain, available with just a few clicks.
As the name suggests, this is a great set of plugins to emulate the classic beatles sound, recorded in Abbey Road.
It's a bit pricier, but still a great deal when compared to the cost of buying the individual plugins.
There's also currently a massive sale going on (over 70% off) so definitely worth checking, in our opinion.
Legendary engineer Andrew Scheps (Red Hot Chilli Peppers, Adele, Jay Z, Metallica) partnered with Waves to produce a series of plugins, of which the channel strip is probably our favorite.
If you can afford only one plugin, we'd suggest going for this one, as it delivers most of the important elements in the mix- EQ, compression, and gating.
It is comprised of 6 modules:
Pre module- 3 kinds of analog saturation.
Compression module – Choose from 3 compressors: fast, slow and smooth. Plus A Wet/Dry control.
EQ module: 4-band equalizer.
DS2 module.
Gate module: Threshold, attack and release. Plus maximum noise reduction.
Insert slot: Add any extra Waves plugin, including another instance of the Scheps Omni Channel.
Our tip: Use the saturation on the pre-channel to add energy to vocals and leads without adding too much noise to the sound.
Final Thoughts
The above listed plugins are a great starting point to make the most out of the waves eco system for mixing and mastering your tracks.
If you're interested in trying out waves, head out to their website and start a free trial.
The list is in no way complete and could have also easily included their vocal rider, the j37 tape delay, and their g-master plugin, but we decided to keep this post short and sweet.
Got any more recommendations? Feel free to leave a comment, we'd love to hear them!