Last Updated on December 15, 2021 by IDS Team
If you play or have played guitar in the past, you're probably familiar with that feeling that every young guitarist gets when they're introduced to the technical world of guitars.
There are so many interesting amps, pedals, different parameter controls on guitars, as well as many other gadgets that open up a whole world of possibilities.
And it's not just about the tone, but the ways that you can further control the dynamic output and add a whole new sphere of expression to your music.
Therefore, it was pretty expected to see the instrument find its way into many different genres, going way outside of rock, metal, blues, and jazz where it initially became popular. What's more, we even saw the rise of synth guitars in many shapes and forms, but that's a whole different discussion.
What we really want to focus on in this piece is the topic of electric guitar amps. Well, also acoustic guitar amps, but we'll get to that in time. If you are only interested into modelling amps in your computer, please read our article on Amplitube vs Guitar Rig by clicking here!
Ever since their inception, guitar amps have been changing the world of music, delivering the amplified guitar sound to the members of bigger or smaller ensembles or bands, as well as those involved in studio recordings.
However, talks about guitar amps are never that simple and over the decades they went through some serious evolutions. These days, we have countless amp models, with a lot of them even specialising in certain genres.
With all this in mind, we figured we could explore this world further and explain all the different types of guitar amplifiers. In the end, we'll try and help you find what suits your needs. But before we begin, let's cover some basics.
So, what are guitar amps?
The purpose of any guitar amplifier is to – as its name suggests – amplify the signal from the instrument's pickup and to reproduce and further shape its tone through its circuits and speakers.
In almost all of the cases, it features the preamp section and the power amp section.
The most tone shaping is done through the preamp section, where you'll also find the equalizers and additional effects, such as distortion.
Brief history
Back in the 1920s, acoustic guitars were slowly getting out of the spotlight in big band settings. There was just no way for them to compete with loud wind instruments.
The development of magnetic pickups for instruments opened up the way for amplifying the signal and reproducing the tone through different devices.
The first guitar with a pickup came in 1928 and was sold with an accompanying amplifier. These amplifiers were basically small-sized PA systems with special instrument inputs and volume controls.
In the 1930s came the development of the first amplifiers with vacuum tubes – a standard that's present even to this day. Things slowly kept developing, and the bigger players came into the amplifier game.
Over the years, the engineers and manufacturers began including additional controls for tone shaping and even some effects like spring reverb and tremolo.
Important developments came in the 1950s as guitar amplifiers became more focused, with some of the players even exploiting tube amps' properties to get distortion.
But since these amps were relatively bulky and expensive, another big breakthrough came in the late 1960s and the early 1970s with the implementation of solid-state transistors in the guitar industry.
This not only helped pave the way for more compact effects units but also allowed for more affordable amps that were easier to maintain. What's more, it provided more consistency in tone, but we'll get to that soon.
More recently digital technologies found their way into the guitar world with digital signal processing. Aside from additional onboard or external effects, the whole new world of possibilities opened up with the introduction of the so-called "digital modelling amps."
At this point, these are the most advanced products in the guitar world, capable of convincingly replicating tones of standard guitar amplifiers of any type.
Types of guitar amplifiers explained
You can clearly see that different types of amplifiers were developed in different eras.
The two main types are, of course, tube amps and solid-state amps. Then we have the so-called "hybrids," fusing the best of these two worlds.
We'll also go through amps for acoustic guitars, the digital modelling amps, preamps, and we'll also mention another division – the distinction between combo amps and stacks.
At the end of this guide, you'll hopefully be able to form your own opinion on the matter and find out more about each type of guitar amps. Ultimately, the goal is to find the most suitable solution for your own needs. So let's get going.
Tube amps
Even to this day, with so many different technological advancements, tube amps are still the most highly valued products in the guitar world.
Despite being somewhat "ancient" technology, their unique "warmth" and the dynamic response still capture the hearts of guitar players of any genre worldwide.
Developed way back in the first half of the 20th century, they conduct and amplify the signal through vacuum tubes – also known as valves in British English.
As we said, the tone of these amps seems warmer and more "organic" to the human ear, while it also reflects on the dynamics of one guitarist's playing. What this means is that, at normal or higher volumes, the harder you play, the more "clipped" or distorted the signal gets.
Of course, it differs from amp to amp, and with some jazz-oriented amplifiers, you'll get more of that warm saturated tone. On the other hand, with rock or metal-oriented amps, you'll get a full-on distortion.
Back in the old days, the 1950s and the 1960s, guitarists pushed their amps over the limits to cause clipping on purpose.
Over time, they began implementing treble or full-range boosters to achieve distortion. After some time, manufacturers introduced separate or switchable distorted channels in the preamp section.
In the early days of development, there were a few different tube variants used in these amplifiers. However, some standards that we see today were set in the 1960s and the 1970s.
Preamp sections almost exclusively have 12AX7 or ECC83 tubes, while the power sections feature 6L6, 6V6, or EL34 tubes. The preamp section does the main tone shaping, while the power amp does the main amplification of the signal with some additional additions to the overall tone.
The old Fender Bassman, pictured above, which was initially intended for bass guitars, made a huge breakthrough with its sonic properties. When Marshall slowly came into the spotlight, they completely changed the landscape of the guitar world, setting the standards with pieces like the legendary JCM800.
Other great tube amp manufacturers include Orange, Hughes & Kettner, Vox, Peavey, Mesa Boogie, and others.
Tube amps can be found in pretty much any genre. The natural saturation and distortion with dynamic response are its main strengths. Some even resort to using overdrive pedals, like Ibanez's Tube Screamer, to push them over the limits and achieve those unique distorted tones.
However, the main disadvantages come with their price, as well as the expensive and constant maintenance that comes with frequent use. They're also pretty difficult to take on tours as they require maintenance and the sonic properties might change over time as the tubes get worn out.
Another disadvantage comes with the fact that you need to push the volume knob to higher levels in order to use a tube amp's full potential. However, this means that the normal tone can be achieved only when the amp is producing loud sounds.
This was later sorted out with lower-wattage amps and the so-called "power soak" features that allow powerful amps to operate at lower wattages.
If you're interested in knowing more about tube amps, the video below gives a pretty good overview of how they work:
Solid-state amps
The development of transistors and semiconductors eventually brought changes in the guitar world.
Firstly, they came in handy for the development of distortion pedals, as well as delay and chorus effects. The previously bulky and impractical tape-based units were now replaced by compact floor units.
As for the guitar amplifiers, those with transistors and semiconductors were way cheaper, more consistent in the long run, and were much lighter.
While this definitely solved many issues for guitar players, the downside came with its tone:
First off, it sounded way more sterile or "rugged," especially the distortion.
Secondly, they had almost no dynamic response.
This lack of warmth and natural clipping is a huge dealbreaker to some, but there are still those who actually like the tone of solid-state amps.
For instance, Pantera's Dimebag Darrell actually prefers solid-states over valve amplifiers, mostly due to their specific distorted tone.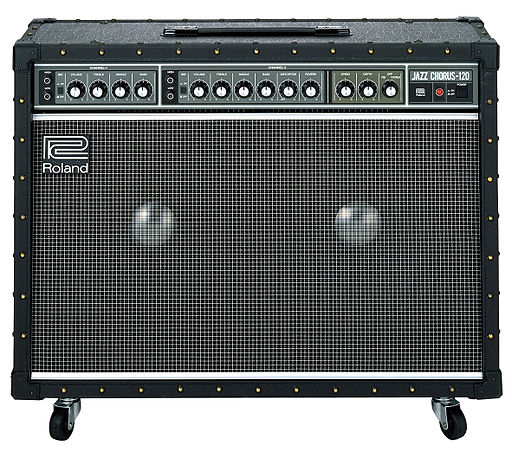 In addition, many famous guitar players of various different genres have praised a piece like Roland's Jazz Chorus, pictured above, for its crystal clear tone, as well as its unique integrated chorus and vibrate circuit.
Overall, it was their practicality and price that helped them stay on the market. Even to this day, almost every cheap beginner amp is a solid-state one.
Hybrid amps
Since tube amps are expensive and the solid-state amps lack the warmth, the next logical step was to create the so-called "hybrid" amplifiers.
These, in most cases, feature one tube in the preamp section, usually 12AX7 or ECC83, while the power amp section is completely solid-state.
In some very rare instances, like with Music Man's RD-50 released in the 1980s, it was the other way around – the preamp section was solid-state while the power section featured 6L6 tubes.
With this combination, guitar players were able to get some warmth and dynamic response in their tone. Vox is pretty popular with some of their hybrid amps, like the Valvetronix series.
On the other hand, with the modern rise of modelling amps, some are beginning to question the justification of the hybrid prices these days. This is why some manufacturers also started adding digital processing and "amp modelling" in both hybrid and solid-state amps.
Acoustic guitar amps
For quite some time, many manufacturers began selling acoustic guitars with piezo pickups.
At this point, it is somewhat of a standard and a more practical alternative to miking up the whole instrument at the expense of the loss of some sonic properties.
While such guitars with piezo pickups and integrated preamps, can be plugged directly into mixers and PA systems, there are still many different amps made especially for acoustic guitars.
In a way, these acoustic guitar amps are kind of like smaller versions of PA systems. The only difference is that they might be tweaked and voiced in such a way to pronounce the qualities of an acoustic guitar.
They usually come with a regular instrument input for piezo-equipped acoustic guitars, as well as an additional input (or a set of inputs) for microphones. In some cases, you can even use both the piezo and a microphone and create a full spectrum of tones.
Although somewhat resembling just PA systems, they are pretty popular among those who want to use true acoustic tones in band settings, mostly due to their specialised voicing and additional functionalities.
Many even include digital processing.
Combo amps versus stacks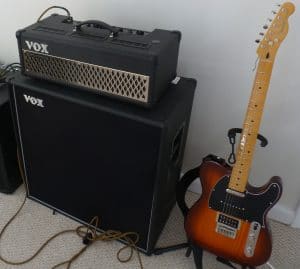 (Combo amp on the left, amp stack on the right)
While we're discussing all the different types of guitar amps, it's worth noting that there's another important distinction.
Amplifiers for electric guitars or basses can come in "combo" forms or as the so-called "stacks." And this goes both for tube and solid-state amps.
The combo amplifiers are 2-in-1 kind of deal, with one unit containing both an amplifier and a speaker cabinet. Combo amps usually come with one or two onboard speakers.
On the other hand, we have the stack formation. In this case, the amplifier parts (both the preamp and the power amp) are in the form of a so-called "amp head." The head can be connected to a separate external speaker cabinet that usually features four speakers.
The stack variant is usually a more expensive solution, but it provides additional options if you want to use the amp with a different cabinet.
However, the decision between combo or a stack formation can come down to certain personal choices as well. After all, many professional musicians can be seen using both types of amps.
Modeling amps
Now we come to the "controversial" part.
The digital modelling amps are basically very complex digital processors that are capable of emulating amplifiers, cabinets, even certain pedals.
Some of the earliest examples came in the form of standalone processing units like the Line 6 POD, pictured above, which was released back in the late 1990s.
But this was just the basis for their further development, and these days, it's pretty hard to tell any difference between a digital modelling amp and a classic tube amp.
In fact, many argue that there are basically no differences and that these are convincingly replicating even some of the best tube amps of all time.
After all, many have failed blind tests and still can't hear any difference. However, the whole "modelling amps vs tube amps" discussion is still ongoing and there's no official consensus on the matter.
These modeling amps come in a few different forms, either as rack-mounted units, amp heads, or even floor units. But these can all be plugged directly into mixers and PA systems.
In some cases, they also come with their own power amplifiers and can go directly into passive speaker cabinets.
The two biggest advantages of these digital amps are their practicality and consistency.
What's more, front-of-house engineers love them, as they're pretty easy to work with.
There's no miking up in most of the cases, they go straight to the mix and the monitoring, and can bring countless pre-made presets as needed. Some of the most popular examples these days include Kemper, Fractal Audio Axe-FX III, Line 6 Helix, and Boss GT-1000.
What's interesting is that many solid-state amplifiers these days come with an integrated digital amp modeling unit.
For instance, Peavey Vypyr amps have some interesting amp models to offer, as well as some smaller practice amps like Yamaha THR10II.
These solid-states with amp modelling often come with a USB output, making it possible to use them as audio interfaces as well. So that's a pretty exciting addition.
Plugins for DAWs
Although not "real" physical amps, there are plenty of options that work either as standalone software or DAW plugins and which do some great amp emulation. What's more, many modern studios use these instead of actual amplifiers. For instance, Line 6 offers a plugin version of their Helix modeler, called Helix Native. Some other amp modeler plugins include Guitar Rig and Amplitube among others.
Preamps
There are plenty of products these days, either in the form of rack-mounted units or in the form of pedals, which are basically like preamp sections of regular amps. These can either be solid-state or tube-based and, in some cases, we even have analog amp emulations. They're not amps in the classic sense but can serve the purpose in some cases.
Most of these preamps come with two outputs. One of these outputs can be plugged in directly into the power amp section of a regular guitar amplifier, in the "return" knob of the regular effects loop (if an amp has one). The other output features its own cabinet simulation and can be plugged in directly into the mixer. They provide a very compact alternative to guitar amps, and in some cases, even give very convincing tube amplifier tones. Just plug them directly into a mixer or an audio interface, and you've got yourself an amp tone within the form of a slightly bigger pedal or a standard rack unit.
Some great examples of preamps in form of pedals would be Huges & Kettner Tubeman, Mesa Boogie V-Twin, Diezel Zerrer, and AMT Electronics SS-11A.
What's the best option for me?
The abundance of products these days can create a bit of confusion for guitar players these days. After all, with so many great things out there, it's kind of hard to choose what really suits your needs.
But there are main points to cover here. You have to find something that will represent you well as a guitar player with its good tone, allow you to express yourself through music, fit your style of music (or scope of styles), and something that's practical.
So let's look at the genres that you're playing first.
Basically, if you're mostly into vintage and old school bluesy stuff, we would advise a good vintage-oriented tube amplifier.
If you're on a budget, there are even some great yet cheap alternatives such as Bugera Infinium, Egnater Tweaker, Ibanez TSA15, Vox AC10C1, and many others.
If you really can't afford an amp, then try and go with a tube-equipped preamp pedal.
Now, if you're into more modern rock or metal stuff, you can go both ways.
There are plenty of great tube amplifiers, either as combos or as amp heads, that are specifically metal-oriented. Mesa Boogie has a lot of great amps, like the Mark V.
However, these amps can get quite expensive, bulky, and pretty impractical if you're going on a tour.
In case you really don't want to bother with bulky and heavy equipment that can easily get damaged, then modelling amps are lifesavers.
What's more, some of the biggest names in rock and metal music began using stuff like Kempers and different versions of Axe-Fx modelers, especially in the progressive metal sphere.
Then again, certain metal players still prefer the rugged tone of solid-state amplifiers. There are some great pieces that you can find these days, and it is somewhat of a misconception that solid-state amps are just for beginners.
If you're a frequently touring musician, modeling amps are really a great solution.
First, they're fairly cheap with the options that you get with them. Secondly, they are pretty easy to work with on tour and you and your front-of-house engineer won't have to worry about microphone placements and worn out tubes all the time.
Just plug it in, do some minor tweaking if necessary, and you're good to go. In some cases, even preamp pedals can come in handy for those who play live shows all the time.
And even if you think they might not be convincingly replicating great amps, there's hardly any chance your audience will notice in most of the live settings.
Those who plan on recording in studios often go for tube amplifiers. If you're in a completely controlled environment, then there are more options to use the full potential of a tube amp.
Then again, many guitarists began recording in studios with digital modeling amps. This usually depends on the kind of music and the kind of recording you're making.
As for beginners, the common recommendation, in this case, are smaller solid-state amps.
As a beginner, you can either go with something simpler, like the Fender Campion series that also has its own onboard effects.
If you're willing to experiment more, you can go with one of those amps that features amp modelling and a USB output, making it possible to use it as an external soundcard with your computer.
If you're really keen on tube tones, then you can go with some cheaper tube amps. However, we would rather advise beginners to go with something simpler, possibly with lower wattage.
But, at the end of the day, the decision comes to you and no one else.
You're free to create and reproduce music the way you want to.
In some cases, even blues old school-loving guitar players can find what they need in modern digital modelling amps.
Maybe some modern metal or pop players will find their voice in vintage amplifiers.
The best way would be to go out there and experiment and try out as many amplifiers as you can. This way, you'll get the full picture and will be able to find what really works best for you.