Last Updated on November 1, 2022 by IDS Team
Amongst vintage synths, the Access Virus line is a real gem. These are highly versatile, with a varied cultural legacy. In fact, they have been used by Tool, Butch Vig, and Garbage, as well as Richard Barbieri of Porcupine Tree. Yet they have also graced the tracks of Neptunes and Mary J Blige, Stevie Wonder, Fatboy Slim, and Nsync. Even Hans Zimmer has used them. Read on to find out what makes these synths so appealing to musicians of all stripes.
What Synths Are Included in the Access Virus Line?
Virus TI: Desktop, Polar, Snow, and Keyboard
Perhaps the most publicised part of the TI series, these were released in 2005. Snow and Desktop are small enough to keep by your computer. Polar is larger with 37 keys and Keyboard is the largest of all with a lush 61 keys. They also have:
Two independent multi mode filters with an analogue filter modelled after the Minimoog
3 LFOs with 68 Waveforms
Knob quantising which syncs to the Virus clock
192 Parallel effects
512 RAM patches
These were early editions of the Access Virus line when customers first discovered its fantastic features. Unlike the TI series, these do not feature wavetable synthesis. However, Access Virus A, for example, features 12-note polyphony and all basic analogue waveforms. Yet, its gritty, analogue sound is what really makes it a favourite.
Released in 2009, the T12 features faster DSP controllers and additional polyphony. Like all in the line, it is a virtual analogue synthesiser. Otherwise, it is roughly similar to the TI series.
General traits of the range
As a general pattern, the filters and oscillators of these synths help them hit a sweet spot between genres. Their high-quality german manufacturing means they can cope with many different oscillators and effects. All models use a mix of techniques from FM synthesis, phase distortion, and subtractive synthesis. This design on the part of inventor Christoph Kemper unifies customers through love for quality as opposed to genre. Indeed, it also allows for new, cross-genre experimentation and super creative composition all on the same machine.
The Virus family of synths are widely available as second hand purchases on Reverb.com. You can check the current prices by clicking here.
What Else Makes Access Virus Synths so Great?
Another way Access manages to encompass different facets of music is through its VSTs. These allow you to connect your hardware synth to your DAW and store data directly on the sound files there. It's a revolutionary way of working, meaning Access keeps what's great about analogue yet also keeps pace with DAW-based production.
These synths are capable of creating a level of depth and variety as good as the options on any DAW. It's super impressive in its ruggedness and processing power and some models in the line have up to ten different oscillators. Filters and FX such as wah and fuzz add layers of sound without exhausting your synth. These are really, really high-quality synths which Access has done its best to keep compatible with modern musicians' habits.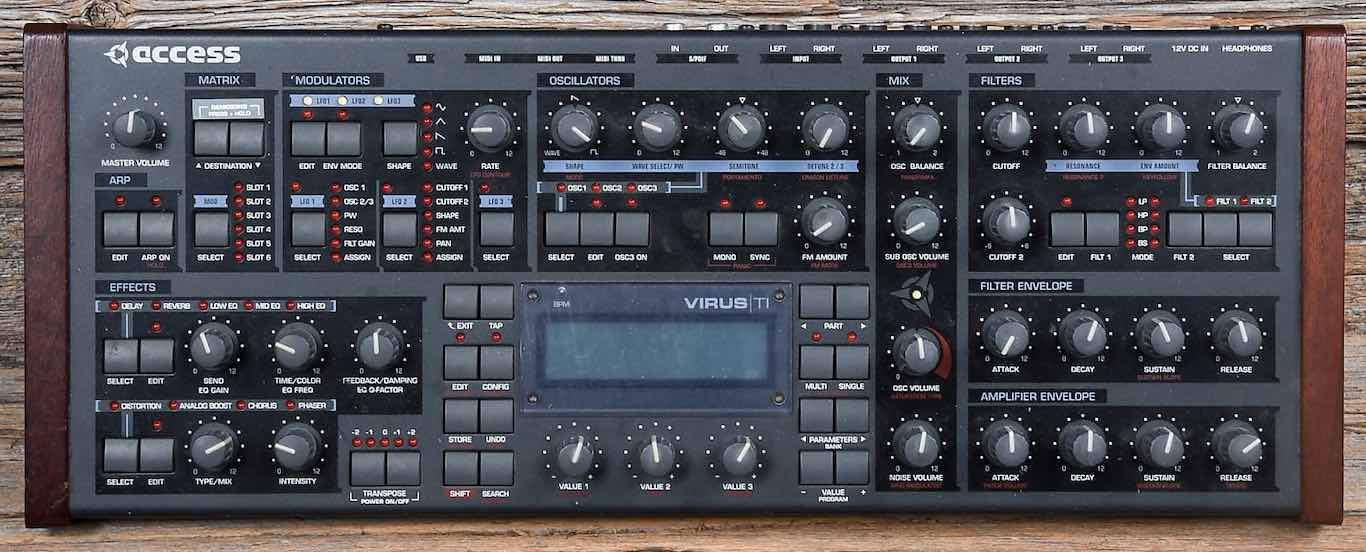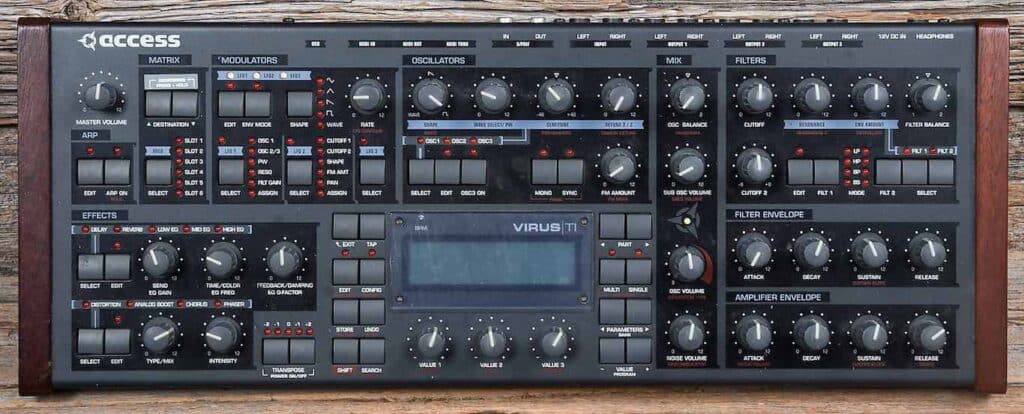 Keeps the pace with modern technology
Access Virus first hit the market in the 90s during the boom in DPU chip usage. This allowed for greater processing power and ambitious sets of sounds which were bigger and bolder. However, this DPU processing can easily keep pace with the average CPU needed on a DAW-created project. As a result, they are super relevant even today. In fact, when rigged up to a VST on your DAW, the Access Virus synths can save processing power. How? They actually do a lot of the work at the hardware end. This condenses the sound so when it reaches your master bus there isn't too much data to handle.
Complex and creative sounds
The raw material the musician is given with these synths allows for exciting and complex sound. To achieve this, Virus's virtual VCOs range from sine to square waves, with 63 synthetic, spectral waveforms, a programmable filter section, and matrix modulation. Its legendary processing power also supports (on the TI):
between 20-90 voices on it's dual DSP system
6 balanced outputs
26 banks of 128 ROM patches
The last major bonus of the Access Virus line is that they occupy a unique market niche. They are the only line of synths on the market which offer total system updates. These upgrades, overhauls, and other innovations actually come completely for free. Here, you can buy a product made 20 years ago and get entirely new sets of filters charge-free. Access is only able to do this because they are upfront about the fact that they are a premium product. They don't hesitate to price their synths high. Nevertheless, for those who are willing to make the investment once, this pays off with future rewards. 
The Virus family of synths are widely available as second hand purchases on Reverb.com. You can check the current prices by clicking here.
Are There Any Downsides?
Perhaps the only complaint against Access Virus is they are a risky investment. Some fans have found that little support from the developers leaves them adrift. Others have discovered that there is no support at all for the VSTs. This isn't necessarily a huge surprise. Access also focuses on other products such as guitars and is also the mind behind Kemper, so they're pretty busy. It does mean, however, if you're about to shell out for one of these synths it's best to be certain about it. At prices of about 1200 plus USD – it's really worth having a bit of experience behind you and a working studio setup beforehand.
Final Thoughts
So there you have it. This vintage product shows how relatively recently the approach to music tech and sound design was very different. In some ways, Acces Virus shows synths used to be made of deeper stuff. Although financially accessible synths like the Korg Minilogue still had great hardware, the Access Virus opens sound designers' eyes. These synths create a whole new world of musical layering. This really is from-scratch sound design on a totally different level. Even if they're not in your price bracket, these synths are worth investigating for inspiration alone.
Enjoyed this article? Read more about synths in our hardware section here.