Last Updated on February 28, 2023 by IDS Team
For this 2023 VST plugin rundown for guitar, we're looking at underrated plugins which deserve to be in the spotlight. This list covers those which bring something special to the range of sonic possibilities. They can be chock a block full of FX or just doing one thing simply but really well, like the Softube Amp Room. Either way, these stand-out options still hold strong. so let's kick this year off with a blast of new inspiration.
This is a super simple guitar VST plugin, but don't let its appearance mislead you. The metal amp room offers the ultimate for allowing you to sculpt a hyper-realistic sound. Here, you can get down the real nuances which make your playing emulate analogue gear. Metal Amp Room is formed by an analogue-modelled room with two amps, and total freedom of mic placement. This plugin holds up strong and is proof that more isn't always better. The ones are fantastic for metal; they also do a vintage amp room too.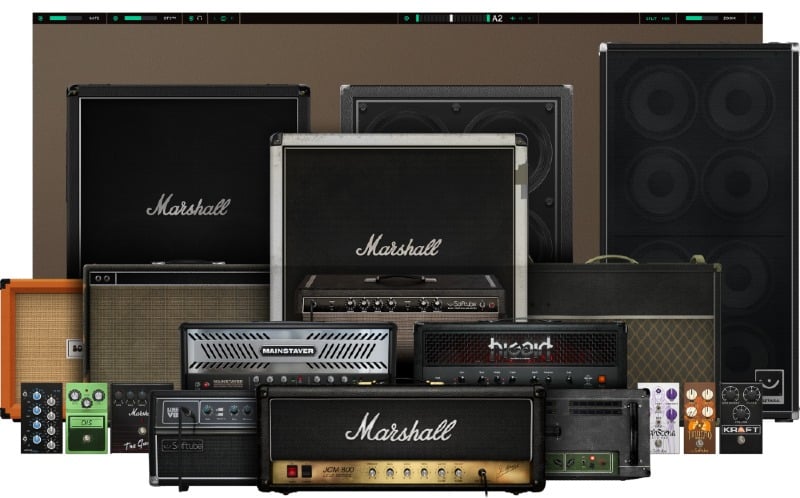 Features:
Absolute bare-bones features makes this a clean and stripped-back plugin
Octave pedal, distortion, church reverb, EQ, Fuzz, compression, boost, and chorus pedals
Officially licenced FX designed by the likes of Marshall and tube tech
Huge number of packages included with specific focus on metal including a Marshall specific pack and 5 packs of metal tones from producers like Kristian Kohlmannslehner
Ability to upgrade from legacy amp room plugins
Studio realism makes it great for translating projects to real life
Price and Availability: Amp Room in its entirety is currently available on Pluginboutique – you can click here to see the current price.
Best Free Guitar VST Plugin 2023 – Amplitube Custom Shop
Not strictly a guitar VST in the classic sense but absolutely worth a mention. The Amplitube Custom shop works great with plugins like the Amplitube 5 but is fantastic on its own too. Essentially it's a virtual gear warehouse where you can purchase credits to then buy gear, but this doesn't do it justice.
The range is slated to keep expanding, and choices like the Mudhoney pedal give you unusual sonic possibilities. Plus, there's classic, officially certified gear from brands like Orange. Many of the options have trial periods too. With this much to offer for free and with a credit model you control, there is no downside. This really is a fantastic swiss-army knife of virtual gear, and really easily makes this list as one of the best guitar-related VST plugins of 2023.
Features:
The unique freemium model allows you to customise to your heart's content
The free version starts with 24 pieces of gear
9 stompboxes, 4 amps, 5 cabs, 3 mics with 2 movable, and 2 rack FX
Credit system means the more you buy (especially when purchasing credits in bulk) the less expensive gear becomes
Works well with other Amplitube plugins but also as a stand-alone Mac or PC app.
Emulates legendary gear with professional attention to detail
280 unique models of gear
Price and Availability: FREE and available from the IK Multimedia Website by clicking here.
Best Paid Amp Sim – Archetype and Plini by Neural DSP
This is an affordable amp sim which is simply one of the most exciting innovations over the past few years. Australian guitarist Plini has made waves for himself with stunning virtuoso techniques which he first demonstrated under the pseudonym halcyon. After he gained the attention of guitar master Steve Vai Neural DSP has now endorsed him as part of their archetype range. The Archetype: Plini plugin was one they designed in tandem with him and it shows.
Focus on cleanliness and precision even with the heaviest of tones is a feature here. The website gives a rundown of three amps with dedicated clean, rhythm (crunch) and lead classifications. This means even if you're not a shredding virtuoso yourself you can gain clarity and attention to detail reminiscent of bands like Periphery – who he has opened for – or Plini himself.
Neural DSP has focussed on not chucking in as many FX as possible, instead getting the most out of the ones included. Features like the reverb plugin allow for control not just over classic parameters like wetness and dryness but also more nonlinear, intuitive ones like space and time
Features:
Specific amps for clean crunch and overdrive
Dynamic FX inc EQ, comp, and reverb for seamlessly blending different parts together,
Digital delay and tape sat
Space and time controls for ultimate soundscape scul[ting
High-quality cab sim with six mic positions and full panning ability in stereo
Part of a wider Neural DSP Archetype range
Price and Availability: listed as 119 euros on their site (128 USD) and available to buy online on Neural DSP's website.
Best Guitar Processor Sim VST Plugin – Line 6 Helix Native
VST plugins which emulate potentially unaffordable hardware can open up a whole new range of options. This is a direct and affordable emulation of Line 6's physical Helix which clocks in at over 1000 USD, perfect as a budget option or if you own a member of the Helix family and want to keep things consistent.
For the hardware Helix series, line 6 ruled out menu diving and created a pioneering, clean-cut collection of vintage sounds, FX, amps, cabs, mics, and more, focusing on tube amps to give you a classic sound which can work in many situations. Ultimately for 2023, guitar VST plugins which span eras and genres can make it easy to start with something new and the Helix Native makes this reality with its bold selection of offerings.
Features:
True to the Hardware Helix family of guitar processors
Analogue modelling technology captures the feeling of analogue gear
True-to-life circuitry emulates the sound of the amps it is based on
16 cab options and 23 microphone distances
Ability to control all parts of the signal chain in a nonlinear and intuitive way
15-day free trial
Features amp settings based on classic amps by fender, vox, marshall, orange, and silvertone
Brit cabs, tweed, leads, and options for jazz
Can span everything from jazz to metal
Price and Availability: at 369 euros (399 USD) this is one of the most expensive plugins on this list but Line 6 do offer a reduced cost if you register Helix hardware. Available for purchase from their website
Best Hidden Gem Guitar VST Plugin – Soundtoys Decapitator
Some guitar VSTs just seamlessly integrate into your workflow. For example, parallel processing is an absolutely indispensable trick for producing many heavy genres of music involving routing a signal by a bus, adding FX, and blending this back into the dry signal. The Decapitator works well with this and it's a really unique saturation plugin which the website claims is the 'secret weapon' of top mix engineers.
Honestly, it deserves more time in the limelight in 2023, because of how it takes saturation and turns it up to eleven. In fact, the decapitator offers unprecedented scope in terms of distortion from subtle to extreme. Its 'punish' button offers ultra-high gain features which bring the visceral results of cranking up real-life analogue hardware to digital modelling and for that it deserves more attention.
Features:
High-cut and low-cut filters
Tone and mix dials
Attitude dial and punish button for really warm, gritty sounds
Multi-genre and very versatile
AAX Native and Audiosuite, Au, and VSt formats
Compatible with all major DAWs
Price and Availability: Arround 200 USD and available from their Pluginboutique – just click here. If you use our link to buy the product, we will get a small kickback. Thank you for your support!
Final Thoughts
Choosing the 'top' plugins for any year is hard, but this 2023 guitar VST plugins rundown aims to give the spotlight to options you might not have considered yet. Overall, these plugins either do what they do best, or offer totally new ways of looking at things. These VSTs can shake up your current sound design with a fresh offering, giving you multiple new possibilities to shake things up when inspiration runs dry.
Love finding game changing new music software? We have a whole software section here.