Last Updated on August 19, 2022 by IDS Team
The Bleass Omega is a perfect introduction to user-friendly FM synthesis. How come the Bleass Omega is so good at introducing guitarists to synthesis in general? Here, Bleass break down FM Synthesis, which is reputed to be trickier to get the hang of than analogue. The Bleass Omega markets itself as a user-friendly FM synth. FM synthesis became known as difficult to master due to its technicality. FM synths were also known for sometimes requiring the musician to already have a working knowledge of sonic terminology. This meant it was challenging to get exactly what you wanted, especially with early FM synths like the Yamaha DX7. Whilst these synths were legendary, they were nevertheless tricky to pick up. The Bleass Omega does away with all this. Instead, it provides a slick, clean interface which is already friendly towards newcomers to FM synthesis.
What Makes the Bleass Omega Perfect for User-Friendly FM Synthesis
Fm synthesis stands for frequency modulation. FM synthesisers use a tone to modulate the frequency of a soundwave and change its pitch. This means Fm synthesis relies much more on an in-depth knowledge of the way sound is built up. Sometimes, this can include what exactly is going on within the oscillator. What the Bleass Omega does is break down the process visually for you. Therefore, it demonstrates what is happening within the oscillators and to the soundwave onscreen. It is smooth, easy to use, and attractive looking. The interface also compartmentalises the process via colour coding. As a result, it is easy to see what is happening at exactly each stage of the signal chain.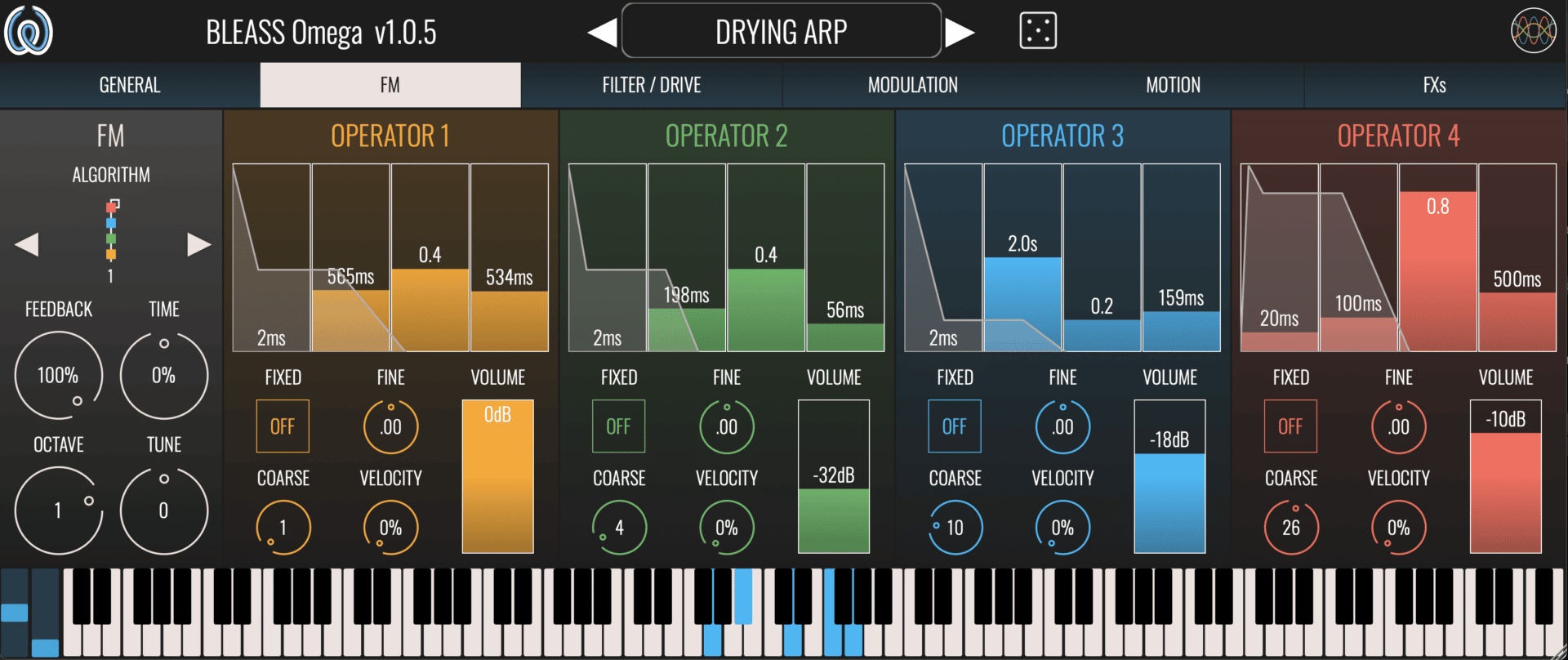 User-Friendly FM Synthesis for iPad and iPhone
What Bleass have also done is adapted the Bleass Omega for iPad and iPhone. Fancied a high-power, authentic, yet user-friendly FM synthesis right on your handheld device? This is not a simple app with a basic replica of the main plugin. Instead, this is the real deal and includes everything needed. Bleass manages to do this by placing its focus on streamlining FM synthesis. As a result, the versions for iPad and iPhone are equally good as the desktop version for composing while travelling.
Features of the Bleass Omega: User-Friendly FM Synthesis at Your Fingertips
Contains a chorus processor, tremolo effect, tempo-synchronisable delay processor, flexible reverb processor, motion sequencer, configurable length and randomness,
Available LFO waveforms – sine, triangle, saw up, saw down, square and sample-and-hold.
LFO visualation
Assignable ADSR envelope
9 different shaping algorithms on the waveshaper
Choose from 11 FM algorithms, with colour-coded graphical representations to help with your choice. Each algorithm corresponds to a different routing of the four FM operators. Here, the flow starts at the top of the diagram and working downwards. Where operators are linked, the upper operator(s) modulate the frequency of the lower operator(s).
Transpose and fine-tune the synth using the Octave and Tune controls
This is just a small part of what's available with the Bleass Omega. For a full breakdown, head to their website by clicking here.
Bleass Omega and MPE Technology (MIDI Polyphonic Extraction)
Like the Bleass Alpha, its user-friendly analogue subtractive synthesis counterpart, the Bleass Omega has MIDI polyphonic extraction or MPE. More on this is outlined in the article on the Bleass Alpha. This recent development allows synths to create bends, slides, and other sounds similar to those on the guitar. This is what made our review of the Bleass alpha so geared towards it as a beginner synth for guitarists. However, if you want to explore FM synthesis, the Bleass Omega suits anyone looking to easily create unusual sounds. In fact, the combination of FM synthesis and MPE is a powerful one. Bleass has taken advantage of this, as there aren't that many FM synths with MPE on the market. Furthermore, the Omega is one of the most user-friendly of the lot. In addition, the kinds of timbres and textures which FM synthesis creates work well with the features of MPE.
The Bleass Omega can also be purchased as a bundle and individually. This comes with multiple presets. These are part of user-friendly FM synthesis as a whole, but they also work well as starting points. The designers have really taken care to showcase how FM and MPE work together. Therefore, you don't mind spending the extra money, these bundles provide almost everything for you.
Bleass Omega System Requirements and Price
The Bleass Omega requires Windows 8 and later on PC, AAX, and 64-bit VST3. On Mac it requires iOS 10.9 or later, AAX, VST3, or AU. It is compatible with all DAWs which can run VST3, AU, or AAX.
You can check the price and buy the Bleass Omega over at our friends at Pluginboutique by clicking here. You will be helping this website a lot buy buying it using this link.
Bleass Omega Interface: How Come the Bleass Omega is So Easy to Understand?
Is the Bleass Omega really as user-friendly as the website makes out? Synthesis is a huge and varied topic. Therefore, manufacturers – unless they are marketing towards the pros – make their products easy for bedroom sound designers to use. What makes or breaks a synth is whether you can use it to produce a real variety of sounds. This comes down to whether it is flexible as opposed to just providing shortcuts via a variety of presets. This is what really separates the Bleass Omega from other so-called user-friendly FM synths on the market.
With its interface, even those unfamiliar with FM synthesis can understand what is happening the soundwave. This allows musicians to mentally build a connection between the things they see on screen and the sounds they produce. And this is especially important for user-friendly FM synthesis. It can create many sounds and timbres which you cannot make with subtractive, analogue or semi-analogue synthesis. As a result, FM synth users often find they are really searching for a specific tone. By breaking down the soundwave visually, Bleass has made it easy to remember the steps to creating sound. This way, musicians can get what they want without shooting in the dark.
Final Thoughts
The Bleass omega does for FM synthesis what the Bleass alpha does for analogue. They are both excellent synth plugins for streamlining the synthesis process. Their focus seems to be on making it easy to visualise exactly how the sound is changing. They don't boast anything flashy, but the designers have thought them through and they are great at simplifying a complex process. This ability to cut through complexity by the designers also means they include MPE technology without complicating things. Instead, they integrate it seamlessly as another possibility available. At the same time, they have kept the interface easy to navigate. Therefore, you can retrace your steps if you hit upon a really fantastic sound which is too good to waste.
You can check the price and buy the Bleass Omega over at our friends at Pluginboutique by clicking here. You will be helping this website a lot buy buying it using this link.
If you liked this article we think you should check the whole Software Synthesis category, just click here.