Last Updated on August 18, 2022 by IDS Team
Previously on idesignsound.com, we covered granular synthesis with the Lemondrop mini synth. You can read that review here. This synth has introduced many musicians to the concept and made it intuitive, easy to use, and attractive. There aren't actually that many granular synths on the market, but another of these is the portal granular synth. This synth is very different from the Lemondrop. Instead, it is a digital VST which works on DAWs such as logic. However, the makers have designed it similarly intuitively to the folks at 1010 music. This is because they know that fewer people know of granular synthesis than some of its counterparts. As a result, they realised it was important to translate this type of synthesis. This led to a smooth, clean, and easy-to-use synth so that it is accessible to every kind of musician. 
What Does Granular Synthesis Involve?
Ultimately, granular synthesis is a kind of synthesis which involves samples. Granular synthesis chops up samples of real-life sounds and mixes and matches them at very small sizes, known as granules. Each granule makes up part of the soundwave. By manipulating these granules you can sculpt and shape them to create a sound of the desired timbre, tone, and texture. It is so precise, this can be anything you may want.
Granular synthesis is very different from the classic forms of synthesis which arose in the 80-s and 70s. Instead, it is perfect for creating space age, alien, or otherwise more underground and unusual sounds. This is really a type of synthesis for audiophiles who enjoy constantly seeking the best kinds of new sounds. It also suits artists who are looking for something really special
Granular synthesis allows the artist an unprecedented amount of control over the shape of the sound. It offers an entirely new way of looking at soundwaves. Instead of the wave as a whole, fluid thing, granular synthesis breaks it down to its absolute building blocks. This means you can get to grips with exactly how to create sound. Ultimately, it can show you fractal patterns and meta arrangements of new sounds. These help you really get to see what makes a sound harsh or soft, light or dark, etc. 
The interface focuses mainly on a circle which allows you to actually map out the different grains of sound. This way you can see how they interact with each other to create the sounds you are making. There's a drop-down menu on the left-hand side, which offers you many presets that appeal to adventurous artists. This includes really weird, glitchy, and otherwise unpo[pular or unusual sounds. These can add just that little extra something to your new track.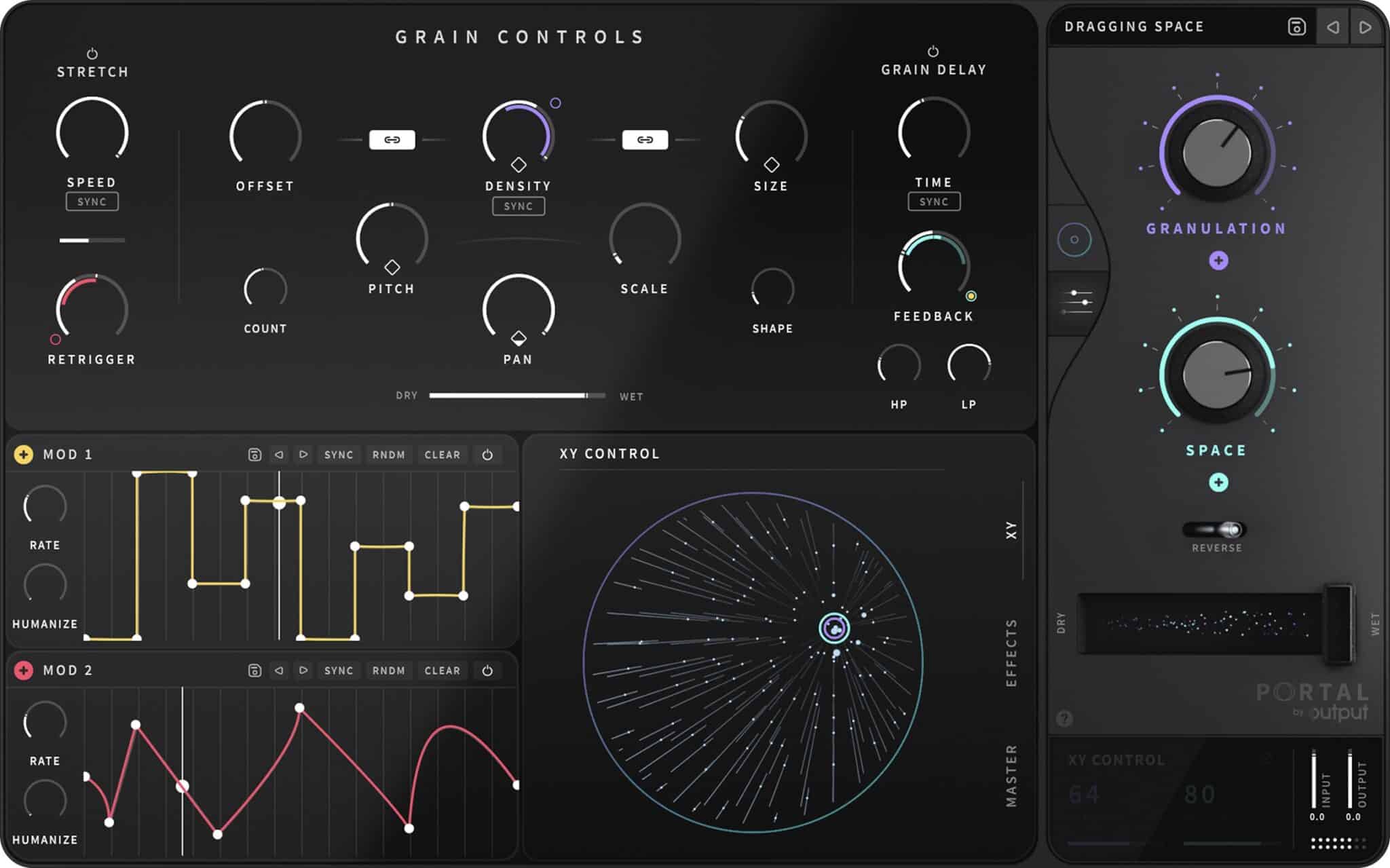 With a simple drag of the mouse, you can affect the amount of granulation. It also lets you turn knobs and dials for the more conventional effects such as tape delay. In this way it is like you would find on any other synth. Not only can you use it as an instrument in itself, but it can also combine it creatively with vocals. This further allows you to alter sounds in a really unusual way. 
You can check the price and buy the Portal Granular Synth + some cool presets over at our friends at Pluginboutique by clicking here. You will be helping this website a lot buy buying it using this link.
How Does Portal create Such Easy Granular Synthesis?
Luckily, the designers at Portal know that most of their customers will be new to granular synthesis. Therefore, they have made it easy for you. It has over 250 presets, all of which are seriously good in themselves. The portal granular synth is interesting based on those alone. However, it really excels at tempo-based granulation. The designers of this synth made it with the knowledge that timbre and tone do not exist in isolation. Portal wants all your tracks to really hook together and get into the groove. A value readout panel also helps you get to grips with controls. Luckily, due to the way it breaks everything down, this is a perfect synth for learning transferrable skills. You can then use these on other granular synths.
A time manipulation control really shows you how your sound waves interact with tempo. Furthermore, an XY-based control lets you plot sound systematically against these axes so you can actually visualise it. Seven built-in FX, a master compressor, and scale-based pitch modulation also add to it. All in all, this makes a super slick machine which can take you on a whirlwind tour of granular synthesis. With this, there is no doubt it will then become your trusty companion.
AAX, AU, VST and VST3 versions included
Mac OS X 10.9 or higher
Windows 7 or higher
32 and 64-bit compatible (PC)
4GB of RAM required, 8GB recommended
At least 300 MB of free drive space
And at 131 GBP (156.59 USD) it's actually a really affordable synth. This is mostly due to the fact it is relatively unrelated and that the market hasn't given it much publicity yet. In terms of innovation, granular synths tend to be high end. Therefore, along with the Lemondrop from 1010 music this is one of the best and most affordable out there. In fact, it provides not just an introduction ot granular synthesis but also lets you explore it further.
This synth doesn't boast any historical credentials. It isn't modelled off a classic piece of gear. The design team also doens't include any particularly notable minds. However, it doesn't need it, and for what it is, it works really well within itself. It does what it needs to do, yet excells at it. Furthermore, it takes on a little known part of synthesis and makes it accessible. This is no easy feat.
Sometimes analogue or analogue modelled synths are subject to high standards. They tend to have a lot of history to live up to. However, musicians often overlook what can be doen with just a DAW in mind. This is a powerful example of a really good digital example of a synth that can hold so much possibility. The designers also haven't felt the need to include huge amounts of complicated features. They are instead safe in the knowledge that the style of their product really is enough to turn heads. In the end, actually doesn't need anything more. The portal granular synth is available from the portal website for download. 
You can check the price and buy the Portal Granular Synth + some cool presets over at our friends at Pluginboutique by clicking here. You will be helping this website a lot buy buying it using this link.